Update: on September 17, the East Ellijay Police Department officially cleared Officer Long as we expected. Further response to the EEPD's bogus stories here.
On Tuesday, September 11, The Times-Courier newspaper in North Georgia published two articles where East Ellijay Police Chief Larry Callahan defended his employee Officer Thomas Dwayne Long. Long was placed on administrative leave last week, following our article documenting Long's online support for the United Northern and Southern Knights of the Ku Klux Klan (UNSKKKK) – a story then picked up by The Huffington Post and The Atlanta Journal-Constitution. Police Chief Callahan states that an investigation into Long is ongoing. However, Callahan is already signaling how the investigation will likely conclude, stating that "we've just not found a lot that indicates an issue" with Long's behavior and repeating Officer Long's claim that his Facebook was "hacked."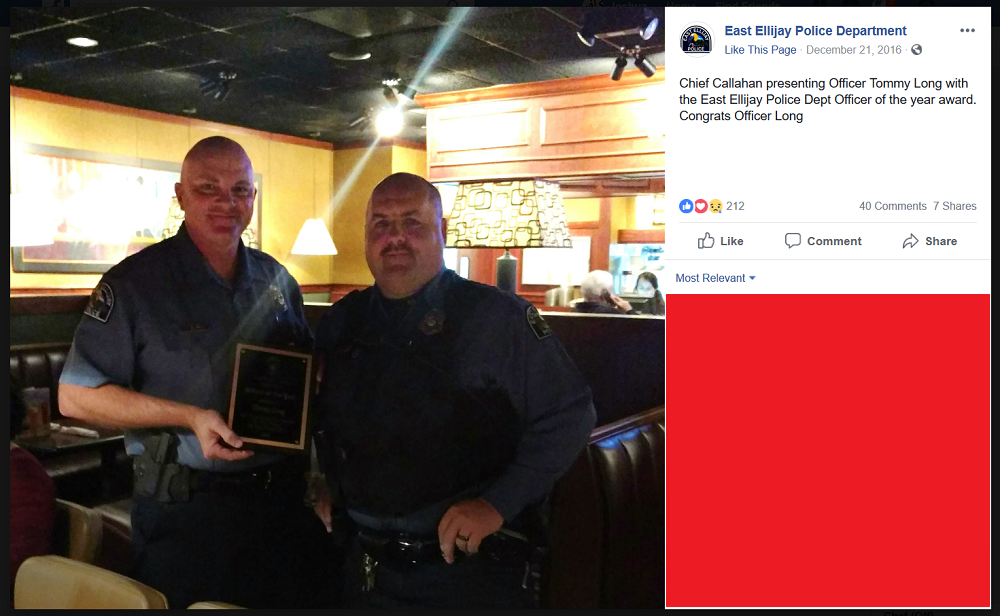 Our article about Officer Long linked his Facebook profile to six different accounts for two UNSKKKK leaders – Imperial Wizard (chief national organizer) Charles Geoffrey Denton and Georgia Grand Dragon (main state organizer) Justin Stephen Owens. Amongst other things, Officer Tommy Long "liked" these posts:
· Imperial Wizard Denton calling for Klansmen to act as an unofficial police auxiliary;
· a post of Denton in KKK robes with what appears to be a burning cross in the background;
· a reference to lynching posted by Denton on Long's Facebook wall;
· a picture posted by Georgia Klan leader Justin Owens of his UNSKKKK "blood drop" ring; and
· a post by Owens urging people to "JOIN THE KLAN!" and take a stand against "mongrels" and Black Lives Matter, with this post providing the UNSKKKK website.
In addition, Tommy Long commented on one of Imperial Wizard Charles Denton's Facebook accounts several times, as well as "liking" even more comments by him. Tommy Long's activity goes beyond just palling around with Klansmen. It is a clear pattern of support and sympathy.
East Ellijay Police Chief Larry Callahan defends Long and complains about the attention brought on his police department. The Times-Courier devotes significant space to Callahan grumbling about random phone calls his Department has received, in the wake of our documentation on Tommy Long being published. Through taking a victim pose, Chief Callahan diverts attention from the real issue: his officer's documented endorsement of the Ku Klux Klan. Continue reading "East Ellijay Police Chief Larry Callahan has "Just Not Found […] an Issue" Regarding Officer Tommy Long, Exposed for Pro-KKK Facebook Activity"