Update: on September 17, the East Ellijay Police Department officially cleared Officer Long as we expected. Further response to the EEPD's bogus stories here.
On Tuesday, September 11, The Times-Courier newspaper in North Georgia published two articles where East Ellijay Police Chief Larry Callahan defended his employee Officer Thomas Dwayne Long. Long was placed on administrative leave last week, following our article documenting Long's online support for the United Northern and Southern Knights of the Ku Klux Klan (UNSKKKK) – a story then picked up by The Huffington Post and The Atlanta Journal-Constitution. Police Chief Callahan states that an investigation into Long is ongoing. However, Callahan is already signaling how the investigation will likely conclude, stating that "we've just not found a lot that indicates an issue" with Long's behavior and repeating Officer Long's claim that his Facebook was "hacked."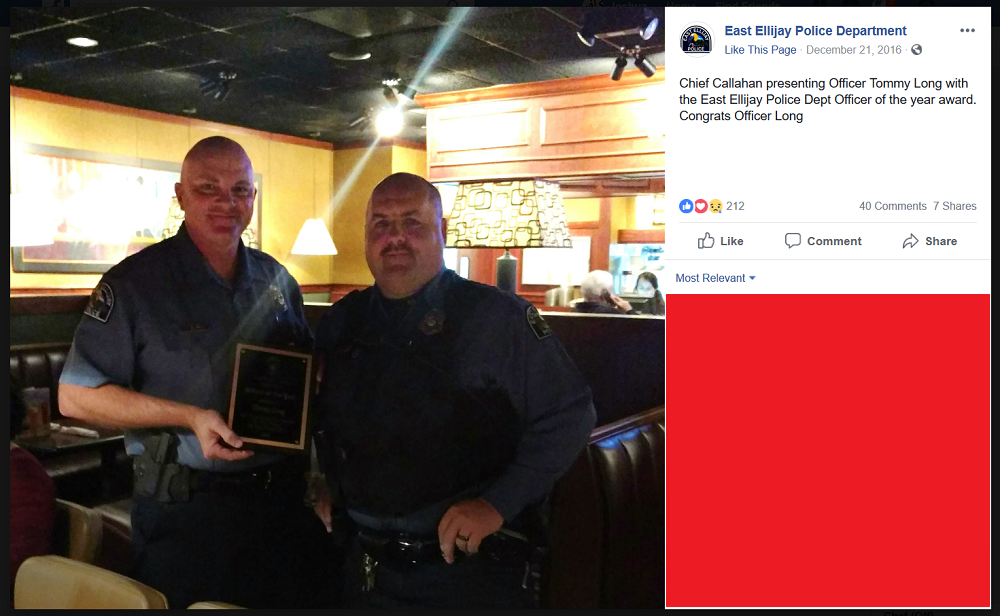 Our article about Officer Long linked his Facebook profile to six different accounts for two UNSKKKK leaders – Imperial Wizard (chief national organizer) Charles Geoffrey Denton and Georgia Grand Dragon (main state organizer) Justin Stephen Owens. Amongst other things, Officer Tommy Long "liked" these posts:
· Imperial Wizard Denton calling for Klansmen to act as an unofficial police auxiliary;
· a post of Denton in KKK robes with what appears to be a burning cross in the background;
· a reference to lynching posted by Denton on Long's Facebook wall;
· a picture posted by Georgia Klan leader Justin Owens of his UNSKKKK "blood drop" ring; and
· a post by Owens urging people to "JOIN THE KLAN!" and take a stand against "mongrels" and Black Lives Matter, with this post providing the UNSKKKK website.
In addition, Tommy Long commented on one of Imperial Wizard Charles Denton's Facebook accounts several times, as well as "liking" even more comments by him. Tommy Long's activity goes beyond just palling around with Klansmen. It is a clear pattern of support and sympathy.
East Ellijay Police Chief Larry Callahan defends Long and complains about the attention brought on his police department. The Times-Courier devotes significant space to Callahan grumbling about random phone calls his Department has received, in the wake of our documentation on Tommy Long being published. Through taking a victim pose, Chief Callahan diverts attention from the real issue: his officer's documented endorsement of the Ku Klux Klan.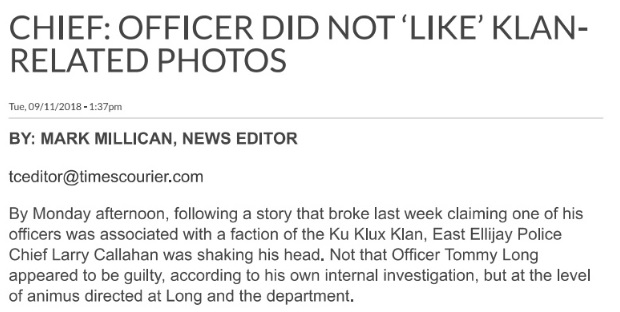 Callahan concedes that Tommy Long had conversations with UNSK Imperial Wizard Denton on Facebook, which Callahan describes as mostly being about "political views." Callahan is quick to point out that these amicable political discussions between the Klan leader and the East Ellijay officer were merely "free speech" and that "there's nothing criminal involved." We are also informed that Tommy Long initially met Charles Denton "during a flood rescue […] when he [Tommy Long] worked for the fire department." Since every social media profile maintained by Denton is unambiguously a Ku Klux Klan account, it is unclear how Long and Denton meeting earlier during a flood rescue makes their friendly "political" exchanges less disturbing.
While we are expected to believe that Tommy Long's political banter with a Ku Klux Klan leader is alright because of "free speech" combined with some anecdote about flood rescue, we are also asked to accept that Long's account was "hacked". Long's Facebook account apparently will not allow him to un-"like" materials, which is cited as proof that Long never liked these materials in the first place. The account supposedly re-activates after being deactivated. Those certainly sound like technical difficulties. (If we are to believe Police Chief Callahan and Tommy Long, the Facebook account was also configured to accept "friends" without Tommy Long approving them.) Chief Callahan portrays Tommy Long as having "lost control" of his Facebook account. Yet Tommy Long was an avid Facebook user before our documentation was published. Surely if Long experienced these problems with an out-of-control account, he would have taken steps to fix the electronic chaos, instead of contentedly posting away.
Callahan ignores that Tommy Long's everyday political posts – such as his anti-Muslim bigotry – were never far from Klan rhetoric to begin with. Long's "No place for hate" Facebook post – which Chief Callahan makes sure to stress – is not strong counter-evidence concerning Long's politics, since Klansmen themselves gripe about being labeled haters. In addition, the "No place for hate" profile picture may have been posted by Long in response to some earlier controversy.
The Tommy Long/Chief Callahan story provided to the media is incoherent. It focuses on Charles Denton, the UNSKKKK Imperial Wizard, who is described by Chief Callahan as having "some sort of office" for the UNSK Klan. Yet Callahan does not address the three accounts for Justin Stephen Owens – the UNSK Grand Dragon for Georgia – which are also linked to Tommy Long. One of Justin Owens' pages was where Officer Long "liked" an image of a Ku Klux Klan ring, as well as an explicit KKK recruitment message. For Long and Owens to be linked on Facebook, Long must have sent friend requests to Owens, or vice versa. If the "hacked" account for Tommy Long sent friends requests to Owens, the imaginary hacker must have put in a lot of work locating multiple accounts for Owens and knowing exactly which posts to have Tommy Long "like". (Justin Owens had not been publicly exposed as the UNSK Grand Dragon for Georgia prior to our article last week, although Owens' Klan position was referenced on closed UNSKKKK forums.) There is the issue of why Owens – who has been arrested multiple times and may have reason to be suspicious of police – would accept friend requests sent to him by some cop profile, unless Owens knew the person or at least knew of him. Without some prior relationship, there is even less reason why Owens would randomly send multiple Facebook friend requests to Tommy Long's profile. The East Ellijay Police Department's narrative simply doesn't add up.
Finally, the East Ellijay Police Department stresses that there is "no reason to believe" Long is a member of the Ku Klux Klan. We have no documentation of Tommy Long being formally inducted into the United Northern and Southern Knights. The KKK is a secret society and typically does not give out its membership rolls. We documented a clear pattern of support and sympathy from Officer Long to a Klan organization and its leadership. This should be reason enough for grave concern. But Long seemingly doesn't have to worry. Cops protect their own.