Update 10/4/2019: new article on IBM's botched investigation of Clemmer.
Update 5/15/2019: We have received multiple indications that John L Clemmer is no longer working for IBM. We welcome more information on this white nationalist – please get in touch.
John Lee Clemmer, a metro Atlanta resident who works as a Managing Consultant for IBM, has a secret life as a racist propagandist and member of Identity Evropa (IE). In late 2017, Clemmer paid for an expensive flash protest by IE in Atlanta, designed to boost the white power organization's profile. In early March of this year, independent media site Unicorn Riot leaked IE's internal chats in which Clemmer's alias "Why Tea" frequently participated. Soon after the leaks, IE held their second national conference in Kentucky, and rebranded under the name "American Identity Movement" (AmIM). It is unknown whether John Lee Clemmer is also a member of AmIM; leaked chats indicate that Clemmer was active in IE up to the time of the data leak.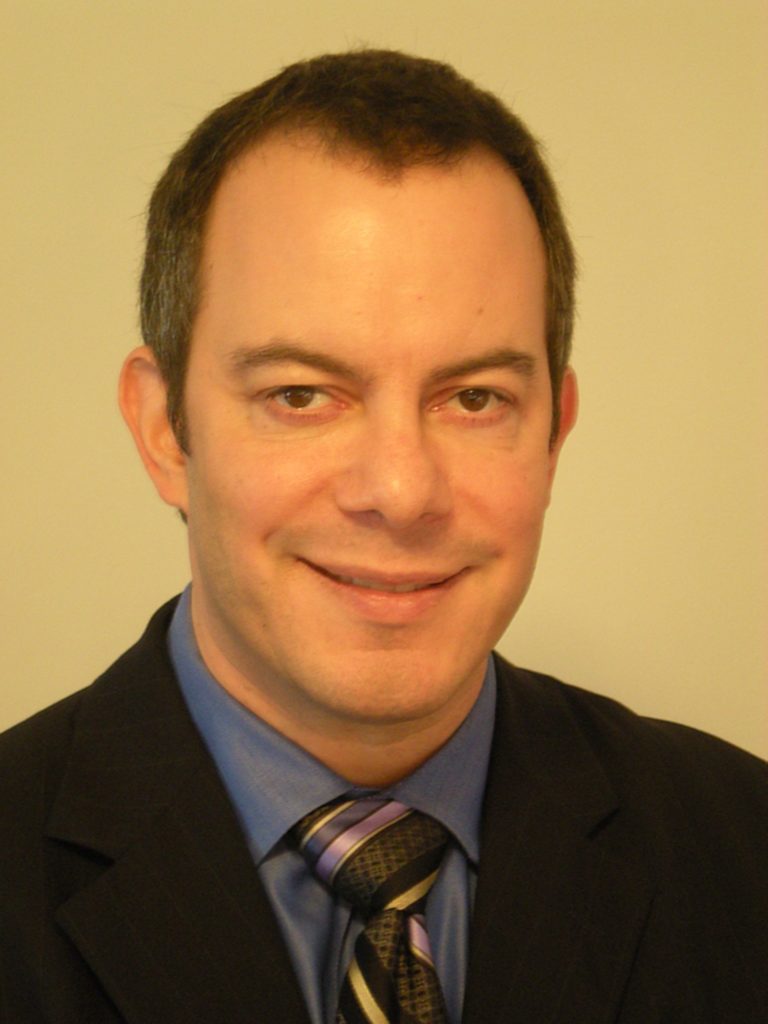 Identifying Clemmer as "Why Tea"
Since mid-2017, it was apparent that a Twitter account named "Why Tea"/@WhyTea7 was connected to major players in the metro Atlanta Alt-Right. Although "Why Tea" gave his location as "Berkeley, CA" on his Twitter bio, his connections suggested that he was based in or near Atlanta. The "Why Tea" Twitter account linked to a YouTube channel and a blog, both of which attempted to put a "scientific" and intellectual face on white nationalism.
With the leak of Identity Evropa's main discussion server – only used by dues-paying members – we learned that Discord user "Why Tea" lived in a "yuppie suburb in ATL". This Identity Evropa member not only had an identical alias as the Twitter account we were interested in, but also had a similar writing style and insisted on some of the same points. For example, the "Why Tea" blog stressed that it was important to "retain Roe v Wade" as part of his broader "demography scheme" to "Make America White Again". Similarly, Identity Evropa member "Why Tea" stated that "you totally have to have abortion for blacks and hispanics and undesirable whites" while he enthused about eugenics, a long-discredited movement to channel breeding within human populations.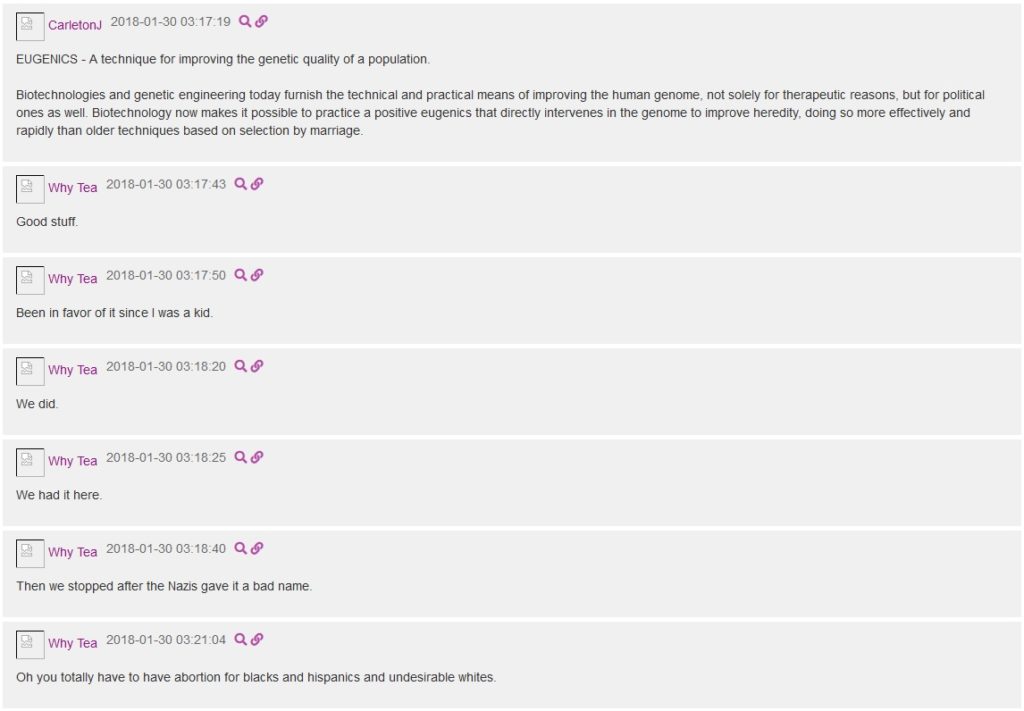 "Why Tea" on the leaked Identity Evropa chat server provided more than enough information to identify him as John Lee Clemmer of Smyrna, Georgia:

"For more context my work is in the Security / Authentication & Authorization part of the stack/platform. Even more context, a couple of the biggest companies in the world use security code I and my team wrote and designed."
Clemmer works for International Business Machines as a Managing Consultant. On his LinkedIn page, Clemmer notes that: "I specialize in enterprise information security management, Identity & Access Management (IAM) solution architecture, design, and engineering." In another online bio, Clemmer states that his consultancy is for Cloud Identity Services with IBM.
"Why Tea" also mentioned to his IE associates that he chats with Black Pigeon Speaks – a far-Right YouTube commentator – "around once a month with a few other people from his Patreon supporters." Clemmer lists himself as one of Black Pigeon Speaks' Patreon supporters.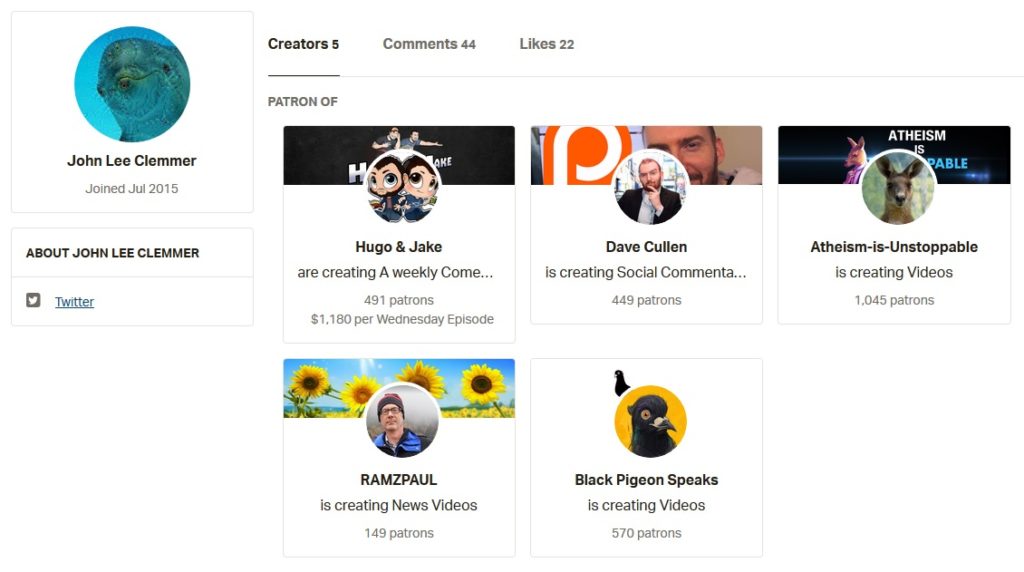 Finally, in Identity Evropa's "Literature" server, "Why Tea" highly recommends an obscure science fiction author named John L. Clemmer, whose books were issued through Amazon. "Why Tea" writes about author John L. Clemmer:
"This guy's books are worthy of note […] no cursing, no sex, no gratuitous violence, no homosexuality, etc. And nothing but whites–no tokens, no obligatory interracial relationships! He's […] at the very least sympathetic to our goals."
"Why Tea" also had easy access to a book cover for Clemmer's first novel and included the image file "The_Way_of_the_Dhin_2nd_Edition_Ad_with_Cover.1" with his comment. "Why Tea" followed up with an image of the cover for Clemmer's second novel.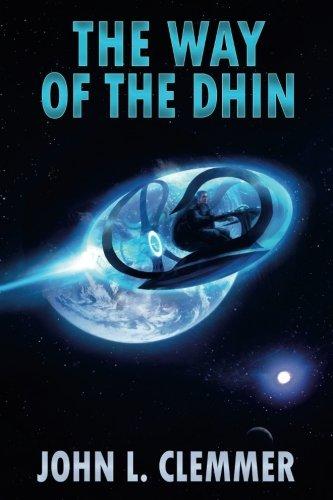 Having established that "Why Tea" – a member of the white power group Identity Evropa / American Identity Movement – is none other than John Lee Clemmer, we will now discuss Clemmer's activity in the racist movement.
Clemmer's Behind-the-Scenes Racist Activism
Before he became a white nationalist, Clemmer was a libertarian who "switched on immigration". Clemmer states that he had a "visceral reaction against the idiocy of BLM [Black Lives Matter]", using the racist term "chimpouts" to describe their protests. In response to Black-centered anti-racist mobilization, Clemmer came to the belief that "diversity [… is] a weakness".
Clemmer issued his first YouTube video in April 2016, using an effect to alter his voice. The "Why Tea" channel tried to dress its white supremacism in scientific garb, selectively citing studies in psychology and population genetics to promote its racist worldview. In some instances, Clemmer laid his bigotry bare, for example in the August 2016 video he posted after that summer's tumultuous wave of Black Lives Matter protests. In the video, Clemmer blamed Black people for police killing Black people, urged "any force necessary" to be used against riots and unruly protest, and in general argued for "environmental dampener[s]" being applied on populations he contended were predisposed to crime. While speaking, Clemmer used language like "a certain part of the population" instead of directly naming the group he believed was predisposed toward violence and crime. Any subtlety was lost with the written caption he added on the screen: "You know exactly who I mean. Blacks!"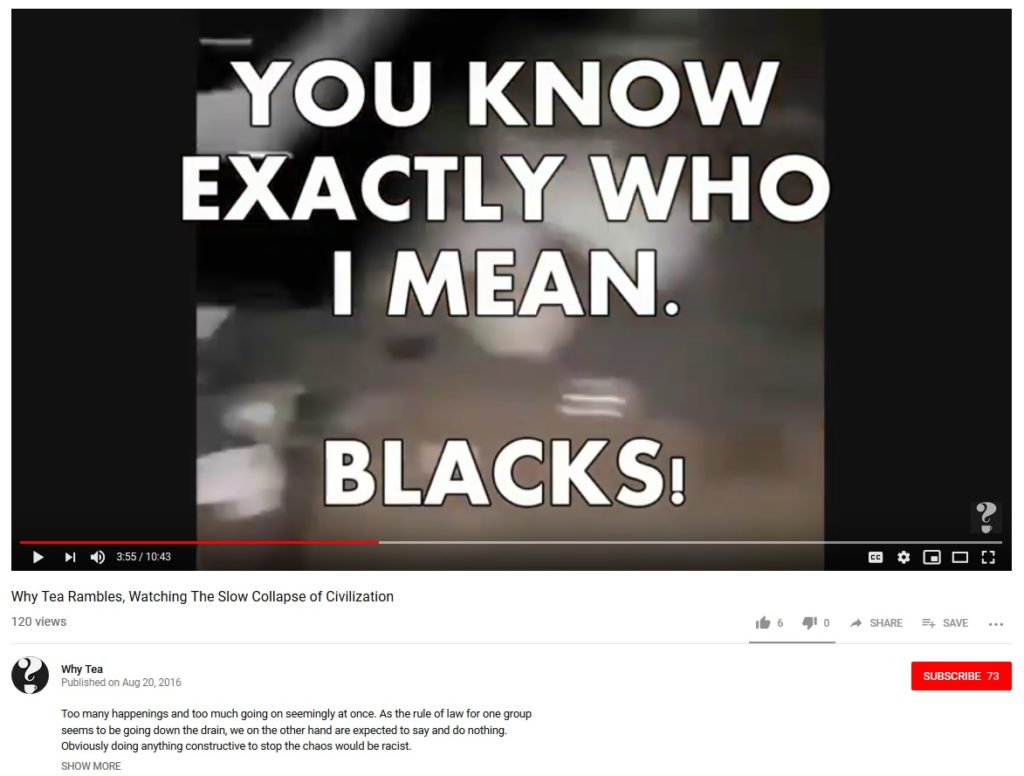 In addition to the dozen videos placed on the "Why Tea" YouTube channel between April 2016 and July 2017, Clemmer kept a blog about similar themes from May 2016 to June 2017. Clemmer also launched the "Why Tea"/@WhyTea7 Twitter account in June 2016, which occasionally posts to this day. In his written propaganda, Clemmer maintained a stance of preferring "soft-segregation policies" rather than the crude violence of "deporting, sterilizing, or killing millions of people." However, there is no doubt that Clemmer's goal of ethnically cleansing America would involve wholesale injustice and oppression, even if we accept his premise that death camps would not be required.
Clemmer's blog and YouTube videos seemingly never gained the traction he desired, and his efforts wound down after about a year, in mid-2017. It is unclear whether Clemmer joining the white power group Identity Evropa coincided with him winding down his blogging, or whether Clemmer signed up with IE earlier.
IE recreated its Discord server five days after the deadly "Unite the Right" rally in Charlottesville, Virginia, August 2017. On the new IE discussion server, Clemmer / "Why Tea" was added back and "auto-verified as an existing member [of Identity Evropa]." Identity Evropa's role in the "Unite the Right" – which the organization is currently facing a lawsuit over – did not scare Clemmer from the organization, since he has continued with IE since then.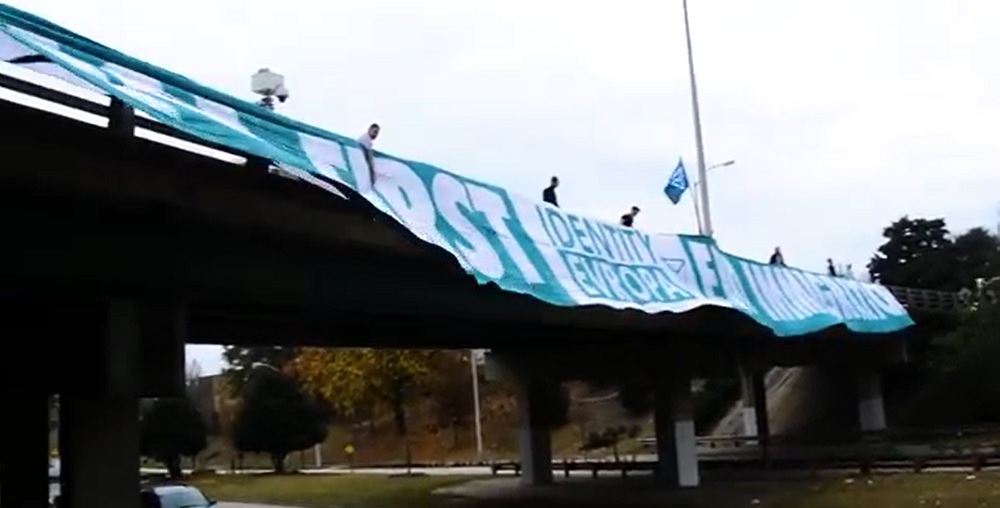 As a member of Identity Evropa who was older than average, without children, and with a well-paying job at IBM, Clemmer was able to help fund the racist organization. According to IE leader Patrick Casey ("Reinhard Wolff" on the IE chat server), Clemmer "funded the expenses" for Identity Evropa's December 2017 flash demonstration on the Georgia Tech campus in Atlanta. This brief anti-immigration protest was important for Identity Evropa since it was Casey's first action in his new role as IE's leader. (IE had two leadership changes in the wake of "Unite the Right.") The Georgia Tech protest's giant banner was designed to create maximum online buzz for IE. As we have noted elsewhere, the choice of Georgia Tech was not accidental: in earlier months IE's propaganda had consistently been removed on the Tech campus and replaced by anti-fascist materials. In addition, Tech campus was still reeling after student and intersex activist Scout Schultz was shot and killed by police officer Tyler Beck in mid-September, with a cop car burned after police attacked those protesting the killing. Given this context, it appears that IE chose Tech partially to further rile the student body. Clemmer's financial support for the December 2017 protest was likely not small: in addition to giant lengths of material and paint for the banner, the action debuted IE's camera drone, required Patrick Casey to travel to Atlanta, and featured a slick online video published afterward.
During his time publishing as "Why Tea" and as a member of Identity Evropa, John Clemmer also self-published two science fiction novels and one novella. Clemmer's first novel, The Way of the Dhin, was released in May 2016 – Clemmer had established his "Why Tea" YouTube channel just the month before. Clemmer released a follow-up "Dhin Universe" novella in late 2016, around the same time he was posting on his "Why Tea" blog about "How to Make America White Again". While we do not know the exact time Clemmer joined IE, he was certainly a member by the time his second full novel, The Power of the Dhin, was released in October 2017.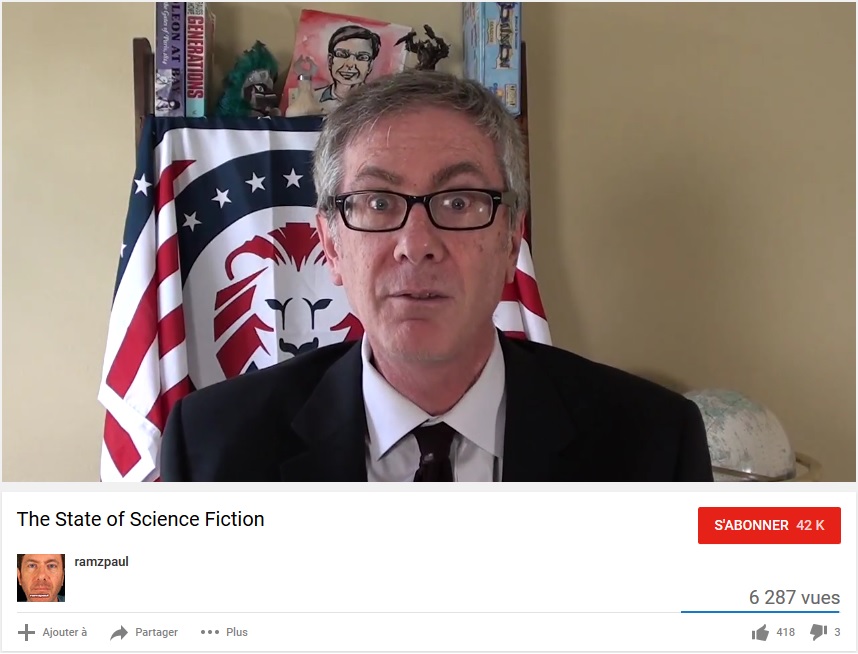 When promoting his own novels on the IE chat server while referring to himself in the third person (a practice also known as "sock puppeting"), "Why Tea" stated that John L. Clemmer has "got very subtle redpills in the books". With the term "redpills" – popular among internet anti-feminists and the Alt-Right – Clemmer meant that his novels highlight alleged truths which most people avoid or ignore. In other words: Clemmer admits that his reactionary ideology is subtly conveyed in his novels. Clemmer may have written his science fiction novels out of a sincere love for the genre and a desire to participate in the fandom, or at least its white enclaves. However, Clemmer's writing genre fiction is also in keeping with the broader strategies of the Alt-Right, which put a heavy stress on changing culture and values with the goal of enabling broader political shifts down the line. Interestingly, Clemmer sought support from far-Right racist YouTube commentator Paul Ramsey to promote his books — Clemmer sent Ramsey his book, and Ramsey then issued a YouTube video and a website post asking his followers to vote for one of Clemmer's books on Amazon so that the title could be printed and promoted by the company. In his YouTube video, Ramsey stated that this effort was a way of "helping people with our views to get some publicity". John Clemmer is also one of Ramsey's sponsors on Patreon.
In another instance of mutual aid between white nationalists, Clemmer gave investment advice to IE members based on his Master's degree in Business and his "20 years of investment experience". Clemmer also advised members of the racist organization interested in pursuing a career in technology, telling one member of the organization "you just need to be able to do the work, show you can do the work and we'll give you the job." Clemmer advised another IE member that knowing SQL would be desirable "If you applied for a job on my team" at Cloud Identity Services / IBM.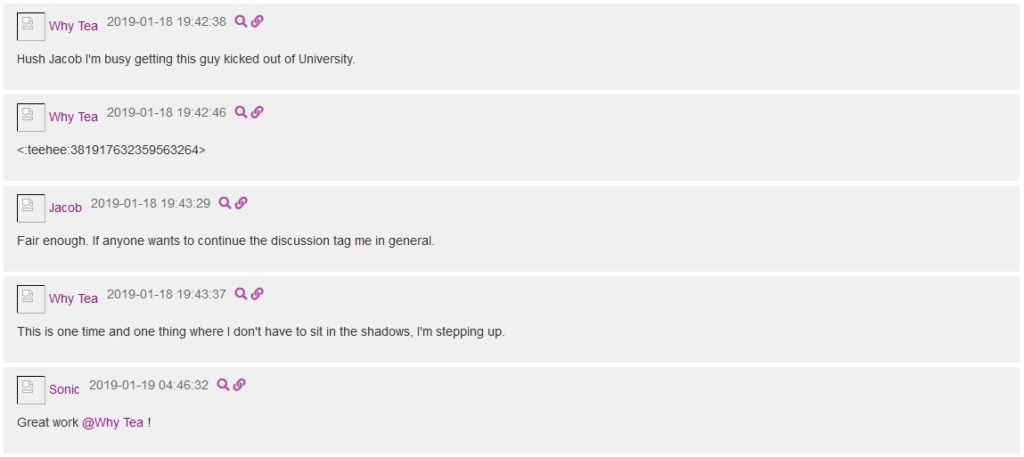 Clemmer's activity within IE appears to be mostly behind-the-scenes work. This year, Clemmer was most active campaigning against a PhD candidate and teaching assistant at the University of Georgia's Philosophy Department, Irami Osei-Frimpong. After a recent UGA graduate and Republican activist began cultivating outrage about some of Osei-Frimpong's statements – for example, that "Fighting white people is a skill" – Right-wing campaigning groups such as Campus Reform and sites such as Infowars began carrying stories about Osei-Frimpong's alleged hate speech against white people. These stories were a willful mischaracterization of Osei-Frimpong's comments, which were provocative but addressed white complicity in racism. As we noted on social media, explicit white nationalists were quick to take up the campaign against Osei-Frimpong.
When the story reached Identity Evropa, Clemmer began a campaign of systematic outreach to UGA, leveraging his status as a graduate and a donor to the University while he contacted UGA Human Resources, its Philosophy Department, the Dean's Office, and finally the President's Office. While campaigning against Osei-Frimpong and demanding that he be fired, Clemmer did not disclose that he was a member of a white nationalist group. Clemmer encouraged his wife (who received her Master's at UGA) and other associates to contact UGA. Clemmer argued for Osei-Frimpong to be expelled because his PhD candidacy allegedly contravenes "American values of tolerance and inclusion, and flies in the face of the hard work the university has done regarding diversity." This language is pure cynicism from Clemmer, since elsewhere he explicitly rejects diversity and works to undermine it. The UGA administration, bowing to Right-wing and organized racist pressure, is seemingly still pursuing disciplinary action against Osei-Frimpong.
Conclusion / Outreach to Clemmer's Neighbors
John Lee Clemmer is an example of the upper-middle class membership Identity Evropa / American Identity Movement aims to recruit as it tries to put a respectable face on racist organizing. Clemmer is a valuable asset to the group, not just giving funds but also advising its membership about careers in tech. In addition, Clemmer issued naked racist propaganda as "Why Tea" and inserted "subtle redpills" in his self-published science fiction novels.
In drawing attention to Clemmer, we hope to dispel the idea that organized white nationalism is largely or exclusively the product of poor and uneducated white people. The movement has upper- and middle-class constituencies, who are arguably a greater danger due to their increased access to resources and heavier political clout.
We will update this article if we receive a statement from International Business Machines / Cloud Identity Services about their employment of a white power activist. In the meantime, we have mailed over 100 flyers to Clemmer's neighbors in Smyrna, Georgia, informing them of the racist propagandist in their area.
If you have further information about Clemmer or his racist associates in IE / AmIM, please get in contact.