Update: due to indications that Hill has been fired, we are removing workplace contact information from this post.
Since March 2015, the Brannen Law Firm in Morrow, Georgia has employed far-Right militia leader Christopher Hill as a paralegal. During this time, Hill's III% Security Force militia led anti-Muslim campaigns, organized alongside white supremacists despite claims of being non-racist, and was linked to a bomb plot in Kansas. A III% Security Force ally committed a brutal attack during 2017's "Unite the Right" event in Charlottesville, Virginia. Most recently, Hill's "Georgia Security Force" – our state's wing of III% SF – assaulted unarmed anti-racist and anti-fascist counter-protesters in Atlanta, with Hill boasting about the gang attack afterward.
Since Hill is a highly visible public face of the militia movement and frequently makes inflammatory statements to the media, Joseph Chad Brannen's firm must be aware of his employee's activities. Chad Brannen nevertheless enables Hill's far-Right organizing by keeping the militia leader employed. After half a decade of harm to communities, it is time for the Brannen Law Firm to fire Hill.
Contact the Brannen Law Firm and express your concern about how it enables violent far-Right militia organizing. We provide a sample script for calls below. Remember that if concerned about privacy, you can use *67 when calling. After the script, we provide notes on some of the violence and campaigns of intimidation linked to Hill, while he worked at the Brannen Law Firm.
Contact:
Brannen Law Firm
[removed]
Sample call script:
I am deeply concerned about your employment of Christopher Sheldon Hill. Hill is a far-Right leader who stokes hatred and division with his anti-Muslim organizing. He has been repeatedly linked to acts of violence and recently boasted of a gang attack his followers committed in Atlanta. By keeping Hill employed, your firm has enabled Hill's organizing and violence. It is time to fire Hill and apologize for the harm already done. I will speak out about your firm until this happens. Thanks for your time.
Chris Hill and III% Security Force: Some Incidents During Hill's Employment with Brannen Law Firm
· In late 2016, Hill's militia held armed anti-Muslim protests in Newton County. One menacing video posted by Hill caused city commissioners to cancel a public meeting regarding a planned Islamic cemetery and mosque in the community.
· Also in late 2016, three militia members in Kansas were arrested over a plot to bomb a mosque and an apartment complex where over 100 Somali immigrants lived. The plotters were involved in the Kansas Security Force (KSF) – that state's branch of Hill's III% Security Force. Following the arrests, Hill attempted to distance himself from the plot. Hill had published a profile about KSF earlier that year. One of the bomb plot conspirators followed Hill's III% Security Force page on Facebook.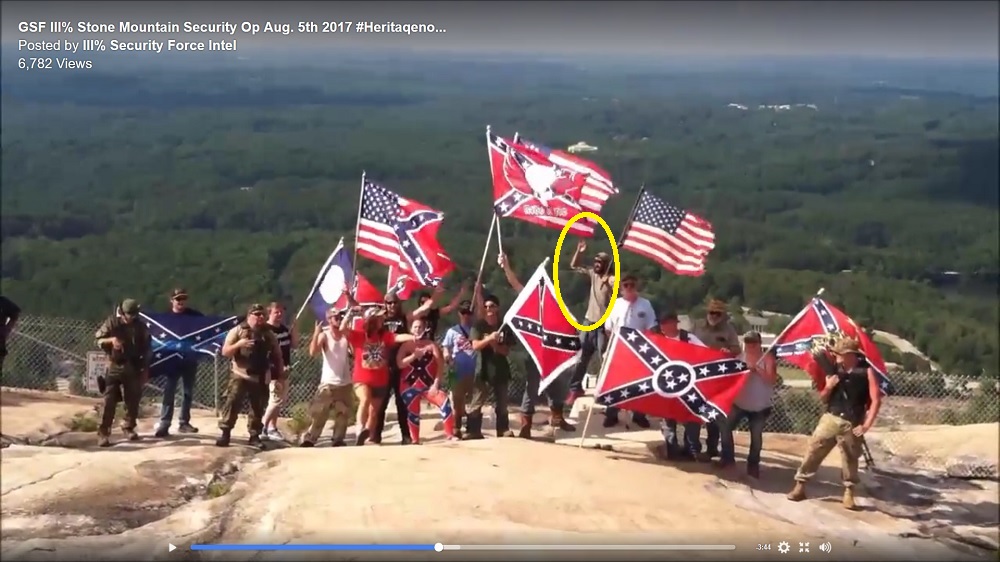 · In August 2017, Alex Michael Ramos took part in the brutal group beating of DeAndre Harris in a Charlottesville, Virginia parking lot during "Unite the Right". Ramos had earlier been a member of Hill's Georgia Security Force. Chris Hill claimed to the media that he had cut ties to Ramos earlier in the year. Whatever Ramos' official status in the group, Hill and Ramos appeared together at an event at Stone Mountain just seven days before Ramos' attack in Charlottesville.
· Chris Hill made thinly veiled threats against Stacey Abrams in November 2018, suggesting violence in the event she won the election for Georgia's governor. Hill's III% Security Force page on Facebook was briefly removed over this threat.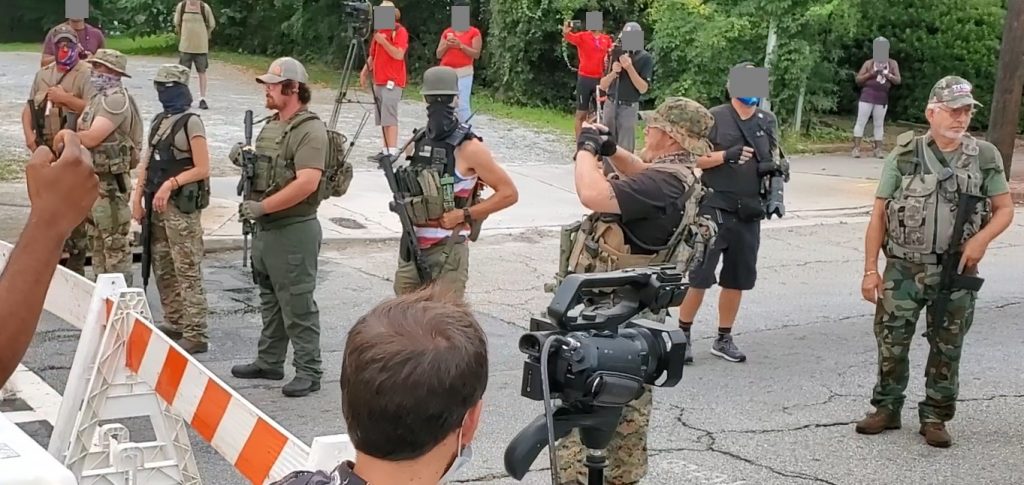 · This August, Hill mobilized his militia for a far-Right and neo-Confederate show of intimidation in Stone Mountain, Georgia. The rally was heavily promoted and attended by white supremacists. Militia members menaced several locals with guns and sprayed them with mace.
· After a militia mobilization at the Georgia State Capitol this December, members of Chris Hill's Georgia Security Force assaulted unarmed anti-racist and anti-fascist counter-protesters they found downtown. Hill openly boasted of the gang attack in a video uploaded to YouTube, congratulating GSF members on their violence and promising more. Hill believes the gang attack was justified since an unknown person cut one of his truck's tires earlier that day, though there is no reason to believe those assaulted had any connection to the property damage.