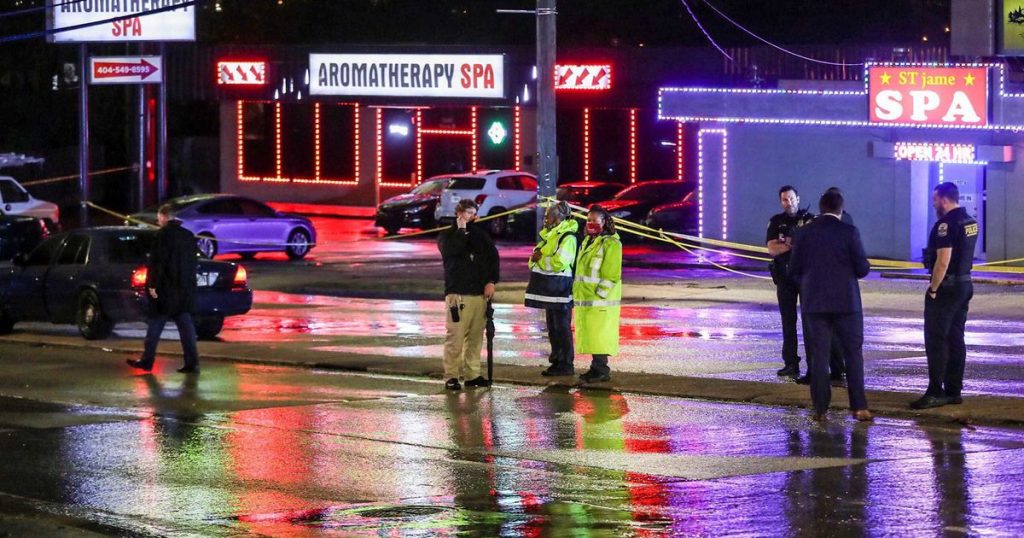 Yesterday's series of deadly shootings in metro Atlanta ended with eight dead and more injured. The killer targeted Asian spas, and six of the victims were Asian women. The mass shootings will have far-reaching effects and cause traumatic aftershocks on a national level.
Today, news is surfacing that the mass shooter may have been a customer at spas he targeted or similar businesses. The Sheriff for Cherokee County – where half of the people were murdered – echoed the murderer's claim that racism did not motivate his murders of mostly Asian women. A Sheriff's Office spokesman explained that the murderer was having a "really bad day" and referred to an alleged sexual addiction.  
Our group is dedicated to tracking fascist, far-Right, and white supremacist hate. The murderer was not on our organization's radar. While much remains unknown, there may be relevant distinctions to be made between yesterday's slaughter and the violence of ideological white supremacists, for example by members of accelerationist neo-Nazi groups. As members of the metro Atlanta community, as feminists and as anti-racists, we wholly reject attempts to depoliticize yesterday's murders. To act in meaningful solidarity, we must understand that these outrages took place at the meeting point of several structural oppressions.
The murders potentially involve at least four types of hatred. We discuss each in turn and then offer suggestions for countering each type.
Hatred against Asians: in this moment specifically against East and Southeast Asians, which has been whipped up during the last year by conservative and conspiracy theorists during the COVID-19 pandemic. This hatred has been transmitted from the highest political levels down through references to the "China Virus" but was already present in our society, building on more than a century of dehumanization of Asians during times of war. The murderer may or may not have consciously viewed himself as targeting Asian people as Asians, but there is little doubt that growing anti-Asian racism provided a backdrop for his actions. Ideological racists will seize on this moment to further target and heighten the suffering of Asian communities – as is already happening online.
Hatred against immigrants of color: again, whipped up by politicians and media figures. This builds together with anti-Asian racism, as all Asians are assumed to be immigrants. Racists often employ positive stereotypes of Asians to use them as a weapon against other groups, especially Black people. Yet when Asian communities are portrayed as part of an immigrant mass that is an alleged threat to white people, these communities are targeted for racial hatred and violence.
Hatred of women: the misogynist nature of mass shootings mostly targeting women should be clear. Misogyny is also a powerhouse of modern white supremacy. Not only do women-hating movements such as inceldom, "Men's Rights Activism", and GamerGate provide pathways for white supremacist radicalization, but mass murders targeting women are often celebrated within white-supremacist culture. Misogyny inflects racism at almost every point. The majority of anti-Asian attacks linked to the COVID-19 pandemic have targeted Asian women.
Hatred of sex workers: This is strongly connected to misogyny and is often shaped by racism. Sex workers are especially targeted because prejudice from the wider society makes them more vulnerable. Sex workers are often blamed for their own victimization and targeted by law enforcement as much as by predators. Whether or not all victims of the spa shootings were sex workers, they are likely to be perceived as such by the public.
Media coverage in the weeks to come will focus heavily on the murderer and his motivations. We would like to encourage people to instead focus on the victims and wider affected communities. Here are our suggestions:
Support grassroots Asian-American community organizations and anti-hate campaigns
Support immigrant organizations, initiatives against ICE, and anti-racist education
Support feminist activism and create interventions in the misogyny recruitment pipeline
Support sex worker peer organizations and fight the dehumanization and criminalization of sex workers.
We also ask our readers to actively fight disinformation, whether from racists, conspiracy theorists, far-Right organizers, or other sources. If you hear someone circulating conspiracy theories, speak out. Report or flag pages spreading disinformation or targeting metro Atlanta communities. If that is not enough, pressure social media companies to act.
We hope to boost fundraisers for the affected victims and their families if these become available. We will relay information on our social media. Keep in mind that some people may become victimized twice, once by the murderer and again by law enforcement. If any immigration cases rise during the investigation, the public needs to loudly demand immunity for the victims.
Here are several local and national organizations to support:
• Red Canary Song (a grassroots collective of Asian & migrant sex workers): redcanarysong.net
• The National Asian Pacific American Women's Forum (NAPAWF): napawf.org
• Asian-Americans Advancing Justice: advancingjustice-atlanta.org
• The Center for Pan-Asian Community Services: cpacs.org