Update: while Jared Huggins remains a co-owner of the Carver Hills house and his vehicle is outside, recently Huggins has been in Denver, Colorado as a Latter-day Saints church missionary. We still encourage Carver Hills neighbors to keep an eye on the house, since this is not the first time that house has been linked to a white nationalist.
On the night of Saturday, March 20th, we placed posters in the Carver Hills neighborhood of northwest Atlanta. These posters warned about Jared Alexander Huggins, a white nationalist militant and associate of racist leader Sam Dickson. Huggins is listed as a co-owner of a McCallie Boulevard home.
Huggins was an active member of the Identity Evropa/American Identity Movement white nationalist organization, which disbanded last year. Huggins has also worked on the Atlanta property market, making money for longtime white power leader Sam Dickson and Dickson's network. In a longer article about Huggins from 2019, we documented his attendance at 2017's "Unite the Right" rally in Charlottesville, Virginia, and his mockery of victims of white supremacist attacks.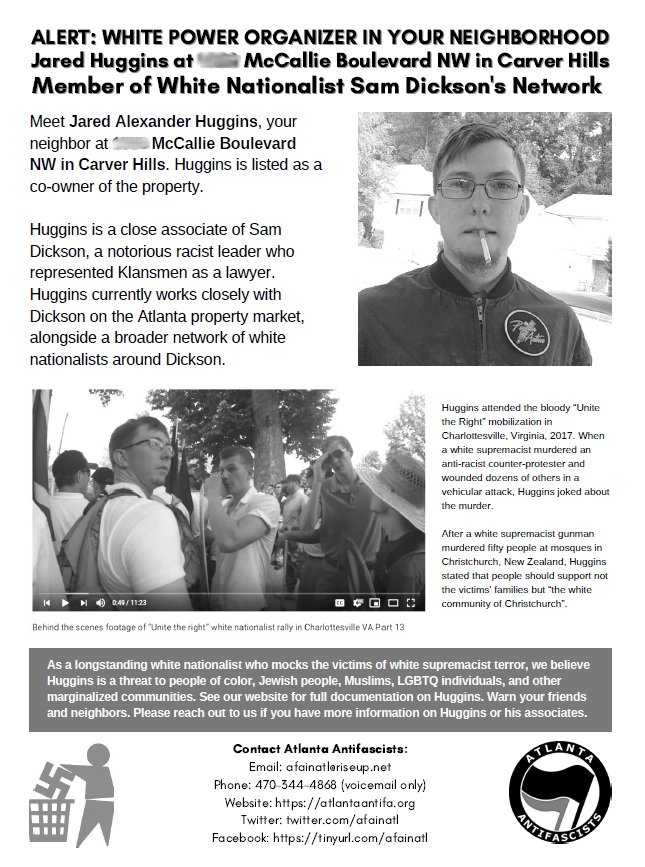 Due to Huggins' history as a racist militant plus his history of excusing and celebrating white supremacist violence, we believe it is important to warn the community.
If you have further information on Huggins or his racist associates, please get in touch.