Paul L. Townsend, a resident of LaFayette in north Georgia, born in 1964, is an active member of the League of the South (LoS), a white supremacist and Southern secessionist organization. Townsend attended the August 2017 "Unite the Right" rally in Charlottesville, Virginia with the LoS contingent that was at the forefront of violence that day. Following the Charlottesville rally – in which one counter-protester was murdered and dozens more injured – Townsend stated that he was "proud that I participated in the Charlottesville rally" which he "knew […] would be epic."
Townsend at Unite the Right, 2017
Townsend set up a profile on the Russian social networking site VKontakte (VK) the month before 2017's "Unite the Right". On VK, he is connected to many LoS members and other white supremacists. Townsend posted a photo of his younger self in camouflage fatigues in a desert environment, suggesting that decades ago he was in the US military.
Picture of Klan cross lighting on Townsend's desk

Some of Townsend's weapons
Townsend's organization, the League of the South, is a longstanding white supremacist and secessionist organization. In recent years, LoS has moved in a paramilitary direction. During 2017-2018, LoS rallied alongside explicitly neo-Nazi organizations as part of the failed Nationalist Front alliance. The LoS leader, Michael Hill of Alabama, has also publicly moved closer to pro-Nazi positions, for example declaring in early 2019 that Hitler's regime was "the only line of defense in Europe against the spread of Jewish Bolshevism."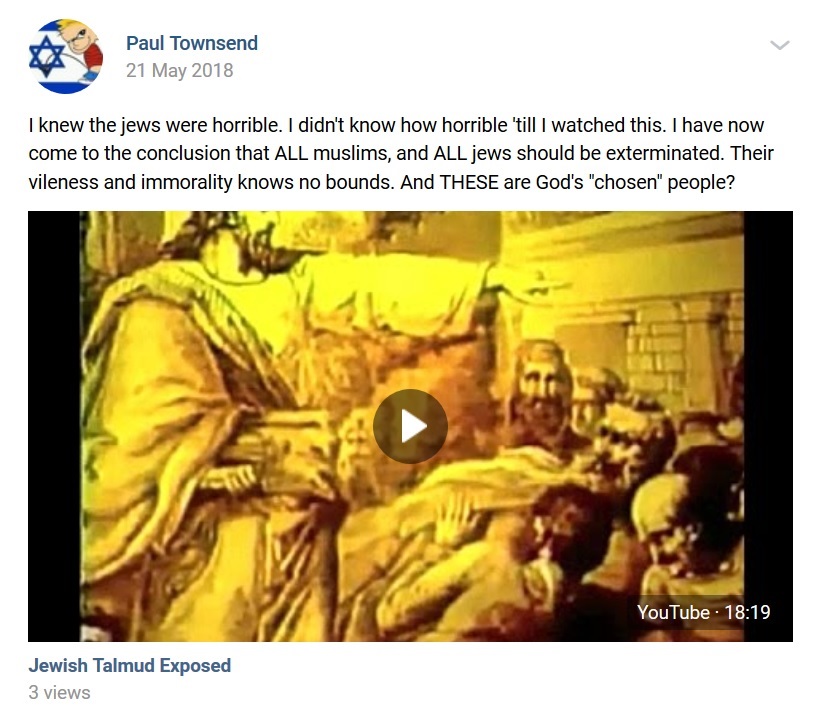 Townsend outdoes even his violent white supremacist organization in genocidal hatred. In May 2018, Townsend proclaimed: "I have now come to the conclusion that ALL muslims, and ALL jews should be exterminated." On October 27 of that year, a white supremacist murdered eleven people at the Tree of Life synagogue in Pittsburgh, Pennsylvania. The following day, Paul Townsend posted to social media: "What say we declare October 27 as 'pop a jew day'?"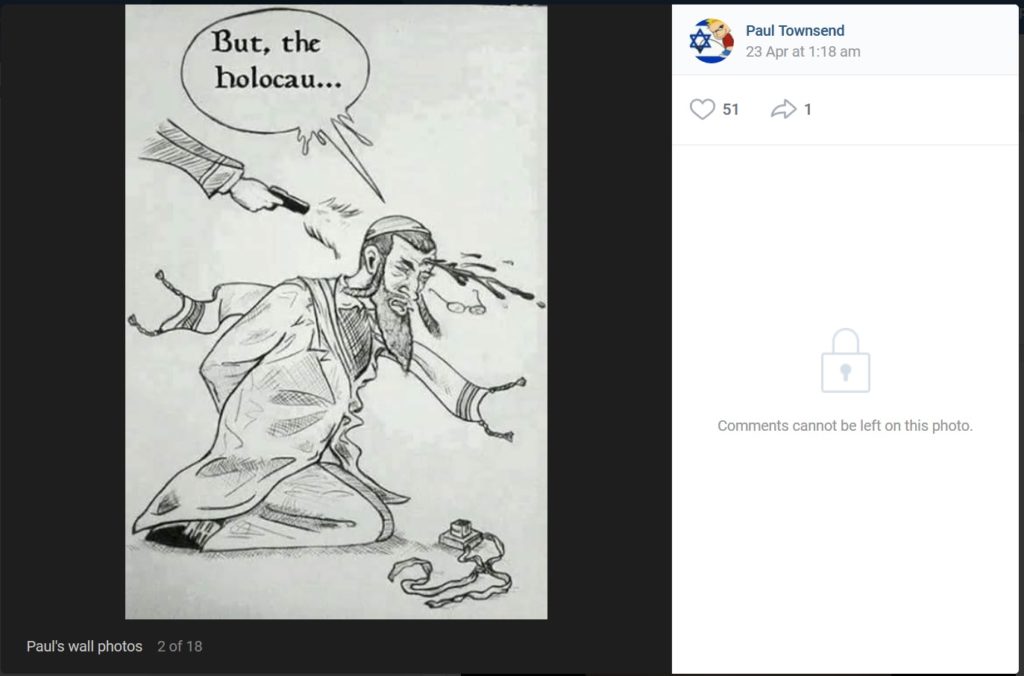 As well as his involvement with the League of the South, Townsend has expressed interest in the "Creativity Alliance," which promotes the white supremacist religion of "Creativity". The main religious precept of Creativity (formerly the "World Church of the Creator") is the advancement of white people, with its adherents believing in a "Racial Holy War" (or "RaHoWa") against other races. On his VK account, Townsend uses the term "RAHOWA". One of his photos includes a handgun placed on top of The White Man's Bible, a Creativity scripture. Townsend is registered on the forum for the Creativity Alliance, one of the two organizations currently promoting the religion. The Creativity Alliance made headlines in February 2017, when Georgia resident William Christopher Gibbs who was active on their forum was arrested for attempting to manufacture ricin. (Stunningly, Gibb's ricin charges were later dropped. The head of the Creativity Alliance told Paul Townsend that Gibbs was a "silly person".)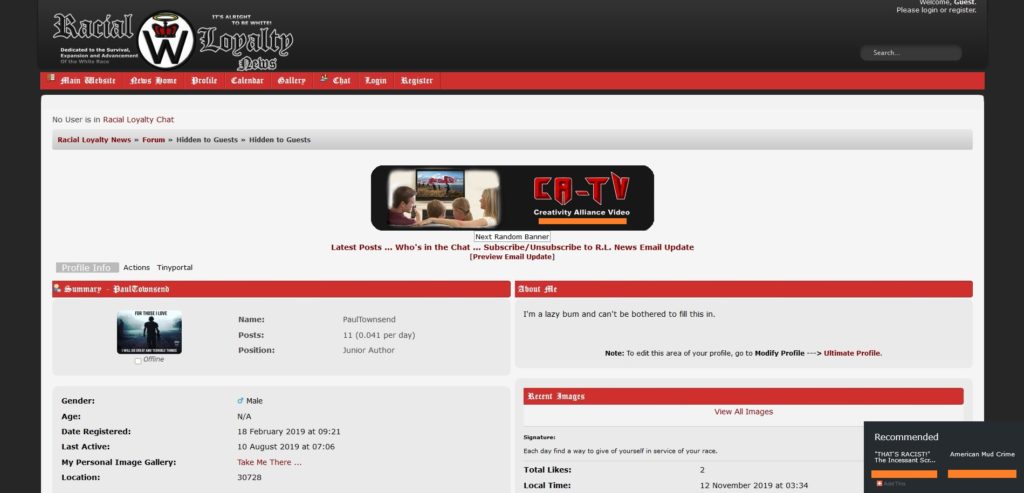 His VK activity also shows Townsend to be a sympathizer of the National Alliance, which at one point was the largest neo-Nazi organization in North America. A poster named "PaulInGeorgia" matching Townsend's age and his interest in survivalism registered on the National Alliance's "White Biocentrism" forum last year, although it did not post beyond an introduction. On VK, Townsend is friends with Chester Doles, who organized the Georgia unit of the National Alliance in the early 2000s. Doles currently leads the Dahlonega, Georgia-based "American Patriots USA".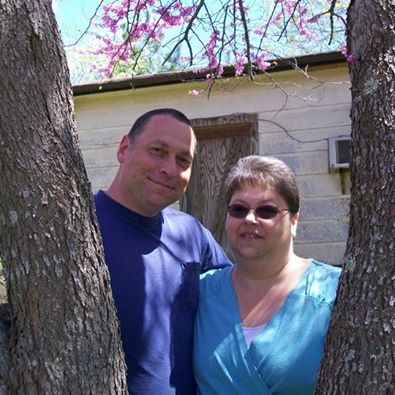 Paul Townsend's wife Launa Marie Townsend – employed as a cashier at the Walmart Supercenter in LaFayette – appears to share her husband's white supremacist ideology. In an August 2019 message on VK, Paul Townsend stated that he and his wife had to miss the national conference for the League of the South "last year, but NOT THIS TIME!" Launa Townsend's promised attendance at a white supremacist conference suggests sympathy with the cause.
Paul Townsend himself works or until recently worked in a large warehouse, which we believe is part of the Chattanooga, Tennessee-based Vincit Group. Vincit Group is comprised of several companies offering "chemical, sanitation, and engineering services". One of these companies supplies safety and sanitation gear while other parts of Vincit Group focus on, for example, the food and beverage industry. Chattanooga, Tennessee is approximately forty minutes from LaFayette, Georgia where Townsend lives.
Workplace photos posted by Paul Townsend
On social media last year, Townsend complained about "ni[**]ers" on the warehouse floor where he worked, cheering when one was fired and celebrating that a "White brother" was hired instead. On his VK account, Townsend also noted when Vincit Group had an opening for a shipping/receiving clerk and stated: "It would be really nice to see a White Nationalist get this job." In addition to advertising the Vincit Group job to his white supremacist associates, this March Townsend posted photos of large quantities of hand sanitizer and isopropyl alcohol that had been "Goin' like hotcakes" from his warehouse due to the COVID-19 crisis. This is consistent with Vincit Group's business.
Paul Townsend should be fired immediately from any job he may have, since nobody should be expected to work around an active white supremacist who fantasizes about mass murder. We also hope that by publishing this information, those living near Townsend are warned of his violent agenda and can assess any danger.
If you have further information about Paul and Launa Townsend or their white supremacist associates, please get in touch.