Chester Doles, the lead organizer of "American Patriots USA" in North Georgia, has a history spanning decades in the white supremacist movement.
In December 2016, Doles, alongside other members of the violent Hammerskin Nation (HSN) racist gang, was involved in a brawl with family and friends of an interracial couple celebrating at Johnny B's bar in Dahlonega, Georgia. Doles is affiliated with Crew 38, a booster group for the Hammerskins. Doles accepted a plea deal for two counts of battery from the Johnny B's brawl in November 2017. Prior to accepting the plea, Doles traveled with members of the HSN to Charlottesville, Virginia, where he participated in the bloody August 12, 2017 "Unite the Right" (UTR) rally.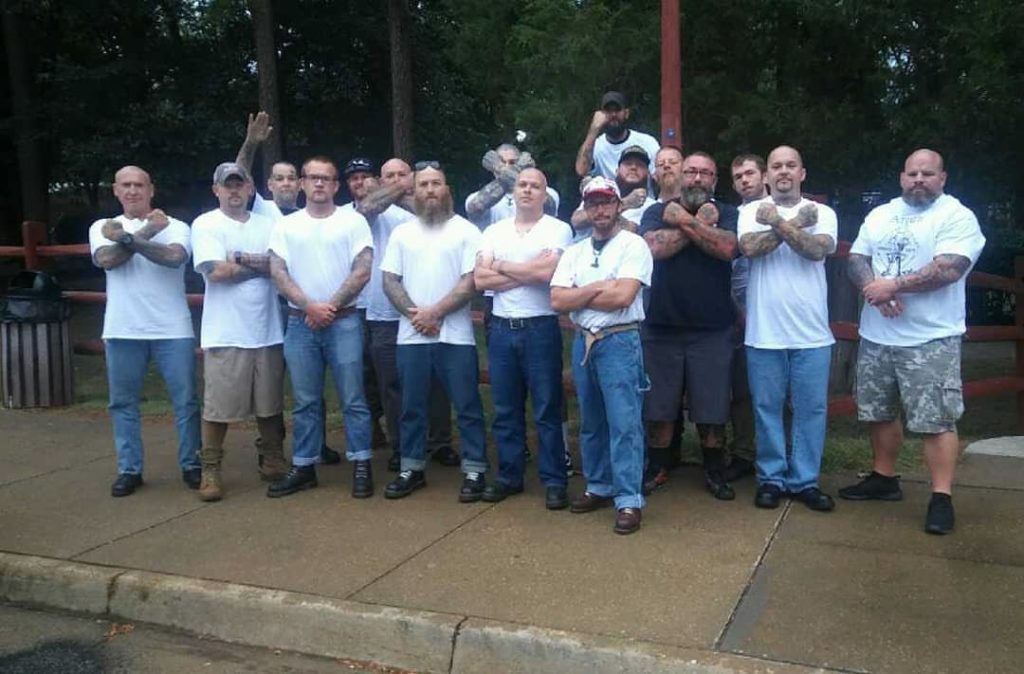 Chester Doles' presence at Unite the Right was noted by author Vegas Tenold. In addition, we published a still of Doles at UTR in our article on Doles' September 2019 far-Right "Patriots" rally in Dahlonega. The publication of this image displeased Doles, who last month stated on the VKontakte social media site: "That picture could of [sic] been taken anywhere. I've never been to CVILLE." Doles ignores that the still was taken from footage of UTR 2017 by independent media collective Unicorn Riot, and therefore could not have been taken anywhere else.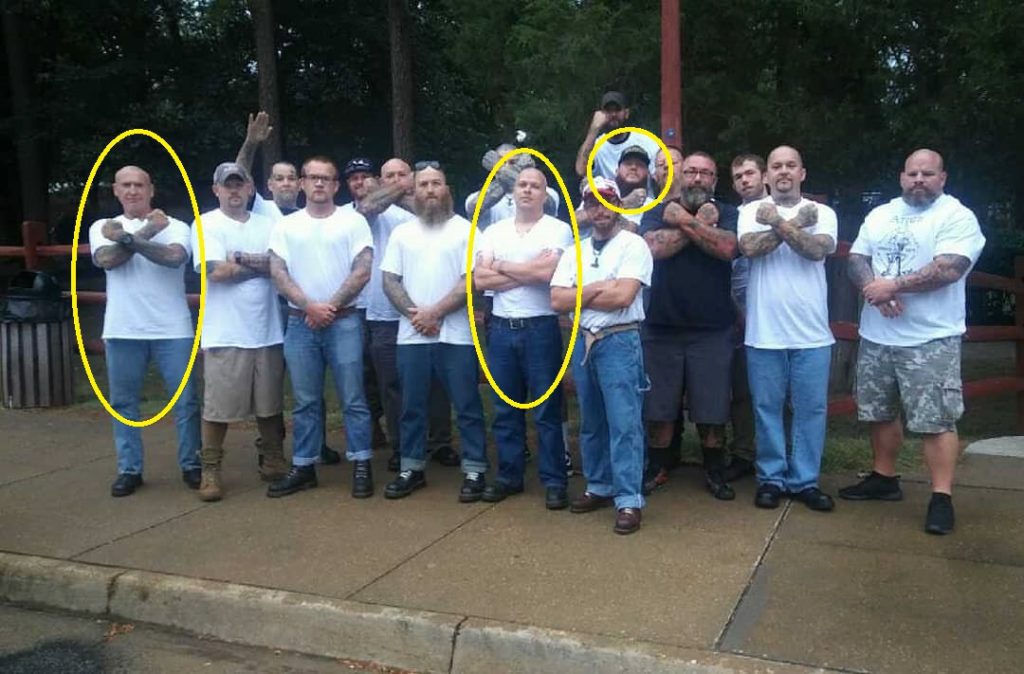 We have now located a picture of the Hammerskin Nation group from UTR 2017. The image was posted to Instagram in early 2018 by John Todd Kopko, a longtime associate of the HSN in Florida who now leads a different white power crew, the "United Skinhead Nation". Kopko added the comment: "That day Charlottesville was ours hail the [Hammerskin] nation". In the picture, Doles appears crossing his arms in an "X" and clenching his fists, to indicate the crossed hammers logo of the HSN. Also included in the UTR group picture are Jason Chance Reeves and Shawn Christopher Dunson, Hammerskins who were both with Doles at the December 2016 brawl in Dahlonega.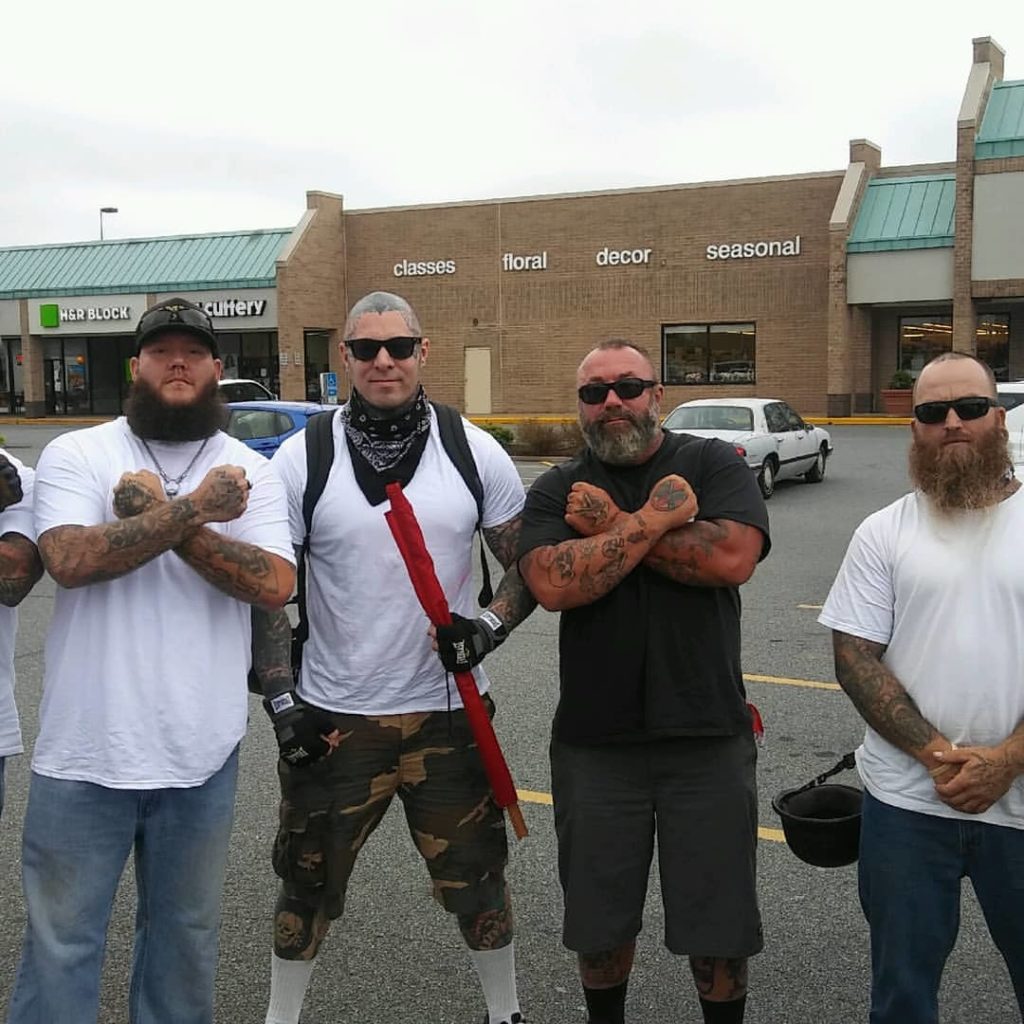 In addition, John Kopko published another photo of himself, Georgia Hammerskin Shawn Christopher Dunson, and others seemingly from the UTR trip. The picture was taken in the parking lot of the Rio Hill shopping mall in Charlottesville, VA. Attire matches the HSN group photo.
In conclusion: Chester Doles is a white supremacist who attended UTR 2017 with the violent Hammerskin Nation gang. Later in 2017, Doles took a plea deal for other violence he was involved with in Dahlonega alongside his Hammerskin associates. Doles lies when convenient about his ongoing involvement in the white supremacist movement.
If you have information on Chester Doles, the Hammerskin Nation, or Doles' more recent "American Patriots USA", please get in contact.
Update 2/24/2020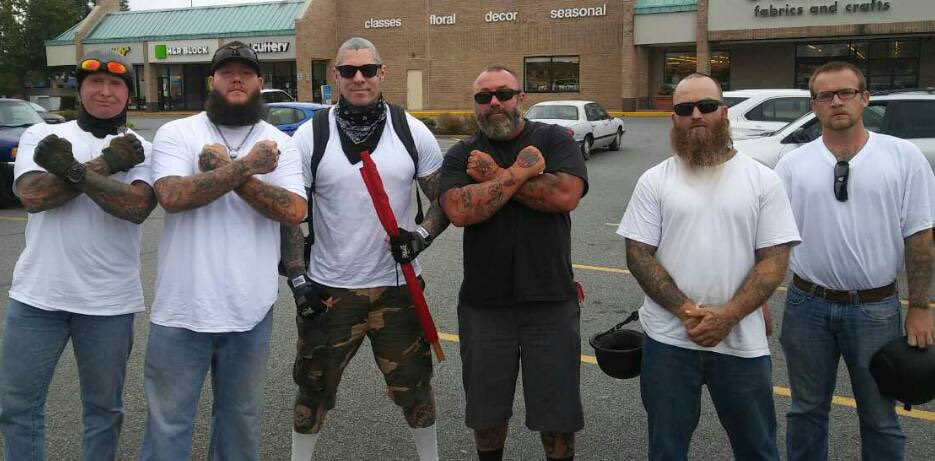 We have now accessed a complete version of the Rio Hill shopping mall photo. Chester Doles features in this untrimmed version of the photo.

As well as Chester Doles, Shawn Dunson and Kopko, the picture includes Hammerskin member Trevor David Thompson AKA "Trey Hooligan". Thompson earlier served a long prison sentence for the attempted murder of a Black teenager in Indiana.