Update 8/21/2019: Bikers for Trump have withdrawn support for the Dalhonega event.
Chester Doles, a longtime neo-Nazi and "fourth-generation" Klansman, is organizing a pro-Trump rally in downtown Dahlonega, Georgia, scheduled to take place on the afternoon of Saturday, September 14. The Dahlonega rally is an attempt by Doles to draw pro-Trump rightists closer to his own neo-Nazi politics, seemingly with some success. The planned rally is also promoted on Stormfront, a white supremacist website which has been linked to almost a hundred murders.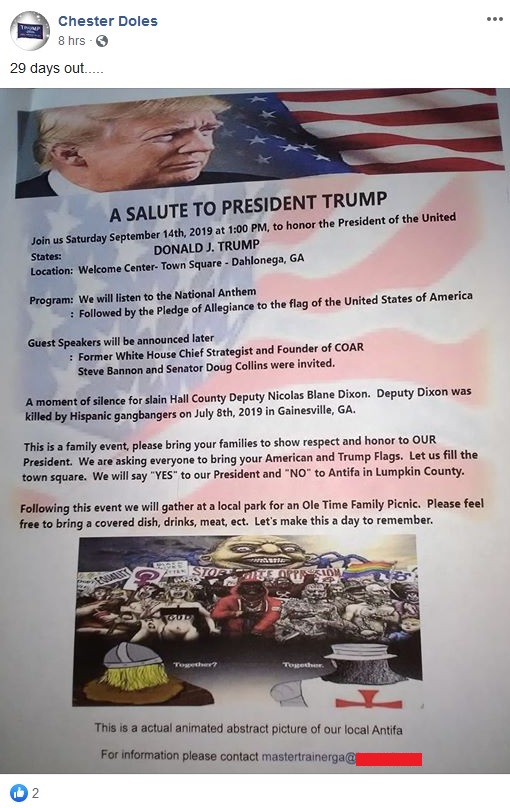 Dahlonega is a small city in north Georgia, approximately an hour and a half northeast from Atlanta and home to the University of North Georgia. In 2017, Dahlonega made headlines when a Ku Klux Klan sign was prominently displayed on a building in the downtown area – an attempt by an angry property owner to embarrass the city. Chester Doles – who lives in Dahlonega and has a past as a real Klan leader – was seemingly in on the 2017 stunt.
Doles has a long history in the white supremacist movement. While in Maryland, Doles led a Klan group. After serving prison time for assaulting a Black man (followed by a burglary conviction for which he got probation), Doles moved to Georgia, where he led the Georgia unit of the National Alliance, which was once the foremost neo-Nazi organization in the United States. In 2003, Doles was arrested for being a felon in possession of firearms. Doles eventually pled guilty and was released in 2008. More recently, Doles organized with Crew 38, which is the supporter group of the violent Hammerskin Nation racist gang. Doles gave a speech at the Hammerskin Nations' 2016 national gathering at a Klan bar outside Atlanta.

Doles promotes the September rally as a show of support for the President, decks it in patriotic imagery, and has even secured the support of Bikers for Trump. However, the rally is also a clear reflection of Doles' neo-Nazi commitments. The event flyer opportunistically highlights the shooting death of a Sheriff's Deputy in nearby Hall County by "Hispanic gangbangers" — language reminiscent of Doles' fearmongering when he organized anti-immigrant demonstrations for the National Alliance.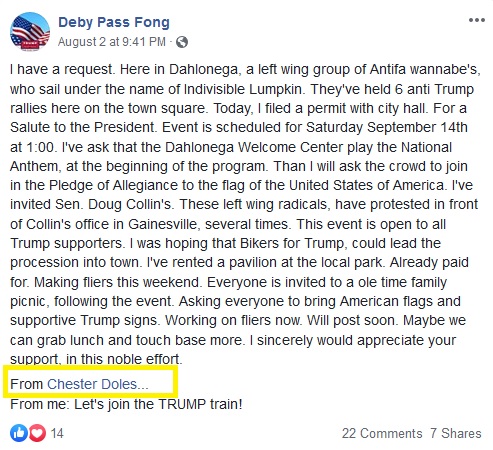 The September 14 "Trump" rally flyer also claims that the event will be a chance to "Say […] 'NO' to Antifa in Lumpkin County" (where Dahlonega is located). On Facebook, Doles claims that "Antifa" are gaining ground in Dahlonega and he states that his rally will be a "square off" with them. Doles is therefore putting together a team of "men who are used to sparring" to do "security" for his September rally. This is clearly a perfect role for Doles' violent white supremacist associates. As evidence of an "Antifa" threat in Dahlonega, Doles alludes to some small liberal events in the city. Through an imagined "Antifa" threat — which has little to do with actual antifascist organizing in the area — Doles is creating a pretext for a show of force and intimidation on September 14.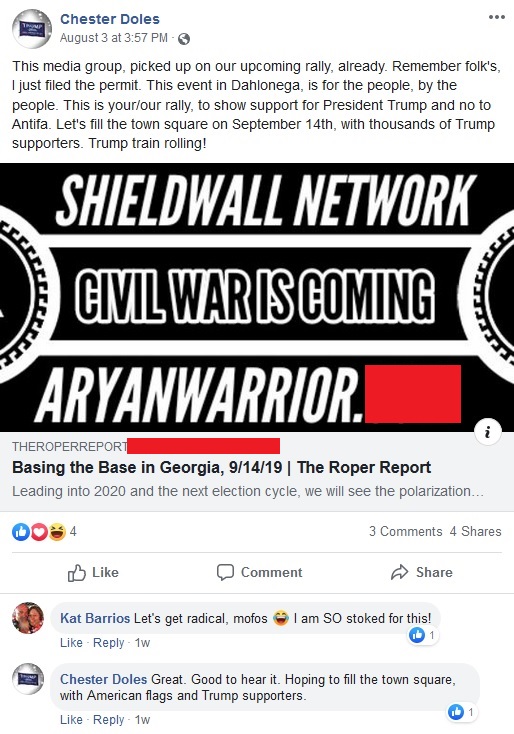 Doles' rally in Dahlonega is currently being promoted online by Billy Roper, a white supremacist who has been active since the 1990s and who now heads the racist "Shieldwall Network". Roper, who earlier this year led a group with Nazi flags to crash a Holocaust Remembrance Day event in Arkansas, praised the Dahlonega event organizers as "extremely trustworthy and veteran leaders of our movement who have years of experience in the field" on the Stormfront site. Chester Doles has circulated an announcement by Roper about the upcoming Dahlonega rally on his own Facebook page.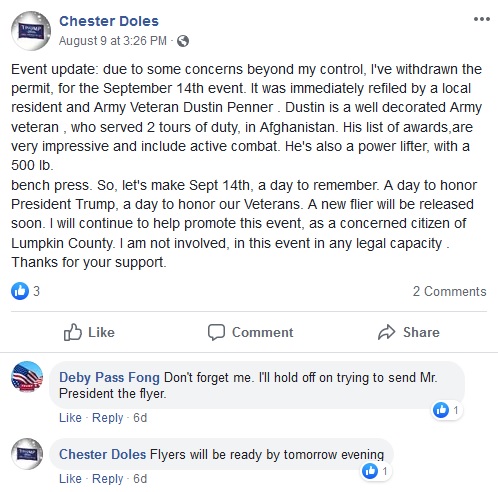 Chester Doles filed the initial permit application for the September rally, and writes that he paid for a pavilion rental at a nearby park. However, Doles recently withdrew his first permit application, with Dahlonega resident Dustin Penner allegedly putting his name to a new, re-filed application. With this move, Chester Doles now states that he is not involved in the September 14 event "in any legal capacity". However, Doles remains the main person pushing the rally on social media and networking for it. The email address for Doles' personal training business is the only contact information provided on the September 14 flyer.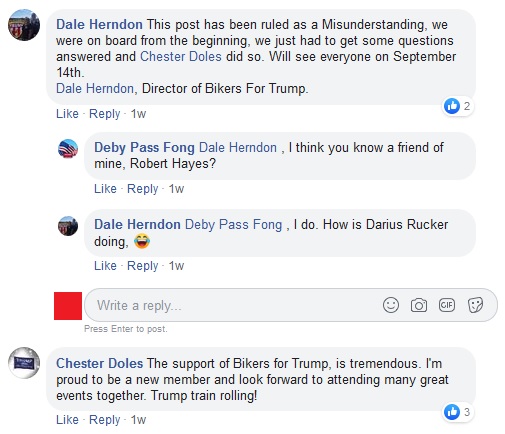 In what may be a bad sign for the 2020 election season, some Right-wing Trump supporters seem enthusiastic about the white supremacist-organized Dahlonega rally. The National Director of Bikers for Trump, Dale Herndon of Rome, Georgia, has told Chester Doles that his group will mobilize for September 14. On the Facebook page for the Lumpkin County Republican Party, the page administrator recently "liked" a post announcing the September 14 rally. While this may not represent an official endorsement of Doles' rally by local Republicans, it appears to be a nod and a wink to organizers. If this was done out of ignorance, the local GOP should clarify their stance.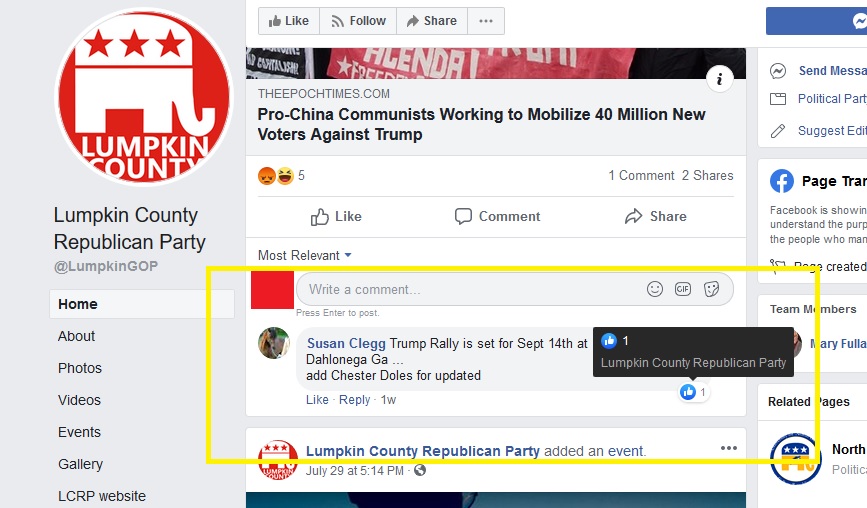 Despite the above, it remains to be seen just how much support Doles' September 14 rally will receive. Much depends on how locals in North Georgia choose to oppose this event, and whether any of those now pledging support for Dole's rally will have second thoughts about working with Nazis. We are confident that just as Lumpkin County residents rallied against a Klan sign in 2017, they will voice their opposition to a white power rally now.
Our organization is committed to monitoring this situation and sharing information in the weeks ahead, so please check our Twitter account for updates. If you have further information on Doles, his associates, or the September 14 rally, please get in touch.