Update 6/27/2019: Your Exterior Pros have removed Charles Robertson's bio from their website. They are telling callers that Robertson is not employed there. If you have further info on Robertson or others mentioned in this piece, please get in touch.
Introduction
On March 8-10, 2019, the racist "Identitarian" organization Identity Evropa (IE) held its annual conference in Dale Hollow Lake State Resort Park in Kentucky. Earlier that week, independent journalism collective Unicorn Riot leaked internal communications from IE, exposing their private conversations for public scrutiny. While IE attempts a clean-cut and respectable image, the organization helped make 2017's violent "Unite the Right" rally in Charlottesville possible. The organization's chat logs make their racist and antisemitic agenda unambiguously clear. On the Friday of IE's 2019 conference, the organization's third leader, Patrick Casey, announced that the group was now named the "American Identity Movement" (AmIM), rebranding in an attempt to lose some of the organization's earlier stigma. On the Sunday, IE/AmIM demonstrated at the State Capitol in Nashville, Tennessee: their first official action under the new name.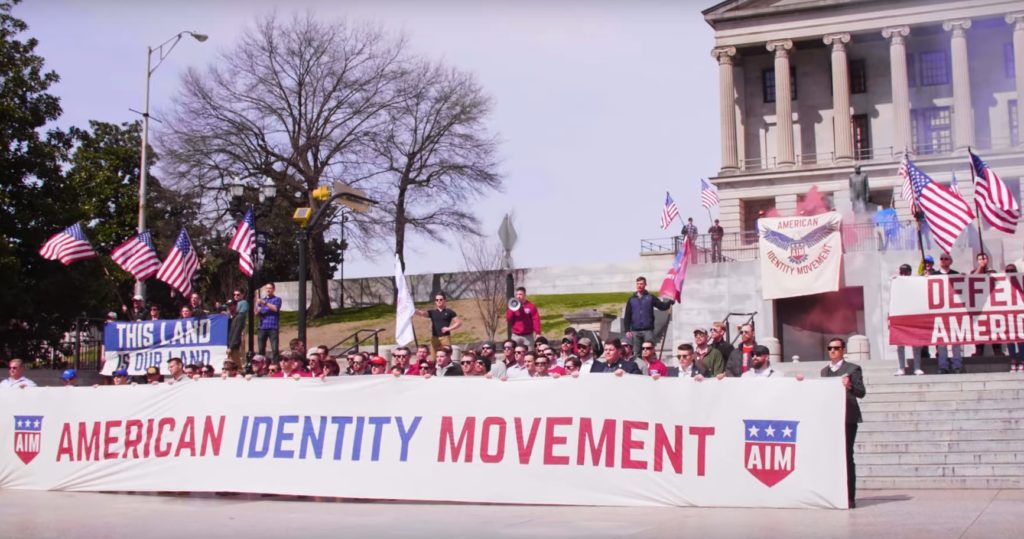 Atlanta Antifascists have been following Identity Evropa in Georgia for years. We have consistently exposed members of this white nationalist group to their neighbors, coworkers, and classmates, both to warn the broader community and to bring some repercussions for building the racist movement. With this article, we are naming five more members of IE in our state. Most – perhaps all – are also part of the "American Identity Movement" rebranded version of the organization. Three live in or near Savannah, Georgia, while the other two are in metro Atlanta.
Megan Martin and Charles Robertson – Savannah, Georgia
Megan Martin and Charles Robertson at first protest of "American Identity Movement", Tennessee State Capitol, March 10, 2019.
Megan Elizabeth Martin, also known as "Rayne", and Charles Allen Robertson are members of American Identity Movement and were active in the organization when it was still named Identity Evropa. The couple live together in Savannah. According to the website for Robertson's work, they are engaged.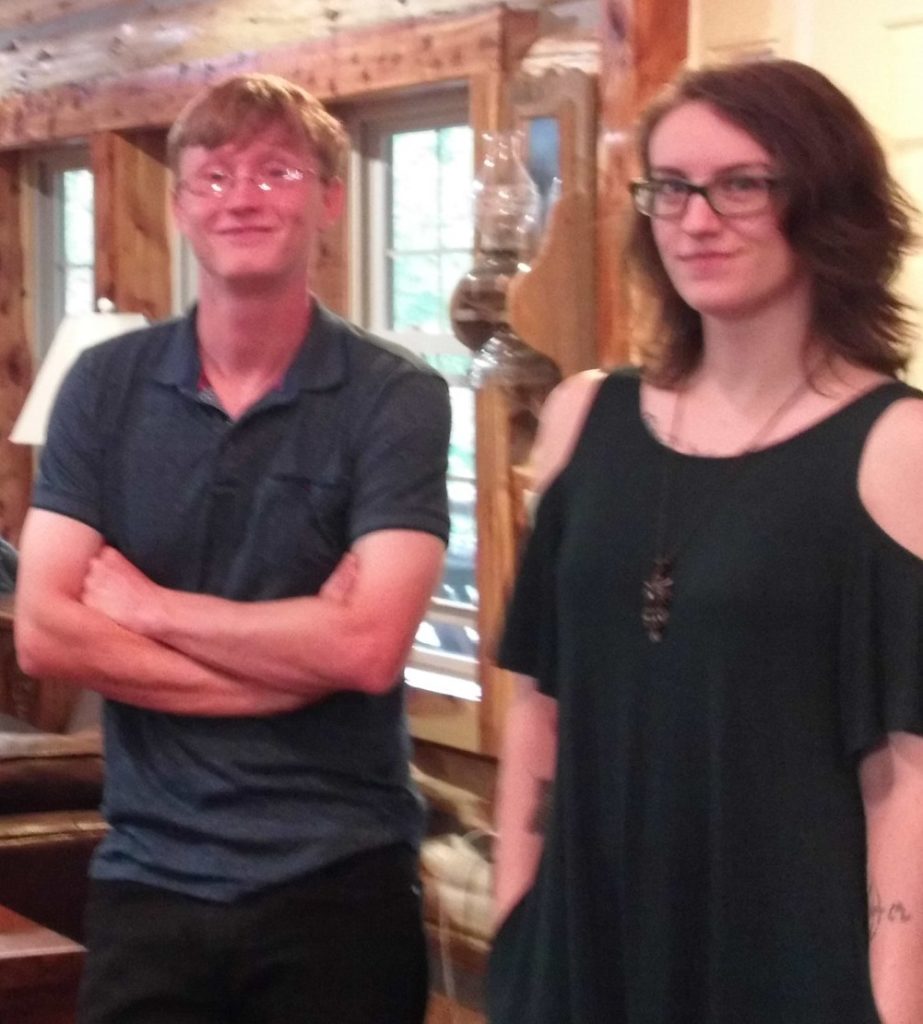 Megan Martin appears under the name "Rayne" in the leaked logs for the Identity Evropa chat server. Martin is also known as Rayne by those close to her.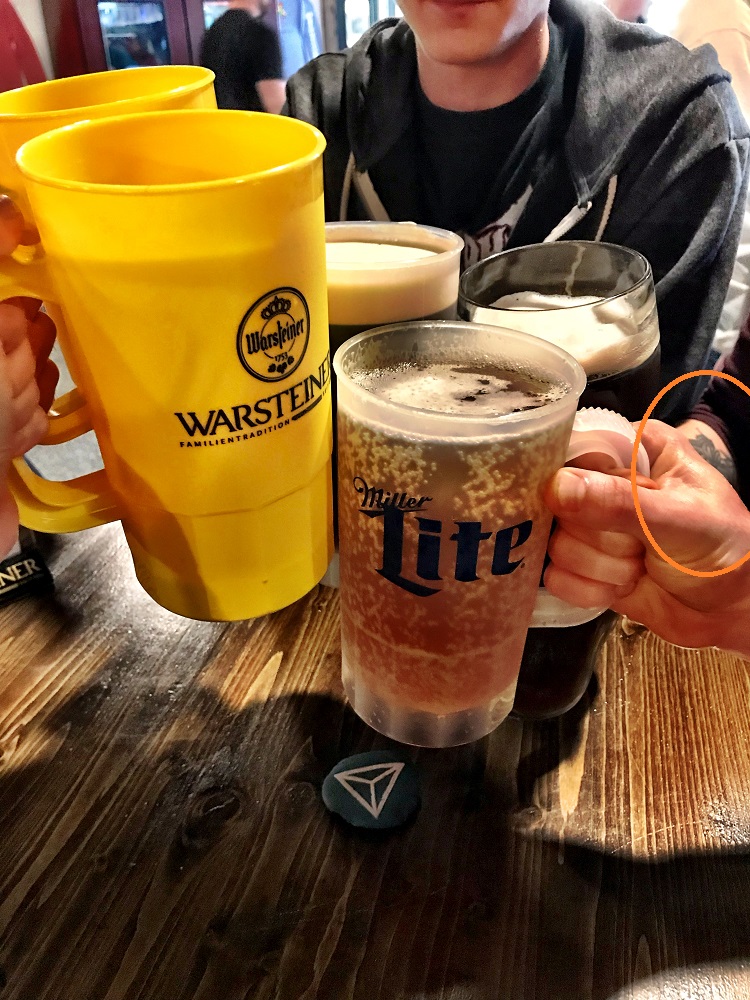 In October 2018, members of "IE Dixie" – Identity Evropa in Georgia accompanied by North Carolina and South Carolina representatives – hiked Raven Cliff Falls in Georgia. Photos from this gathering were posted on IE's social media to promote the organization. Both Martin and Robertson are visible in the group photo from Raven Cliff Falls. "Rayne" was also tagged by Identity Evropa member "The Morrígan" (another female member of Identity Evropa) ­in internal IE chats, stating: "The lovely @Rayne dropped this nice IE stone [a stone painted with the organization's logo] in Ravencliff falls in Helen, Ga". In a photograph taken while Identity Evropa members socialized over beers following the hike, one of Martin's tattoos is clearly visible.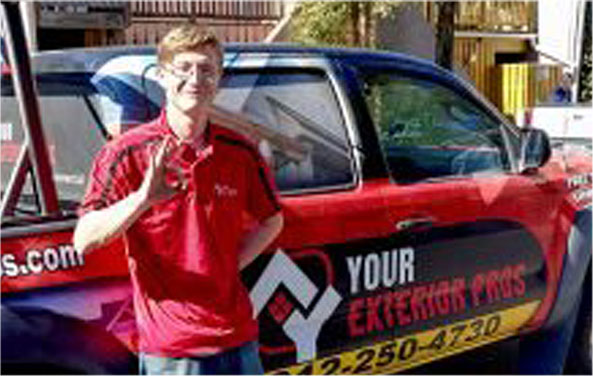 Martin's partner Charles Robertson works as a sales representative for Your Exterior Pros, a roofing and exterior company in Savannah, Georgia. The website for Your Exterior Pros includes a brief bio for Charles Robertson, stating: "One of his favorite past times is independent research, studying current and historical events, places and people." The accompanying photo of Robertson shows him making the "OK" gesture. In 2017, a far-Right campaign attempted to paint this gesture as a white supremacist symbol, with the hope that the liberals and the media would take the bait and look ridiculous. Confusingly, the same gesture has also actually been adopted by the far-Right and organized racists as a way of signaling their affiliations while maintaining plausible deniability. Context is important for evaluating what the gesture means in any given situation. However, when members of a white nationalist organization use the gesture – as Charles Robertson does on his job's website – the best explanation is this being a low-key signal of far-Right and racist beliefs.
It is likely that Charles Robertson is user "MercurysCell912-GA" in the leaked Identity Evropa chat logs. 912 is the area code for metropolitan Savannah, where only a handful of Identity Evropa members exist. A @MercurysCell912 profile also exists on the Gab social networking site. That profile identifies itself as an "Identity Evropa Activist" and has its name set as "Chuck Roberts" – a strong hint that the account owner is actually Charles Robertson. As well as following Identity Evropa and its leader Patrick Casey, the MercurcysCell912 account on Gab follows the fascist/white supremacist Patriot Front, as well as neo-Nazi and Holocaust-denial accounts such as "COOKINGWITHANNEFRANK" and "Holocaust Lies Exposed". In IE's Discord chat server, MercurysCell912-GA proposed flyer designs for the organization and also discussed monitoring Left-wing social media with a fake account. On Gab as well as in IE's leaked chat logs, MercurysCell912 shared videos from "VFG Productions", a white power channel on YouTube.
Dalton Millek – Richmond Hill, Georgia
Dalton Millek
On July 5, 2018, IE posted pictures to social media of "members of Identity Evropa" cleaning a cemetery in Savannah, Georgia. IE used activities such as graffiti removal or cemetery clean-ups as a way to improve their group's image after 2017's calamitous "Unite the Right" in Charlottesville, Virginia. In the July 2018 Savannah pictures, two men are visible. One resembles Charles Robertson while the second is Dalton Richard Millek of Richmond Hill, Georgia.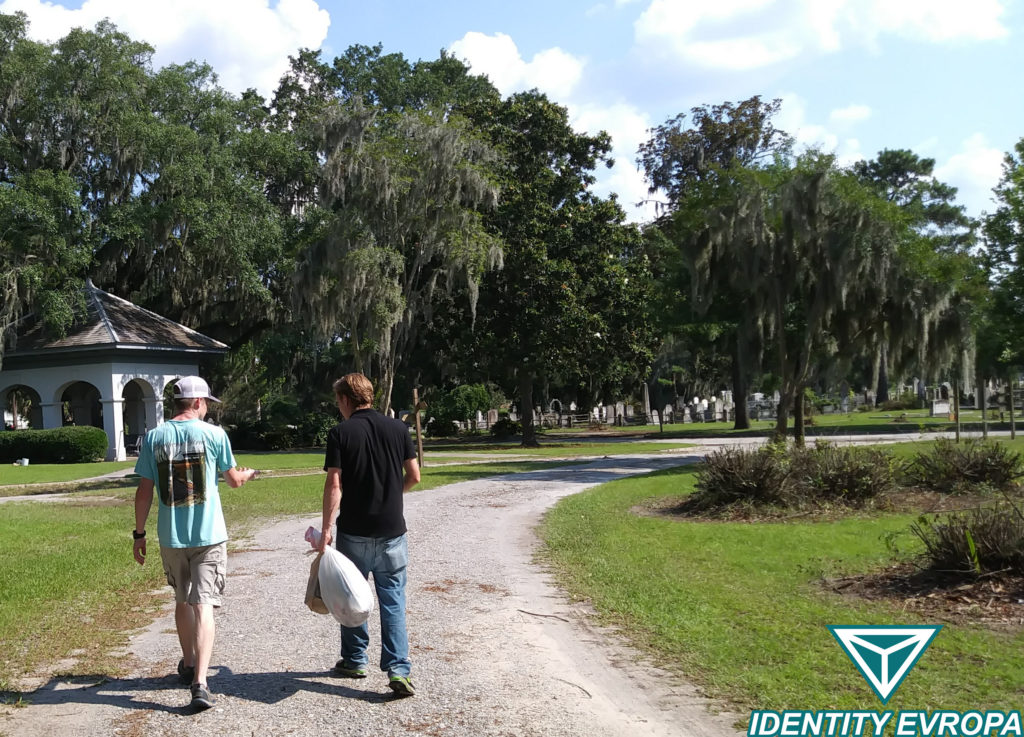 Not only does the second figure in the Identity Evropa photos look like Dalton Millek, but this figure wears a cap which Dalton Millek also wears in other photographs, such as on the website for his upcoming wedding. Additionally, the figure from the cemetery photos has a partially-visible tattoo on his arm – the visible part exactly matches the placement and design of one of Dalton Millek's tattoos, which can also be seen in a picture on his wedding website.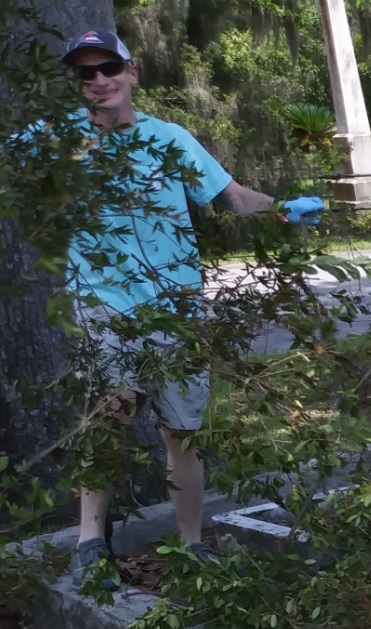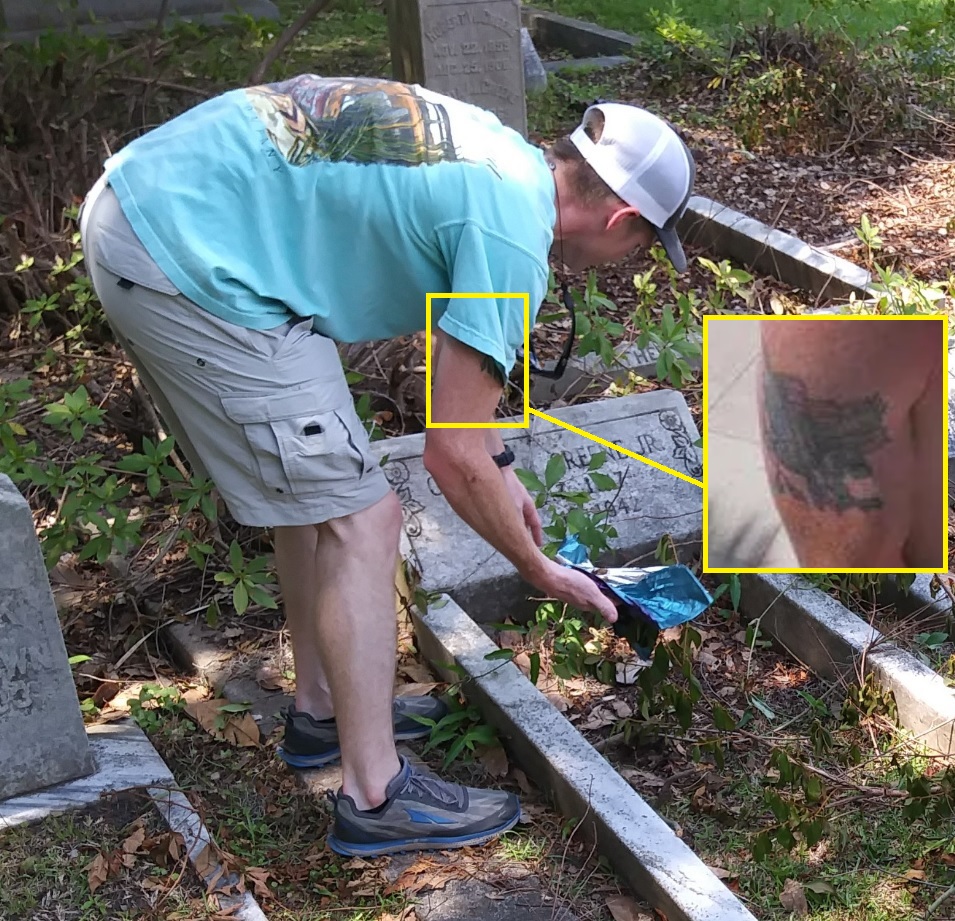 Dalton Millek shows his white nationalist sympathies elsewhere on the web, for example giving Into the Darkness: Nazi Germany Today by Lothrop Stoddard – which is an American white supremacist's account of his stay in Nazi Germany – a five-star rating on Goodreads. Millek also recently gave a five-star rating to Bronze Age Mindset, a self-published call for "Purification of the world" by "Bronze Age Pervert", an Alt-Right personality on Twitter. Dalton Millek's YouTube account, which was once under his real name but has now been changed to an alias, includes a playlist for "Hail Victory music" – a reference to the Nazi salute "Sieg Heil!" (The only video on that playlist has been deleted by YouTube.) Dalton Millek also shows his political allegiances by following such white nationalist YouTube channels as "Goy Talk", "Reich Radio" and the National Policy Institute / Radix Journal.
Millek's fiancée is Sara Lauren Cleland, the Digital Marketing Director for Visit Savannah. We have no evidence that Lauren Cleland supports the white supremacist movement, beyond personal support for her white nationalist fiancé. Dalton Millek currently lives with his daughter and fiancée Cleland at 75 Rice Gate Drive in Richmond Hill, which was purchased by Cleland earlier this year. While Millek appears to be one of the less active Identity Evropa members profiled here, we still encourage Richmond Hill neighbors to keep an eye out for any new signs of racist organizing.
Damian Stanfill – Lilburn, Georgia
Damian Stanfill
Damian James Stanfill, who went by the name "Flint" in leaked IE chat servers, is deeply involved in Identity Evropa, even stating last year that "All my friends are local IE guys now". Stanfill exposed himself through his abundant posts in Identity Evropa chats, which were leaked in early March just before the organization's conference.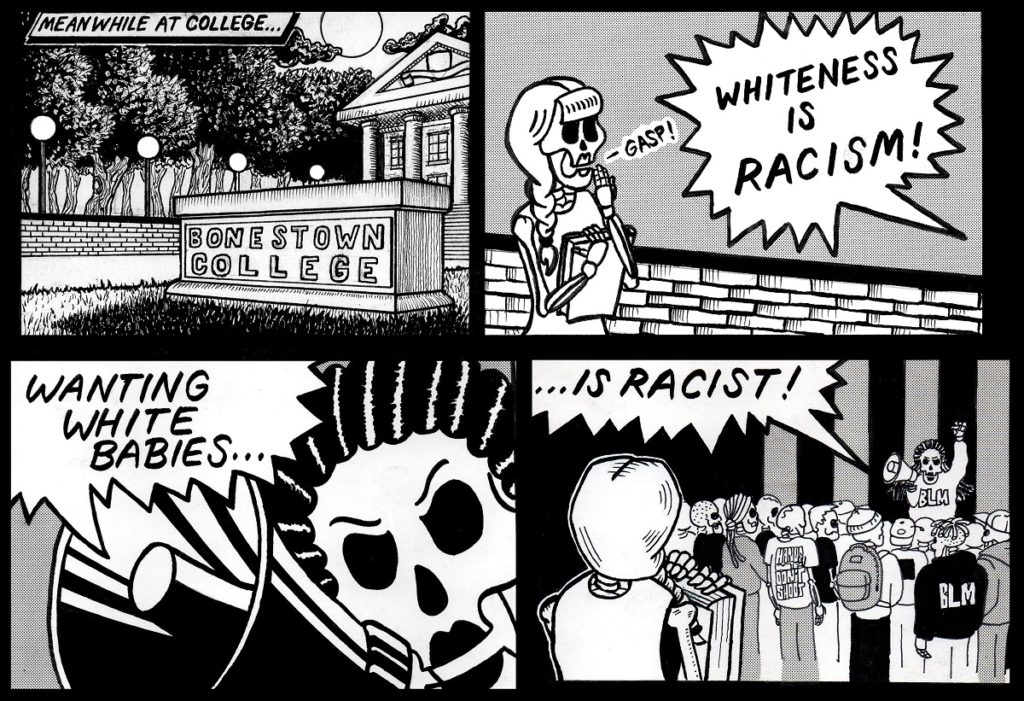 In Identity Evropa's internal chats, "Flint" states that he is a veteran who "got out in '06" and has "been to Afghanistan". Flint also said that he was "in high school in the early aughts". Flint is originally from Southern California and wrote that he has a "brother in Alaska". Flint claimed that during 2018 he "graduated college, had a baby, started a business." In his new business, he "work[s] with ladders daily". On October 2nd, 2018 Flint posted a picture of his newborn child in the IE chat. He later commented that his child was born "3 weeks early". Flint's posts suggested that he is familiar with Savannah, Georgia. Regarding his present living situation, Flint stated that his ideal is "to live an hour outside of a city near the boonies–but not in the boonies". He appeared to know Atlanta Identity Evropa members such as Evan Anderson, Jared Huggins, and Justin Peek. Flint drew propaganda comics and posters for his racist cause, sharing one of his "Bonestown" comics in the IE chat.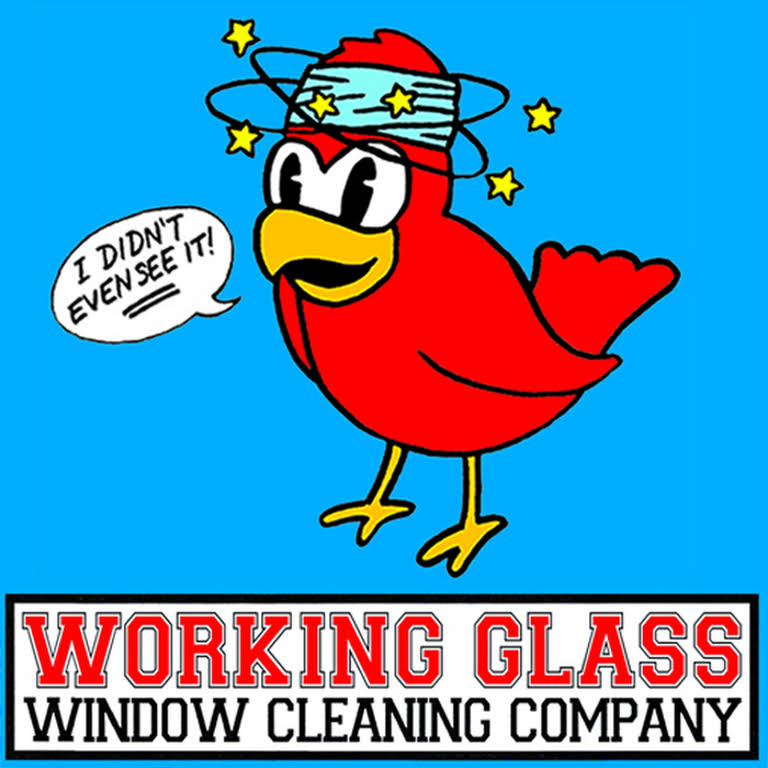 Damian Stanfill currently lives in Lilburn, Georgia, about half an hour from Atlanta – perhaps closer to the city than he would prefer. Before that, Stanfill and his wife lived in Savannah. His wife's due date was October 22, 2018 according to their baby registry – three weeks after "Flint" posted the baby picture from an early birth. In 2018, Damian Stanfill launched Working Glass Window Cleaning, a "veteran-owned" window-cleaning business. We have not located Damian Stanfill's college or graduation history, however there are several private colleges in the Savannah area. (Stanfill's wife Lydia Stanfill – née Gilleland – worked as a café manager at the Savannah College of Art and Design before their move.) Damian Stanfill was born in 1985 and grew up in Southern California. His brother lived in Alaska. Stanfill's "Working Glass Window Cleaning" has a hand-drawn logo, with the art style and lettering resembling Flint's "Bonestown" comics.

Finally, there is a clear link between Stanfill and the circles around Identity Evropa in Atlanta. On the Venmo payment app, Stanfill received funds this March from Amber Wojcik (now Amber Peek), who was then the fiancée of Identity Evropa/American Identity Movement "Director of Activism" Justin Wayne Peek. The details of "Flint" and Damian Stanfill match up so closely that there is no plausible explanation except Stanfill being Identity Evropa member "Flint".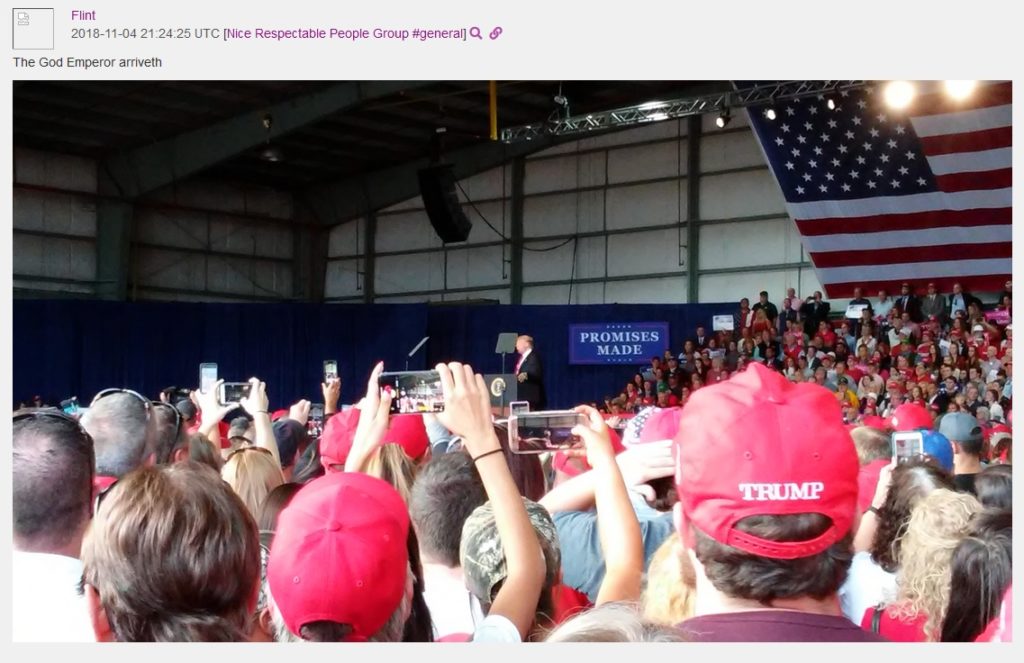 On November 4, 2018, Stanfill traveled to Macon, Georgia to attend a rally for Republican candidate for governor Brian Kemp that featured an appearance by Trump. Stanfill attended alongside Evan Thomas Anderson– part of Identity Evropa's leadership – and a third Identity Evropa member, "Phoenix Fire". Damian Stanfill has expressed an interest in Republican canvassing and stated in Identity Evropa's chat that "I want to get ready for 2020 in my area".
The defining aspect of Stanfill's politics is his rabid antisemitism. Stanfill believes that "the J's [meaning Jews] control A-Z" in society and that "the JQ [meaning "The Jewish Question"] is the key to unlock the mystery of 'what on earth is going on around here?'". Stanfill claims that "J's are *the* problem" and that antisemitism is a "natural response" to Jewish people. He labels himself a "a J-war vet". Stanfill wrote that while in college he argued to his class that the Holocaust was "overplayed" and delighted in the effect this had on a Jewish student. Stanfill did not always hate Jewish people; in 2014, he and his fiancée (now wife) were listed in Savannah Jewish News as new members of the Jewish Educational Alliance. It is unclear exactly what led to Stanfill's shift to extreme antisemitism, although the racist podcasts Stanfill mentions in IE chats may have played some role.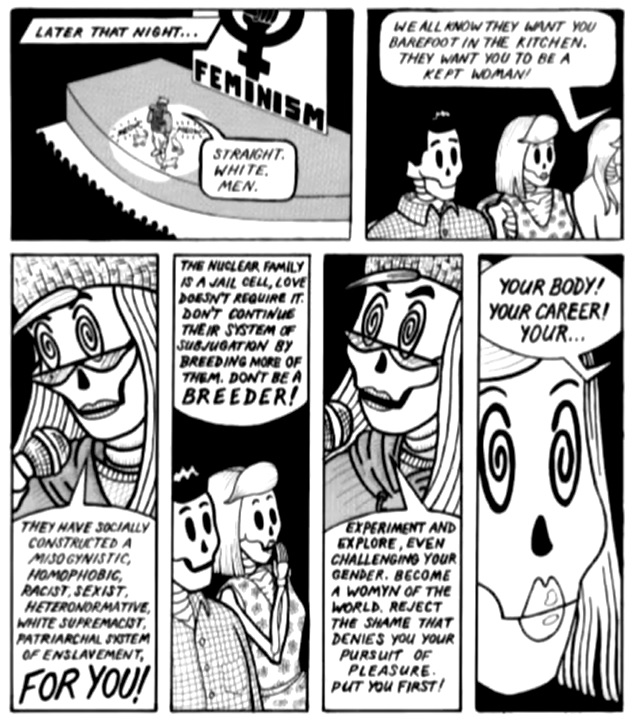 While Stanfill is active in Identity Evropa and attends white nationalist events such as the American Renaissance conference, Stanfill portrays himself as a "resolute Christian" and states that "My church is hardcore Right wing". He views himself as a moral individual in a sick society: "When I say that our society has AIDS, I mean it: all of our cultural defenses have been defeated and we're open to any illness they can think of". As well as a shadowy Jewish conspiracy, Stanfill also blames "the Leftist agenda" for social sickness. Stanfill argues that almost nobody should attend third-level education "Until we purge the universities of subversives". He discussed with other IE members an over-ambitious plan to pressure donors not to fund universities until these institutions cease promoting "cultural marxism". Stanfill realized this plan would likely not succeed. He nevertheless thought it was worth a try since "the left" would have "to waste time and resources dealing with it". Unsurprisingly, Stanfill plans to home-school his child.
Stanfill was dismayed that James Alex Fields, Jr. was convicted for murder for his 2017 vehicular attack at Unite the Right in Charlottesville, which killed Heather Heyer and wounded dozens more. Stanfill was even more upset that IE did not publicly defend the murderer, who Stanfill portrayed as the true victim.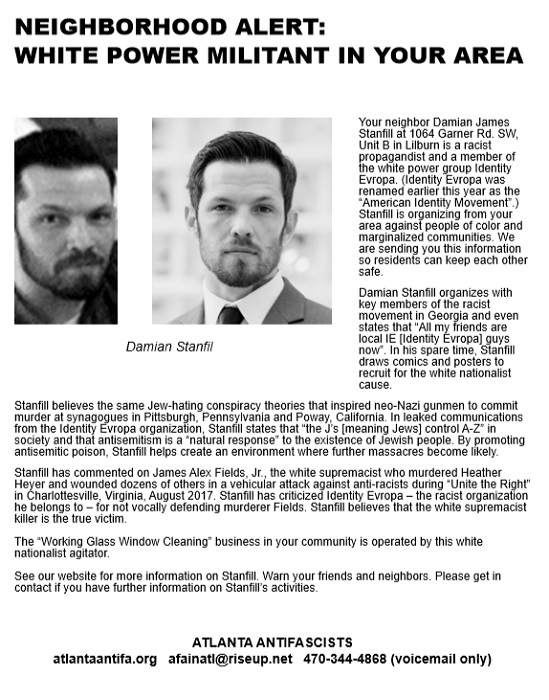 To coincide with this article, we have mailed 100 flyers to Stanfill's neighbors in Lilburn, Georgia, alerting them to the active white nationalist in their area. You can download this flyer here.
Mitchel Weaver – Atlanta, Georgia
Mitchel Weaver
Mitchel Ryan Weaver, who according to his LinkedIn profile is employed as a technology analyst at Norfolk Southern, appears in the leaked Identity Evropa logs under the alias "Sherlock". "Sherlock" also shows up in the logs for an online American Identity Movement "weekly address", revealing Weaver's continued affiliation with the racist organization following its rebrand.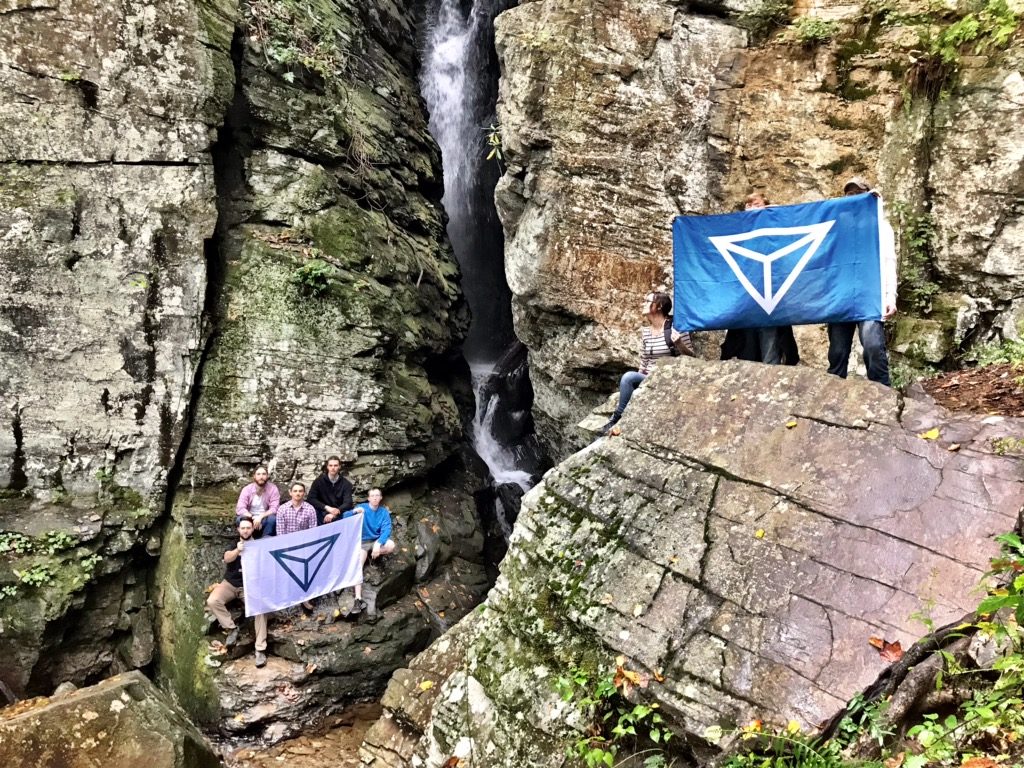 In IE's leaked Discord chat server, "Sherlock" identifies himself as 5'10" with a weight that fluctuates between 165 and 180 pounds. "Sherlock" was 33 years old in October 2018. He stated that "I'm completely of British ancestry and I think I have a bit of Norman." Sherlock usually wears contact lenses, but sometimes glasses. Soon after Identity Evropa published a photo of members visiting Raven Cliff Falls in Georgia, Sherlock wrote: "my face got blasted on IE's twitter the other day".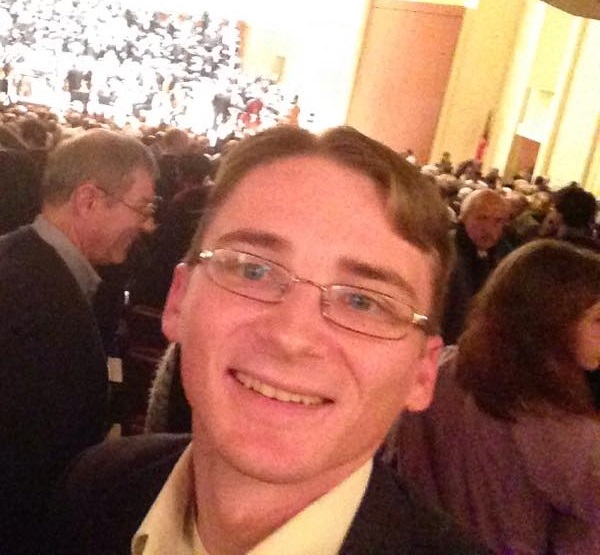 "Sherlock" is a classical music enthusiast who frequently attends the Atlanta Symphony and he is also a fan of Sherlock Holmes stories. He is "philosophically" a racist pagan, although he comments that the local group of the Asatru Folk Assembly (which shares these beliefs) is "terrible and incompetent". Sherlock states that "a CS [computer science] degree is not a waste of time", that he works in information technology, and that he is familiar with C-family programing languages.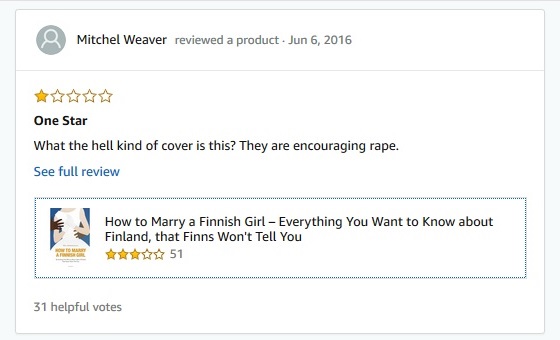 Mitchel Weaver was born in 1985 and matches Sherlock's physical self-description. "Weaver" is an English last name. Weaver attends the Atlanta Symphony, has a computer science degree from Kennesaw State University, and works with the C# language. On Weaver's reviews on Amazon.com, he reviews a Thor's hammer pendant – a symbol used by both racist and non-racist heathens – and in another review describes himself as a "long time [Sherlock] Holmes fan". In yet another review, Weaver flaunts his racism, claiming that a book is "encouraging rape" because its cover shows a pair of Black hands embracing a white woman. The book reviewed by Weaver has been targeted by campaigns from white supremacists.
Under the alias "Sherlock" in the Identity Evropa chats, Weaver states that he has been "involved with [Identity Evropa] activism" locally, but that this organization also fulfills a social role for him, since his non-racist friends have mostly disowned him due to his bigotry. In IE discussion, Weaver name-checks William Luther Pierce, the neo-Nazi author of The Turner Diaries – a race war fantasy which inspired the 1995 Oklahoma City Bombing. Mitchel Weaver is also enthusiastic about eugenics, a now-discredited movement to channel human breeding. Weaver claims that "abortions are probably very eugenic […] and I don't just mean bc of blacks" and that "sterilization is also great". Weaver argues that "Segregation would be nice" although he'd settle for laws maintaining "the majority population of towns etc", claiming that this somehow "would be more palatable than pure segregation". Of course, any such policy would involve wholesale oppression and coercion. On the topic of Jewish people, Weaver states that he became an antisemite "Just seeing JQ ["Jewish Question"] stuff on Twitter all the time".
Conclusion
With this article, we have exposed five members of Identity Evropa in Georgia. Three of these five – Megan "Rayne" Martin, Charles Robertson, and Dalton Millek – live in or near Savannah, Georgia, while the other two – Damian Stanfill and Mitchel Weaver – are in metro Atlanta. We have linked Rayne Martin, Charles Robertson and Mitchel Weaver to the "American Identity Movement" rebrand of IE. We expect that Damian Stanfill, who was very well integrated within IE, also remains in the organization under its new name. It is harder to tell the current membership status of Richmond Hill resident Dalton Millek, who we linked to Identity Evropa through photographs rather than a profile in IE's leaked chats. However, there is no doubt from looking at Millek's online presence that he is still an Alt-Right white nationalist.
Under whatever name it goes by, we will track and expose members of the Identity Evropa/American Identity Movement. See here for other articles discussing IE/AmIM's membership and activity in Georgia. If you have further information on American Identity Movement members or other organized racists in our state, please get in contact.