On July 29 of last year, two members of Patriot Front – a fascist and white nationalist organization – placed propaganda at synagogues in Columbus, Georgia in an apparent attempt at intimidation. We can now identify one of the two people responsible, who we had written about earlier this year but failed to connect to activity in Columbus. As discussed in our previous article, Christopher Skylar Brooks helped place Patriot Front (PF) materials in the Atlanta suburb of Lawrenceville in May 2019. We connected Brooks to the PF materials in Lawrenceville via an online brag in combination with Brooks' internet handle, location, dress, and other clues. In our article about Brooks, we surmised that he did not last long in Patriot Front. However, he stayed long enough in the organization to target Columbus, Georgia synagogues with another member, a month and a half after the May propaganda run in Lawrenceville.
After Patriot Front targeted the Jewish congregations in Columbus last year, police released surveillance footage showing those responsible. One of the figures closely resembles Chris Brooks. Other documentation supports Brooks' involvement. A source who had access to Patriot Front's internal chats provided us with mid-2019 communications from the organization. These conversations, held in internet discussion rooms accessible only to members of the organization, revealed that Patriot Front members "John GA" and "Daniel GA" targeted the Columbus synagogues. Patriot Front chatter also allowed us to figure out that "Daniel GA" was Chris Brooks' alias within the organization.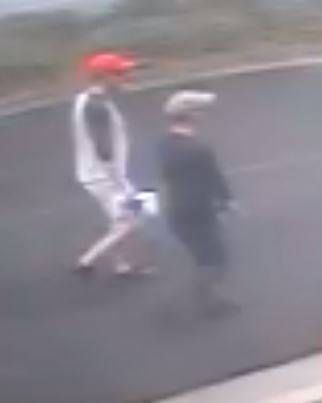 Chris Brooks has now relocated to Shanghai, China, where he is involved in the Shanghai Beverly Business Consulting company and its "ITutorESL" subsidiary – "Chris B" is listed as Chief Operations Officer on the ITutorESL website. In addition to Patriot Front, Brooks was involved with the Proud Boys, a broader far-Right "Western Chauvinist" fraternity which overlaps with white nationalist circles.
We have not yet identified the second individual, "John GA", but provide details on this organizer in a later section. Of the two, "John GA" was more active in Patriot Front, traveling long distances to network with other members, helping with rallies, and propagandizing for the racist organization online.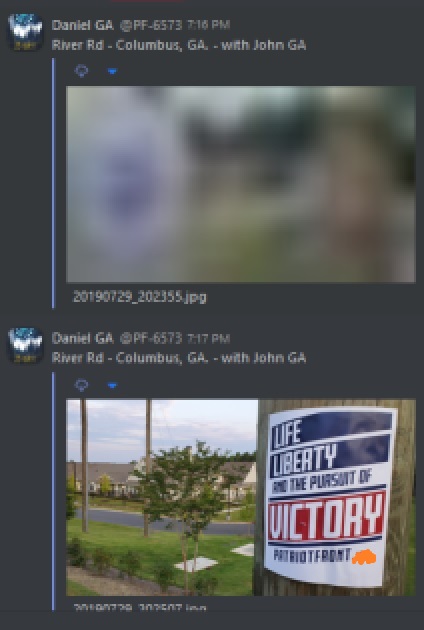 Chris Brooks' Identity as "Daniel GA"
At the time Patriot Front placed materials at Columbus, Georgia synagogues, there were three members listed in the organization's chat server as Georgia members: "Daniel GA", "Henry GA", and "John GA". "Daniel GA" uploaded photos to PF's internal discussion server of the Columbus propaganda spree, specifying that "John GA" had been with him as they hit the synagogues.
Typically, only Patriot Front members have access to stickers and propaganda designs for the organization. Our earlier article established that Brooks placed materials for Patriot Front in May 2019. Details such as Brooks' employment history did not match for the other two Georgia members who were then in the PF chat server, establishing that Brooks was "Daniel GA".
In a Patriot Front meeting on May 14, 2019 held via audio group chat, "John GA" mentioned having "vetted a new guy in an area near Atlanta" and placing organizational materials with this new member. "John" also mentioned that this propaganda attracted antifascist attention, which makes it clear that he was referring to activity around Lawrenceville. The night before the May 14th PF meeting, "John GA" tagged "Daniel GA" (and PF leader Thomas Rousseau) in the PF discussion server, with a link about antifascists removing Patriot Front stickers in Lawrenceville and commanding "Daniel GA" to "overwhelm these losers". In our earlier article, we documented that Chris Brooks returned to this spot, to again place Patriot Front propaganda.

Further details from Patriot Front communications also support "Daniel GA" being Chris Brooks. The icon for "Daniel" in the PF chat features a "Black Sun"/ Schwarze Sonne symbol favored by neo-Nazis. This same symbol (though not the exact same image) featured on Chris Brooks' Facebook profile under the alias "Nash Schunulitz".
In May 2019, "Daniel GA" told PF members that he knew some individuals responsible for (purportedly) exposing an antifascist researcher, stating that members of the Proud Boys were involved. "Daniel GA" criticized the Proud Boys' official ideology but also called it a useful "gateway org". In addition to being part of Patriot Front during 2019, "Daniel GA" has a history with the Proud Boys and is well networked within Proud Boy circles.
July 29, 2019: Brooks and "John GA" Target Synagogues in Columbus, Georgia
Using the photos that Chris Brooks ("Daniel GA") posted to the Patriot Front internal chat, we can recreate what happened in Columbus on the night of July 29, 2019. The times in the Patriot Front discussion reflect when the images were posted, not when photographs were taken. Those time stamps are also for a different time zone. However, the photos were posted in roughly sequential order, with the sky getting darker as night falls.
The numeric file names for the photos posted in Patriot Front discussion may give approximately the correct time. However, they are likely off by a few minutes if the time in surveillance footage released by Columbus Police is correct.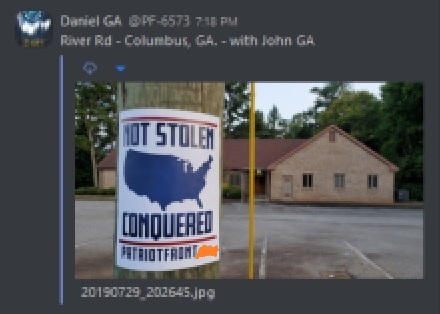 "John" and Chris Brooks began by placing Patriot Front materials at the intersection of River Road and Mobley Road. There, they placed propaganda on at least one pole and one electricity box in front of Shearith Israel synagogue. They also left a poster on the opposite side of Mobley Road across from the synagogue, in the process being captured on surveillance camera footage that was later circulated by Columbus Police. A local news report mistakenly stated that Shearith Israel was not targeted with PF propaganda on July 29 but noted that the synagogue had been hit with materials from the organization months earlier, in an incident not made public at that time.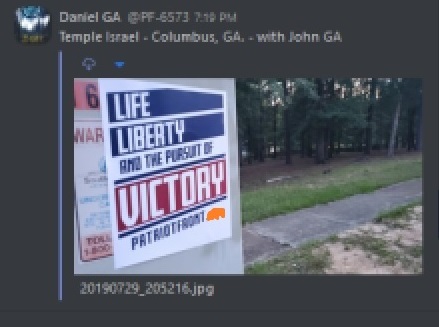 Brooks and "John" then proceeded to Temple Israel. There, they wore masks and placed propaganda directly on the building, in addition to signs and poles. After the posters were discovered the next morning, Temple Israel spoke out about the antisemitic targeting.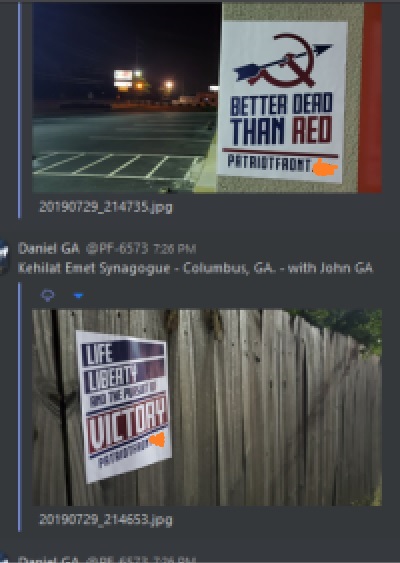 Finally, Chris Brooks ("Daniel GA") posted images suggesting that messianic congregation Kehilat Emet in Columbus was targeted on the same night. This was not reported in the media and may not even have been noted by the congregation.
Patriot Front Organizational Response

After the story of the synagogue targeting broke in regional media, a North Carolina Patriot Front member commented in the organization's chat server on August 2nd, giving "props" to the "Georgia boys" for wearing gloves. This comment got a couple of thumbs-up from other members.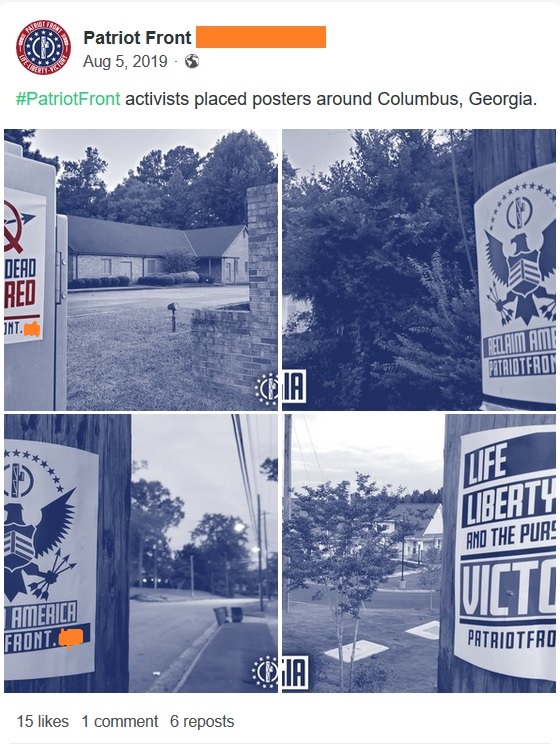 A few days later, Patriot Front posted images on social media of their propaganda in Columbus, Georgia, including an image from Shearith Israel and one from Temple Israel. By doing this, the organization as a whole signaled its approval of the harassment by Chris Brooks and "John GA". Since Patriot Front is carefully micro-managed by its leader in Texas, Thomas Rousseau, releasing images of the targeted synagogues would have been approved from the very top of the organization. To further gloat, Patriot Front shared footage of Shearith Israel speaking out about the harassment on its "PatriotFrontNewsClips" video channel in December.
Notes on "John GA"
We have not yet identified "John GA", the second individual involved alongside Chris Brooks in the Columbus harassment. However, in Patriot Front chats "John" left several clues about his identity and documented his efforts for the organization. We hope that by presenting notes on "John GA", someone may be able to help identify him. Just as Chris Brooks does not actually have the name "Daniel", "John GA" may not really be named John.

In March 2019, "John GA" told other PF members that he had "hit the same park like 4 times in the last few months". He stated that the park was in an "affluent white area" and was one of the "busiest places in my area" because of baseball every weeknight. In the early months of 2019, Columbus was the only Georgia city where PF regularly left propaganda. "John GA" was the only active PF member in the state during those months (Others joined later.) Therefore, "John GA" was likely based in or near Columbus. For similar reasons, we suspect he was involved in the earlier targeting of Shearith Israel, which according to local media took place months before the July 29 harassment.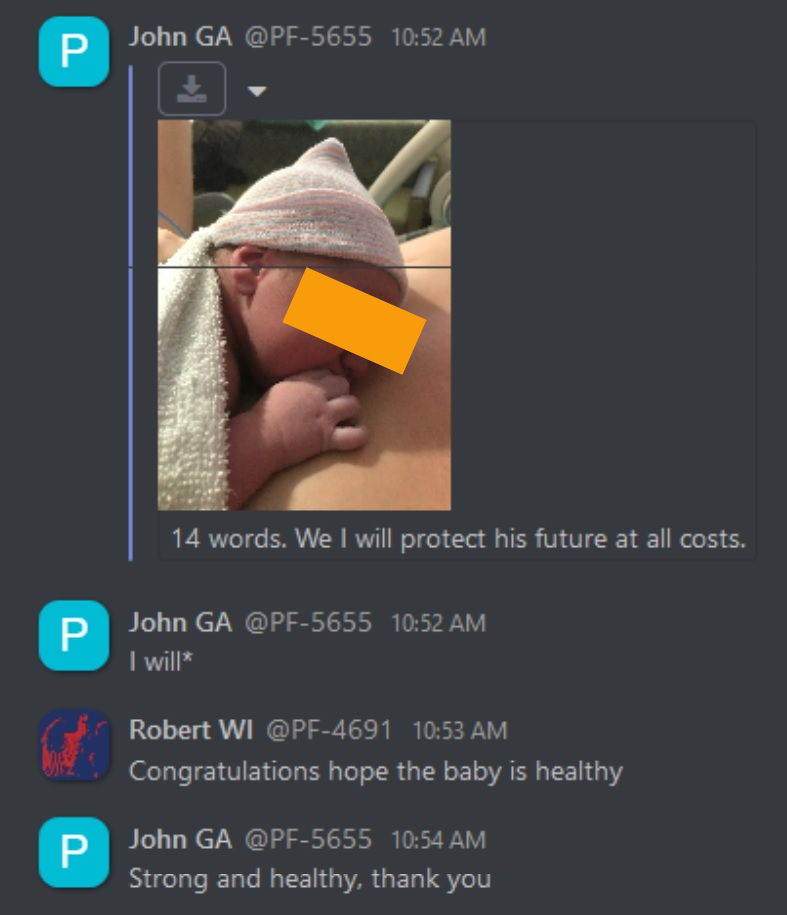 "John GA" posted a picture of a newborn baby to the PF chat in mid-February 2019, receiving congratulations on the healthy child. "John" accompanied the picture of his newborn son with a reference to the "14 words" – a slogan coined by neo-Nazi terrorist David Lane about the future of the white race.
In the audio recording from the May 14, 2019 Patriot Front meeting, "John" reported that he had recently met up with other Patriot Front members in Florida and gave out Patriot Front flyers at a Trump rally. The event was almost certainly Trump's appearance at Panama City Beach on May 8, 2019, which Patriot Front posted images from.
After mentioning his recent meetup with Chris Brooks in the Atlanta suburbs, "John" told the May 14th audio meeting that he would be traveling to New York over the weekend. On May 18, 2019, "John" joked about having just met PF member "Patrick NY": regional leader Kieran P. Morris of New York.
Comments in PF internal discussions indicate that "John GA" participated in Patriot Front's flash demonstration at the University of North Carolina in Chapel Hill on Sunday, May 26, 2019. "John GA" was also present at Patriot Front's brief nighttime demonstration at the Bunker Hill monument in Boston, Massachusetts (July 6, 2019).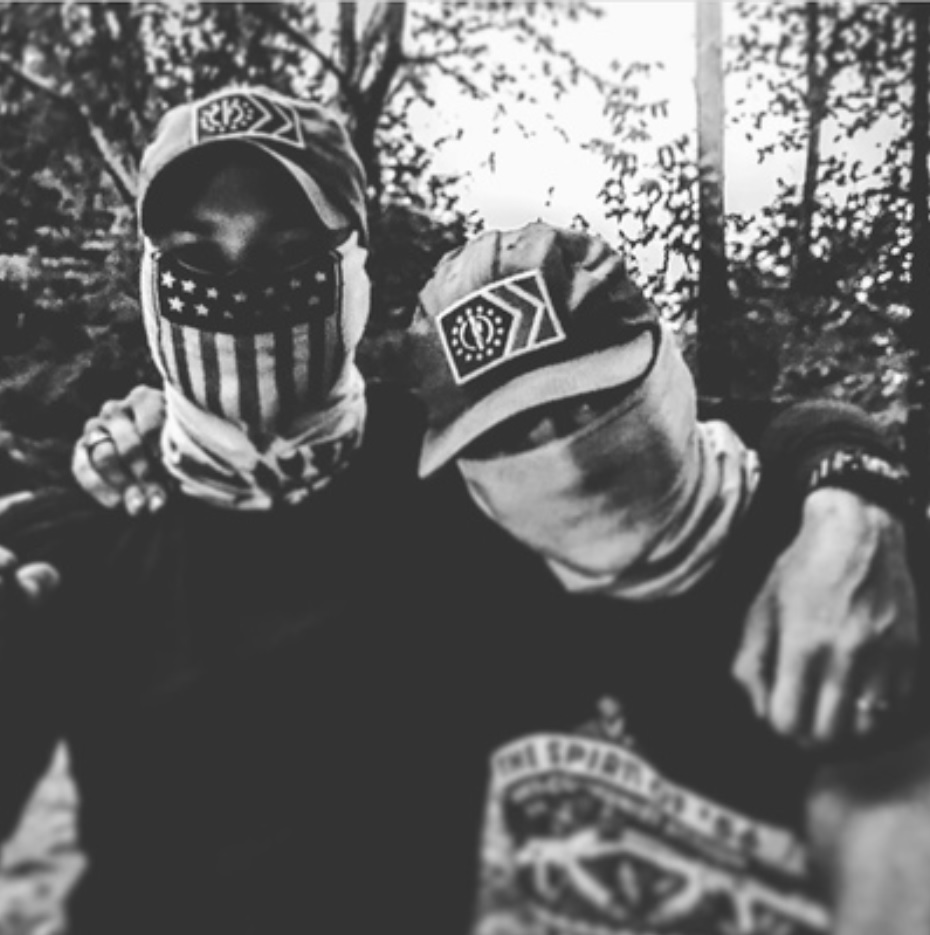 On May 20, 2019 "John GA" told other Patriot Front members to "Follow American_Revolutionary_ for PF shilling", which suggests he maintained this Instagram. Although the Instagram account was removed later that year, an "American_Revolutionary_" account remains on the Gab social network. There are two figures in the profile image for this Gab account. The figure on the right resembles Patriot Front member Kieran Morris in New York. "John GA" is likely the individual on the left.
Conclusion
Patriot Front's presence does not seem to have completely disappeared in Columbus, Georgia. PF boasted of placing stickers on the Columbus State University campus in February this year and of distributing propaganda elsewhere in Columbus during April. It is unclear whether "John GA" or some other member was responsible for these recent acts.
Our organization will always do our best to respond to racist and antisemitic harassment. With this article, we presented evidence showing that Christopher Skylar Brooks helped target synagogues in Columbus last year, on behalf of the white nationalist Patriot Front. Brooks' involvement in the Columbus harassment was a gap in our earlier article about him. We are glad to complete the picture.
We also provided documentation on the second Patriot Front member involved in targeting Columbus synagogues. We provided a voice recording of "John GA", information about his activities for the organization, as well as a potential photo. We ask Columbus residents to share this article, and to reach out if they have further information which could help identify this racist organizer.