Update 8/11/2020: Marjorie Taylor Greene won in the GA14 Republican runoff and will likely head to Congress. Matt Gurtler was defeated in GA09.
On August 11th, Georgia Congressional candidates Marjorie Taylor Greene (14th District) and Matt Gurtler (9th District) will compete in runoff elections for their Districts' Republican nominations. Greene faces John Cowan for the 14th District nomination, while Gurtler is competing against Andrew Clyde in the 9th District. Both the 9th and the 14th Districts lean heavily Republican, so whoever wins the GOP nomination for each of these districts is likely to take a seat in Congress. Both Greene and Gurtler have ties to American Patriots USA, an ostensibly pro-Trump organization with roots in the neo-Nazi and Klan undergrounds.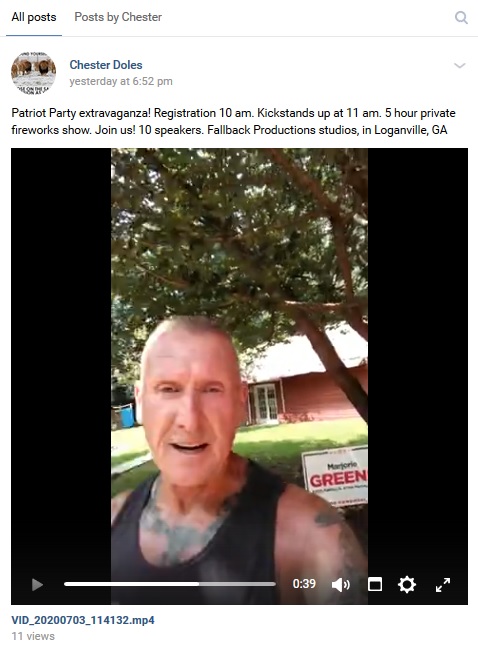 We have covered the "American Patriots USA" (APUSA) organization in north Georgia since it was formed last year, in the wake of a September far-Right rally in Dahlonega. That rally's organizer and APUSA's leader, Chester Doles, has a history spanning decades in the white supremacist movement. Doles led a Ku Klux Klan group, operated the Georgia unit of the neo-Nazi "National Alliance", and more recently supported the violent Hammerskins racist gang. Other white nationalists are also involved with APUSA, and Doles has boasted that there is no "Jew loving [… in] this Crew". The organization has also built tactical alliances with some far-Right people of color.
As we documented in our May article, Doles has now built bridges to Republican candidates. In late February, Doles and other members posed with Marjorie Taylor Greene behind an APUSA banner. In March, State House Representative and current GA09 candidate Matt Gurtler talked to an APUSA meeting and posed for a group photo.
Marjorie Taylor Greene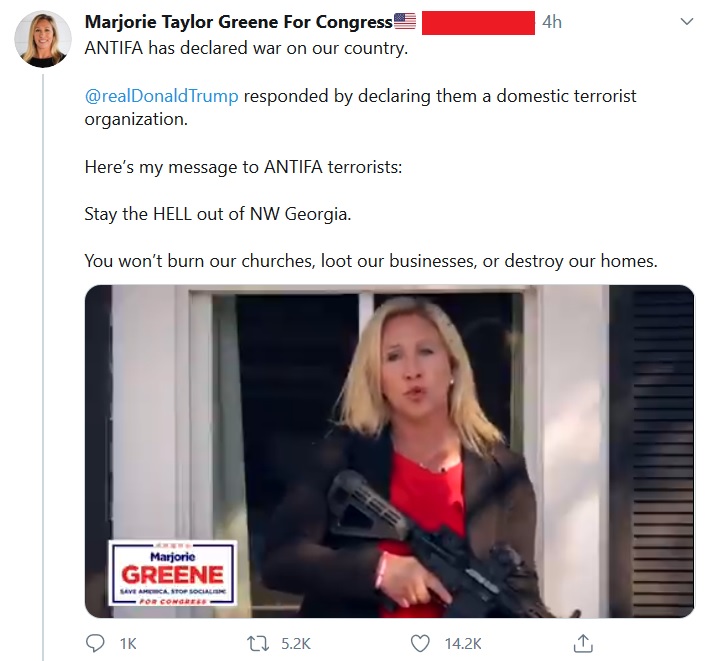 When asked by the press about her February photo with Doles, Greene did not disavow Doles but railed against "sleazy attacks" from the "Fake News Media". Since advancing to the runoff for the GA14 nomination, Greene has been criticized for her racist and antisemitic remarks as well as her support for the far-Right QAnon subculture. While some Republicans have belatedly realized that Greene will be an embarrassment to their party if she goes to Congress, they have mounted little meaningful resistance.
American Patriots USA has not officially endorsed Greene. However, Doles has called Greene "our friend" and displays a Greene sign at his home even though he lives in Georgia's 9th not the 14th District. APUSA uses Greene's refusal to disavow to its advantage, cultivating an impression that the organization and the candidate are close. In early June Doles re-circulated the photo of Greene behind the APUSA banner and asked his contacts on VKontakte social media: "Will you stand with Marjorie Greene?" Doles has posted many other times about Greene in recent months.
APUSA's "Say What You Want in Dahlonega?" Facebook page has reshared the February picture of Greene with the APUSA banner, as well as a Greene campaign advertisement against "ANTIFA". Joshua Mote, APUSA's current Vice President and former Lumpkin County Coordinator, posted about Greene on his personal Facebook, writing in July: "Glad to know someone like you [Greene] to take on this fight."
This impression that APUSA is close to Greene, made possible by the candidate's own refusal to disavow, facilitates APUSA recruitment and its networking within Georgia GOP circles.
Matt Gurtler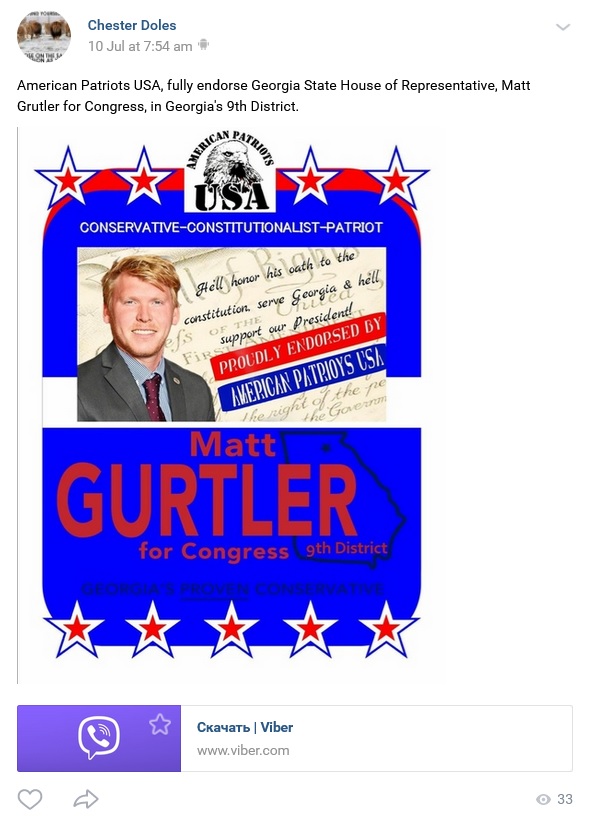 On July 10, APUSA officially endorsed Matt Gurtler's run for Congress. As we have noted, Gurtler has never apologized for speaking to an American Patriots USA meeting, instead normalizing the organization riddled with white supremacists as "a pro-gun, conservative group that supports President Trump." However, relations between the organization and Gurtler seemed to fray during the time APUSA member and militiaman Michael Boggus ran his own campaign in GA09. At one point, APUSA even designed a t-shirt portraying Gurtler as "nutless & gutless". As evidenced by APUSA's current endorsement, friendship has been restored.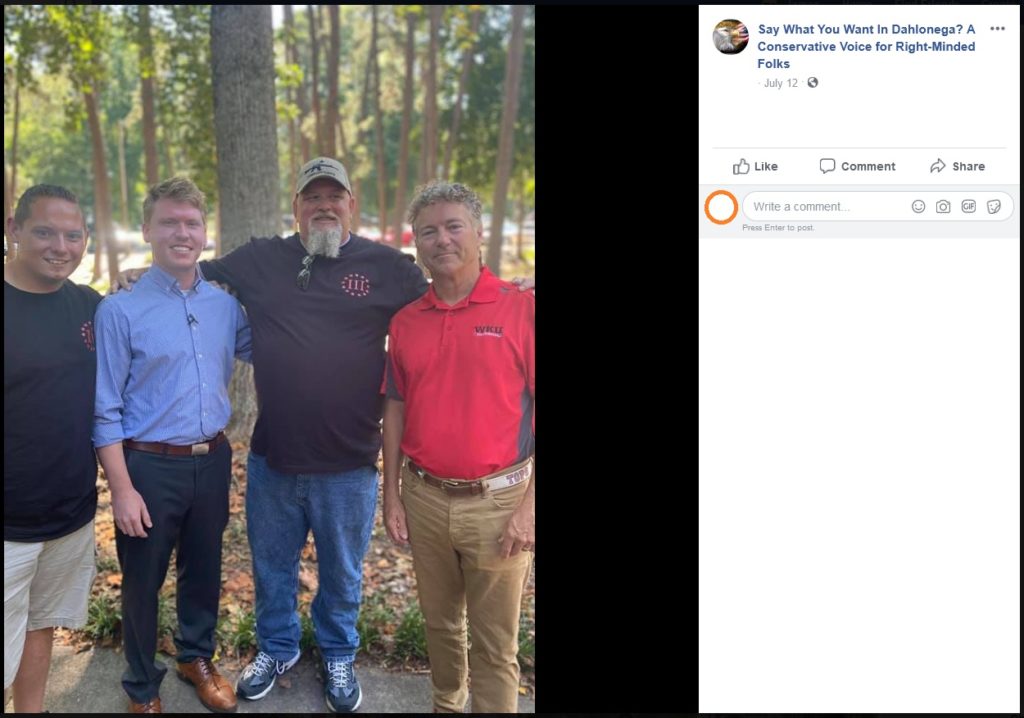 One day after APUSA's July endorsement of Gurtler, a contingent from the organization attended a Hall County GOP event featuring Gurtler and Kentucky Senator Rand Paul. After the event, Gurtler and Rand Paul posed with APUSA Vice President Joshua Mote as well as Michael Boggus, APUSA's militiaman "State Director". These photos were later circulated by APUSA, again normalizing an organization with deep connections in the neo-Nazi and Klan undergrounds as just another group of Republican patriots.
Conclusion
At the start of 2019, American Patriots USA were attempting to run a Klansman for Sheriff in White County, north Georgia. Now, the organization has built ties with several Republican candidates. Most of these candidates are on the political fringes, but APUSA's friends discussed in this update could go to Congress. In today's Republican Party, even cozying up to violent neo-Nazis is acceptable to many.