Update 8/11/2020: Marjorie Taylor Greene won in the GA14 Republican runoff and will likely head to Congress. Matt Gurtler was defeated in GA09.
On August 11th, Georgia Congressional candidates Marjorie Taylor Greene (14th District) and Matt Gurtler (9th District) will compete in runoff elections for their Districts' Republican nominations. Greene faces John Cowan for the 14th District nomination, while Gurtler is competing against Andrew Clyde in the 9th District. Both the 9th and the 14th Districts lean heavily Republican, so whoever wins the GOP nomination for each of these districts is likely to take a seat in Congress. Both Greene and Gurtler have ties to American Patriots USA, an ostensibly pro-Trump organization with roots in the neo-Nazi and Klan undergrounds.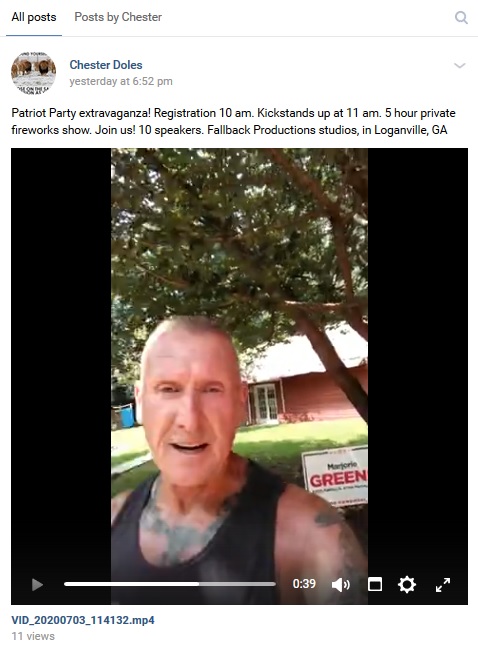 We have covered the "American Patriots USA" (APUSA) organization in north Georgia since it was formed last year, in the wake of a September far-Right rally in Dahlonega. That rally's organizer and APUSA's leader, Chester Doles, has a history spanning decades in the white supremacist movement. Doles led a Ku Klux Klan group, operated the Georgia unit of the neo-Nazi "National Alliance", and more recently supported the violent Hammerskins racist gang. Other white nationalists are also involved with APUSA, and Doles has boasted that there is no "Jew loving [… in] this Crew". The organization has also built tactical alliances with some far-Right people of color.
As we documented in our May article, Doles has now built bridges to Republican candidates. In late February, Doles and other members posed with Marjorie Taylor Greene behind an APUSA banner. In March, State House Representative and current GA09 candidate Matt Gurtler talked to an APUSA meeting and posed for a group photo.
Continue reading

"Update: Georgia Republican Candidates Marjorie Taylor Greene and Matt Gurtler Assist Recruitment for Antisemitic "Patriots" Group"