Robert Timothy "Tim" Dickenson, currently linked to property in Hiawassee, Georgia and previously of South Carolina, is a supporter of the Ku Klux Klan and a core member of north Georgia's "American Patriots USA" (APUSA). We first noticed Dickenson at white supremacist Chester Doles' far-Right rally in Dahlonega, north Georgia on September 14, 2019. Tim Dickenson marched in alongside Klansmen and other close supporters of Doles. Since then, Dickenson has been a constant presence supporting Doles and APUSA. For months we did not know who he was, but with some effort we have now identified him.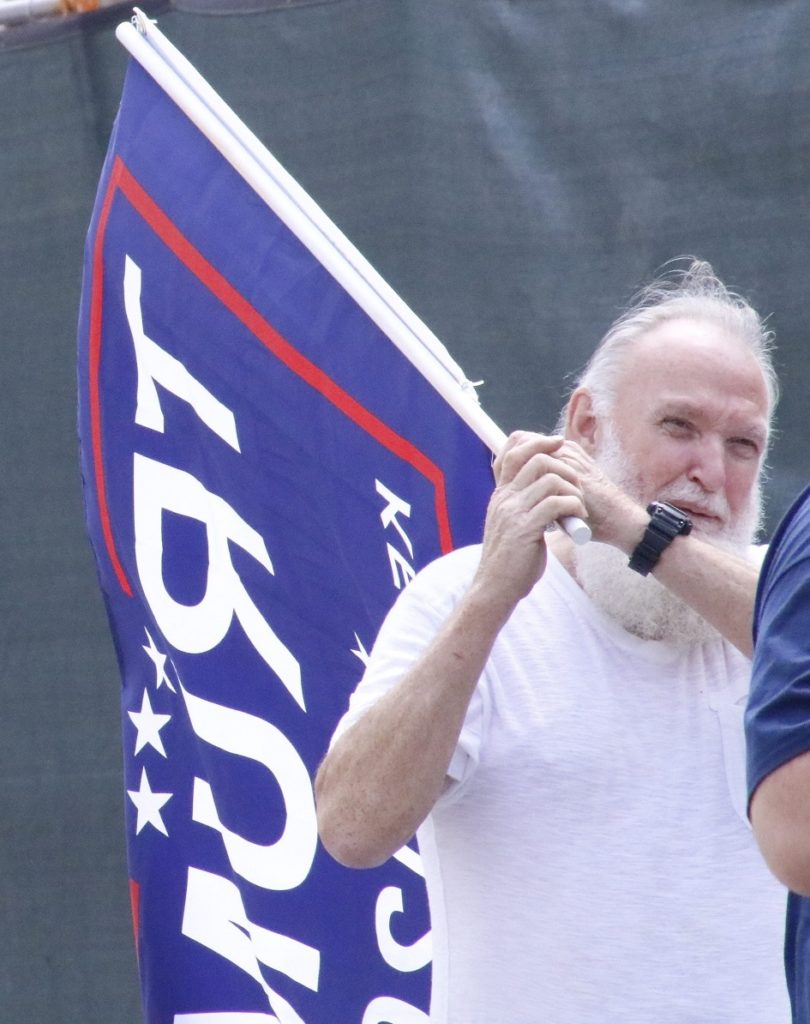 Dickenson further gained our attention after he appeared in Dahlonega on October 19, 2019 for the community's Gold Rush Festival parade. There, Dickenson showed up alongside Chester Doles and members of Doles' family, who had a float in the parade promoting Doles' new APUSA organization. Dickenson wore a hoodless sweatshirt advertising the International Keystone Knights of the Ku Klux Klan (IKKKKK) as he accompanied the APUSA float.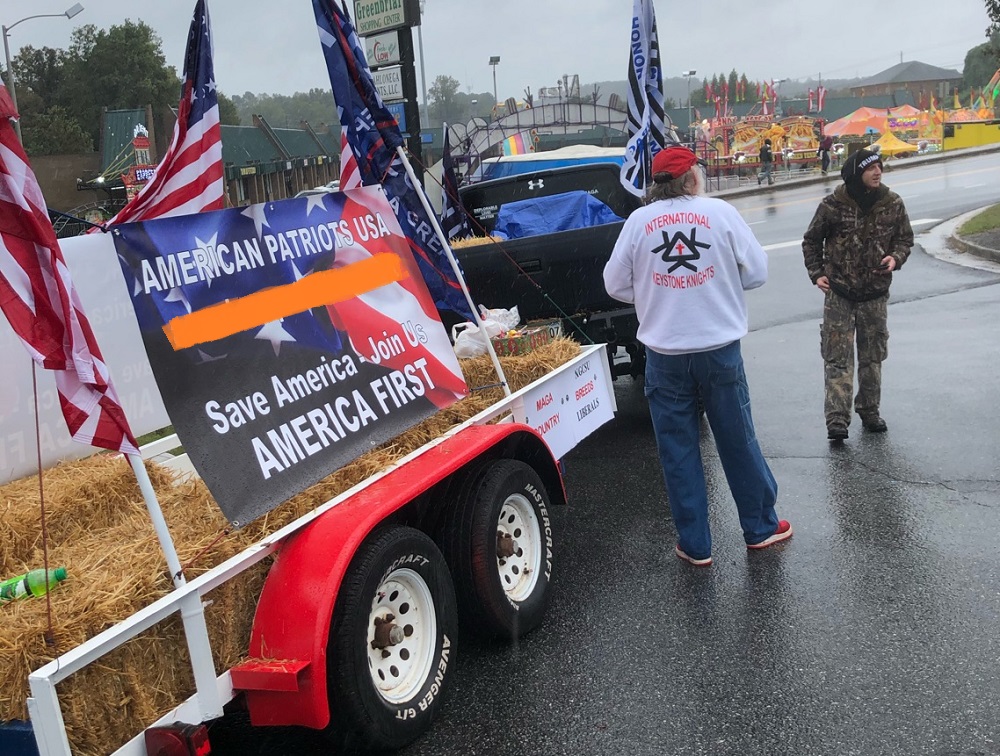 As we discussed in our earlier article about APUSA, Dickenson (unidentified at the time) posed with Klansmen and neo-Nazis following the first APUSA meeting on December 14, 2019. This year, APUSA attempted to pass a "2nd Amendment Sanctuary City" ordinance in Lumpkin County, as part of a mainstreaming effort to build their organization and pose as community leaders. Dickenson appeared alongside Chester Doles and antisemite Sean Keena in Dahlonega on February 1, attempting to get signatures for their "2nd Amendment Sanctuary City" petition outside the local Walmart.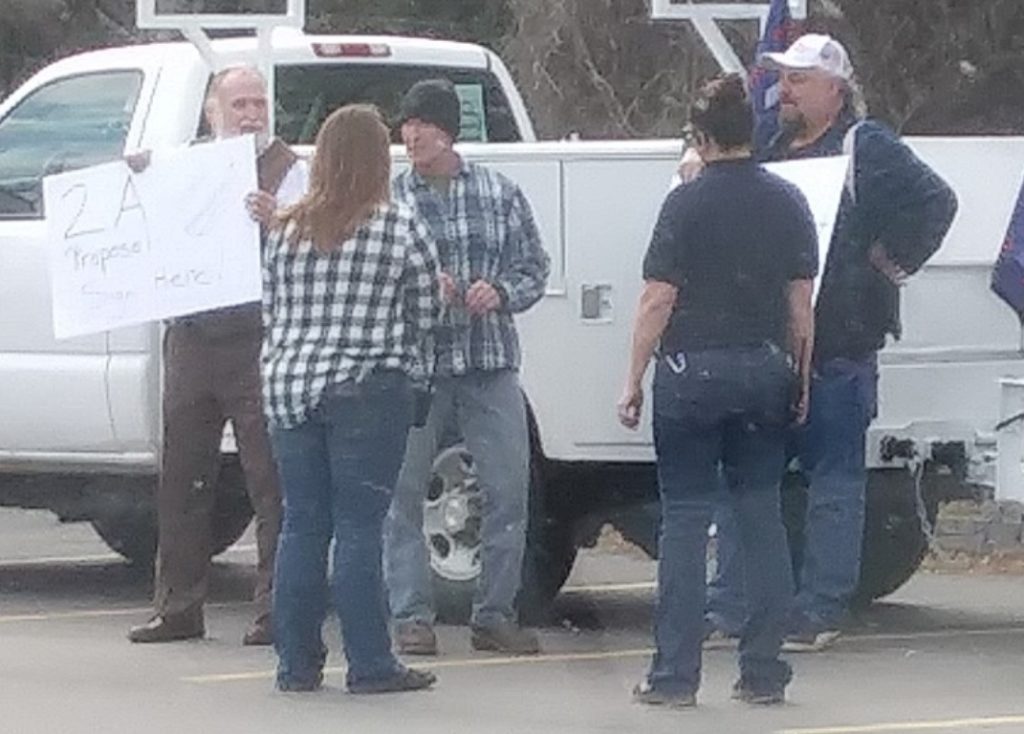 From the late 1980s onward, Dickenson had a long history of criminal charges in Greenville County, South Carolina. The vast majority of Dickenson's cases are related to driving while intoxicated. He also has a 1988 guilty plea for drug possession. More worryingly, Dickenson took a plea deal in 2014 for charges from an arrest the previous year. Dickenson pleaded guilty to aggravated criminal domestic violence as well as aggravated assault. Dickenson had originally been charged with attempted murder rather than aggravated assault from the May 2013 domestic violence incident.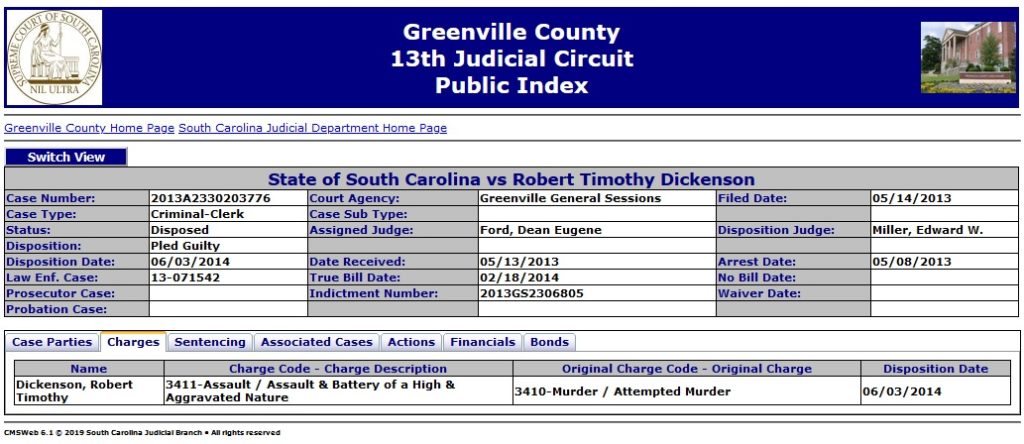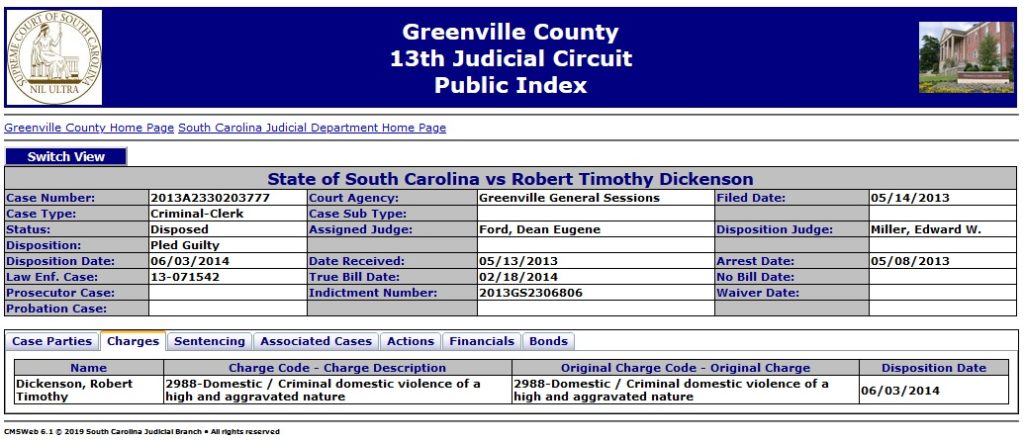 In early July 2015 – two weeks after white supremacist Dylann Roof murdered nine Black churchgoers in Charleston, South Carolina – Dickenson cycled around Simpsonville and Fountain Inn, SC, with a Confederate battle flag and advertised the KKK. A news story identified "Timothy" as a member of the Original Knight Riders, Knights of the Ku Klux Klan at the time.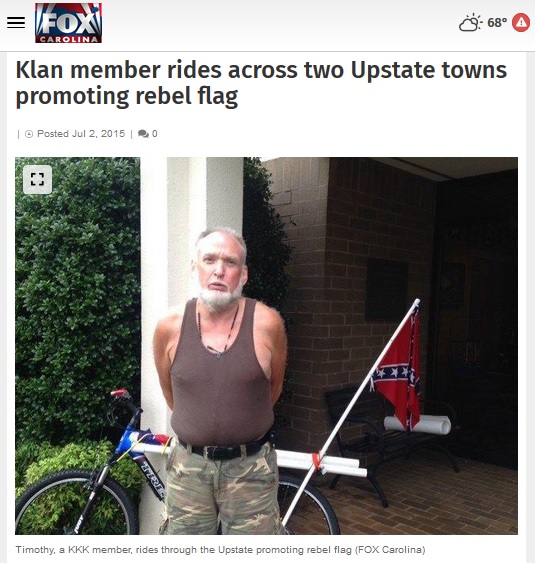 Tim Dickenson appears to have been using family property in Hiawassee, Georgia, since at least 2019 and possibly earlier. Hiawassee is a small community in Towns County with a population of less than one thousand. The property is currently listed as owned by one of Dickenson's sisters; it was earlier owned by Dickenson's mother (now-deceased). In addition to the rural property with a listed street address, two nearby plots of land are also owned by the family.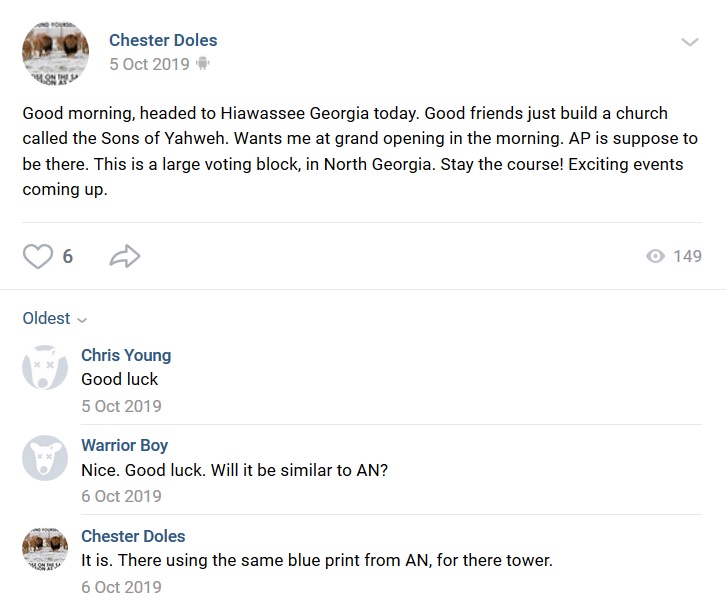 In October 2018, APUSA leader Chester Doles claimed on the VK social networking site that he would attend the opening of a new church in Hiawassee named the Sons of Yahweh. Responding to a comment on VK, Doles suggested that the new church was based on the Aryan Nations ("AN") model, referring to the notorious white supremacist group. Doles even suggested that the Hiawassee church would eventually have a guard tower based on the design from AN's old compound in Hayden Lake, Idaho. The tower comment may be simply Doles trying to impress his neo-Nazi audience, just as he exaggerated his friends' importance by claiming that Associated Press had been invited to the Church opening.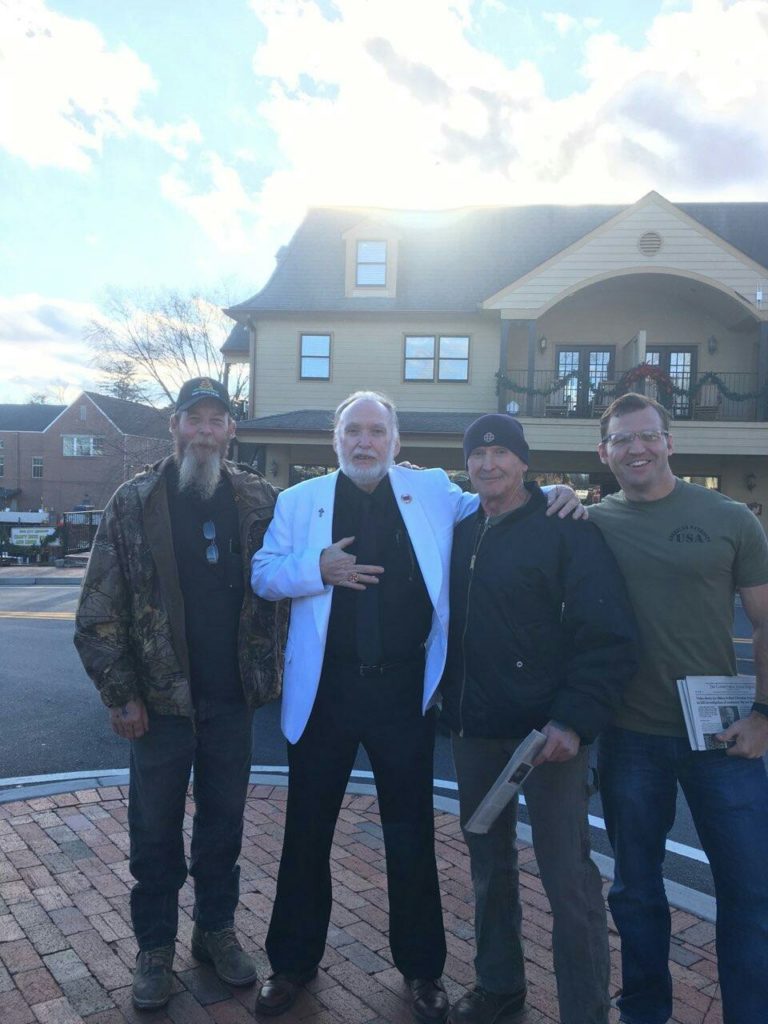 If the Georgia "Sons of Yahweh" church is more than a figment of Doles' imagination, we suspect it is tied to Dickenson. However, no obvious church structure or signs currently stand on the Hiawassee property used by Dickenson, at least as visible from the road. The name "Sons of Yahweh" suggests a Christian Identity affiliation. Christian Identity is a racist religion which portrays whites as God's true chosen people, believes Jewish people are imposters who have Satanic origins, and treats people of color as less than fully human. The "Church of the Sons of YHVH" was the name of an earlier Christian Identity group co-founded by Morris Gullett. Gullett also led an Aryan Nations faction after the main group splintered following a major lawsuit, bankruptcy, and the death of its founder. Gullett's faction of AN had an associated Klan division, the Aryan Nations Knights (ANK) of the Ku Klux Klan. Approximately five years ago, ANK leaders in the South such as Greg Calhoun and Shaun Winkler switched their affiliations from ANK to IKKKKK. As discussed earlier, Tim Dickenson appeared in public advertising the IKKKKK in October.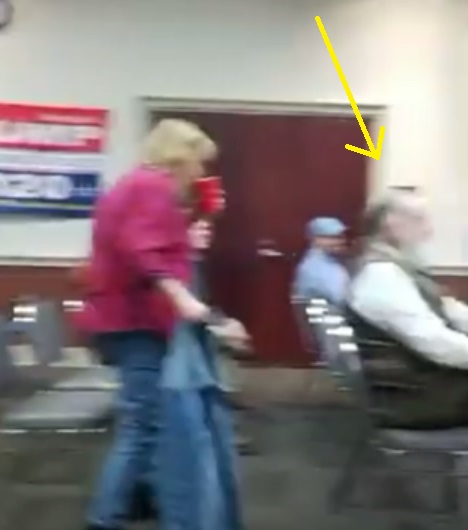 Dickenson's affiliations show yet again that "American Patriots USA" is a front group for active white supremacists, not simply an anti-socialist, pro-Trump organization as it advertises itself. By publishing information on Dickenson, we are also warning Towns County residents to be on the lookout for racist organizing in their area, possibly under the guise of a new church.
Please get in contact if you have further information on Tim Dickenson, APUSA, or other white supremacists organizing in Georgia.