Update 2/14/2020: This article discusses a nighttime photo of people giving Klan salutes, that was posted online in 2018. One of the individuals in the photo was unidentified when we first published our article. He is Douglas Leroy Savage of Cleveland, Georgia.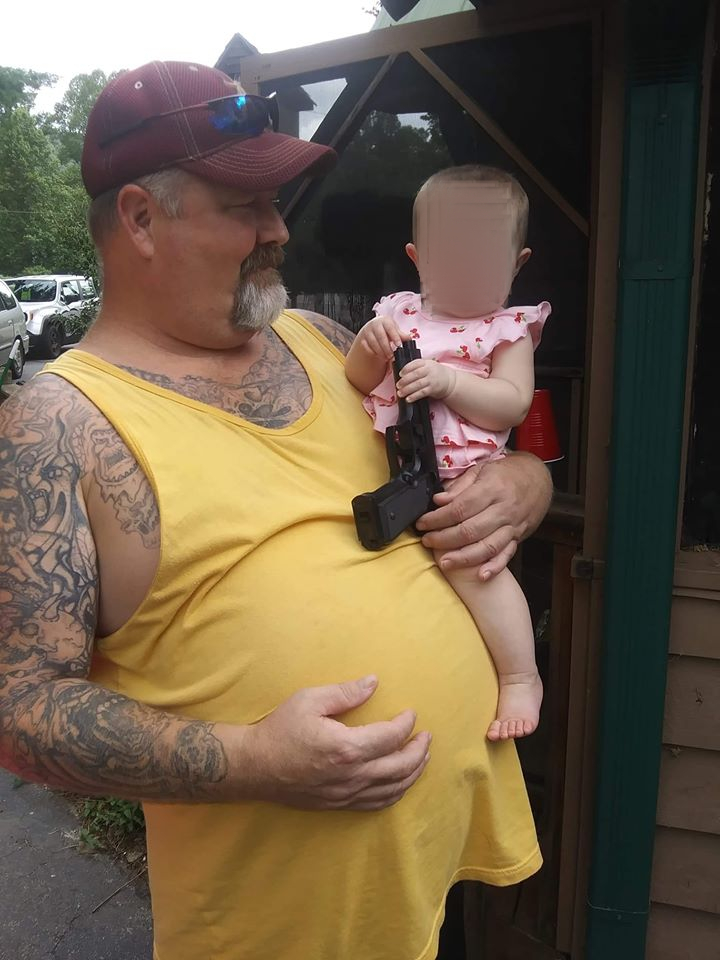 Introduction
On September 14, 2019, a "Patriots"/Trump rally took place in Dahlonega, Georgia. The main organizer for the rally was Chester Doles, a neo-Nazi and self-described "fourth-generation Klansman". Although organizers claimed their rally was not white supremacist, and the speaker lineup even included Black conservative commentator Lucretia Hughes in addition to white nationalist speakers, one of the main organized groups at the rally was from a North Georgia-based Ku Klux Klan faction, the SCKKKK. Here, we identify several members or supporters of this Klan group, discuss their role in the September 14 Dahlonega rally, and provide some background on their organization.
Dahlonega
On the day of Doles' rally, a group of approximately twenty people marched with Doles into their designated rally area. Doles' supporters had initially met up in a nearby parking lot. A picture from this lot shows that two KKK members, Jonathan Keith Miller and Robert C. McDuffie, were among the first to meet up with Doles.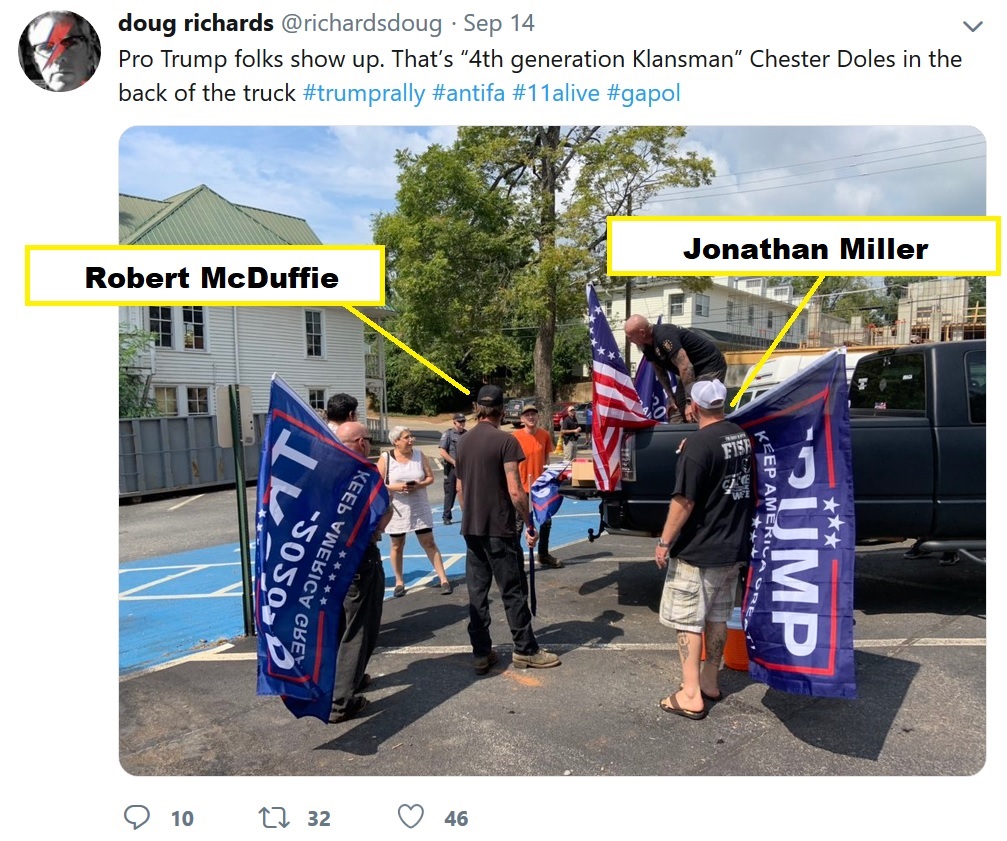 By the time Doles' group marched in, three others formed a small group with McDuffie and Miller. The five stuck together throughout the event. Two of the others, Robert Craig Korom and Cody Steven Cantrell, are Klan supporters and likely members. We have not identified the fifth member of the group, and therefore cannot establish whether he is a Ku Klux Klan member or merely tagged along with the Klan group for Doles' rally.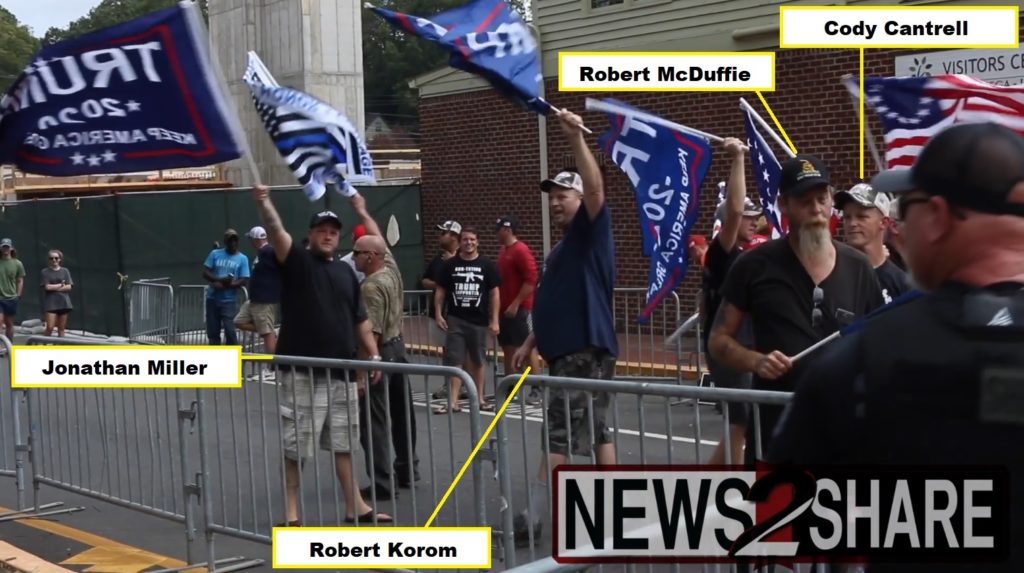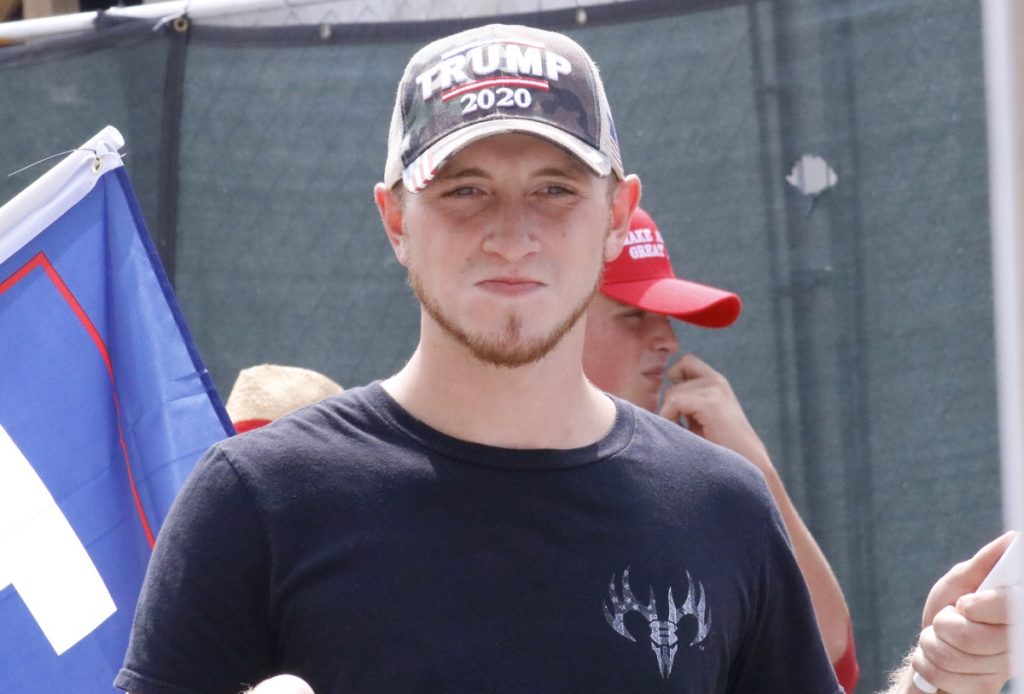 SCKKKK Membership
On social media, Robert McDuffie of Cleveland, Georgia states that he is with the "SCKKKK". McDuffie has the letters "KKK" tattooed on his wrist. On the Russian social networking site VKontakte where he uses the name "Robert White", McDuffie not only shares Klan imagery but also a tribute to Bruce Pierce, the white supremacist gunman in the 1984 murder of Jewish talk show host Alan Berg.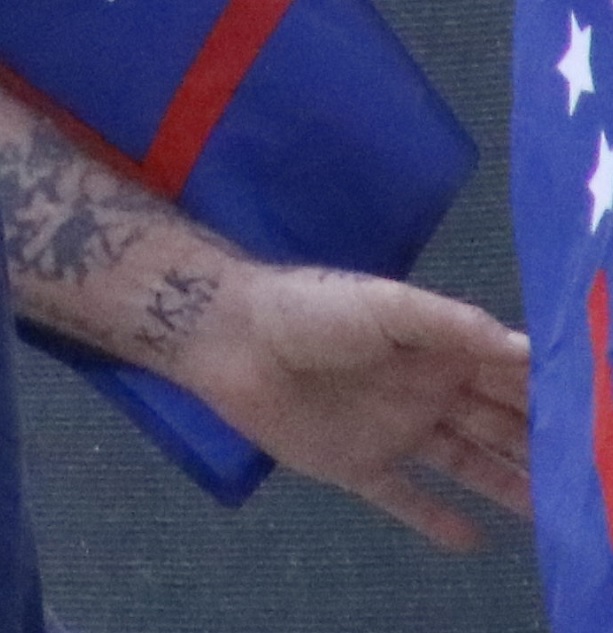 In photos from mid-2018, Robert McDuffie appears with four others, posing with firearms and giving left-armed Klan salutes.
Note that three of those pictured giving Klan salutes — Robert McDuffie, Jonathan Miller and Cody Cantrell — were in Dahlonega for Chester Doles' "Patriots" rally on September 14.
Kevin David McDuffie, who appears in the 2018 daytime pictures, is a brother of Robert McDuffie and also goes by the name "Kraker". Kevin McDuffie has a lengthy criminal record which includes the distribution of methamphetamine. His most recent arrest was in August 2018.
Another image of a group giving Klan salutes — this time shot at night — was published by Kevin McDuffie some weeks before he shared the daytime photo (and before his most recent bust for carrying meth). Robert and Kevin McDuffie are visible, as are Christopher D Jones and Jonathan Keith Miller, who appeared in the daytime group photos.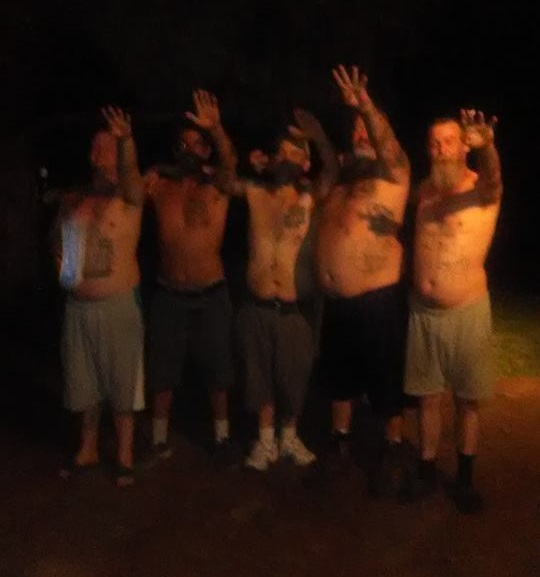 One individual in the nighttime photo has yet to be identified. This person also appears in a photo with Kevin McDuffie, seemingly from the same evening. A photo from 2014 shows the same person posing with Robert McDuffie. Robert McDuffie calls him the "truest brother I ever had".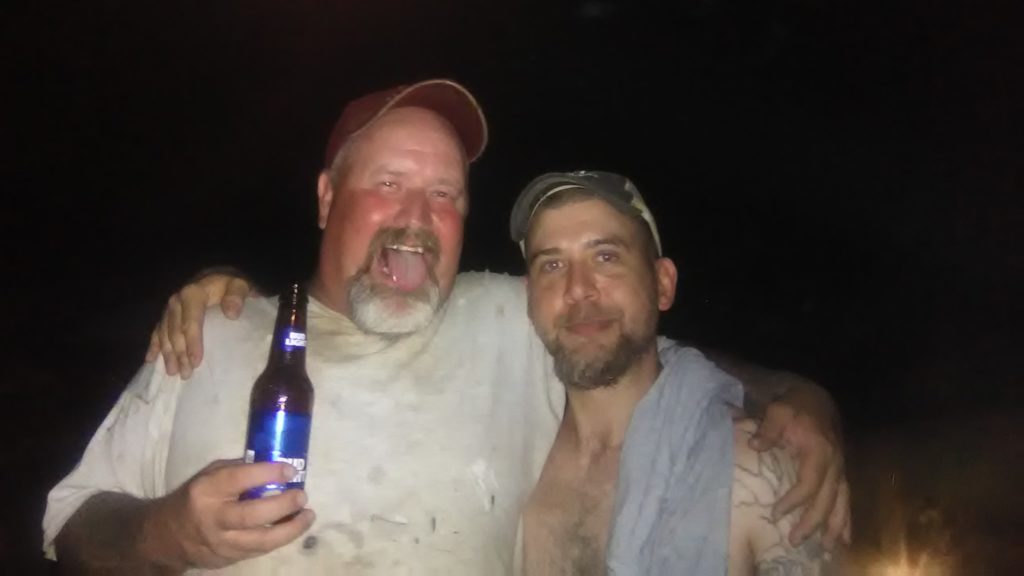 Jonathan Keith Miller (AKA "Jonnathan Miller" and "JJ Miller"), who features in the 2018 photos and also showed up in Dahlonega, identifies himself as a Klansman. In a comment accompanying one of the above photos, Jonathan Miller ("JJ Miller") writes to Robert McDuffie (profile as "Reb White"): "AKIA NON SILBA SED ANTHAR". "AKIA" is an acronym for "A Klansman I Am". The rest of Miller's comment is a Ku Klux Klan slogan.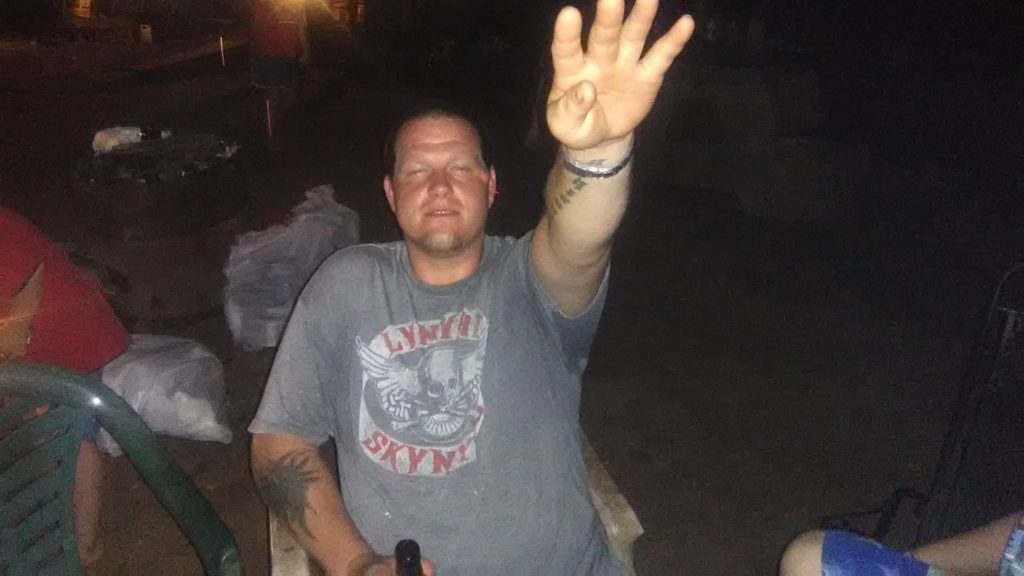 It is unclear whether Cody Cantrell of Cleveland, Georgia — included in the daytime Klan group photos — is a full member of the SCKKKK, or if he merely enjoys giving Klan salutes alongside self-identified KKK members and attending a recent rally with them. Cantrell is linked on social media to several supporters of the Klan group as well as to Dawsonville white supremacist Justin Dean Maddox (see below).
Finally, Robert Craig Korom of Cumming, Georgia — who was at the Dahlonega rally with the SCKKKK group — is not pictured giving Klan salutes in any photographs we have found. However, Korom clearly signals his support for the Klan. In one Facebook comment from 2014, Korom states that he is "proud of this organization [the KKK]" which he believes is standing up for "the white community".

In 2015, Korom "liked" a Klan recruitment image posted by "Jimmy Maddog" (Justin Maddox, see below). More recently, Korom "liked" an image of two clasped white hands in front of a Celtic Cross, a symbol used by white nationalists. The image was posted by SCKKKK organizer Robert McDuffie's account as "Reb White". Robert Korom is linked on social media to other supporters of the SCKKKK.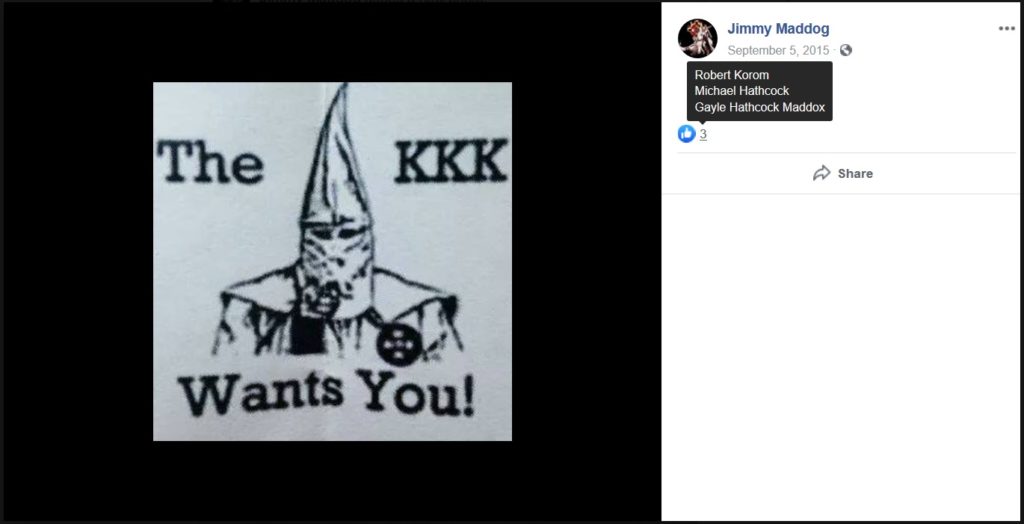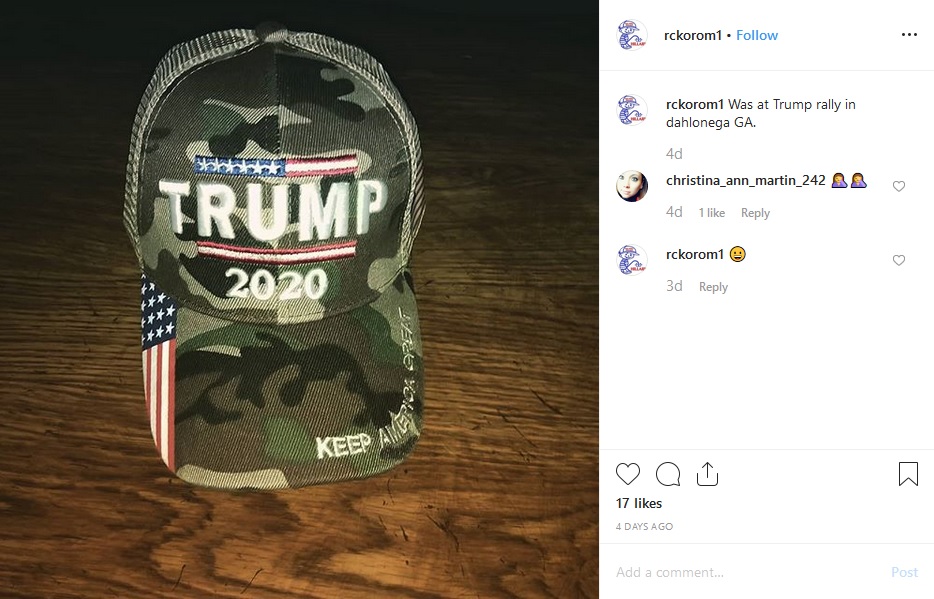 Group Name and Background
We noted that Robert McDuffie, an apparent leader of the Klan group we are discussing, identifies his organization as the "SCKKKK". However, the meaning of these initials remains mysterious.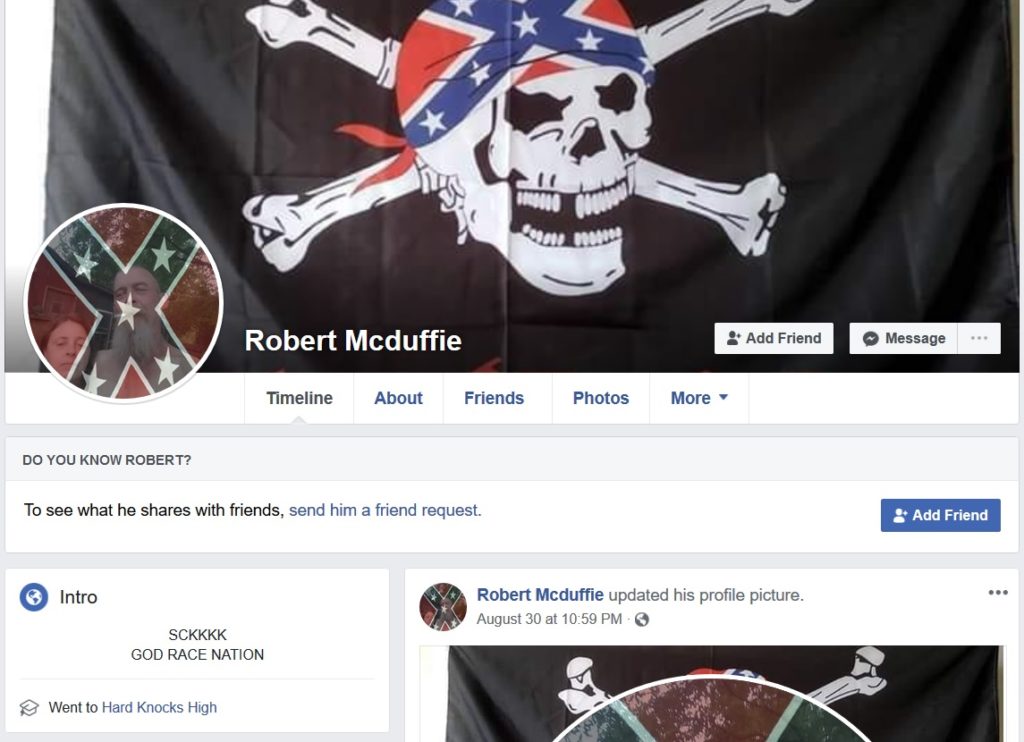 We know of two Klan groups that operated in Georgia and used the initials "SCK". The first, the Southern Confederate Knights of the KKK, existed in the early 1990s and was based in Rome, Georgia, which is about two hours' drive from Cleveland, Georgia, where the current SCKKKK is centered. The second group, the Silent Circle Knights of the KKK, held events in a few states. One such event was an April 2012 picnic and cross-burning in Clarkesville, Georgia which was co-organized by the larger Loyal White Knights. That "SCK" Klan group has been silent for over half a decade.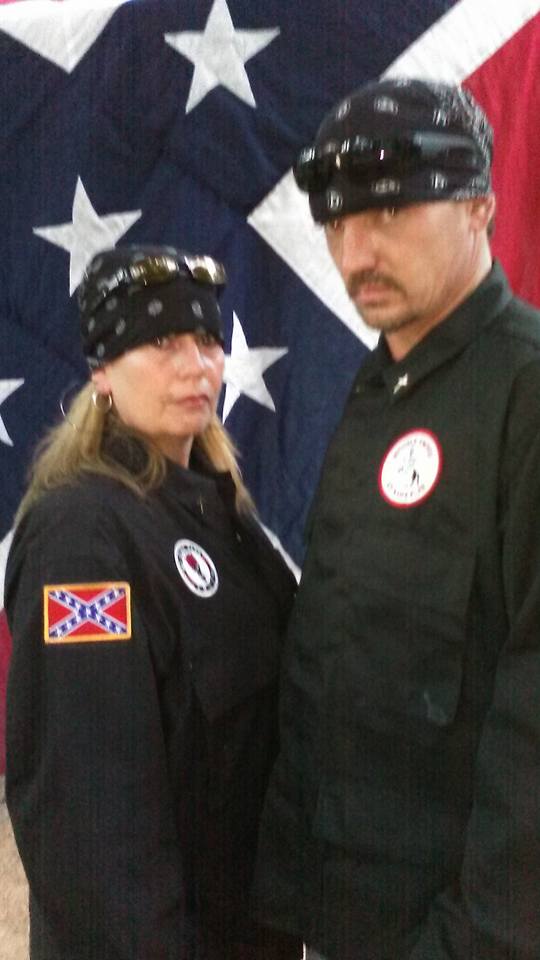 Clarkesville, where the 2012 picnic occurred, is not far from Cleveland, Georgia, where the current "SCKKKK" is based. However, the present group likely has a different origin. In recent years, a married couple based in Dawsonville, Georgia — Justin Dean Maddox and Gayle Hathcock Maddox — maintained a number of Facebook pages where they boasted about their Ku Klux Klan affiliations. For example, on the "Intro" section to one of his Facebook profiles, Justin Maddox wrote: "Join the Klan. Let us know." Maddox's posts with KKK symbols date from 2015 to 2017. Between his profiles in his own name and those under the alias "Jimmy Maddog", Justin Maddox was linked on social media to Robert McDuffie, Robert Korom and Cody Cantrell.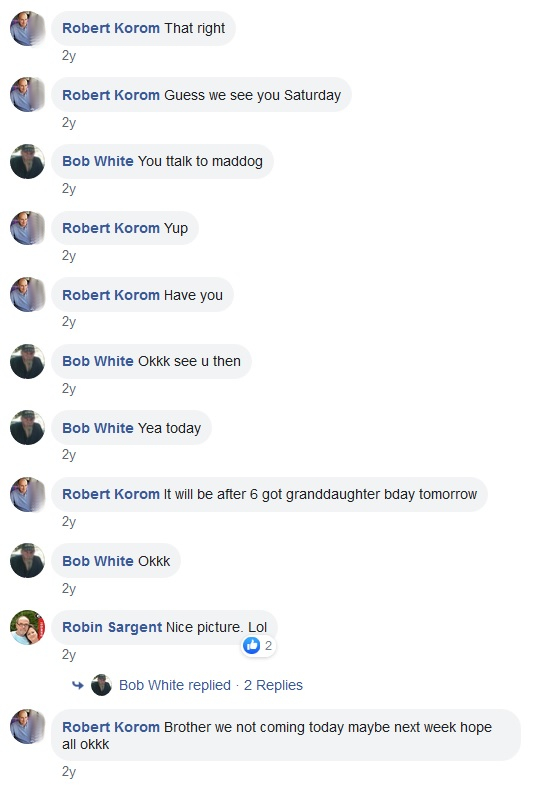 In August 2015, Justin Maddox shared the web address for the "Christian Southern Knight [sic] of Georgia KKK", an obscure Klan group. The website is no longer online and is not archived on third-party websites. Since several people linked to Justin Maddox are members or supporters of the "SCKKKK", it appears that the present group is a direct or indirect descendant of the "Christian Southern Knight" KKK publicized by Maddox. Our best guess is that the word order was simply changed, with "SCKKKK" now standing for "Southern Christian Knights of the Ku Klux Klan". We would welcome any additional information or documentation on this matter.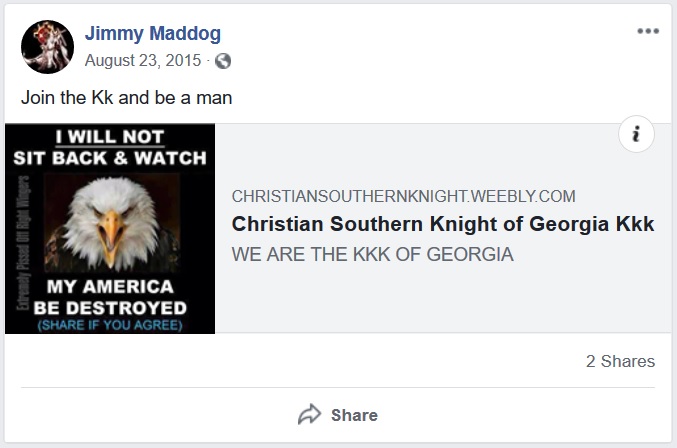 Conclusion
In Dahlonega, members/supporters of the SCKKKK marched in with Chester Doles for his September rally in Dahlonega. The Klan group was one of the largest organized contingents at Doles' rally. This further contradicts Doles' claim that his event was not about white supremacy.
As an organization, the SCKKKK is small. Even watchdog organizations that usually monitor the Klan have failed to note its activity. Other than the supporters we have named here, the SCKKKK likely has only a few other participants. We do not wish to exaggerate the group's importance by writing about them. However, from Kevin McDuffie's involvement in the methamphetamine trade to the blotchy prison-style tattoos displayed by some other supporters, there are indications that this Klan outfit may overlap with regional white power gang culture. This, combined with seeming leader Robert McDuffie's celebration of Bruce Pierce — a white supremacist terrorist — suggests that the Klan group cannot entirely be written off as a threat. Now that this group is organizing side-by-side with longtime racist leader Chester Doles, we think they deserve some scrutiny and that those living nearby should be informed.
If you have further information about the Klan supporters pictured here, or about other white supremacist activity in our region, please get in contact.