Update, late November 2022: Online footage shows Hunter Lamm training with the Peach State Cats, revealing that the team's internal investigation has concluded and favored Lamm. The team never reached out to our group with questions or for further documentation. We strongly condemn the team's reckless decision.

Update, late September 2022: According to a post on the Peach State Cats' Facebook page, Hunter Lamm has been removed from the team while it pursues an internal investigation.

Anti-racist researcher Nick Martin has uncovered that Eugene Yu's campaign paid Lamm at least $2,500 for work this year.
Introduction
Hunter Wyatt Lamm (born 1996) of Cumming, Georgia is a longtime neo-Nazi who was active with the American Nazi Party until at least late 2021. This year, Lamm is attempting to build a future for himself in professional sports. Lamm plays football for the Peach State Cats, a team within the semi-professional Elite Indoor Football league. On September 24, the Peach State Cats will play an exhibition game against the Western Maryland Warriors at the Atlanta Silverbacks Suwanee Indoor field. We are publishing documentation on Lamm because this game is a scouting opportunity for him. We believe that Lamm should not be allowed an opportunity to make money in sports, and that the Peach State Cats should kick the racist out rather than giving him opportunities to advance. We are also circulating information on Lamm in case he tries to build influence as a Republican political activist, since Lamm was active this year in a Republican campaign in Georgia's 6th Congressional District.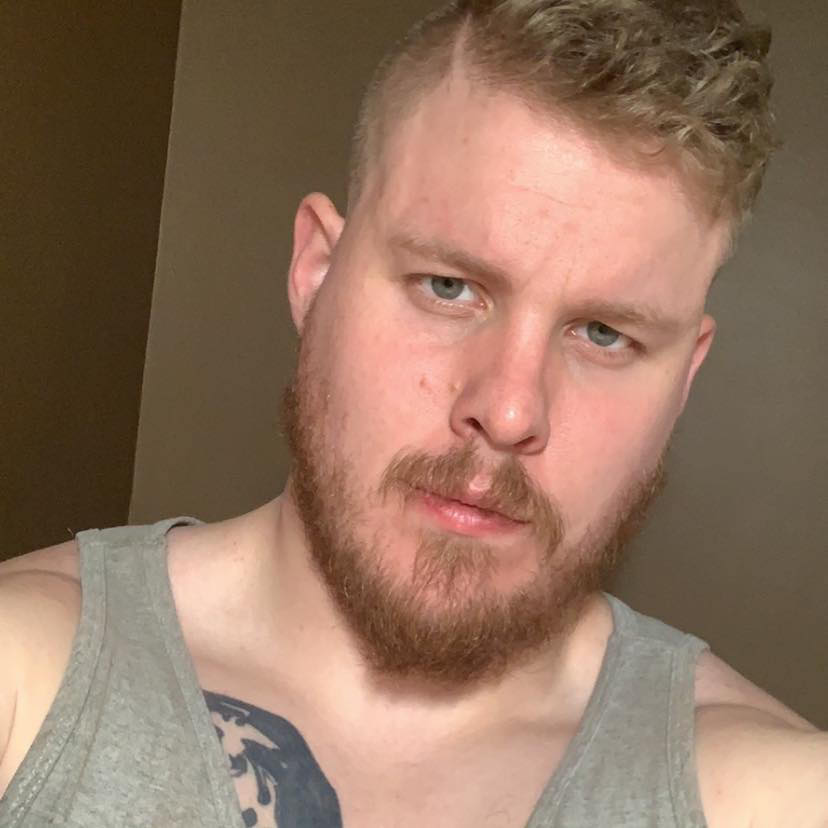 Lamm and Neo-Nazism
We first wrote about Lamm in 2018, when we noted that he was one of the racists listed as "Going" on the Facebook event page for a white power rally, "Rock Stone Mountain II," that was scheduled for February 2019. Due to poor organizing by white supremacists, Stone Mountain Park denying a permit for the event, and anti-racist community mobilization, that white power rally did not take place as announced.
In our 2018 discussion of Lamm, we pointed out that he was an avowed "National Socialist" who attempted one-man racist demonstrations in Forsyth County and promoted something called the "National Socialist American Workers Party." This "Party" appears to have mainly been Lamm himself.
Leaked 2017 messages from a communications channel operated by Vanguard America also included posts by Hunter Lamm. Vanguard America was a fascist organization best known for being the group Heather Heyer's murderer marched with at "Unite the Right" in Charlottesville, Virginia, before his deadly vehicular attack later that day.

Our previous discussion of Lamm highlighted that he had been a US Marine, although Lamm's military career ended prematurely in 2017 – possibly because of his open neo-Nazi organizing.
In 2019, Hunter Lamm began loudly promoting the "American Nazi Party" (ANP), a tiny organization founded by Rocky Suhayda as an attempted relaunch of George Lincoln Rockwell's original ANP. On a blog created by Lamm in 2019, he claimed to have a much longer history within the ANP:
"I want to take action for the American Nazi Party […] I will do whatever I can to ensure victory and success. […] I'm 22 years old, and have been apart [sic] of the party since 13."
ANP's website currently hosts thirteen podcast episodes by Hunter Lamm, recorded in 2020 and 2021. Lamm's most recent episode was recorded less than a year ago, in October 2021.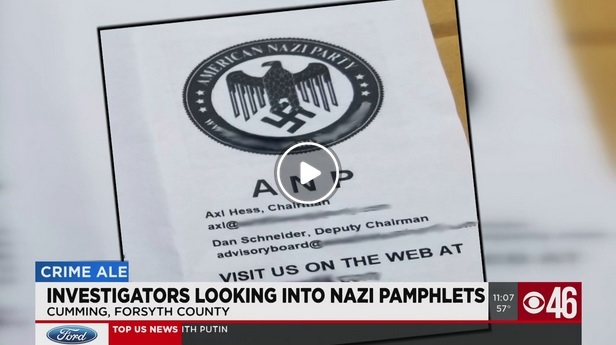 In January 2021, American Nazi Party propaganda appeared in mailboxes in Cumming, Georgia, on the eve of International Holocaust Remembrance Day. Lamm lives in Cumming and all evidence points to him distributing these flyers. On a podcast episode, Lamm boasted of placing other ANP materials: specifically, printing out ANP flyers at the library and leaving them in books about the Holocaust. His comments about driving long distances to meet other ANP members suggest that Lamm was the only active ANP member in his immediate area.
Ironically, the Forsyth County Sheriff's Office (FCSO) publicly appealed for information about the neo-Nazi propaganda left in Cumming mailboxes. At the time, Hydie Panthea Lamm (born 1970) worked as a Sergeant with FCSO and presumably knew of her son's neo-Nazi activities, since they lived under the same roof. Hydie Lamm's law enforcement career ended later in 2021, although this had nothing to do with her covering for her son's neo-Nazi harassment.
2022: Football and Republican Politics
This year, Lamm began playing with the Peach State Cats, a team within the semi-professional Elite Indoor Football league. Lamm aspires to getting scouted and building a lucrative pro career. The Peach State Cats are a majority Black team. Presently, Lamm's social media bears no trace of the hardcore neo-Nazism which he had been espousing just last year.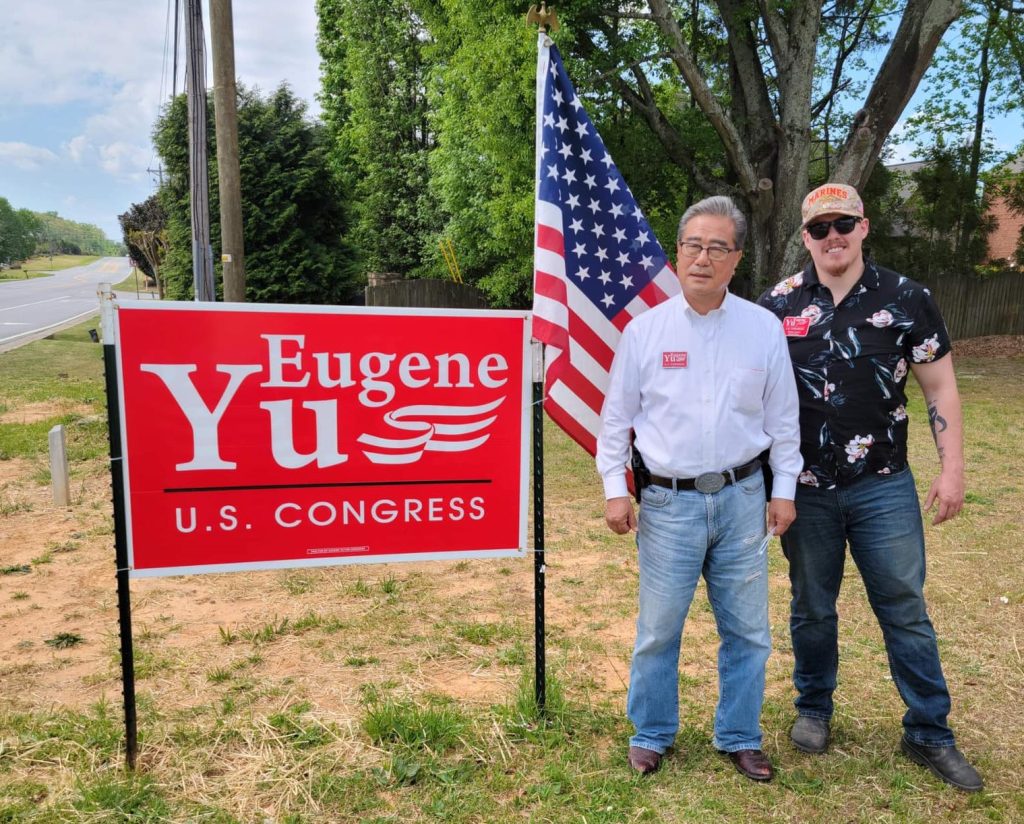 Also this year, Lamm assisted Eugene Yu's run in 6th Congressional District. Yu – who moved to Georgia from South Korea while in high school – is a businessman, veteran, and perennial candidate in Republican primaries. In this year's 6th Congressional District primary, Yu came in fifth with 6.5% of the vote. Lamm wrote on Facebook that he was "apart of" (sic) Yu's campaign, and frequently promoted Yu during the race. Eugene Yu may not have been fully aware of Lamm's history as a white supremacist, since in 2020 during an earlier political campaign, Yu canceled an in-person appearance after learning that his hosts were a group with extensive Klan and neo-Nazi ties.
Reformed?
Lamm's recent activity – playing on a majority Black football team and helping an Asian-American's political efforts – may suggest that he has changed his views and abandoned the white supremacist movement. Writing of his time with the Yu campaign, Lamm mentioned in passing that "There is a lot I regret in life," which could suggest that Lamm regretted his time as a neo-Nazi. However, we do not believe that Lamm has reformed.
Our group has documented neo-Nazi activity by Lamm from 2017 onward, yet by Lamm's own account he was an active neo-Nazi for years before this, starting at the age of thirteen. Behaviors and patterns of thought learned over years of white supremacist involvement simply do not reverse themselves overnight. Changing requires recognizing the harm that one has caused, and peer support is often needed so that one does not backslide into harmful and racist behavior. Less than a year ago, Lamm was promoting the American Nazi Party. Since that time, Lamm has made no direct apology or any effort to set things right, for example by taking responsibility for ANP flyers placed around Cumming or discussing how his mother kept quiet on his behalf while she worked in law enforcement.
Lamm never contacted our organization about leaving the racist movement, as we encourage people in our state to do. There is no evidence that Lamm tried to reach out to any reputable group that provides support for those leaving the racist movement.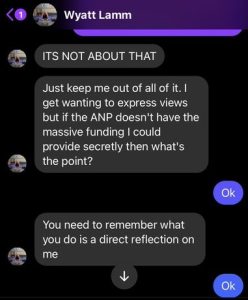 Finally, our organization has received screen-captured Facebook messages seemingly sent by Lamm earlier this year. In one message, Lamm writes of staying quiet about his actual views so that he can move ahead with his life goals and eventually be able to "secretly" deliver "massive funding" to the ANP. In another message a few months later, Lamm refers to Black people as "n[****]rs" who should be hung. Lamm was part of the Peach State Cats, a majority Black team, at the time of this message.
Given the above, Lamm's work for the Yu campaign is most likely a tactical move, not an indication that he has rejected his earlier neo-Nazi beliefs. Lamm is attempting to enter Republican political circles and gradually build influence, but his Hitlerite end-goals have not necessarily changed.
Conclusion and Call to Action
Atlanta Antifascists have always encouraged those in the white power movement to leave and start to turn their lives around. Hunter Wyatt Lamm, who less than a year ago recorded propaganda for the American Nazi Party, never left the racist movement. Rather, he has adopted a stealth mode while trying to build a career in sports in order to fund his neo-Nazi goals. Lamm has also dabbled in Georgia Republican politics in a likely attempt to build influence for the same goals.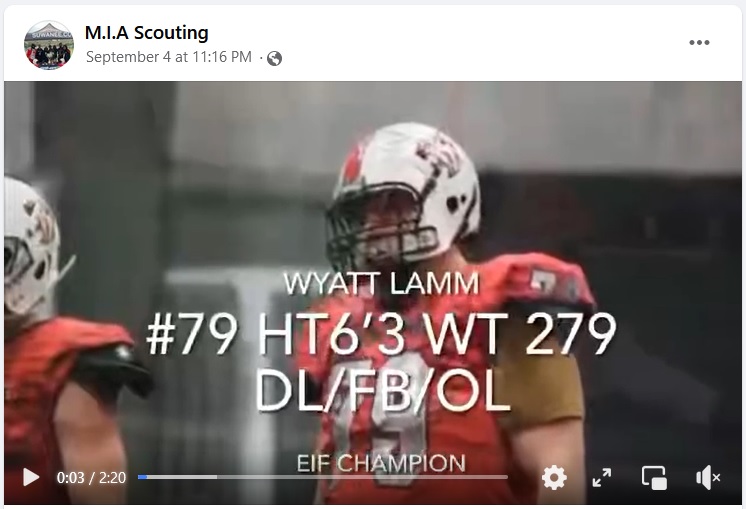 Contrary to popular misconceptions, many neo-Nazis are capable of working closely with the minorities they hate. In their Nazi safe spaces, they often brag about their surface politeness and their ability to pass for a non-racist. However, they also constantly pass each other derogatory information about the people they work with, mock them behind their backs, and fantasize about how to handle them after a race war. It is very likely that Lamm's attitude toward his coaches and teammates follows this model, and we believe that nobody should have to play on a team with a committed neo-Nazi. Please contact the Peach State Cats and the Elite Indoor Football league, expressing concern about Hunter Lamm's involvement. Demand that they drop the Nazi player.
Peach State Cats:
info@peachstatecats.com
Facebook: https://www.facebook.com/jbmorelandscouting
Instagram: https://www.instagram.com/Cats_ig_tv
Elite Indoor Football:
https://www.eiffootball.com/contact.html
We also ask that readers distribute this information to friends in Forsyth County and particularly in Cumming, so that neighbors can be aware of their local neo-Nazi.
If you have further information on Hunter Lamm or other white supremacists in our region, please get in touch.