In May, we exposed Aaron Christopher Krueger, a key organizer for the racist/fascist Patriot Front organization in Georgia.
Now we highlight another person in our state linked to Patriot Front: Christopher Wayne Gibson of Dublin, Georgia. Chris Gibson has not only circulated propaganda for Patriot Front – Gibson is clear that he is a member of the Ku Klux Klan.
In this article, we will share screen-captures of a now-deleted Facebook page under the name "Chris Waynes." A quick comparison of the profile picture for "Chris Waynes" and other images of Christopher Gibson (from a Facebook account under his real name) make it clear that "Chris Waynes" and Christopher Wayne Gibson are the same person.
Image of "Chris Waynes" (left) and Christopher Gibson (right) for comparison. Note that "1488" is white supremacist code: the number 14 represents the "Fourteen Words," a white power slogan. 88 represents the eighth letter of the alphabet repeated twice, which stands for "Heil Hitler."
Gibson and the Ku Klux Klan
By his own admission, Christopher Gibson is a Klansman. In January 2018, Gibson (as "Chris Waynes") posted images of himself at the Martin Luther King, Jr. Monument Park in Dublin, Georgia. Gibson/"Waynes" held a banner used by the first-generation Ku Klux Klan. Commenting on the Facebook pictures from the MLK Monument, "Chris Waynes" announced: "AKIA!" This is Klan code for "A Klansman I am!"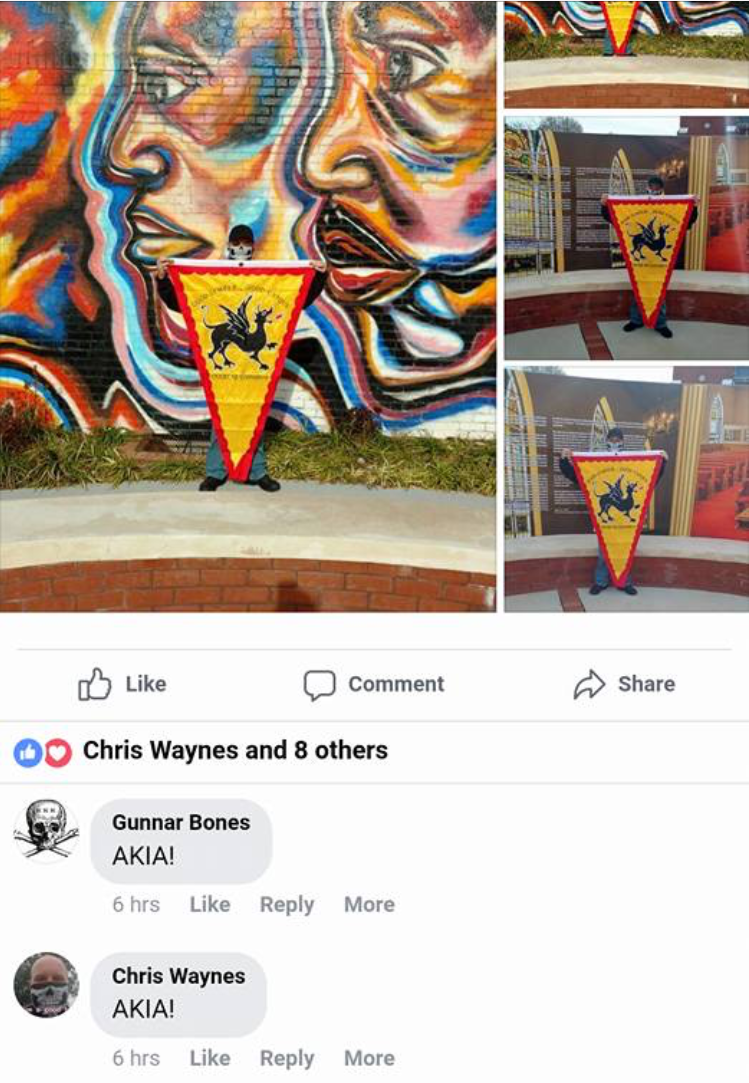 Continue reading "Christopher Gibson: Klansman and "Patriot Front" Sympathizer in Dublin, Georgia"