Update 12/10/2018: Since the publication of this article, Joshua Bates has made a series of public statements renouncing the white supremacist movement and his past. We hope Bates' statements are sincere. Only time will tell.
—
A network of anti-fascist activists from coast to coast have obtained the chat logs of a neo-Nazi organization calling itself "The Base." Anti-fascists infiltrated the Base in order to investigate and identify its members and disseminate this information to the public.
In an ongoing series of articles, the coordinating anti-fascist network will publish revealing information about this group and profile its members. You can follow all these articles by following the hashtag #DeBasedDoxx.
Anti-fascism is fundamentally a localized movement of working-class peoples. We are not paid for our work and we take great risks every day: not for fame or money, but to protect our communities.
Email the network at DeBasedDoxx@protonmail.com with your tips or inquiries. 
As part of an ongoing anti-fascist research series on a neo-Nazi paramilitary group called "The Base", we are exposing The Base member "Brandon Hitt" as Joshua Brandon Bates of Grovetown, Columbia County, Georgia. Joshua Bates' involvement in The Base is notable because Bates is a well-connected participant in the Alt-Right, especially through his work as a web developer and his writing under the alias "Jossur Surtrson". Bates was active in The Base's online chats from late September until his sudden disappearance from the server in mid-November.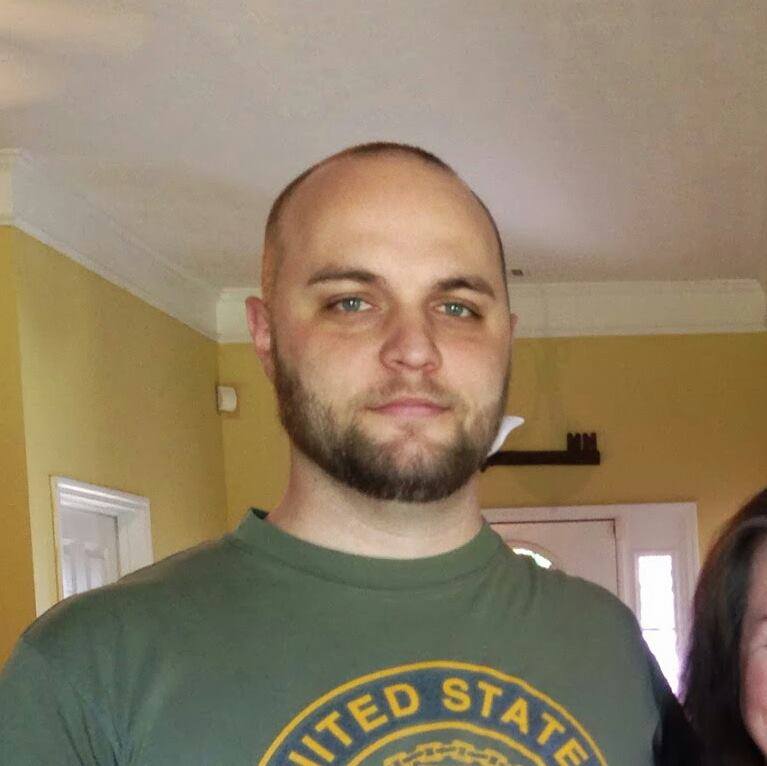 About The Base
The Base is a white supremacist networking platform which aims to prepare for and accelerate the balkanization of the United States, and to carve out whites-only states under such a scenario. The Base's platform offers members several manuals about weapons and planning terrorist attacks. As discussed in an earlier article in this series, members of The Base "operate in regional cells of 3-7 people which include current and former military personnel, eco-fascists, preppers, and youth under the age of 18 who have been drawn into the online communities of Nazism." While it is not clear whether the reference is deliberate, it should be pointed out that "Al Qaeda" translates to "The Base" in English. 
Joshua Bates' Background 
Joshua Bates is an established figure in the white supremacist scene. In 2015, Bates was identified by the Southern Poverty Law Center as the founder of Identity Vanguard. Identity Vanguard was one of the first projects attempting to import European "Identitarian" ideology and activism for a North American audience. Identitarianism tries to present white supremacy in more palatable vocabulary, in terms of preserving a white European "identity" under attack by racialized outsiders. The SPLC's coverage of Bates detailed Bates' US Marines background, as well as his IT contract with Bridgestone Americas. (Bates lost the job.)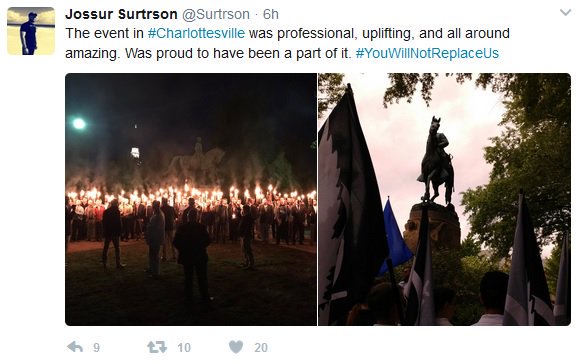 We mentioned Joshua Bates in our article about the Proud Boys, when that far-Right organization was just getting started in Georgia – Bates' brother Tyler was involved with the Proud Boys, and Joshua helped the group harass an Atlanta bar in March 2017. By mid-2017, Bates was again knee-deep in Alt-Right and fascist organizing. Bates wrote for AltRight.com under the name "Jossur Surtrson," where he urged white people to "rekindle their inner hate". Bates also participated in the May 13, 2017 white nationalist protest and torch rally in Charlottesville, Virginia that set the stage for "Unite the Right." By this point, Bates was involved with the explicitly neo-Nazi/"national socialist" Traditionalist Workers Party (TWP). Bates appears on the leaked Discord server for that now-defunct organization under his "Jossur Surtrson" handle. In a November 2017 post on this chat server, Bates identified himself as the TWP's "Georgia State Commander". Bates was later replaced as TWP state leader for Georgia by Justin Burger.

Interestingly, while Joshua Bates was active with the Traditionalist Worker Party – which minced no words about being national socialists – he was also part of Identity Evropa, a white nationalist organization attempting to have a more clean-cut, middle-class and moderate image. On the planning server for Unite the Right, Bates/"Surtrson" stated that "I'm IE [Identity Evropa], write for AltRight.com".
Facilitating White Nationalist Fundraising
Bates' most notable contribution to the white supremacist movement may be establishing the "alt-tech" crowdfunding platforms RootBocks and GoyFundMe. These platforms got money into the hands of white supremacists before and immediately after the deadly violence of "Unite the Right" in August 2017. RootBocks was launched in early July 2017, announced by Bates/"Jossur Surtrson" in a post on AltRight.com. RootBocks was used to fundraise Unite the Right travel funds for Alt-Right troll Tim "Baked Alaska" Gionet, Georgia white nationalist Michael Carothers (AKA "Michael Weaver"), "pro-European nationalist" and Republican Party activist James Allsup, and the League of the South's Brad Griffin. In addition, a fundraiser on RootBocks raised over ten thousand dollars for William Planer, a Traditionalist Worker Party member facing trial for assault with a deadly weapon at the June 26, 2016 white supremacist demonstration in Sacramento, CA where anti-racist counter-protesters were stabbed after they shut down the racist rally. Arguably, the success of the William Planer fundraiser immediately before Unite the Right suggested that if UTR participants also engaged in violence, the white nationalist movement would stand by them, too.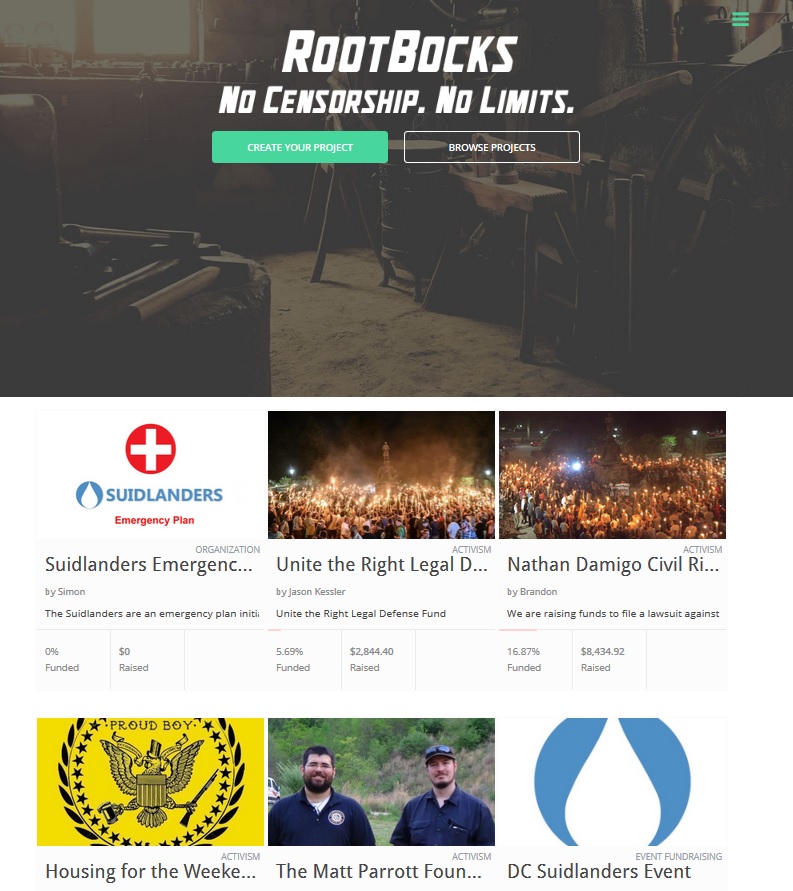 According to Federal Election Commission records, the Will Planer Defense Fund – which had fundraised so successfully on Bates' RootBocks platform – donated almost six thousand dollars to the Traditionalist Worker Party National Committee, just over a week before Unite the Right in Charlottesville, VA. Three thousand dollars made its way back to William Planer in the aftermath of Unite the Right for Planer's legal costs. In-between, the Party spent over two thousand dollars on travel expenses and "rally materials" for Charlottesville.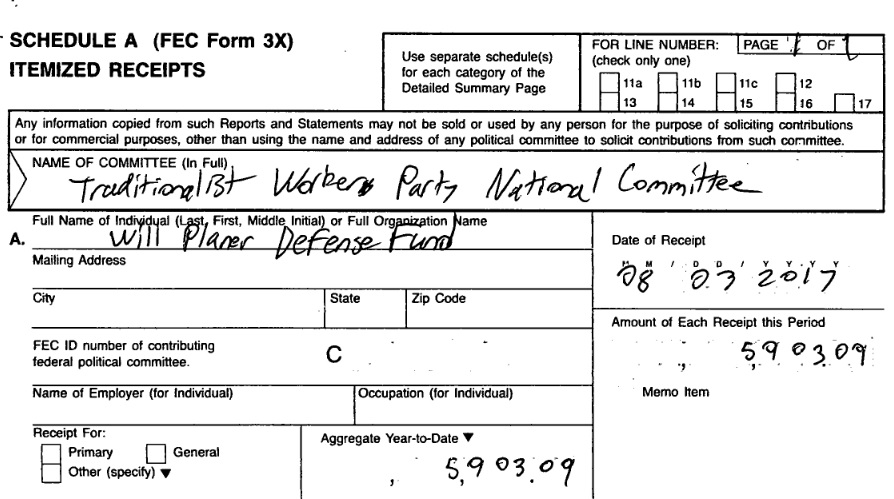 RootBocks lost its ability to accept Stripe payments following the deadly violence of "Unite the Right", although immediately afterwards the site hosted fundraisers by UTR rally organizers appealing for legal funds. On GoyFundMe – Bates' successor to RootBocks – one could pay Traditionalist Worker Party membership dues, as well as donate to a fundraiser for Traditionalist Worker Party militant Tony Hovater, who had lost his job after being profiled by The New York Times.
Bates' role in establishing financial infrastructure for white nationalists is particularly notable because some of the groups that received funding via RootBocks are currently under scrutiny in a federal lawsuit, which alleges that these organizations pre-planned violence at "Unite the Right".
Joshua Bate's Involvement with The Base
Joshua Bates seemed an ideal candidate for The Base's racist paramilitary project: he has discipline forged through the US military; he is adept with technology, armed, and heavily invested in myths of white supremacy. It is therefore unsurprising that Bates would surface as a participant in The Base's chat logs, under the name "Brandon Hitt."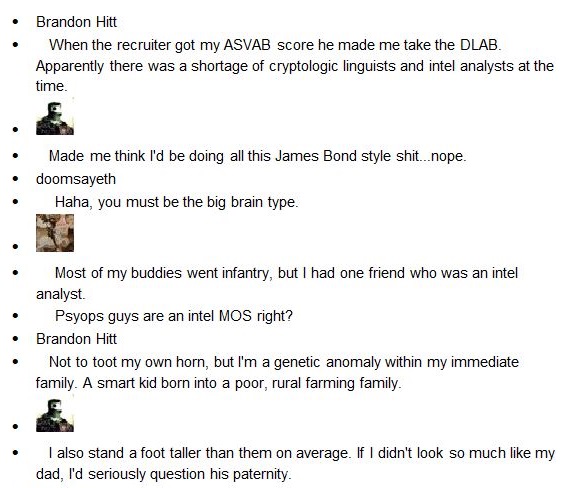 "Brandon Hitt" of The Base is easy to identify as "Jossur Surtrson"/Joshua Bates by examining leaked Discord logs for "Jossur Surtrson" as well as comments from "Brandon Hitt" from The Base's discussion logs on Riot.
On The Base's chat, Joshua Bates reminisced about his time in the Marines with user "Doomsayeth" (Jerod Matthew Elder of California), who was also a Marine (see here for an article profiling Jerod Elder). As noted above, The Base finds ex-military participants especially attractive due to the skills they can bring to the paramilitary project. In The Base's chat, Bates reminded others not to forget "the military men that are sympathetic to the [white nationalist] cause."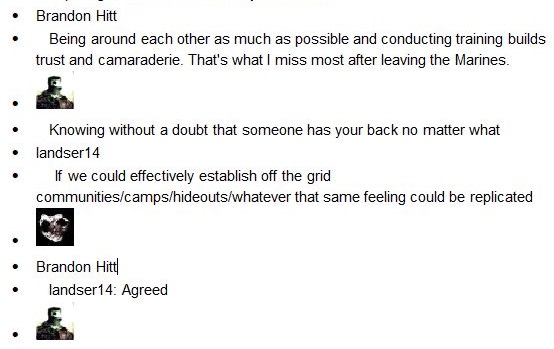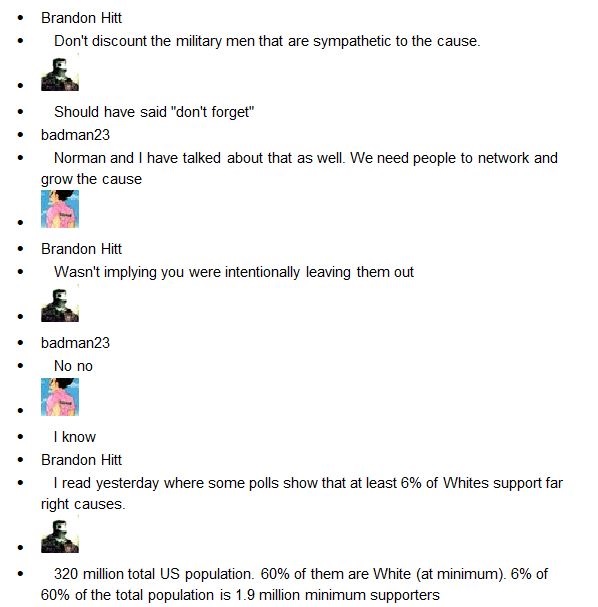 In the wake of Robert Bowers' massacre at the Tree of Life synagogue in Pennsylvania, Bates opined that "infrastructure is what needs targeting". Bates' comment should be considered in light of The Base offering explosives manuals to facilitate such attacks.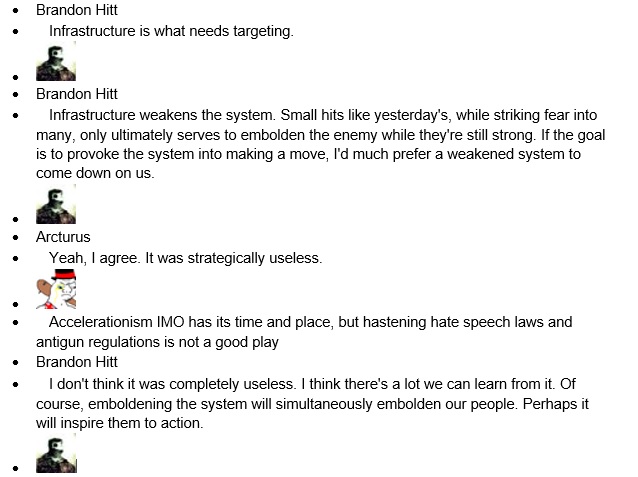 Although Bates suggested that infrastructure attacks were more important in the short term than murder rampages such as Bowers', this does not mean that Bates condemned Bowers' attack. Rather, "Hitt"/Bates stated that "I think there's a lot we can learn from it [Bowers' antisemitic massacre]." While Bates feared that Bowers' murders would "embolden the enemy while they're still strong", Bates then qualified this claim with:
"Of course, emboldening the system will simultaneously embolden our people. Perhaps it [murders by Robert Bowers and their immediate consequences] will inspire them ['our people'] to action."
This stance on Robert Bowers' murderous attack mirrors Bate's belief in accelerationism: the belief that the decline of the United States should be hastened as much as possible. As is common with neo-Nazis, Bates believes that current society is under the control of a Jewish conspiracy. He therefore writes:
"The reason I support acceleration is primarily due to the fact that the Jewish agenda relies solely upon order, order that they control. Once that is removed from the equation, the great downgoing can finally occur."
"The great downgoing" is a pretentious way of saying the downfall of current society, which Bates wishes to replace with racially homogenous territories. The apocalyptic white supremacists of The Base wish to do everything in their power to destroy a society which they view as degenerate and controlled by Jewish people.
In mid-November, "Brandon Hitt"/Bates abruptly left The Base's chat, triggering conversation among those who remained.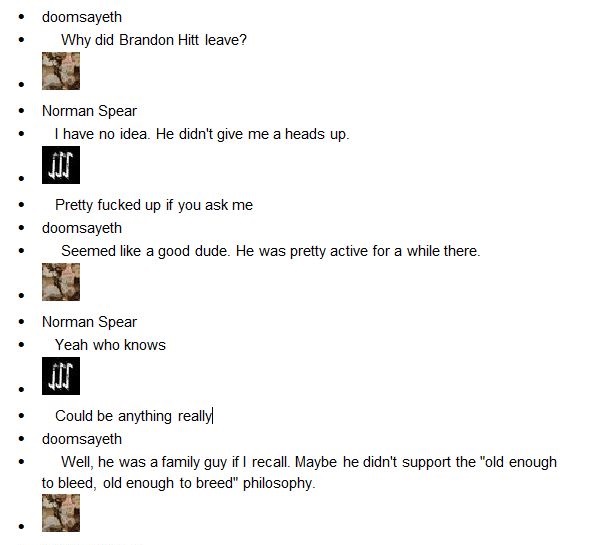 Bates' reasoning for leaving The Base's chat server is unknown. His departure was possibly motivated by concerns about infiltration.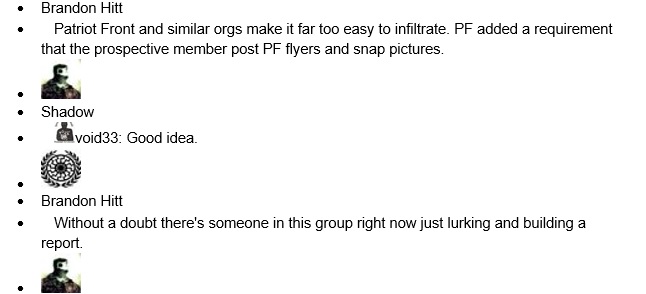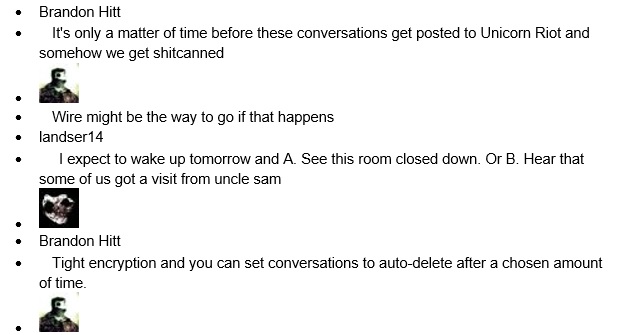 There is no evidence that Bates has disassociated himself from white supremacy and neo-Nazism. Leaving The Base's electronic chat does not mean that Bates has changed any of his racist convictions, or his desire for infrastructure attacks to destabilize "the system" and to carve out whites-only states.
Below is more information about Joshua Bates, which we hope can be used to keep communities safe.
Name: Joshua Brandon Bates (AKA Jossur Surtrson, Brandon Hitt)
Born: October 25, 1982.
Location: Grovetown, Georgia.
Archived Twitter accounts: here and here.
Email: georgiafascist@gmail.com and joshbates1@gmail.com
Stack Overflow profile (old)
If you have further information on Joshua Bates and his white supremacist efforts, you can also reach out to Atlanta Antifascists.