Update: Kenny Schneck, a Georgia neo-Nazi mentioned in this article, died in late April 2020.
On October 4-5, 2019, the International Keystone Knights of the Ku Klux Klan (IKKKKK) held a two-day event on private property in Morgan County, Georgia (approximately half an hour south of Athens, GA). According to the Sheriff's Office Chief Deputy quoted by local media, a Friday KKK meeting was attended by approximately ten people. A related social event the next day attracted approximately thirty. The event also included a cross lighting, although electric lights rather than fire were used due to a law against burning after dark. An International Keystone Knights banner was displayed outside the property. Approximately sixty federal, state and local cops patrolled the area while the racist gathering took place, essentially giving the KKK free security at public expense.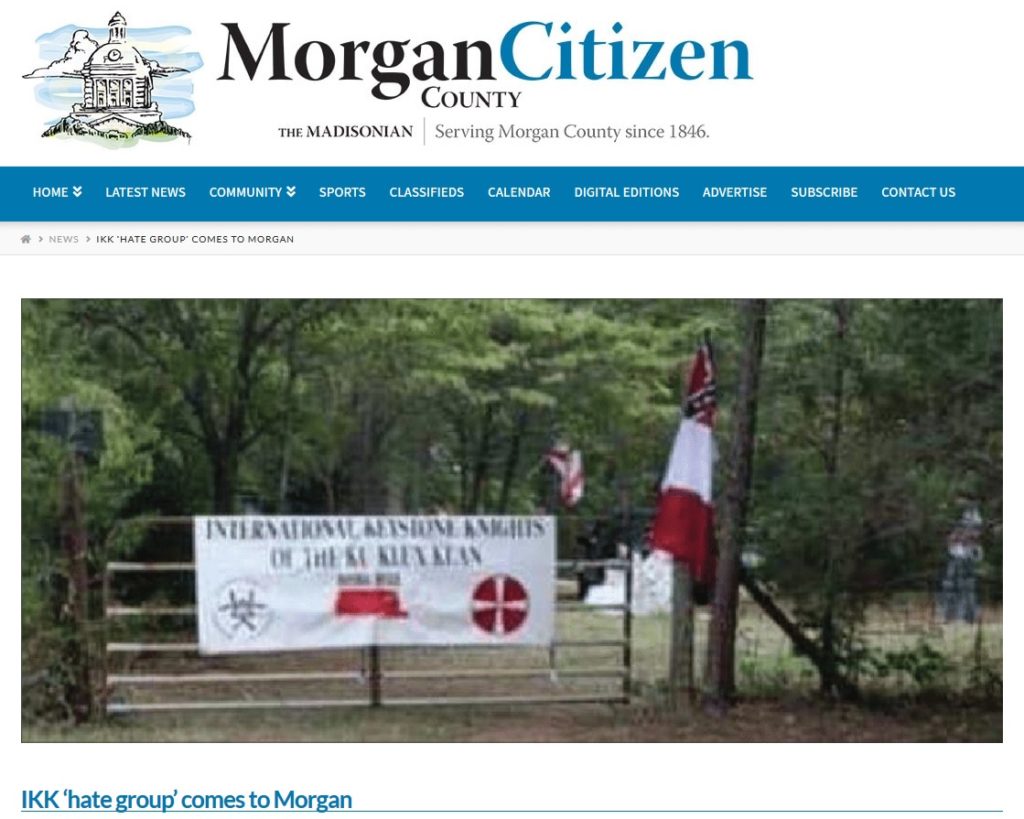 The local Morgan County Citizen discussed the Klan gathering as happening at a residence "on Aqua Lane" with the nighttime cross lighting being visible "off of Aqua Road". Although the paper did not print the name of the individual who hosted the Klan event, we can confirm that the event was hosted at John Richard Thompson's property in Madison. While Madison County property records list his land as being on Aqua Road, Thompson's property also borders Aqua Lane on the opposite side.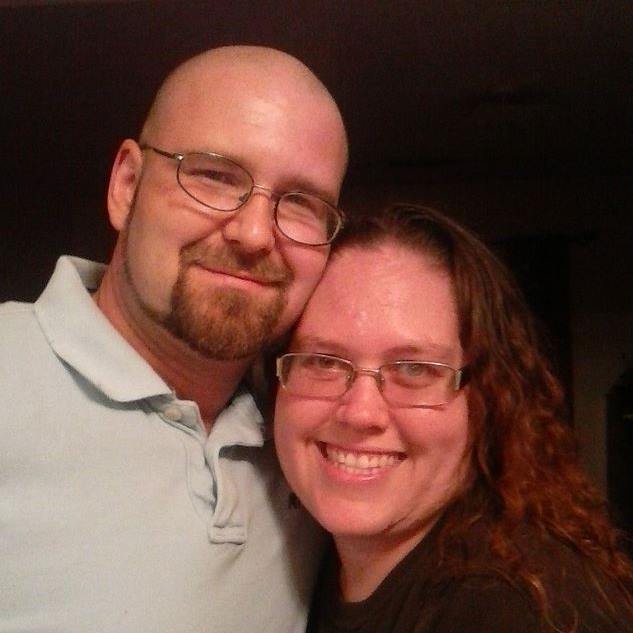 A look at John Thompson's Facebook profile shows him to be deeply immersed in Klan networks. Among those connected to Thompson on social media are:
John Thompson's wife Bonita Thompson (née Bonita Hahn) is also connected on social media to Greg Calhoun, Shealyn Winkler and Justin Frazier.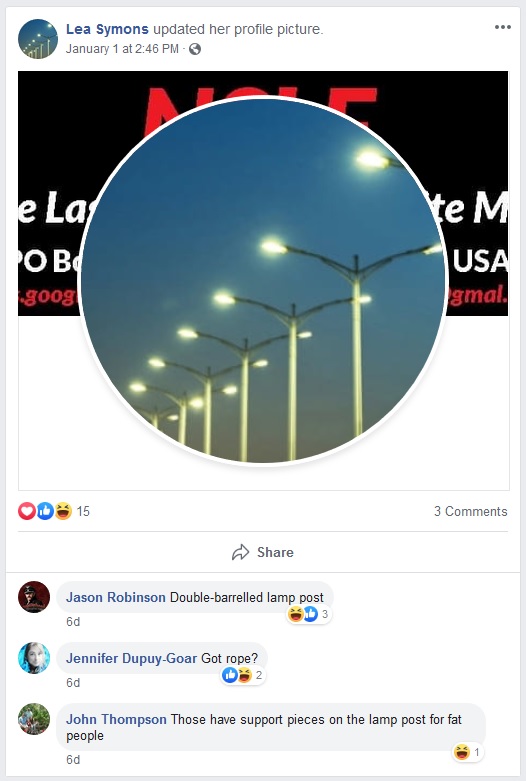 In addition to his many KKK friends, John Thompson is also connected online to members of the revived National Socialist Liberation Front (NSLF), a small neo-Nazi organization which endorses violent struggle against what it believes to be a corrupt, Jewish-controlled society. On Facebook, Thompson has joked with Sharon Robinson of Alabama (AKA "Lea Symons", Sharon Symons Connell), the Deputy Director of the NSLF, about mass hangings of their enemies. This is an allusion to the "Day of the Rope" in The Turner Diaries, an infamous piece of white supremacist propaganda.
Thompson is also online friends with Kenneth Wayne Schneck ("Kenny Larkin") of Centerville, Georgia, plus Kenneth's wife Amanda Schneck (née Amanda Leigh Johnson). On the Russian social media site VKontakte, Kenneth Schneck boasted of being a Captain in the NSLF in 2018. On his "Kenny Larkin" Facebook, Schneck also claims to support the "PCK Brotherhood" – the Pacific Coast Knights, a Klan group mainly based on the US West Coast.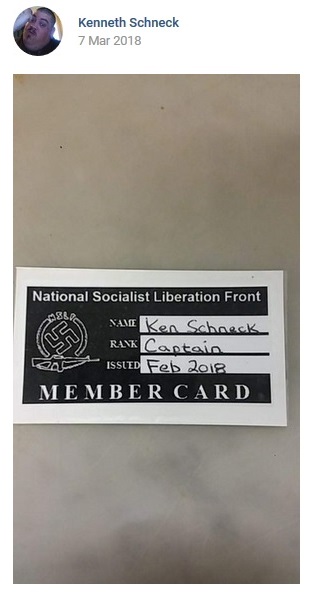 On his Facebook, Thompson has joked with Kenneth's wife Amanda Schneck about making Nazi salutes.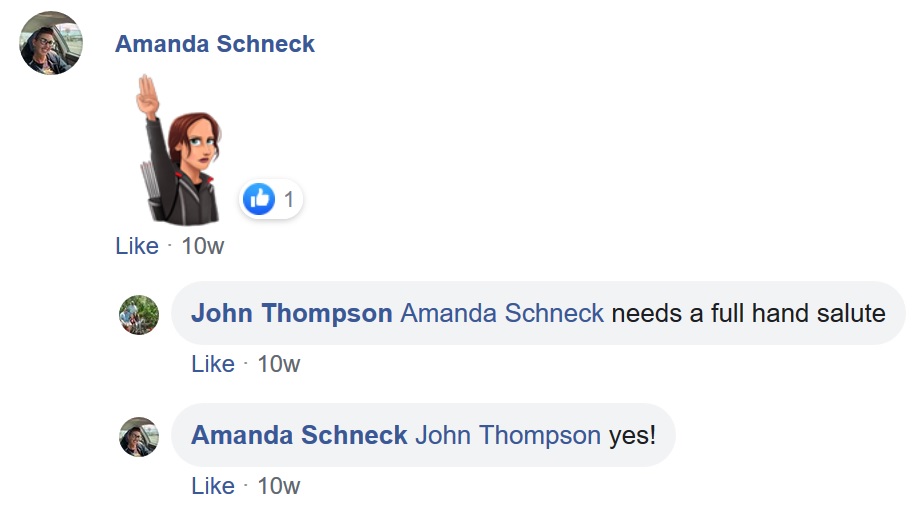 Thompson's friendship with NSLF members Sharon Robinson and Kenneth Schneck is not surprising, as the IKKKKK and NSLF generally appear to be on good terms.
Since Thompson is committed to the Klan and jokes about the mass murder of supposed race traitors, we believe Thompson is a threat to those around him. Many Morgan County residents already know that John Thompson hosted the Ku Klux Klan gathering in October, but we are publishing this article for the benefit of those who may not have heard the news. Some of our documentation about the depth of Thompson's Klan ties may be new, as well as our information on Thompson's friendship with militant neo-Nazis. We hope this information is useful to those living in Thompson's neck of the woods.
Please get in touch if you have further information on John Richard Thompson, other individuals mentioned in this article, or other Klan/white supremacist activity in our state.