We are unmasking two members of Patriot Front in Georgia: Karter Regan Brown of Marietta and Christian Ian Foshee of Milledgeville. Patriot Front is a white supremacist and fascist organization, formed as a splinter from and rebrand of Vanguard America in the aftermath of 2017's bloody "Unite the Right" rally in Charlottesville, Virginia. The organization is known for carefully choreographed marches, incessant placement of propaganda, and a nationwide defacement campaign against anti-racist murals, community spaces, and memorials to victims of police murder. All these activities are symbolic acts of intimidation, foreshadowing more literal violence. Patriot Front has tried to hide the identity of its members, but their organization has recently suffered a massive data leak.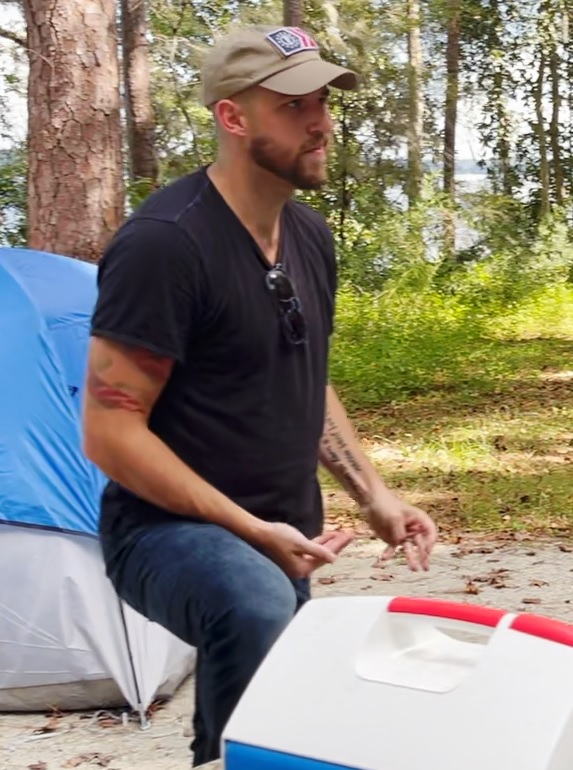 Both Brown ("Jackson GA" within Patriot Front) and Foshee ("Jesse GA") are visible in footage from the organization's training camp in Tallahassee, Florida, which was held last October. Christian Foshee is also visible in an image of Patriot Front's drill formations at a Unionville, Virginia camp, just before the racist group held its December 4th national rally in Washington, DC. Karter Brown also attended the December Patriot Front rally in Washington DC, renting a van for Patriot Front members from Georgia to drive to the event.
Karter Regan Brown AKA "Jackson GA"
Karter Regan Brown (born 1992) joined Patriot Front last year and goes by "Jackson GA" within the organization. He appears in leaked footage from the organization's Tallahassee training camp, held in preparation for the white supremacist group's December rally in Washington, DC. He rented a vehicle for Georgia members to attend this rally and traveled up with them. Brown also helps meet with and vet potential members of the white supremacist organization, according to leaked internal communications. In these messages, Brown/"Jackson GA" announced that he had checked in with his wife and planned to attend Patriot Front's January 8th mobilization in Chicago, Illinois.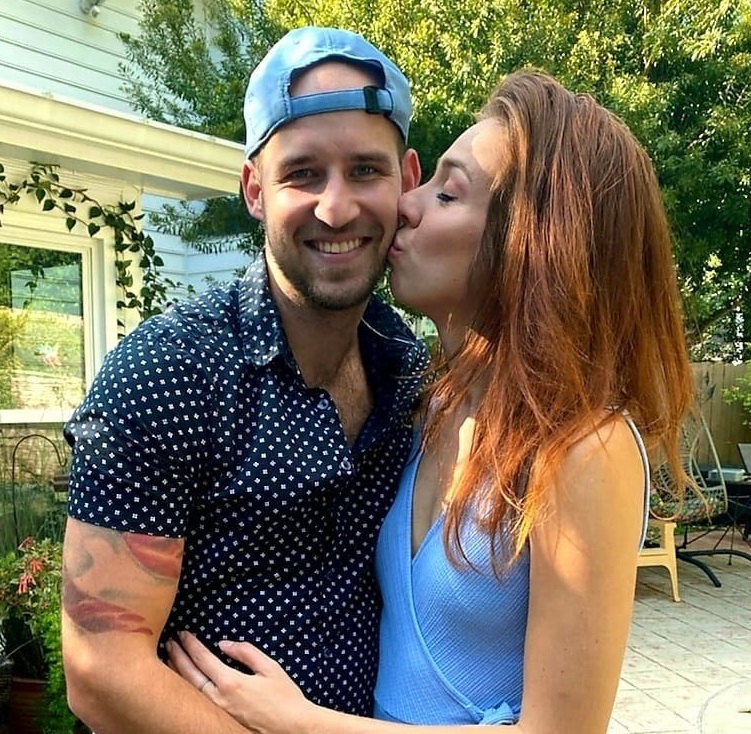 Like many Patriot Front members, Brown comes from a well-off family. Brown's father is Kraig Ryan Brown, the CEO of Office Practicum – a pediatric electronic health record / electronic medical record (EHR / EMR) company – and it appears that Karter Brown also works in the EHR industry. Karter Brown lives with his wife, an aspiring actor, in the Princeton Mill subdivision of Marietta. His CEO father lives around the corner.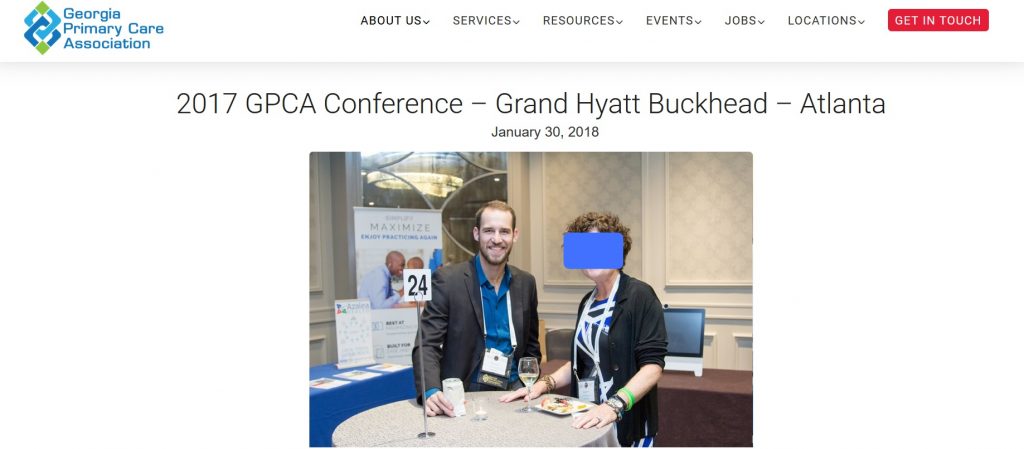 As well as attending white supremacist gatherings, Brown attends Sexaholics Anonymous (SA) meetings over his compulsive consumption of pornography. Writing to Patriot Front's "lifestyle recovery" channel, Brown/"Jackson GA" stated last year that:
"Porn has been a struggle of mine since I was 11 – I am now 29 […] I go to SA meetings but […] it feels impossible to stay clean."
Since neo-Nazis typically believe that pornography is part of a vast Jewish conspiracy against the white race, we believe that Brown's presence at SA meetings could place any Jewish participants in danger.
Similarly, an active white supremacist potentially having access to sensitive health information is disastrous. Any company employing Brown must take immediate action. Coinciding with the publication of this article, we are reaching out to EHR/EMR companies with ties to Brown.
Christian Ian Foshee AKA "Jesse GA"
We first encountered Christian Ian Foshee (born 1990) last year, when we mentioned him as a neo-Nazi active in COVID-19 denial channels on the Telegram messaging application. Foshee lives in Milledgeville, Georgia, and goes by the alias "Jesse GA" within Patriot Front.

During Patriot Front's Tallahassee, Florida training camp in October, Foshee claimed to be ex-military, telling neo-Nazi Ian Michael Elliott that he had "wrestled [while] in the Marines." Patriot Front assigned Foshee to its rearguard shield-carrying group during its December national rally in Washington, DC. An image from the rural Virginia camp immediately before this rally shows Foshee in formation with others from the rearguard group. 
According to his leaked messages, Foshee organized additional training for Patriot Front members in Georgia before they headed north for the December 4th rally. After the rally, Foshee / "Jesse GA" stated that "we got a good group of guys here " and that he was "excited to grow [Patriot Front in] our state."
Foshee works for a family-operated amusement machine business. He appears in Florida business filings as a representative of "Gator Tail Management." A similar company, "Gator Tail Amusement," is registered in Alabama and Florida, and linked to a family address in Milledgeville, Georgia. In connection to "Gator Tail Amusement," Foshee was arrested in Florida in 2016 as part of a gambling ring investigation. Authorities decided not to proceed with the prosecution the following year. Foshee has an earlier arrest in Leon County, Florida in 2013 for battery, although the state also dropped this prosecution.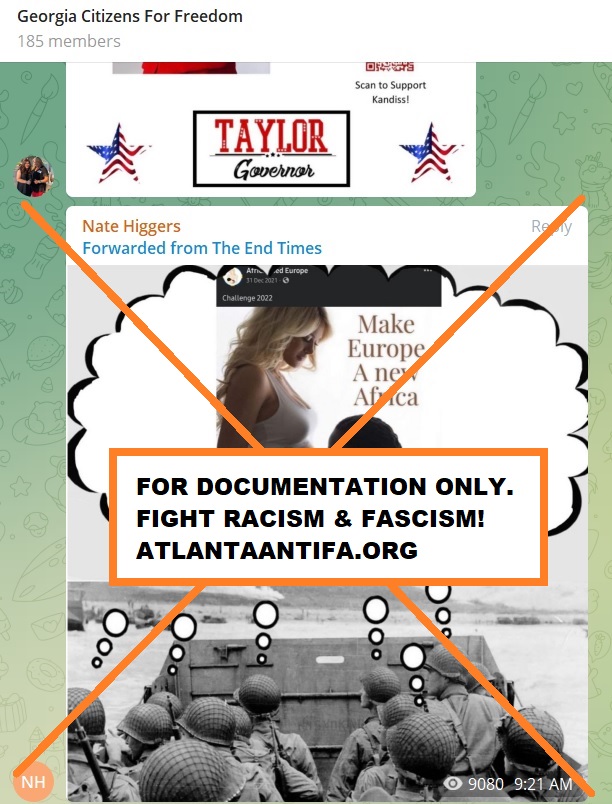 Foshee spreads substantial amounts of white power and antisemitic propaganda on Telegram. Over the last year, he has changed his account name from "Christian Fo Sho" to "Johnny Utah," then "Andy Semite," and most recently "Nate Higgers" – the last two names highlighting his intense bigotry.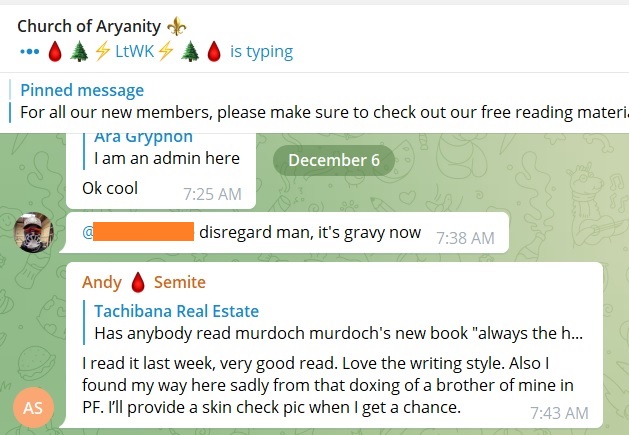 Foshee joined the Telegram channel for the "Church of Aryanity" – a Hitler-celebrating, explicitly genocidal cult – soon after our organization exposed Ian Michael Elliott, one of Foshee's associates in Patriot Front who is also active in the neo-Nazi "Church." As "Andy Semite," Foshee referred to Elliott as "a brother of mine in PF."
As part of his propaganda efforts, Foshee regularly spams Dacula, Georgia resident Lisa Lovely Nassal's "Georgia Citizens for Freedom" Telegram channel with white supremacist content. "Georgia Citizens for Freedom" focuses on COVID-19 conspiracy theories, false 2020 election fraud narratives, and promoting fringe candidate Kandiss Taylor's campaign for Georgia governor. Foshee berates the members of this channel for not being explicit white supremacists, but the channel still allows him to spread racist and antisemitic propaganda to its members.
Conclusion
We are publishing this information to warn metro Atlanta and Milledgeville residents of the active white supremacists in their midst. Please get in contact if you have further information on Brown, Foshee, or other members of Patriot Front. Also please see our recent gallery from Patriot Front's October 2021 training camp in Florida and let us know if you recognize other participants.