Update 2/27/2023: We have identified this neo-Nazi as Devin Brosnahan of Augusta, Georgia. See our article here.
A neo-Nazi operating under the alias of "Levi Savage" is currently the head of the White Lives Matter (WLM) network in Georgia. "Levi" is an administrator for WLM's Georgia announcement channel and discussion group on the Telegram messaging app. "Levi" has traveled our state spreading antisemitic and anti-LGBTQ+ propaganda. According to a February 2022 interview, he works as an ambulance driver. We are spreading our documentation on "Levi" in the hope that community members will be able to identify him, as his neo-Nazi activism not only makes him unfit for emergency medical work but also jeopardizes those around him.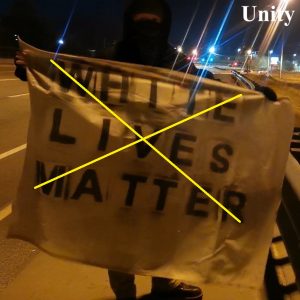 Key facts about "Levi Savage":
He lived in Utah before moving (or returning) to Georgia.
He has been active in White Lives Matter's Georgia chapter since at least February.
His earliest activities for WLM centered on the Augusta metropolitan area.
In January 2022, "Levi" identified himself as a member of the National Alliance, a neo-Nazi organization. "Levi" has also distributed propaganda for the Goyim Defense League, a hardcore antisemitic propaganda project.
In a February 18, 2022 interview on a fascist internet show, "Levi" stated: "I work in the Emergency Medical Services, I'm basically an ambulance driver." He also stated that he had been working at that job for about "six months" but had "been aware of emergency medical services all my life […] it's been a big background for me."
Levi is a Onewheel enthusiast and has distributed WLM and Goyim Defense League materials while riding his Onewheel.
Although he has criticized Christianity, "Levi" appears to have past ties and cultural sympathies with The Church of Jesus Christ of Latter-day Saints (LDS Church).
Since "Levi's" early WLM propaganda activity appeared around Evans, Martinez, and Augusta, one potential workplace for him (if he remains in the same job) is Gold Cross EMS, which provides emergency ambulance services for Columbia, Richmond, and Jefferson counties. We encourage readers to pass along our documentation to any contacts working in the Emergency Medical Services field in Georgia. For anyone with potential tips on "Levi," please send us a message.
"Levi" Appears on our Radar
The "Levi Savage" Telegram account first appeared in the Georgia channel for White Lives Matter earlier this year. We do not have an exact date that "Levi" appeared due to automatic message deletions on the channel. We first noticed "Levi" on February 1st. The account immediately or almost immediately gained administrator status and was allowed to post from the channel's main administrative profile. The two other WLM Georgia admins at the time of "Levi's" appearance were Hunter Forsyth (AKA "Viribustag"/"Toten") and Zachary Gossett, who goes by the alias "Dirty Animal Heathen."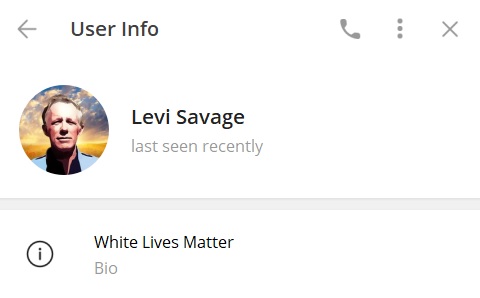 The name "Levi Savage" comes from an early figure in LDS Church history. As a profile picture, his Telegram account uses a picture of William Luther Pierce, the founder of the National Alliance – once the largest neo-Nazi group in the US – and the author of the notorious race war fantasy The Turner Diaries.
In our article on WLM admin Hunter Forsyth, we mentioned how Forsyth's videos for WLM had specific visual characteristics which allowed us to link them to each other, and then helped us to track Forsyth's activities. Similarly, early videos created by "Levi" for WLM have a telltale feature of ending with a WLM logo on a marbled background, with red text superimposed on the logo.
We analyzed the style of messages posted to the channel to identify posts made by "Levi." When Hunter Forsyth posted content via the WLM Georgia administrative account, those posts were tagged with the word "Viri." Posts by "Levi" from the WLM Georgia administrative account contain no such tag but appear as regular channel posts. However, when posting with the administrative account, "Levi" has a personal style. For example, when he shares videos or images of his WLM activity, he frequently begins his post with a motivational quote from a white supremacist. Often, these are figures "Levi" has promoted elsewhere on the internet.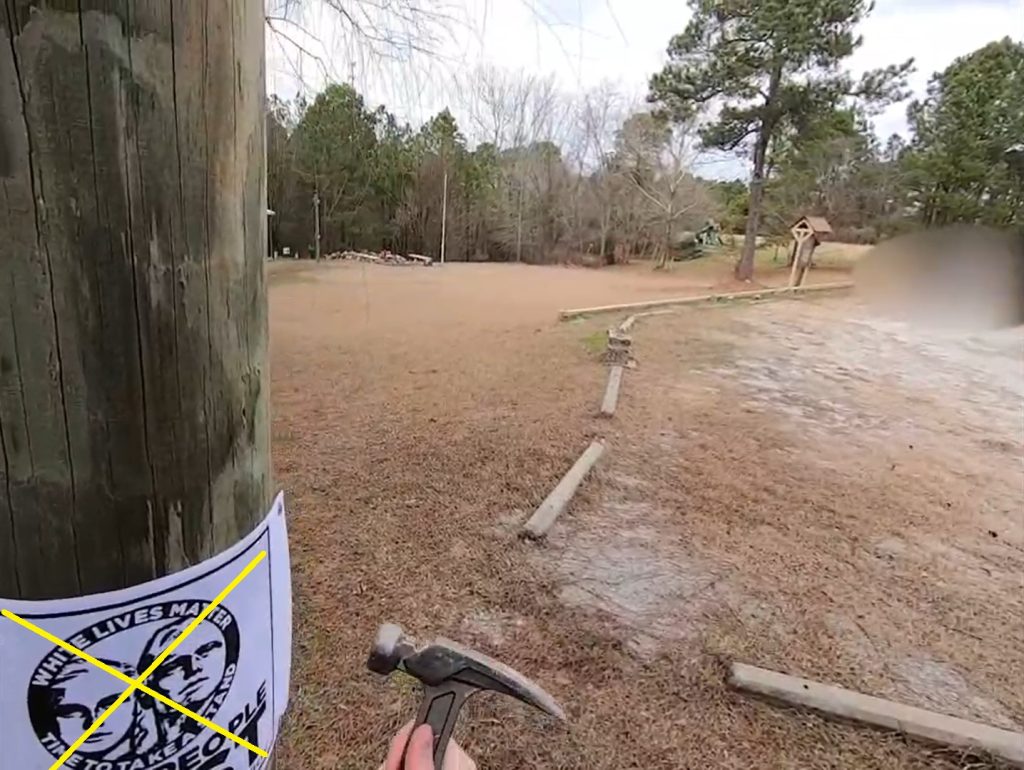 On February 4th, WLM Georgia released its first video made by "Levi," showing someone attaching WLM flyers to wooden poles at a campground or park. The video blurred out obvious markers giving the location, suggesting that the video creator did not want viewers to find it. We have nevertheless determined that the video is from Camp Helaman in Evans, Georgia, with the "Camp Helaman" sign blurred in the video shared to WLM Georgia. Camp Helaman is a nonprofit-operated camp primarily used by the LDS Church community. (The Book of Helaman is one of the books within the Book of Mormon.) "Levi's" motivation for targeting this camp is unclear – we do not know whether he was acting against the LDS Church community or whether he believed that some people at the camp would be receptive to his message. However, his targeting of the Camp suggests that either he was familiar with the surrounding area, or that he had a prior connection to the Camp, such as if he previously attended an event there.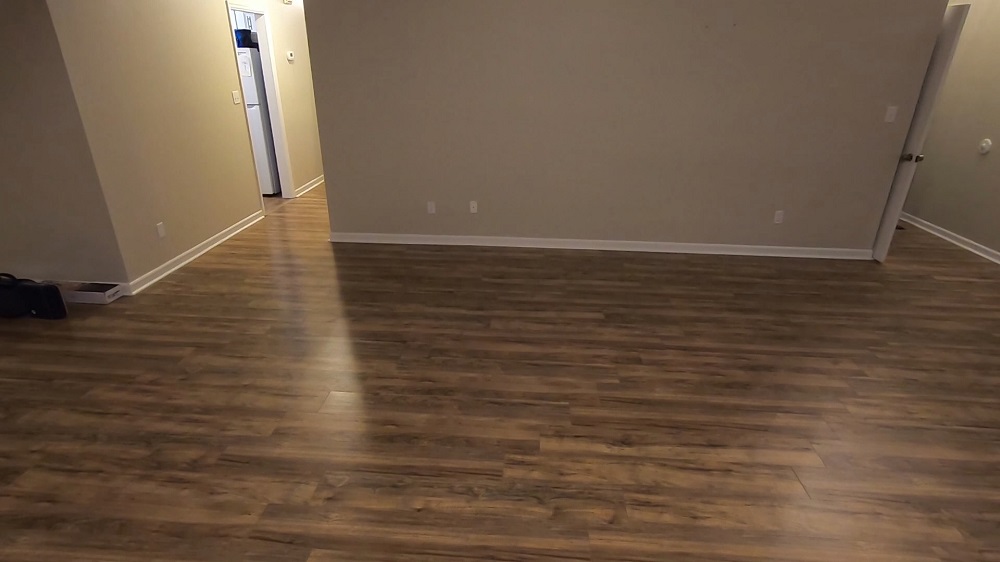 Not long after, on February 12th, another "Levi"-created video released via WLM Georgia depicted him placing a banner at Wheeler Road over I-520 in Augusta. Before footage of the actual placing of the banner, the video contains a series of images showing the materials used to create the banner, as well as the interior space where it was painted. A helmet-mounted device recorded the banner placement, with a "Craft&Ride" sticker visible on "Levi's" helmet. Craft&Ride is a company that sells Onewheel accessories.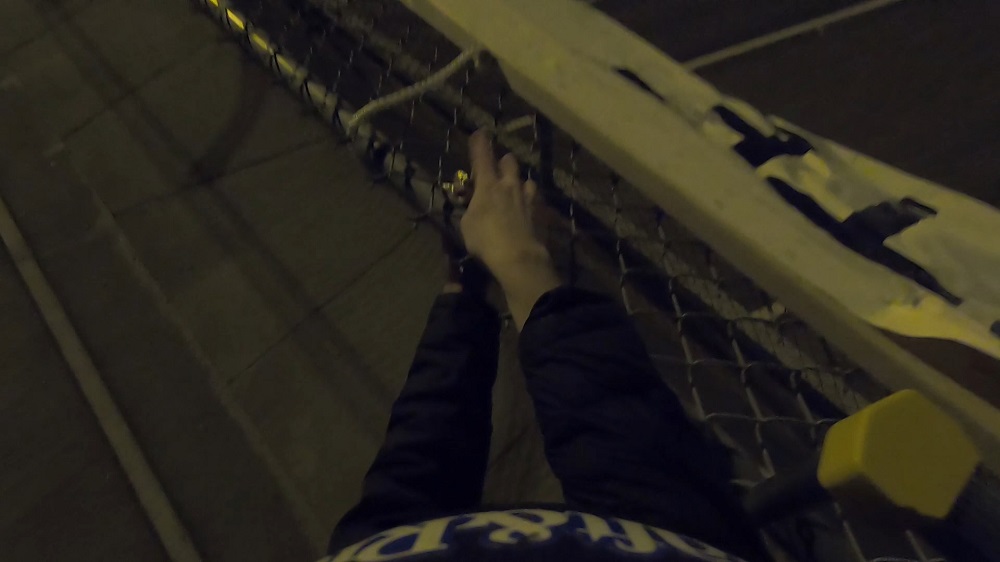 We noted in our article on Hunter Forsyth that another video appeared on the WLM Georgia channel the same day, showing a different banner on the same overpass. This second video by Hunter Forsyth appears to show "Levi Savage" briefly holding up a WLM banner before it was dropped at the overpass. (The figure in Forsyth's video wears similar pants and boots as shown in the first-person view from "Levi's" earlier video.)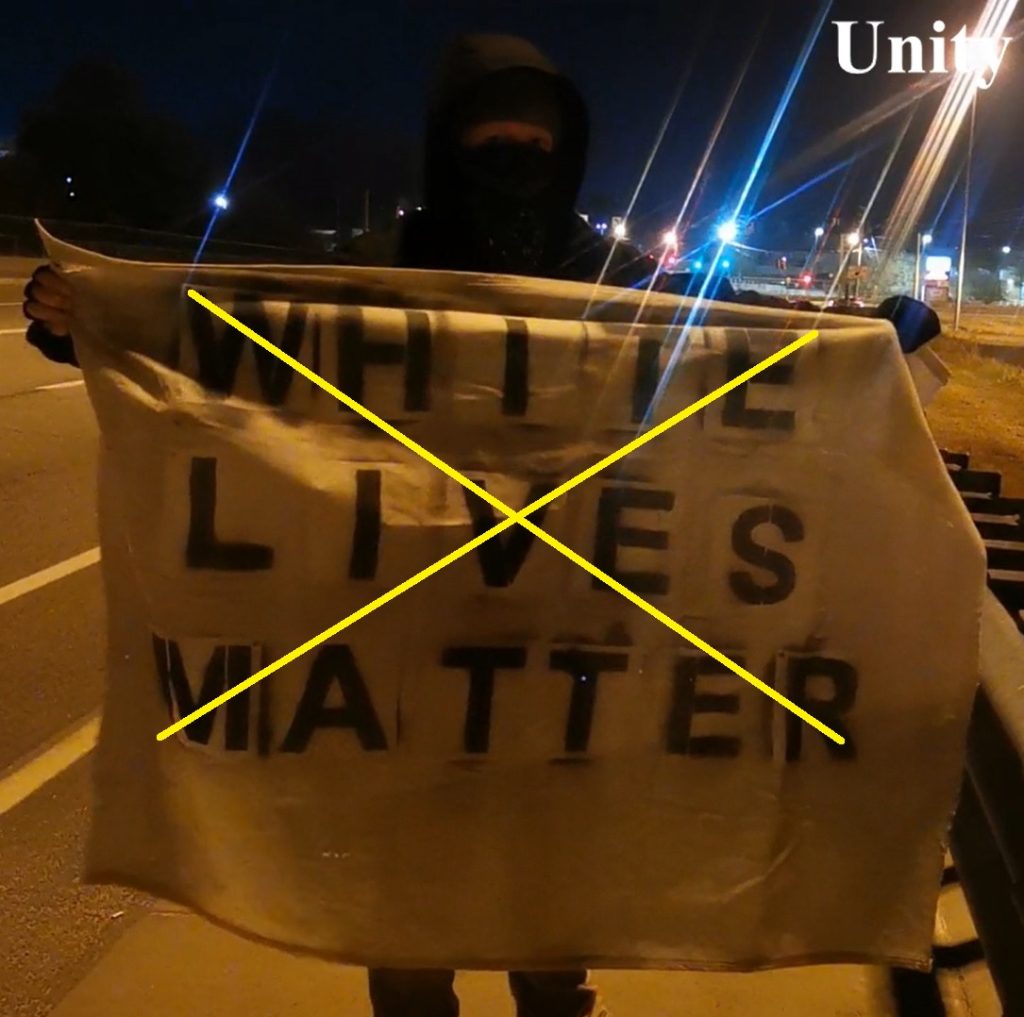 Although the WLM Georgia channel did not mention or promote this, on February 18, "Levi" appeared on a fascist internet broadcast, "The Eagle's Nest," hosted by a racist propagandist in Oklahoma using the alias "John Fashcroft." (Ten days later, on February 28, the broadcast was archived on a video hosting site.)
In the interview, "Levi" states that: "I work in the Emergency Medical Services, I'm basically an ambulance driver." He claimed to have been working in that field for approximately "six months, but I've been aware of emergency medical services all my life […] it's been a big background for me, and so I kinda knew what I was getting into." He stated that he operates in "some run-down mill towns" and that the area of service "ranges anywhere from 60% Black to basically 100% trailer trash." Discussing his racist beliefs, "Levi" stated that "I can't imagine not being racially aware and then having to deal with some of the situations that I've been in" at work, making clear that his white supremacism is an integral part of his professional interactions with individuals in crisis.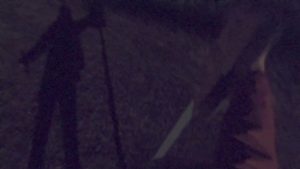 A video released to the WLM Georgia channel in March shows more of "Levi's" propaganda activity for the group. The video, issued on March 20, 2022, shows a first-person view of "Levi" placing stickers along the Evans to Locks Road in Augusta, starting near the intersection with Furys Ferry Road, proceeding approximately three miles to the Augusta Canal Historic Trail by Savannah Rapids Park, and in the end returning to the intersection of Evans to Locks Road and Furys Ferry. His motion in the video suggests that "Levi" was traveling on a Onewheel while placing the stickers. A helmet-mounted device recorded the footage, with the Craft&Ride sticker on "Levi's" helmet again visible.
Although this may be mere coincidence, the start and end point of the video is close to a Columbia County Fire Rescue station where a Gold Cross EMS ambulance is stationed. This spot is also a three-minute drive or quarter hour walk from Camp Helaman, shown in "Levi's" first WLM Georgia video.
"Levi's" Earlier Background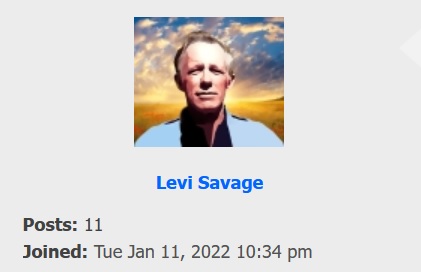 In searching for more information on "Levi Savage," we discovered eleven posts by a user with the same alias and profile picture of William Pierce on the "White Biocentrism" forum operated by the National Alliance. The introductory post from "Levi Savage," "Hello from my home in the woods!," appeared on January 12, 2022. "Levi" introduces himself as a "new National Alliance member" who has "been doing nationalist activism from Utah to Georgia where I enjoy living now." In another post on a thread discussing the racist and fascist organization Patriot Front, "Levi" states that prior to joining the National Alliance, "I jumped into pro-White politics with both feet and immediately began organizing with several groups that either don't care to associate with me or I don't care to associate with them anymore."
In the same comment, "Levi" refers to the "Christianity problem." While some neo-Nazis espouse versions of Christianity, other neo-Nazis reject Christianity as problematic, since they view it as inherently egalitarian or as insufficiently hostile toward Jewish people and/or people of color. Although his screen name is a reference to LDS Church history, this comment from "Levi" suggests that he may have privately (or even outwardly) moved away from that faith.
Also in January, the National Alliance published a racist and antisemitic article by "Levi," "True North," on one of its websites. However, "Levi'" was only briefly visible as a National Alliance activist. His posts to the National Alliance-controlled "White Biocentrism" forum are limited to January and February, suggesting that "Levi" has now deprioritized his efforts for that organization, has left it, or decided to play a behind-the-scenes role.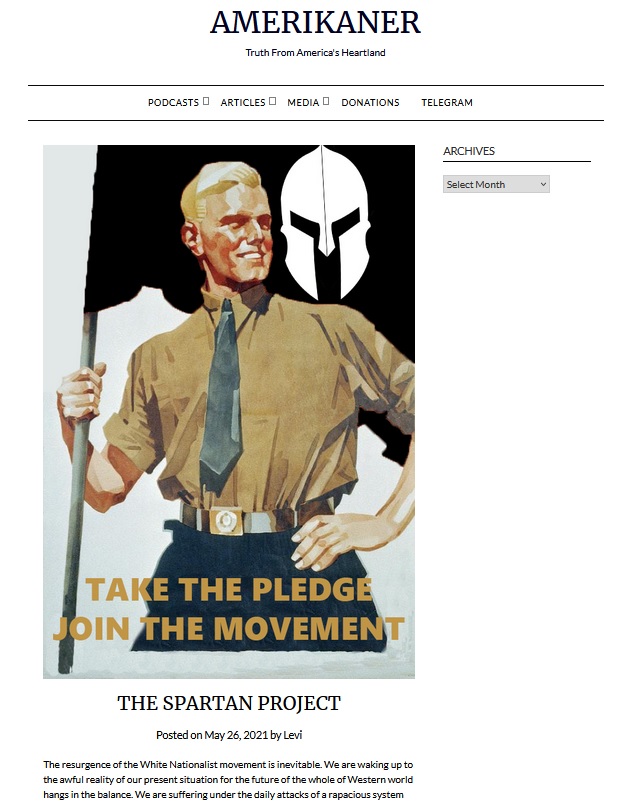 Looking for earlier materials by "Levi Savage," we also discovered that the "Achtung! Amerikaner" podcast and its website shared a series of five audio speeches by "Levi" in April and May 2021. Amerikaner is a white nationalist propaganda project focusing on "flyover country" and the Midwest. We also found an archive of a now-deleted article by Levi, "The Spartan Project," published to Amerikaner in late May 2021. "Levi" argued for an alliance of white nationalist groups as "a counter to the violent and subversive influences of the enemy." He claimed racist organizations such as the National Justice Party, Patriot Front, and the National Alliance's "Cosmotheist Church" as part of his proposed "Spartan Association."
We have traced several email accounts used by "Levi" for his racist organizing. The oldest we have found was created in early 2021, seemingly the same time "Levi" began his white nationalist activity. Because "Levi" told the National Alliance's "White Biocentrism" forum that he participated in "nationalist activism" in Utah before moving to Georgia, we believe this activity took place in Utah during the first part of 2021. "Levi" then moved or returned to Georgia and began working his emergency medical services job.
Goyim Defense League
This year, "Levi" has also distributed propaganda for the Goyim Defense League (GDL), a virulently antisemitic network rife with neo-Nazis. On September 25, "Levi Savage" shared two videos to the GDL's chat on Telegram, both of which date from months earlier.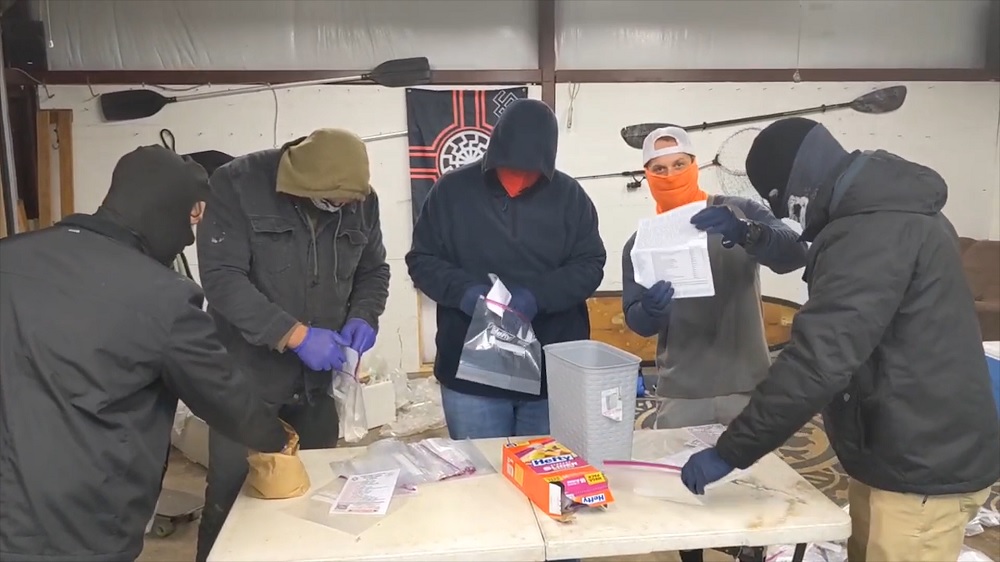 According to file metadata, the first video was created on February 23, 2022, although because of time spent on editing and production, the events portrayed probably date from before that. The video shows five masked figures placing GDL flyers into plastic bags, which are weighted with a small amount of rice so that they can be thrown more easily. The video then shows an individual walking down the street, tossing flyer bags onto lawns. The video starts and ends with figures posing with a flag featuring a "Black Sun"/Schware Sonne symbol used by neo-Nazis, while making Nazi salutes (five masked figures appear at the beginning, four appear in the footage at the video's end.) Based on clues such as surfboards visible in the garage where the GDL flyers were prepared for distribution, and palm trees visible in the footage of the flyers being thrown onto lawns, we believe that this video was recorded in eastern/coastal Georgia.
We were able to identify "Levi" as one of the figures in the video, based on a clear footwear and pants match with the two WLM Georgia videos of February 12th, as well as a height, build, and probable jacket match from the Hunter Forsyth video briefly showing "Levi."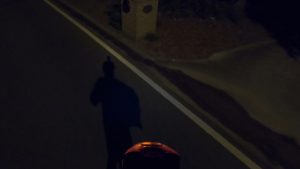 The other video shared by "Levi" to the GDL chat in September is another first-person perspective video recorded from his helmet-mounted camera. This time, metadata reveals that the video was created on July 20, 2022. The video shows "Levi" throwing bags of GDL propaganda onto lawns. "Levi's" motion again suggests that he is moving through the area on a Onewheel. Street numbers and other details from the video reveal that the location is the Atlanta suburb of Sandy Springs. The Atlanta Jewish Times reports that "Mailboxes at about a dozen homes in Sandy Springs were stuffed with [GDL] antisemitic flyers on Friday, July 15". This is clearly the same incident as "Levi's" recorded propaganda spree, although the video "Levi" released showed flyer bags thrown next to, not placed directly within, mailboxes. The two flyer variants visible in "Levi's" video also match those pictured in Atlanta Jewish Times coverage.
Flyer Distribution Project and Anti-LGBTQ+ Harassment
Our recent article on Hunter Forsyth discussed other activities of the WLM network in Georgia, including representatives of the Georgia chapter joining two WLM rallies in Tennessee earlier this year. "Levi" may have attended one of or both the Tennessee events. On June 9 this year, the Georgia WLM channel shared an "edit" of footage from the WLM rally in Nashville on April 16. "Levi" created the video remix, judging by the video's final screen, which matches other WLM videos created by him.
More recently, the Georgia WLM network has decided to focus on anti-LGBTQ+ harassment, building on transphobic and homophobic campaigns waged by rightwing influencers over the past year. Our recent piece on the Georgia Proud Boys noted that White Lives Matter members joined the Proud Boys in harassing at least one Drag Queen Story Time event in Columbus, Georgia. Proud Boys showed up to oppose ColGay PRIDE events on both September 3rd and October 1st. An October 3rd post to WLM Georgia's Telegram channel indicated the network's participation, although the post was ambiguous as to whether the white nationalists appeared in September, October, or both.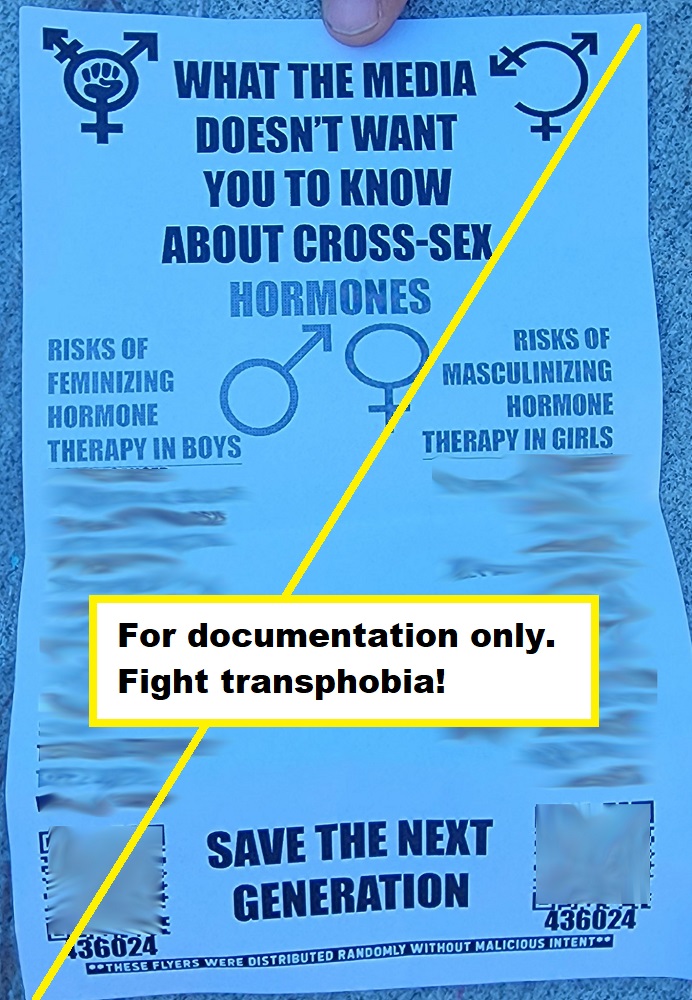 We can clearly connect "Levi" to the Columbus harassment, however. An anti-trans flyer distributed on October 1st in Columbus, included a QR code on the bottom. Scanning this code led to a group on the Signal messaging application named "Flyer Feedback." Upon joining the group, our throwaway account received a message from "Spartan Levi" – one of the aliases used by "Levi Savage" – requesting a photograph of the flyer we received and asking whether we wanted to help distribute similar materials. The communication from "Levi" suggested that he is trying to build a network for anonymous flyer distribution in our region. We believe that the request for a photo has to do with an identifier number placed next to the QR code on the flyer, to identify which participant in the flyer distribution network had passed out the flyer and to track how much interest they were generating. "Levi" used a Google Voice number to establish his Signal account. The number, beginning with the area code 801 and then the digits 900, is in a block of numbers initially designated for Provo, Utah. One can get a Google Voice number for somewhere without living there, so this does not necessarily prove that "Levi" lived in Provo.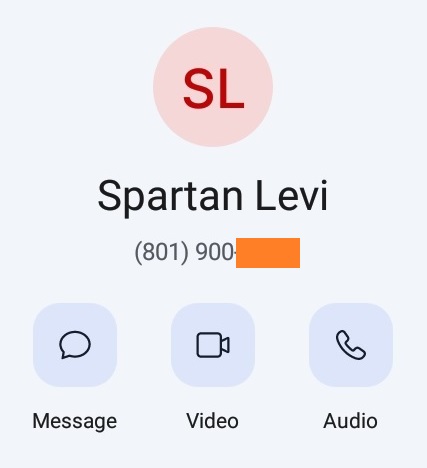 In early November, a message appeared on the Georgia WLM channel stating that WLM and "like-minded activists protested Savannah PRIDE 2022," and to contact "Levi" to get involved with future efforts. The accompanying video showed two people passing out homophobic/transphobic flyers in Savannah at a Pride evening event during the end of October. While the WLM video does not exactly match earlier WLM productions by "Levi" – the final screen does not have a marbled background or red text – this seems to be a progression of his video style rather than being made by someone else.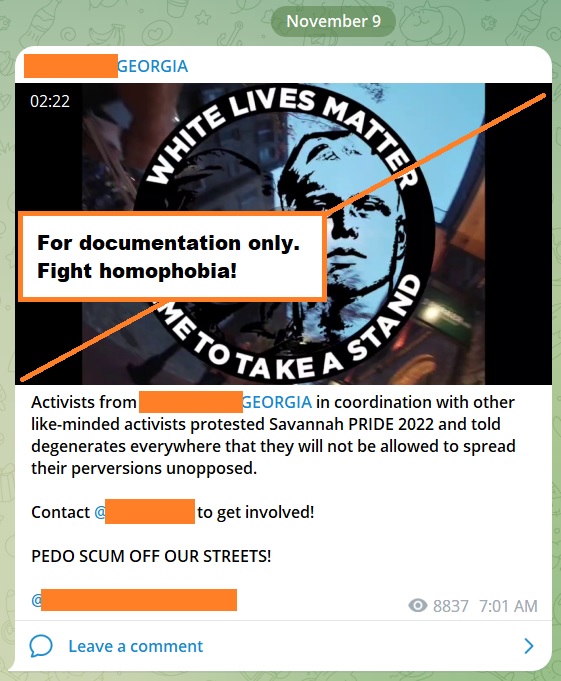 Tying it All Together
We are circulating this documentation on WLM Georgia leader "Levi" in the hope that a reader will be able to help us identify him. "Levi" is not only the most active member of WLM Georgia. He also has ties to the neo-Nazis of the National Alliance as well as the viciously antisemitic Goyim Defense League. Earlier this year, "Levi" stated that he was working in emergency medical services as "basically an ambulance driver" and that his white supremacist ideology helps him "deal" at work. Identifying "Levi" is especially important since every shift places him in contact with vulnerable people experiencing crises.
"Levi" is not the first neo-Nazi emergency services worker to be uncovered. In 2019, white supremacist propagandist and EMT Alex McNabb was fired in Virginia after he was exposed making racist jokes about inserting the wrong size needle into a Black child's arm in order to cause more pain. While "Levi" has so far kept a lower profile than McNabb, the amount of harm he could be causing as a medical worker is no less.
Our documentation suggests that "Levi" has, at least, previous ties to the LDS Church, although he also referenced the "Christianity problem" in a comment this year. The fact that he uses the alias "Levi Savage" – an early figure in LDS Church history – suggests that he is at least culturally sympathetic toward the Church. His targeting of Camp Helaman in Evans, Georgia with WLM propaganda, also suggests a past or present connection to the LDS Church. "Levi's" current stance toward the LDS Church seems complicated: on one hand, using the alias "Levi Savage" suggests a positive attitude toward it, on the other hand, targeting an LDS Church-connected camp with unwanted propaganda could suggest hostility. We cannot guess how "Levi's" stance toward the LDS Church appears outwardly in his daily life.
Another potential identifier is "Levi's" Onewheel hobby and his innovation of using a Onewheel to cover distance while distributing racist propaganda.
"Levi's" white power activity stretches from Savannah and coastal Georgia; to the Atlanta suburbs; and even to Columbus, Georgia. However, his earliest Georgia activity concentrated around metro Augusta. His claim to have a "home in the woods," and his description of the areas where he works, all could match metro Augusta. Within the community of emergency medical technicians in Georgia, someone must know who "Levi" is. Please share our documentation with your friends in metro Augusta, and with any contacts working in emergency services throughout our state. OneWheel enthusiast communities should also be alerted. If someone could know "Levi," ask them to examine the interview excepts we posted and check whether they recognize his voice. Let's identify this neo-Nazi and remove him from any position where he can harm vulnerable people.
If you have any tips on "Levi" or information on other racist organizing in our state, please get in touch.