Update 2/27/2023: We have identified this neo-Nazi as Devin Brosnahan of Augusta, Georgia. See our article here.
A neo-Nazi operating under the alias of "Levi Savage" is currently the head of the White Lives Matter (WLM) network in Georgia. "Levi" is an administrator for WLM's Georgia announcement channel and discussion group on the Telegram messaging app. "Levi" has traveled our state spreading antisemitic and anti-LGBTQ+ propaganda. According to a February 2022 interview, he works as an ambulance driver. We are spreading our documentation on "Levi" in the hope that community members will be able to identify him, as his neo-Nazi activism not only makes him unfit for emergency medical work but also jeopardizes those around him.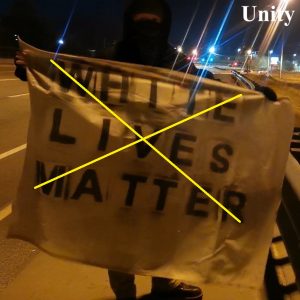 Key facts about "Levi Savage":
He lived in Utah before moving (or returning) to Georgia.
He has been active in White Lives Matter's Georgia chapter since at least February.
His earliest activities for WLM centered on the Augusta metropolitan area.
In January 2022, "Levi" identified himself as a member of the National Alliance, a neo-Nazi organization. "Levi" has also distributed propaganda for the Goyim Defense League, a hardcore antisemitic propaganda project.
In a February 18, 2022 interview on a fascist internet show, "Levi" stated: "I work in the Emergency Medical Services, I'm basically an ambulance driver." He also stated that he had been working at that job for about "six months" but had "been aware of emergency medical services all my life […] it's been a big background for me."
Levi is a Onewheel enthusiast and has distributed WLM and Goyim Defense League materials while riding his Onewheel.
Although he has criticized Christianity, "Levi" appears to have past ties and cultural sympathies with The Church of Jesus Christ of Latter-day Saints (LDS Church).
Since "Levi's" early WLM propaganda activity appeared around Evans, Martinez, and Augusta, one potential workplace for him (if he remains in the same job) is Gold Cross EMS, which provides emergency ambulance services for Columbia, Richmond, and Jefferson counties. We encourage readers to pass along our documentation to any contacts working in the Emergency Medical Services field in Georgia. For anyone with potential tips on "Levi," please send us a message.
Continue reading

"Metro Augusta: Help Identify Neo-Nazi "White Lives Matter" Organizer and Ambulance Driver"