This article links to archives of unsettling white supremacist content. There is no need to check these materials unless you are verifying Hunter Forsyth's neo-Nazi activity. If you need to examine them, we suggest reading about vicarious trauma and best practices for open source research beforehand.
Update: Shortly after publication, Administrative Services Director Cathy Farr confirmed Hunter Forsyth's employment as a Coweta County firefighter. Farr flatly stated that Coweta County Fire Rescue would take no action against their neo-Nazi employee, since his white supremacist activity was not done in uniform.
Update 2, evening of 12/6/2022: The Atlanta Journal-Constitution reports that Hunter Forsyth has now been placed on paid leave, while his neo-Nazi activity is investigated.
Update 3, 12/7/2022: Well, that was quick: Coweta County Fire Rescue has fired Hunter Forsyth.
Hunter Calin Forsyth (born June 15, 1995) is a white supremacist who, according to social media posts, has worked for Coweta County Fire Rescue in Georgia since August of 2022. Forsyth was active in the "White Lives Matter" (WLM) network in our state from late 2021 until at least the middle of this year. During this time, Forsyth was an administrator for the Georgia group's electronic chat; placed propaganda for the group in several parts of our state; traveled to network with other members; and attended at least one out-of-state White Lives Matter rally as a representative for the Georgia chapter.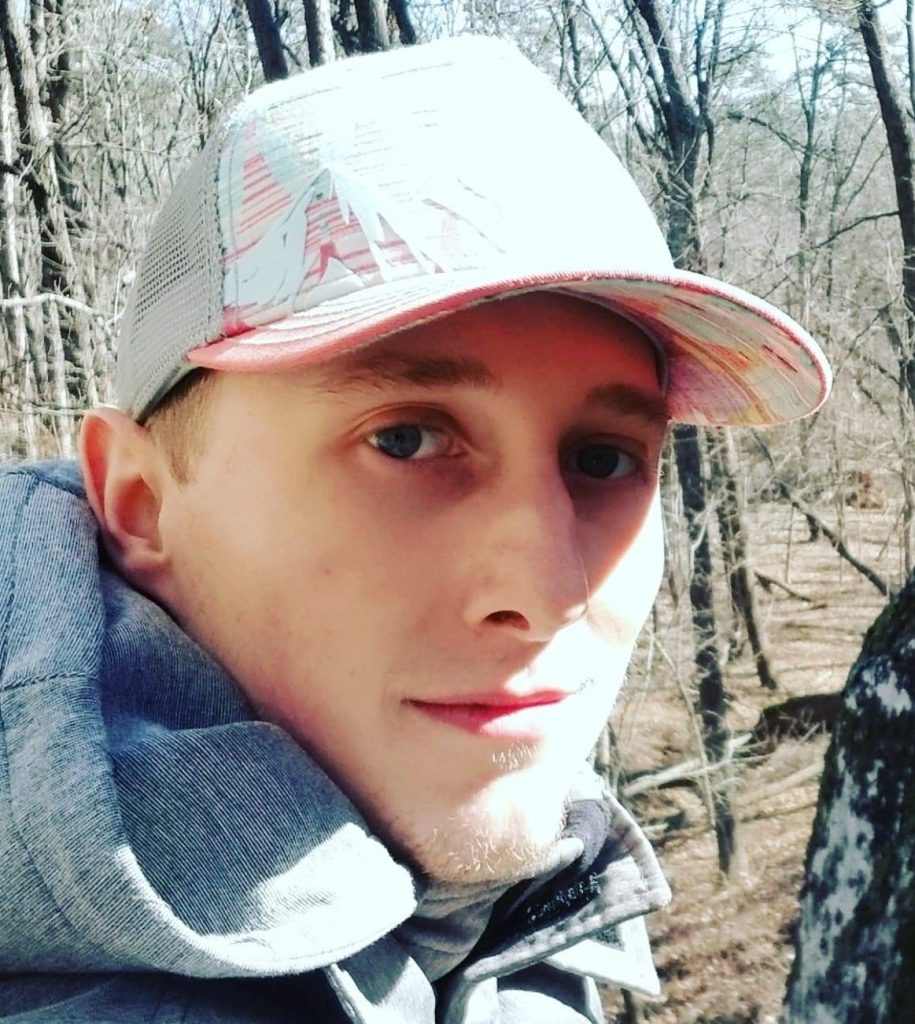 We have also tied Forsyth to an account on the far-right social networking site Gab, where he celebrated a white supremacist mass shooting in Buffalo, New York earlier this year. On the same site, Forsyth circulated a propaganda video for a notorious "accelerationist" neo-Nazi group which unambiguously advocates for white supremacist terrorism.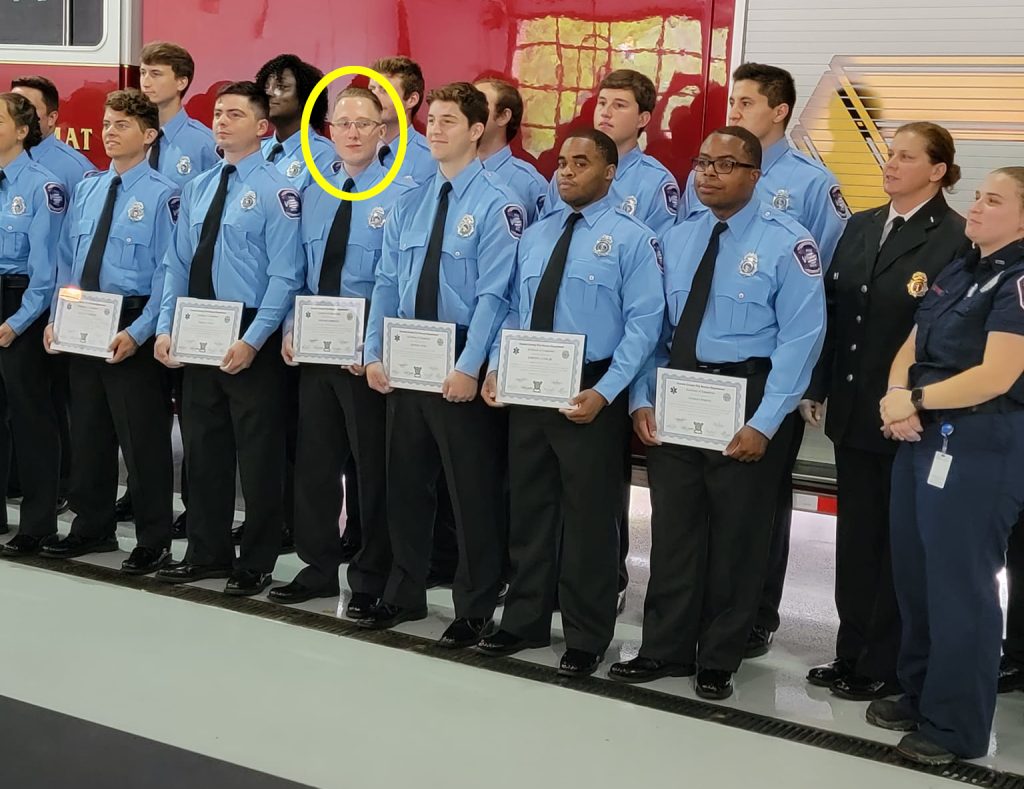 When we contacted Coweta County Fire Rescue to verify Forsyth's employment, we were referred to an employers-only system to get this information. However, a large amount of open-source information supports Forsyth's employment, while we have found no evidence that he has quit or been fired. A search on the Georgia Department of Public Health public portal shows that Hunter Forsyth has been licensed as an emergency medical technician (EMT) since August 17, 2022. On August 19, Forsyth and fourteen others were photographed in uniform at a graduation ceremony for Coweta County Fire Rescue's Firefighter/EMT Academy. The accompanying Facebook post states that the graduates "will now serve Coweta County in a full-time capacity." Since early October, Hunter Forsyth has listed himself as a "Fire Fighter/EMT" on his personal Facebook account. We have found no online comments suggesting that Forsyth left the job over the following months.

We believe that a neo-Nazi who celebrates mass shootings targeting Black people has no place as a firefighter or emergency worker. When someone believes that members of their community deserve to be murdered, this compromises their professional duty to save lives. Further, firefighters, emergency workers, and law enforcement typically work closely together. When a neo-Nazi infiltrates one of these positions, this creates opportunities for more widespread corruption and abuse. With the publication of this article, we call on Coweta County Fire Rescue to disavow racism and fire their neo-Nazi employee.
Identification of WLM Admin "Viri" as Hunter Forsyth
We have documented the White Lives Matter network in our state before. In mid-December last year, we exposed Dustin Lee Barnes as the main administrator for White Lives Matter in Georgia. However, earlier that month before we published, another administrator started posting in the Telegram chat for Georgia WLM. By January, this new administrator was identified as a "current local admin" for the Georgia chapter, with Barnes quitting or drifting away. As we will prove, this new admin was Hunter Forsyth.
In addition to Hunter Forsyth, the Georgia White Lives Matter channel currently has two accounts marked as administrators. One, "Levi Savage" (an alias), became heavily active starting this February. "Levi" is presently the main force behind WLM in Georgia. He has not been identified at this time. Another account designated as a WLM Georgia admin is "Dirty Animal Heathen," whose real identity is Zachary Daniel Gossett (born 1984) in Forsyth, Georgia. Gossett participates in WLM Georgia discussions and places propaganda stickers for the network.
Hunter Forsyth's account first surfaced in November 2021 as a regular user in the WLM network's state chat. Before being designated as the new "local admin" for WLM in Georgia, Forsyth's account initially used the name "Viribus" and the address @viribustag, but the name was later changed to "Toten" with the address also changed. The account's new address is a reference to American Nazi Party founder George Lincoln Rockwell.
By early December, WLM approved Forsyth's account as an administrator for its Georgia channel. Forsyth was approved to post from the channel's main administrative profile rather than posting from his personal Telegram profile. When "Viribus"/"Toten" posted from this admin account, his messages were distinguishable from other admin messages by having the word "Viri" on the top right corner. At some point, the "Toten" account vanished from the list of users in WLM Georgia's chat. However, he likely still has access to the channel's main admin profile or had this access until recently. "Toten" also appears in the list of users for Tennessee's WLM chat.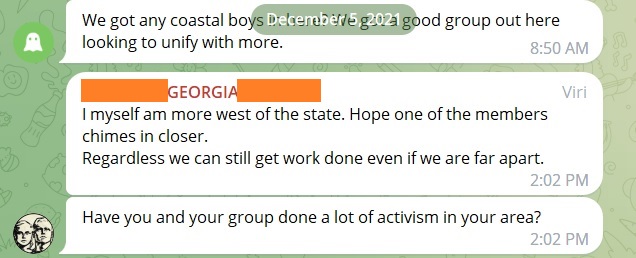 Because the new admin's Telegram account initially had the address @viribustag, we searched the web for other accounts using this handle. We found an account filled with neo-Nazi content on the far-right social networking site Gab. An August 1st, 2021 post by the "Viribustag" Gab account contained screen-captures of a story from Instagram. On the bottom of each screen-capture, there was a small profile image for the Instagram user who was viewing the story at the time it was screen-captured.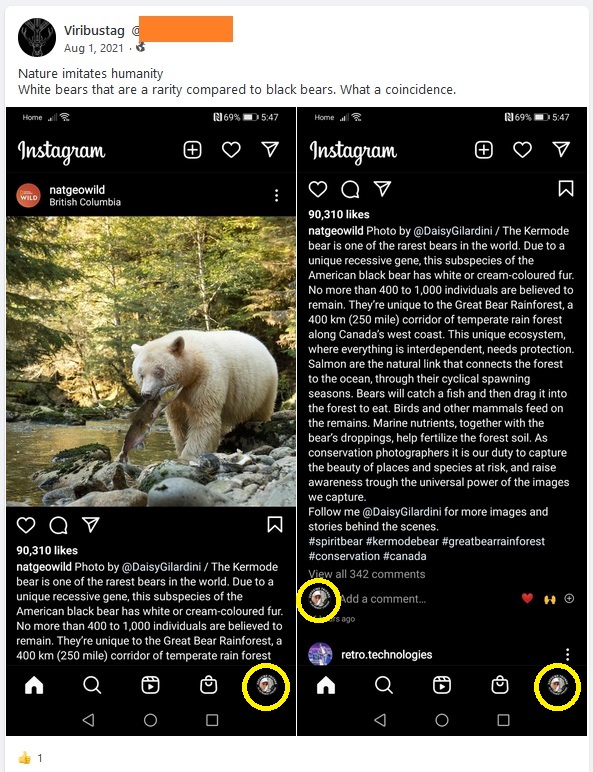 After effort, we located the Instagram account with the matching profile image. Although the account is currently private and these details have been removed, at the time the Instagram profile contained a name – Hunter Forsyth – as well as the term "1488" in its bio (see archive here). "1488" is neo-Nazi code, with "14" standing for the "Fourteen Words" white supremacist slogan, and "88" being alphanumeric code for "H.H." or "Heil Hitler."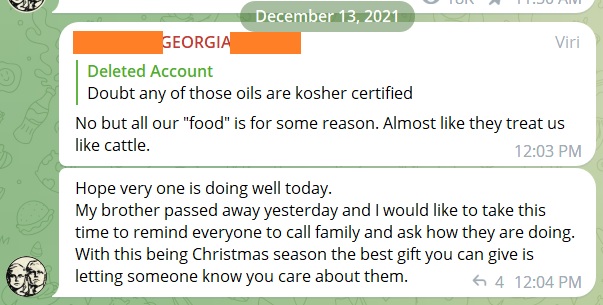 Further corroborating the identification, we discovered that Hunter Forsyth's profile on Google used the same distinctive profile image as the "Viribustag" account on Gab. In the Telegram chat for WLM Georgia, "Viri" posted on December 13, 2021 under the administrator account, stating that "My brother passed away yesterday". Hunter Forsyth's brother died on December 12, 2021.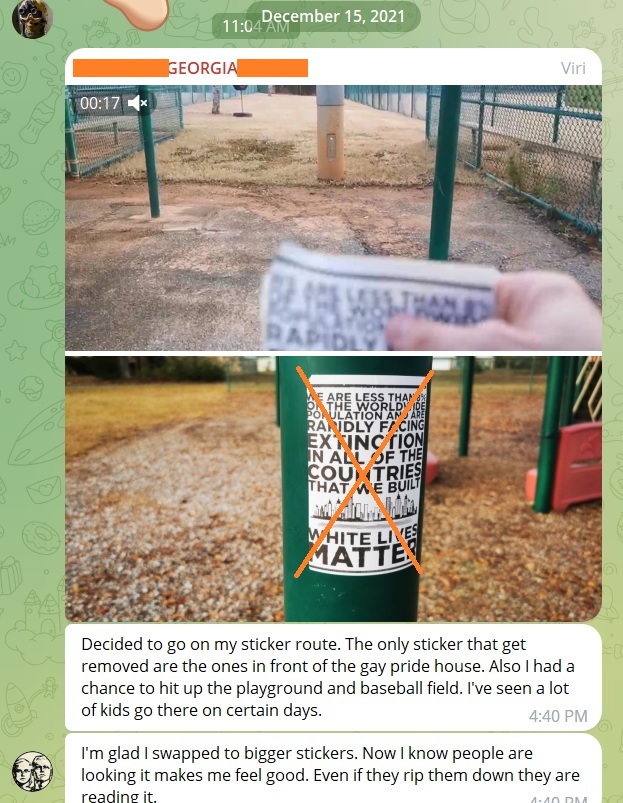 A few days after mentioning the death, "Viri" boasted on Telegram about placing WLM materials in his community and posted a brief video of him leaving a sticker at baseball fields. We located these fields as being at Dorothea Redwine Park in Tyrone, less than a twenty-minute walk from Forsyth's address. When we visited Tyrone to remove WLM propaganda, a trail of stickers led practically to Forsyth's doorstep.
Accelerationist Neo-Nazism
Hunter Forsyth's social media presence shows that he sympathizes with "accelerationist" neo-Nazism. Accelerationism in this context means a belief in accelerating social collapse through manipulative and often violent action in the hope that a white supremacist order will emerge from the rubble. Hunter Forsyth shares materials and iconography associated with the Atomwaffen Division and one of its successor groups. Atomwaffen Division was a neo-Nazi accelerationist group which lasted until 2020 and is tied to five killings. In August 2020, Atomwaffen Division was rebranded/relaunched as the National Socialist Order. This year, following a split, the group was again relaunched as the "National Socialist Resistance Front."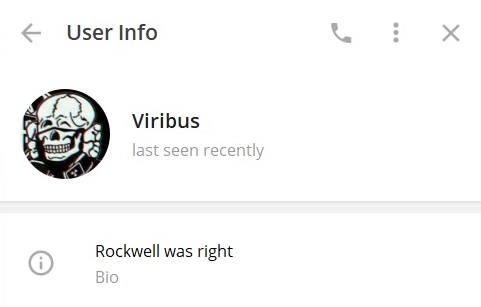 When we first encountered Forsyth's Telegram profile under the name "Viribus," he used an image of a Totenkopf – a skull and crossed bones symbol used by the Nazi SS – with an added skull mask as a profile picture. Accelerationist neo-Nazis have adopted skull masks as a symbol of their movement. The character in Forsyth's profile image also displayed a radiation hazard symbol on its collar – a symbol used by Atomwaffen Division. Later, when Hunter Forsyth changed his Telegram profile name to "Toten," he set his profile image to another image of someone wearing a skull mask, again signaling accelerationist sympathies.

Much of the content shared by Forsyth on Gab consists of straightforward racism, antisemitism, Holocaust denial, and glorification of Adolf Hitler. A couple of posts from this May highlight Forsyth's accelerationist sympathies. On May 21, Forsyth uploaded a one-minute propaganda video from the National Socialist Order to his personal Gab page. The propaganda video gives examples of how "national socialist" militants should act: targeting electrical infrastructure, vehicular attacks against leftist protests, raping antifascist activists, and assassinating politicians viewed as enemies.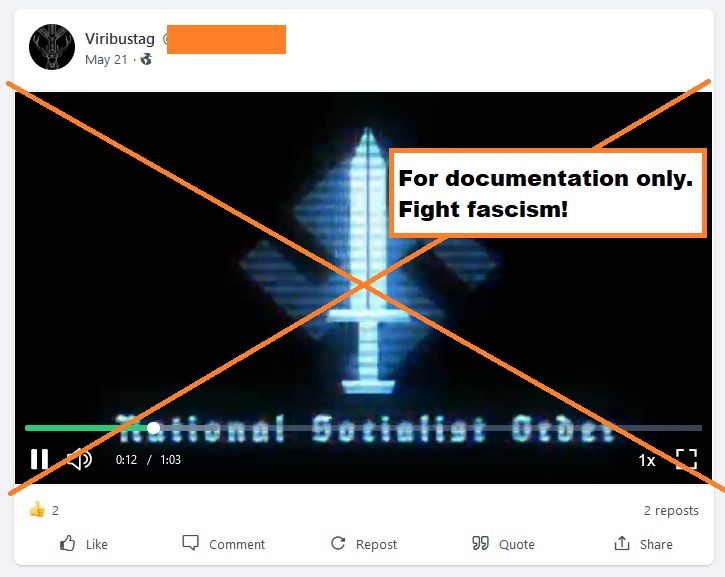 Almost immediately after sharing the National Socialist Order video, Forsyth shared a still image from the May 2022 white supremacist mass shooting in Buffalo, New York (which was briefly streamed online by the gunman). In the May 14 rampage – just a week before Forsyth posted the image – a white supremacist targeted a supermarket and murdered ten Black people. The image shared by Hunter Forsyth included the added text: "Here is [sic] your reparations!" Forsyth's post indicates that, in his mind, all those killed in the hate crime deserved their deaths. Forsyth did not merely re-blog an image that was already going around Gab, but directly posted the pro-murder meme to his own page, just as he directly uploaded the National Socialist Order propaganda video to his "Viribustag" profile.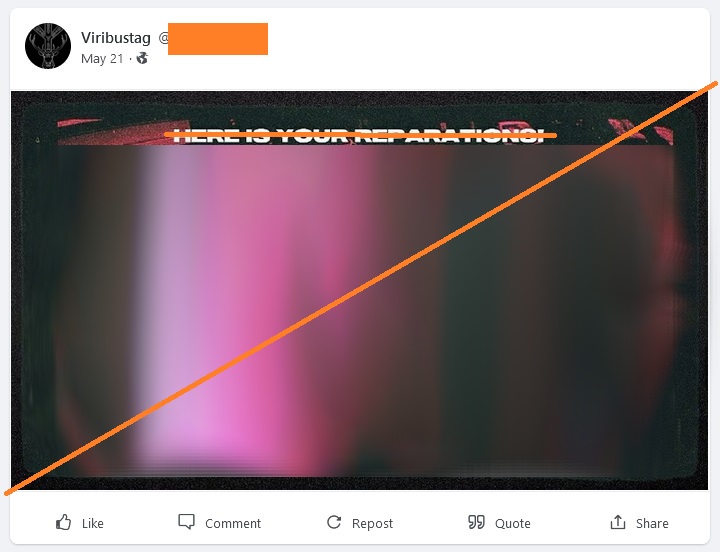 At the time of writing, we do not have documentation that Hunter Forsyth was a member of Atomwaffen Division or any successor groups. However, he has certainly endorsed neo-Nazi terror campaigns and celebrated racist mass murder. By posting a propaganda video for National Socialist Order, Forsyth served as an unofficial recruiter for the group.
White Lives Matter – Georgia
We mentioned that Hunter Forsyth began posting in the White Lives Matter channel for Georgia in November 2021. The following month, he received admin access. During the last months of 2021, Forsyth also placed stickers around Tyrone, Georgia for the white nationalist network.
Although Forsyth's Gab page reveals his unambiguous neo-Nazism, as a WLM administrator, Forsyth urged the network to avoid obvious Nazi imagery, writing in January 2022 that "1488 [a neo-Nazi code explained earlier] or swastikas are a no go" when promoting the WLM network. Earlier in the same exchange, Forsyth cited "accelerationist" content as an example of "something that could make the [White Lives Matter] movement look bad." This strategy of deception is common in the movement, and recruiters like Forsyth often attempt to design a wide funnel by publicly stating only the most socially acceptable forms of bigotry, then semi-privately teaching recruits the more esoteric and violent elements of their ideology.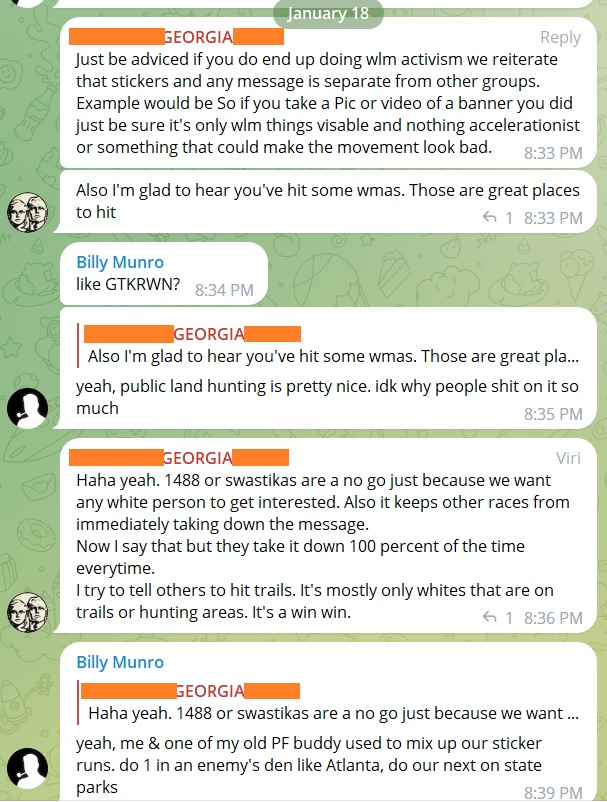 Forsyth appears to have been involved with Georgia WLM activity until at least the middle of this year, spreading propaganda, networking with other members, and creating brief videos for the group. In January, the Georgia WLM Network released a short video reusing the December 2021 clip of Forsyth placing a WLM sticker at Dorothea Redwine Park in Tyrone, but with added footage of a sloppy "White Lives Matter" banner placed at an unknown location. This was the first of three propaganda videos Forsyth made for the WLM network in Georgia. These three videos all have common visual characteristics (such as ending with white Times New Roman text on a black background) which distinguish them from WLM Georgia videos created by another group administrator, "Levi Savage." The videos made by Forsyth for the WLM network had the unintended consequence of helping us track his activity within it.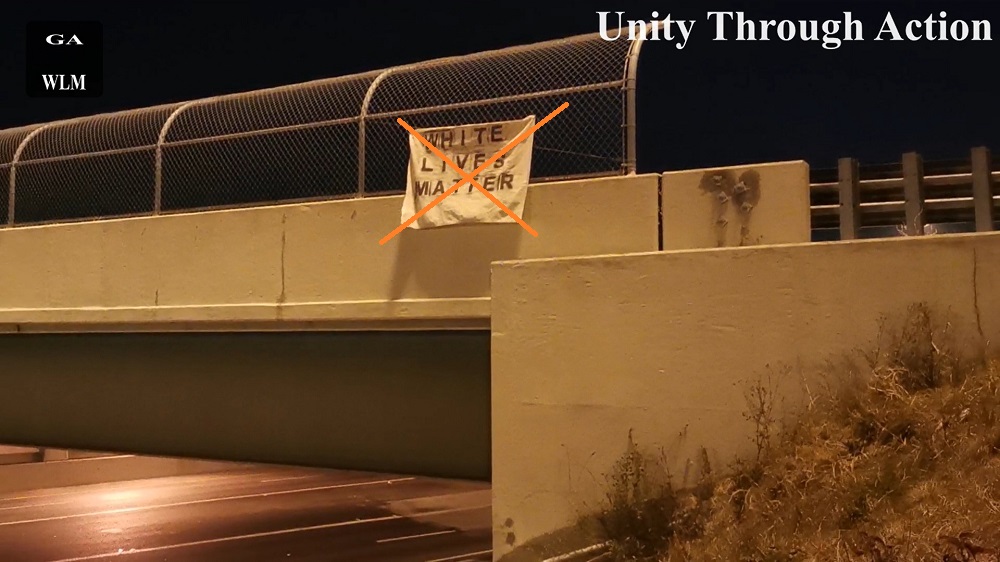 On February 12, the WLM Georgia channel shared two videos, each showing a different WLM banner placed on Wheeler Road over I-520 in Augusta, Georgia. WLM admin "Levi" created one of these videos, while Hunter Forsyth made the other. Forsyth's video also shows WLM stickers placed around the Augusta Soccer Park. The Telegram post accompanying Forsyth's video states:
"White Lives Matter Georgia members mobilized Saturday […] for a local event. We had a great time meeting one another […] We dropped two banners and placed stickers in the local parks."
In other words, Hunter Forsyth traveled to the Augusta area to meet "Levi," and the two bonded by hanging "White Lives Matter" banners and placing stickers together.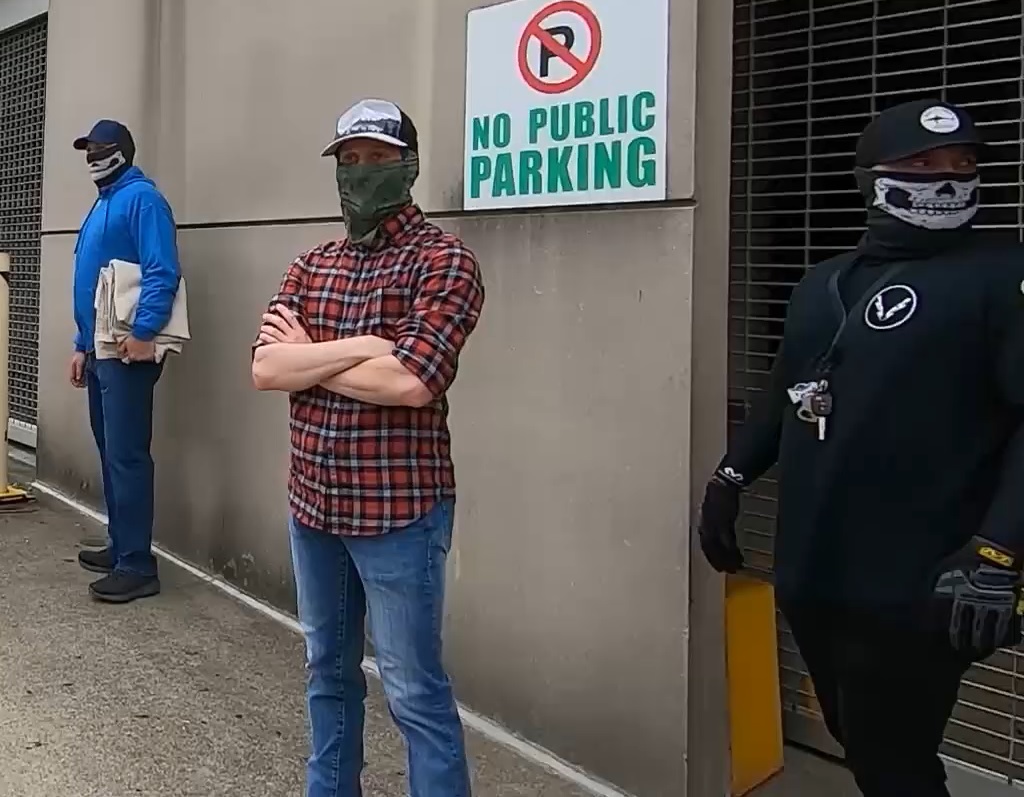 According to the WLM Georgia channel on Telegram, representatives from the Georgia group joined WLM Tennessee for a rally in Nashville on April 16. Footage from the Nashville white power event clearly shows Hunter Forsyth in the WLM crowd. Despite wearing a mask, Forsyth can be identified through his clothes, including a checkered shirt that Forsyth also wore in a photo posted on Facebook.
In May, White Lives Matter channel for Georgia shared another of Forsyth's videos. This video shows Forsyth, wearing a camouflage ski mask, hammering painted signs with white nationalist slogans to trees in Amerson River Park in Macon, Georgia. The video also shows WLM stickers placed throughout the park. The text accompanying the release of the video states that "White Lives Matter activists took to a busy campground to spread a message." The "activists" were probably just Forsyth with another WLM member or two.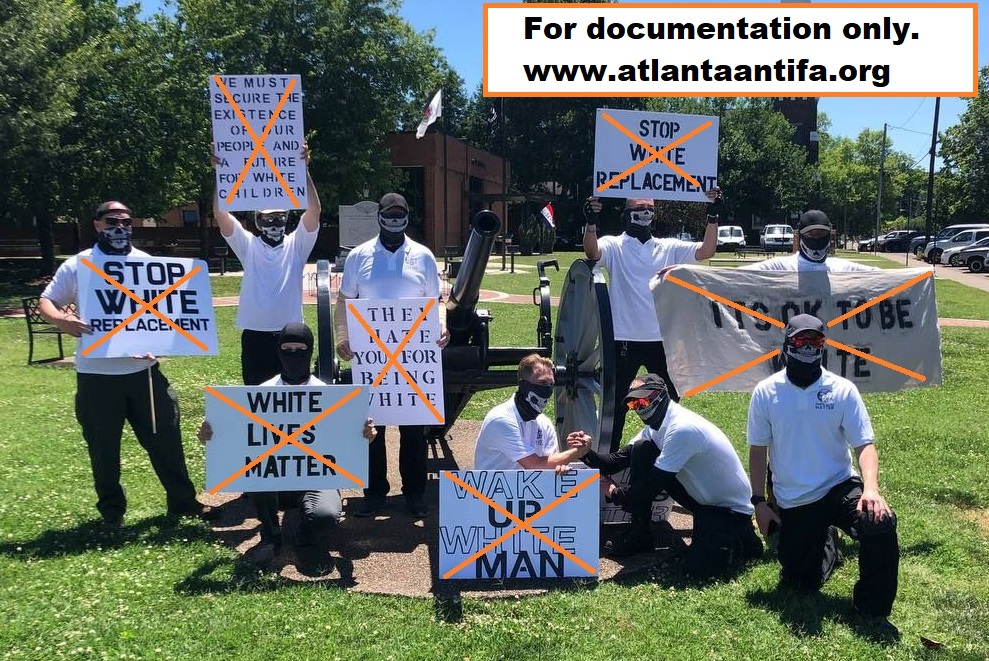 Finally, WLM Georgia members again joined their Tennessee counterparts in June, this time showing up at a Juneteenth celebration in Franklin, Tennessee in an attempt at intimidation. This event was not documented as thoroughly as the April rally in Nashville. We cannot place Forsyth at this event with 100% confidence, although at least one participant resembles him. If more materials allow us to make a certain determination, we will update this article.
Conclusion
We have documented Hunter Forsyth's involvement as a White Lives Matter racist organizer, including work as an administrator for the state group on Telegram, face-to-face networking, placing WLM materials in several locations, and creating propaganda videos. We also noted Forsyth's presence on the Gab social network, which includes celebrating a white supremacist mass shooting and sharing a propaganda video for the accelerationist "National Socialist Order" encouraging terror attacks.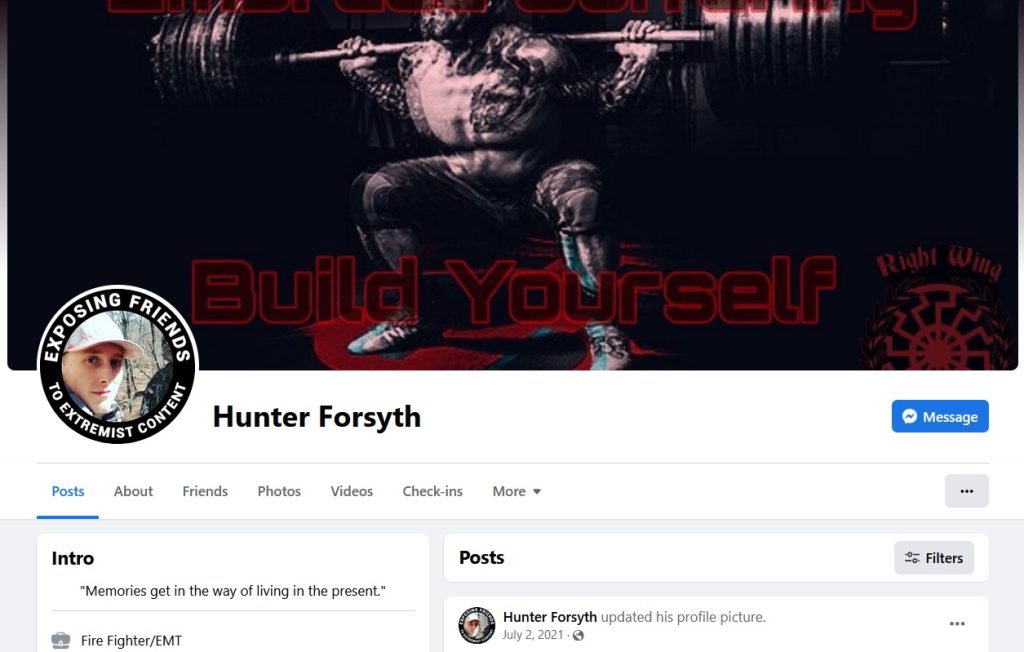 Although we have outlined a sequence of social media accounts which led us to identify Hunter Forsyth, it is worth pointing out that Forsyth's Facebook account under his own name also signals his far-right commitments. This account contains a "Black Sun"/Schwarze Sonne symbol used by neo-Nazis on its profile banner. Anyone who glances at Forsyth's Facebook account and has a cursory knowledge of white supremacist symbols knows exactly what Hunter Forsyth stands for.
Now that we have exposed Forsyth's racist activities, Coweta County Fire Rescue must disavow white supremacy and fire him. Earlier this year, Forsyth gleefully celebrated a major white supremacist attack which killed ten Black people. There is no reason to believe that he can treat Coweta County citizens with equal dignity, and he should plainly not be in contact with anyone in vulnerable situations or times of crisis. Forsyth is an active threat to the community around him. His current trusted position creates opportunities for expanding and strengthening neo-Nazi networks. As a firefighter, he could even advise fellow neo-Nazis on how to commit more effective arson attacks. (To give one example: a neo-Nazi cell recently carried out an arson attack in Alabama.) Although Coweta County Fire Rescue failed to identify this threat when it trained and hired Forsyth, we hope that with the documentation we are presenting, it can do the right thing now.
If you have further information on the White Lives Matter network in Georgia, please get in touch.