On the evening of January 8th, anti-fascists placed posters in Hapeville, Georgia to warn residents of John Michael Estes and Jennette Estes, white supremacists living in their neighborhood. John Michael Estes is a fervent neo-Nazi and the main organizer of the upcoming "Rock Stone Mountain II" rally at Stone Mountain Park outside Atlanta, which is scheduled to take place February 2nd.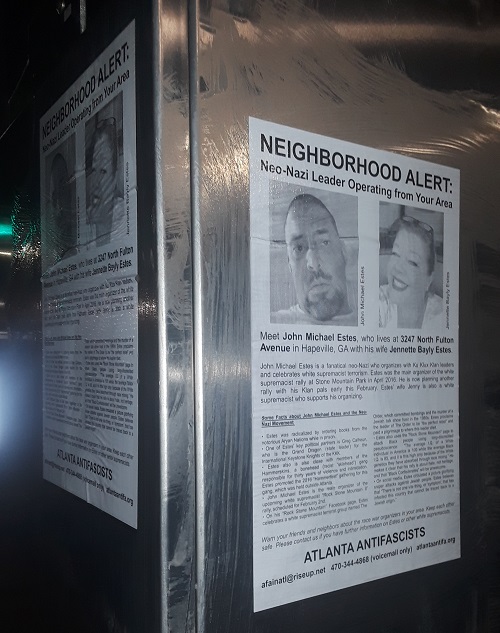 In addition to placing posters, anti-fascists mailed two hundred flyers to residents, business owners and places of worship in the area, further exposing John Michael Estes and his wife as white supremacist organizers.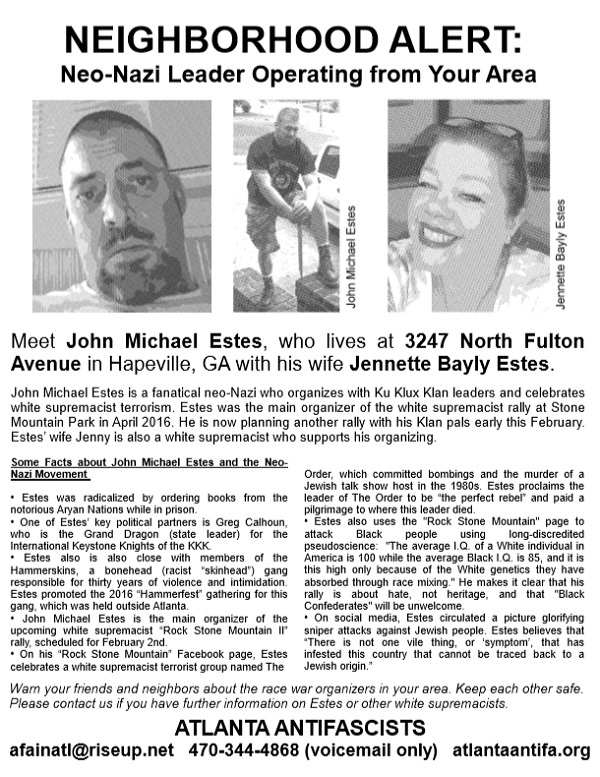 John Michael Estes was radicalized by reading materials from the notorious Aryan Nations supremacist group while in prison. Estes organizes closely with Klan leaders and networks with members of the Hammerskin gang, a group that has a thirty-year history of extreme racist violence. Online, Estes has circulated an image that appears to glorify sniper attacks against Jewish people. He is also flagrant about his hatred of Black people.
Estes was one of the main organizers of the initial Rock Stone Mountain Klan/neo-Nazi rally at Stone Mountain Park in April 2016, which met with heavy anti-racist opposition. Estes is currently organizing a follow-up white supremacist rally at Stone Mountain, scheduled for February 2nd, the day before the Superbowl. Despite Stone Mountain Park denying a permit to "Rock Stone Mountain II," the white supremacists are still vowing to rally at the Park that day. They will be met with a large anti-racist mobilization.
The Hapeville community deserves to know that those organizing for race war live hidden among them. By exposing the Estes household, we hope the community will be better prepared to keep themselves safe. This small action also complements the much broader mobilization against Rock Stone Mountain II.
In a November 2018 broadcast promoting "Rock Stone Mountain II," John Michael Estes identified himself as an "equipment operator at a scrapyard" and "the boss of my own area." If you have further information on this workplace, or any other details on John or Jennette Estes, please get in contact.
For all our articles on John Michael Estes' organizing, see here.
For more information about mobilizations against "Rock Stone Mountain II" on February 2nd, see the FLOWER (FrontLine Organization Working to End Racism) website: flowerunited.org