On the day before the Superbowl, February 2nd, Klansmen and neo-Nazis plan to hold a "Rock Stone Mountain II" rally at Stone Mountain Park outside Atlanta. We have written about this white power event extensively since it was announced, providing an overview of the blatantly white supremacist rally, highlighting racists listed as "going" on the Facebook event page, and covering Stone Mountain Park's denial of a permit for the rally. Stone Mountain Park's decision has not deterred the "Rock Stone Mountain II" organizers. Here, we provide updates on "Rock Stone Mountain" organizing since the Park issued their decision in early November.
No Permit, but Nazis & Klan Pushing Ahead
In early November, the Stone Mountain Memorial Association which operates Stone Mountain Park denied a permit to "Rock Stone Mountain II," citing anti-racist protest at the park during the initial "Rock Stone Mountain" of April 2016. The Park's decision enraged "Rock Stone Mountain II" organizers, who view this place – which was the birthplace of the modern (second generation) Ku Klux Klan and features giant Confederate carvings – as their turf. In addition, the "Rock Stone Mountain II" organizers were angered that anti-racists received the Park's permit denial letter through a public records request, claiming that "antifa" were improperly given a heads-up before they were. (In fact, the Stone Mountain Memorial Association's letter was dated as sent electronically November 7. We published it days later.)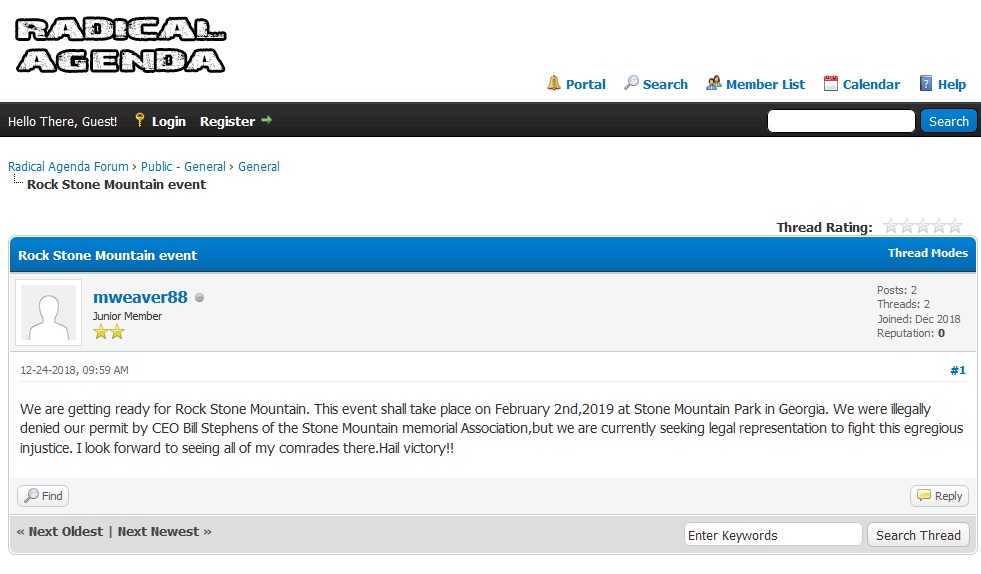 As expected, the "Rock Stone Mountain II" organizers have vowed to go ahead with their rally despite not being given a permit and are complaining about their civil rights (although they would deny these to anyone else). With the Stone Mountain Park decision, Georgia white supremacist Michael David Carothers AKA Michael Weaver has jumped on board the RSM II organizing. Carothers has been added as an admin to the Rock Stone Mountain page on Facebook, where he encourages racists to complain to Stone Mountain Park administration. Carothers also appeared in a November 2018 Facebook video conference alongside Georgia Alt-Right pundit Sidney Horton (AKA "Avialae Horton" and "Based Southern Belle"), disbarred lawyer Charles Edward Lincoln III of Louisiana, and RSM main organizer John Michael Estes, to promote the "Rock Stone Mountain II" rally after news of the permit denial came in.
The newest addition to the Rock Stone Mountain organizers, Michael Carothers/Michael Weaver, is a long-running white supremacist who was named as 2008 "Activist of the Year" by the National Alliance – once the largest neo-Nazi organization in the US. Carothers is currently banished from his hometown of Columbus, Georgia, after serving prison time for an assault on a Black man there. More recently, Carothers attended the bloody 2017 "Unite the Right" protest in Charlottesville, Virginia.
On the Rock Stone Mountain Facebook page, Carothers/Weaver claims to have communicated with a Georgia State Patrol officer and received assurances that the State Patrol would target anti-racists wearing masks for arrest on February 2nd. (For more information on Georgia's mask law, see here.)
Recent Developments: "Rock Stone Mountain" Evening Event, Aggressive Rhetoric as White Supremacists Organize for Violence
The New Year saw John Michael Estes, the Hapeville-based main organizer for Rock Stone Mountain, appealing for funds from other white nationalists, which suggests that the rally is currently under-funded. Estes stated that any investments may be "reimbursed with a door charge to the after event party."
Estes' comment is the first public mention of Rock Stone Mountain II organizing an "after event," although following the first "Rock Stone Mountain" in April 2016 attendees celebrated that evening alongside the National Socialist Movement at the Georgia Peach Oyster Bar. The Georgia Peach Oyster Bar, also known as Pat's Oyster Bar, is a venue in Draketown (near Temple), Georgia, about an hour's drive west of Atlanta. The space has hosted Klan and neo-Nazi events for over a decade. Frequently, crosses and swastikas are set alight on the land directly behind Patrick Vince Lanzo's venue. Due to the owner's friendliness with white supremacists, this venue is the likely location for any "Rock Stone Mountain II" after-event.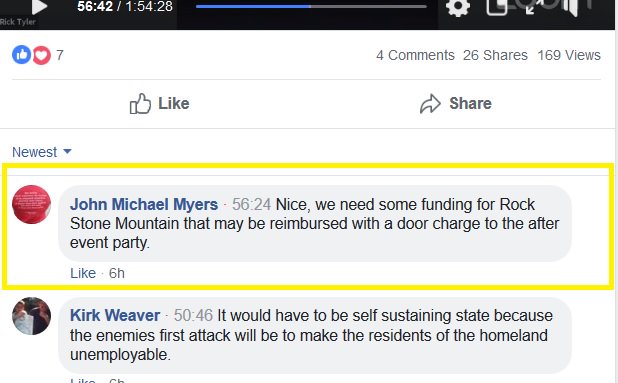 In recent weeks, the Rock Stone Mountain page has been even clearer in its white supremacist politics than before. For example, a late December 2018 post refused to endorse the standard neo-Confederate "You can't tear down history" rhetoric, instead calling for supporters to tear down Civil Rights monuments. Another post promoted the "white genocide" conspiracy theory.
Predictably, some would-be participants in the white supremacist rally are getting cold feet as February 2nd approaches. Rock Stone Mountain organizers fumed that "Tom Metzger is right, 'right wing' organizations are inundated with agent provocateurs, snitches, and cowards" after having some groups "pulling out right at the end". Tom Metzger is the founder of the notorious White Aryan Resistance, a racist group that was bankrupted after being held liable for the 1988 racist murder of Ethiopian immigrant Mulugeta Seraw in Portland, Oregon.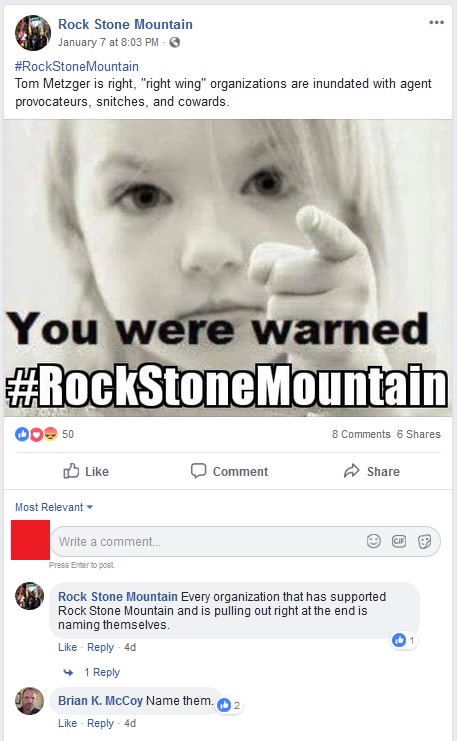 Currently, Rock Stone Mountain organizers are hoping to use mainstream community protests in Atlanta against Confederate monuments to their advantage, trying to pull neo-Confederates who feel threatened by these protests to the Klan/neo-Nazi organized "Rock Stone Mountain II." It is unclear whether these efforts will meet with success, or whether the RSM II white supremacist coalition will further fracture. Many Rock Stone Mountain protesters seem set for violence, with Michael Carothers for example billing the event as "The Battle of Stone Mountain" on his "White Information Network" blog.
See You on the Frontlines February 2nd!
As February 2nd approaches, white supremacists will attempt to bring more people to their cause. Anti-racists should organize to meet them in large numbers at Stone Mountain.
The FrontLine Organization Working to End Racism (FLOWER) coalition of community groups has been organizing for months to oppose Rock Stone Mountain II. We strongly endorse this effort and encourage anti-racists and anti-fascists from throughout the South to join its mobilization on Feb 2nd. Follow FLOWER on social media to receive updates and plans for February 2nd. Reach out to the coalition if you wish to endorse the mobilization.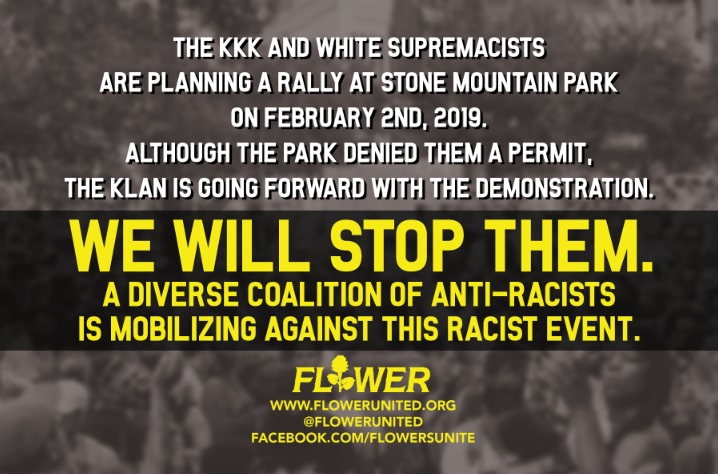 If you have further information on Rock Stone Mountain II or any of its organizers, please get in contact with Atlanta Antifascists.