Christian Tyler Goggins (born 1993) of Bessemer, Alabama is a member of Patriot Front (PF), a white supremacist and fascist organization whose members just keep getting exposed. Goggins goes by the alias "Andrew AL" within the racist group. A trove of PF internal communications that was leaked online in January 2022 clearly identifies Goggins as "Andrew AL". Goggins participated in PF's masked national rally in Washington, DC on December 4, 2021 alongside other Alabama members. He also joined PF members in placing propaganda for the organization in Birmingham, Alabama the weekend before that demonstration. Goggins' online trails connect him to other white supremacist circles such as the neo-Nazi bonehead music scene.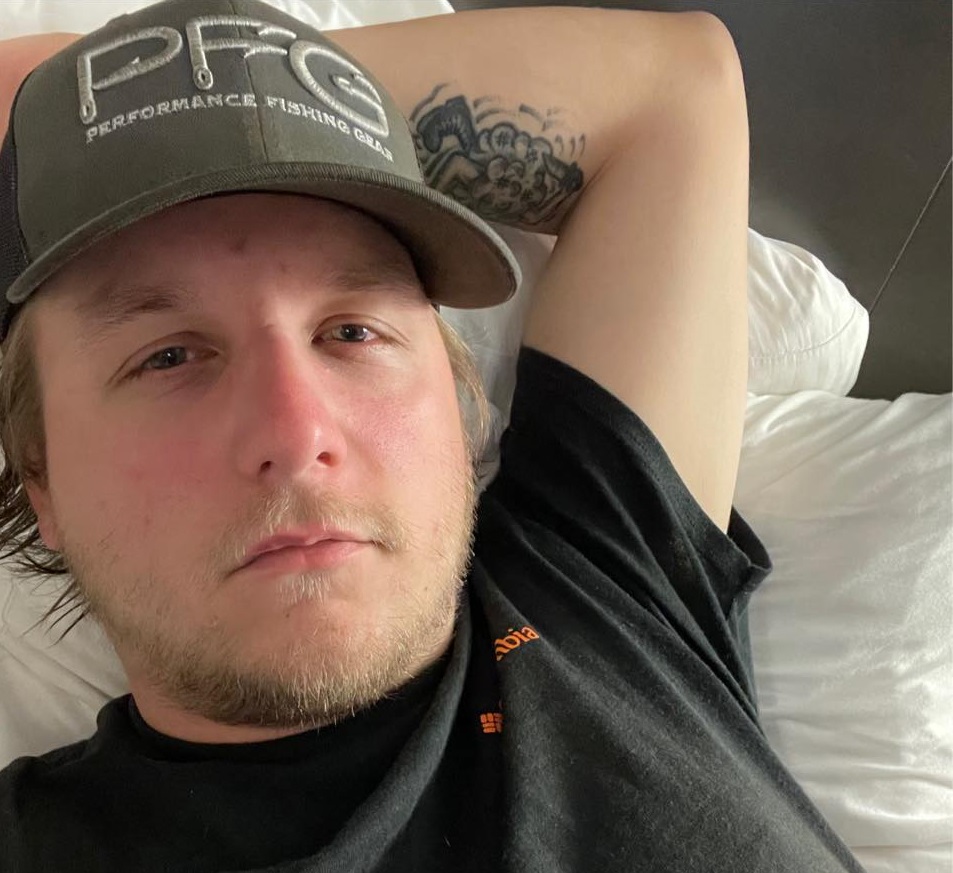 In a message sent before Patriot Front's national demonstration in December, Goggins shared his home address to another Alabama member, "James AL". "James AL" was supposed to leave his car at Goggins' home, before another PF member, "Sean AL", collected the two and drove them north. Goggins also identified himself by providing a CashApp account linked to his real name in an earlier message to "Sean AL".
After Patriot Front's national rally, Goggins further confirmed his participation by posting to a PF regional chat that he was "Really glad I was able to make it out and finally be a part of one of the demonstrations". According to leaked comments, Goggins and three other Patriot Front members also placed propaganda in Birmingham, Alabama on the night of Sunday, November 28, 2021 – less than a week before the road trip to the DC rally.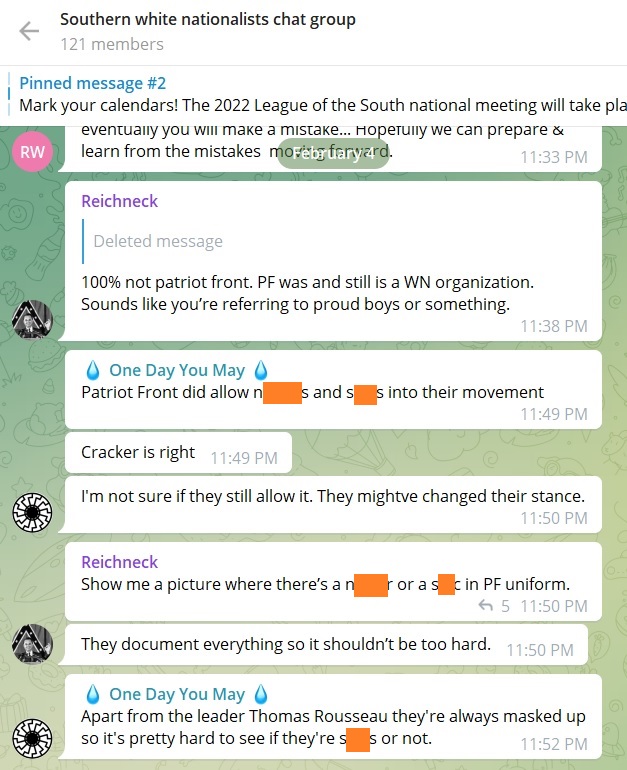 On the Telegram messaging application, Goggins uses the name "Reichneck" –a reference to Hitler's Third Reich. Goggins chose an image of segregationist politician and four-term governor of Alabama, George Wallace, as his profile picture. The "Reichneck" account is a member of the Telegram group for the White Lives Matter (WLM) racist network in Alabama. While Goggins does not seem particularly active in that network, in his leaked Patriot Front comments Goggins notified other Alabama PF members of an upcoming WLM rally. Goggins' Telegram account is also a member of the "Southern white nationalists chat group", which promotes and is closely tied to the white supremacist and Southern secessionist League of the South. In his comments to this chat, Goggins/"Reichneck" defended Patriot Front on February 4, 2021, insisting that Patriot Front was a true "WN [white nationalist] organization" and that nobody could find "a n[****]r or a s[**]c in PF uniform."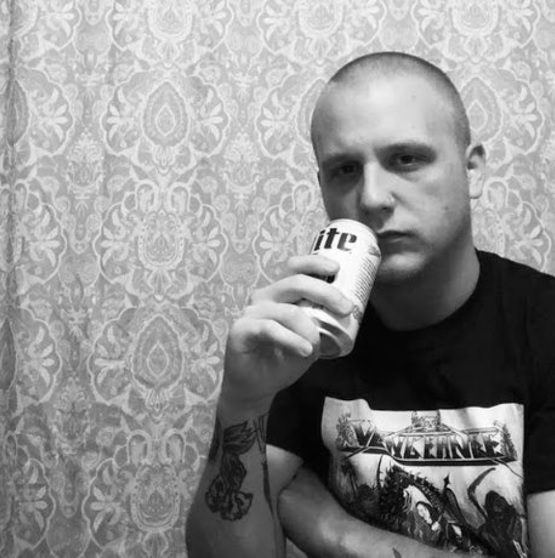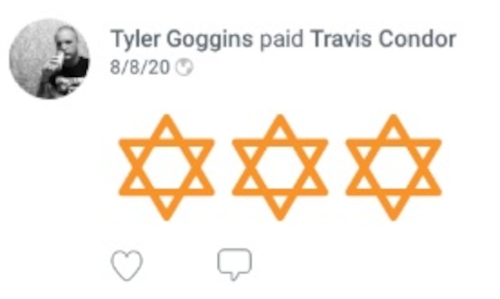 Tyler Goggins enjoys and is connected to the bonehead (racist "skinhead") scene. In his profile image on the Venmo electronic payments app, Goggins wears a t-shirt for Vengeance, a late 1980s racist rock group from the UK. In his payment history, Goggins sent funds to Travis Condor, a bonehead with a history of violence who is affiliated with American Defense Skinheads and highly involved in the US white power music scene. As a sick joke, Goggins used Star of David icons to accompany his payment to the neo-Nazi.
If you have further information on Goggins or other members of Patriot Front, please get in touch. We particularly seek information about Goggins' work. As an active white supremacist, Goggins is a threat to co-workers, customers, and the communities he visits for his job.
For an image gallery of yet-to-be-identified PF members, sorted by state and associated with their aliases within the organization, see here.