Dalton Russell Woodward ("Jesse AR") is the current "Interview Coordinator" for Patriot Front (PF), a white supremacist organization operating across the US. Atlanta Antifascists first exposed Woodward as a white nationalist in 2019, while he was an active-duty Georgia National Guardsman stationed in Afghanistan. Following media attention and the return of Woodward's unit to the US, the National Guard eventually removed him. Woodward currently lives in Chester, Arkansas.
As Patriot Front's national Interview Coordinator, Woodward organizes the initial interview sessions in which applicants submit to questioning by trusted PF members. These first interviews are conducted over a voice call and aim to identify potential infiltrators and to ensure ideological consistency. If a prospective member passes this first test, an in-person meetup is scheduled for further scrutiny, including a physical search and examining the contents of their phone. Woodward's work as Interview Coordinator is a key part of PF's security structure and is crucial to maintaining PF's internal culture of fascism, white supremacy, and antisemitism.
In January 2022, the Unicorn Riot media collective published a trove of internal Patriot Front communications, documents, images, and video footage. Soon after this leak, we received a tip linking Dalton Woodward to a PO Box in Chester, Arkansas that "Jesse AR" provided in a message. Leaked video from PF further confirms that Woodward is "Jesse AR."
Before Patriot Front leader Thomas Rousseau announced Woodward as the organization's new Interview Coordinator, Woodward held another prestigious role in PF: leader of the "vanguard" shield section for its December 2021 national rally in Washington, DC. Woodward's military background is presumably one reason PF chose him for this role.
Woodward's high-level position within Patriot Front is particularly concerning because of his ties to accelerationist neo-Nazism. Accelerationist neo-Nazis aim to collapse society through infrastructure sabotage and mass casualty events in the hope of building a new fascist order from the ruins. Although PF shares its origin with accelerationist groups like Atomwaffen Division (through the defunct Iron March forum), PF is not an accelerationist organization. This is a deliberate choice by Thomas Rousseau for PF's short-term survival. Woodward, in his role as Interview Coordinator, ostensibly screens for candidates who seem over-eager for violence. Rousseau considers such individuals to be magnets for state repression. However, a review of leaked interview decisions across multiple PF regions shows that rejecting an applicant for violence is less common that rejecting an applicant for being insufficiently racist. Woodward's prominent role within PF further suggests that the distance between the group's membership and accelerationist circles is smaller than the group admits publicly.
Dalton Woodward and Accelerationist Neo-Nazism
Our 2019 story about Woodward focused on the "Ravensblood Kindred" of the Asatru Folk Assembly, a racist Germanic neopagan/"heathen" organization. We exposed Woodward alongside Brandon Trent East, Woodward's good friend in Ravensblood Kindred. East was also in the National Guard, although he was not on active duty and worked as a jailer in Georgia at the time.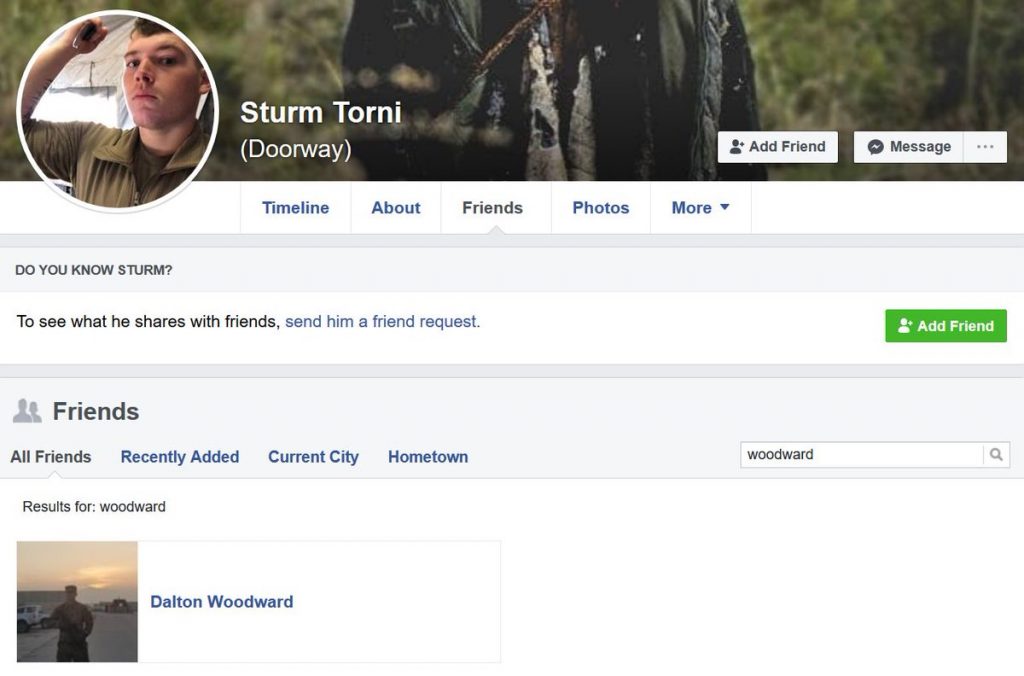 Days after we published our first story about Woodward and East, independent journalist Nate Thayer exposed Corwyn Storm Carver, an active-duty US Army member then in Texas. Carver was part of Atomwaffen Division (AWD), an accelerationist neo-Nazi group linked to five murders. Carver contributed to a website maintained by AWD, Universal Order, writing articles such as a eulogy for "American Hero" Charles Manson. He and his family had a long history in the Asatru Folk Assembly, so it is unsurprising that he was linked to Woodward and East on social media. Following a botched investigation, the US Army at first cleared Carver of AWD involvement, but administratively separated him soon after.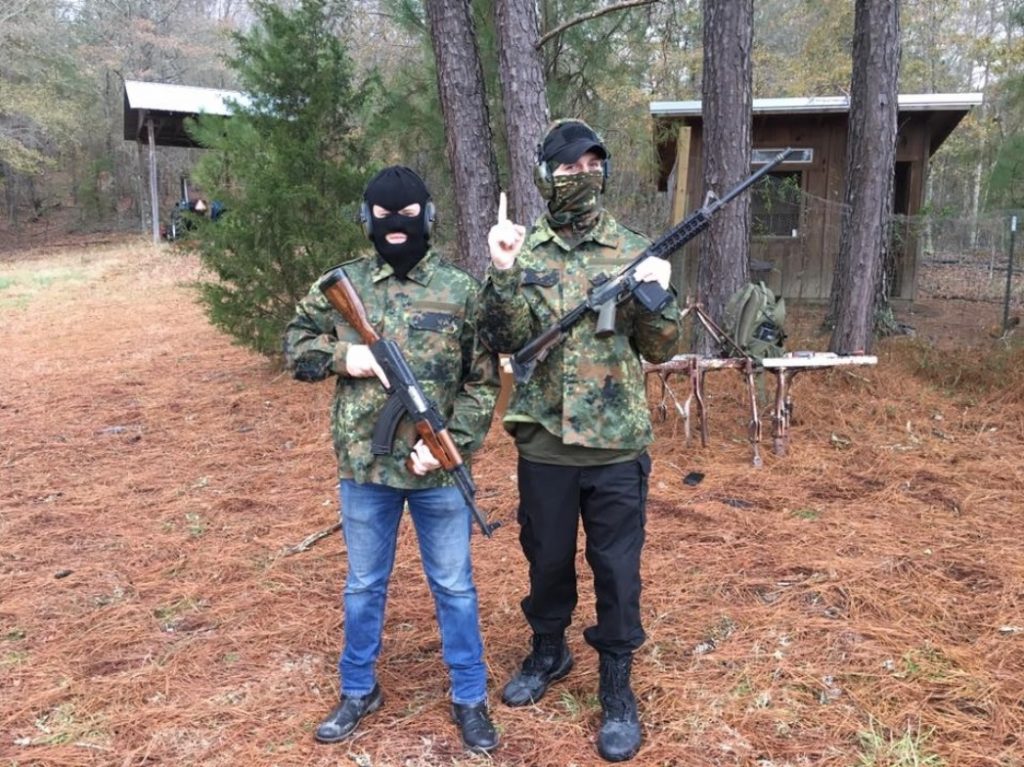 Our research into Woodward, East, and Carver led us to Matthew Ryan Burchfield, an accelerationist neo-Nazi and self-described "Esoteric Hitlerite" who was then based in Savannah, Georgia. Dalton Woodward's associates, Trent East of Ravensblood Kindred and Corwyn Carver of AWD, were both connected with Burchfield. When we published about Burchfield in May 2019, Dalton Woodward was still in Afghanistan, but we documented electronic links between Woodward and Burchfield.
In our article exposing Ryan Burchfield, we noted his involvement in accelerationist circles via his profile on the "Fascist Forge" networking site, which is a now-defunct successor to the Iron March forum. At the time we did not know that Burchfield was involved with The Base, an accelerationist group similar to AWD. In one electronic conversation reported by Vice, Burchfield stated that The Base were going to "make Atomwaffen look like boy scouts [sic]." For a period after his public exposure in 2019, Burchfield stayed at the Silver Creek, Georgia property used as training grounds for The Base. Burchfield exited The Base's vetted communication channel in November 2019. Not long after this, he traveled to Ukraine, where he allegedly fought for the Right Sector militia in Donbas. Ukrainian authorities deported him in October 2020.
Dalton Woodward also communicated with The Base's Georgia cell leader, Luke Austin Lane, while Lane awaited trial for attempting to kill antifascists. In January 2020, Lane and two other members of The Base were arrested for conspiracy to murder a couple whom they believed to be "high-ranking Antifa members" affiliated with Atlanta Antifascists. While putting together their murder plot, this trio of neo-Nazis unwisely relied on the help of an FBI infiltrator. They also got their targets wrong: the people they wanted to kill are not members of Atlanta Antifascists. Our group appears to have struck a nerve when we publicly exposed Burchfield as a neo-Nazi. The Georgia cell of The Base viewed their planned murder as sending a message to antifascists about exposing white supremacists.
Coincidentally, Woodward's family home in Georgia is in Silver Creek, about fifteen minutes away from the Lane family property used by The Base's cell in Georgia.
Dalton Woodward is one degree of separation from accelerationist neo-Nazis in groups such as AWD and The Base. His support for Luke Lane, after Lane was arrested for conspiring to murder people, shows that Woodward makes common cause with even the most violent sectors of the neo-Nazi movement. In his role as Patriot Front's Interview Coordinator, Woodward oversees the screening of new members where they are questioned on their attitude toward violence. This screening aims to remove anyone so obviously volatile that they could expose PF's leadership to repression, as well as to create plausible deniability for the organization.
Dalton Woodward is comfortable with and well connected within the neo-Nazi scene, which is valuable for Patriot Front's membership intake process. While PF's leader Thomas Rousseau disparages accelerationism, members with accelerationist sympathies or ties not only join the group but have leadership roles within it (such as Woodward). Rousseau is desperate to increase the group's numbers, and practically speaking, militant neo-Nazis are a large part of PF's supporters and applicant pool.
Dalton Woodward and Patriot Front
Dalton Woodward's Georgia National Guard unit returned from Afghanistan in June 2019. The National Guard investigation into his white nationalist ties ended that October, and by December the Atlanta Journal-Constitution reported that the Guard had dropped him.
Arkansas property records show that in February 2020, Woodward purchased a remote property on Squeeze By Drive in Chester, Arkansas where he and his wife Karen now live. Woodward's new home is about a 45-minute drive north of Fort Smith, Arkansas.
Dalton Woodward goes by the alias "Jesse AR" in Patriot Front's member chat server that Unicorn Riot recently leaked. He has been a member since at least mid-2021, since Woodward mentions attending PF's flash rally in Philadelphia, Pennsylvania on July 3, 2021. There, locals confronted PF, and forced the white supremacists to retreat to their rented box trucks. Woodward wrote in a message that "I knew [that the Philadelphia rally] would be different," suggesting that he had attended one or more PF rallies prior to that July 2021 demonstration and had been a member for a while by that point. There is no "Jesse AR" or participant with his member number in earlier leaked Patriot Front communications covering 2019 to mid-2020.
Whether in Georgia or Arkansas, Woodward is consistently racist and antisemitic. In one internal Patriot Front message, Woodward jokes that his young child will soon be "noticing noses," a reference to embracing antisemitism. In other messages, Woodward praised PF member "Mark SD" as "full on racist" and "a true wignat [… who] will fit in well" with Arkansas members. (The South Dakota member planned to spend the winter there.) "Wignat" combines the words "wigger" and "nationalist," and began as a derogatory term for working-class white nationalists who were considered an embarrassment. The term also has connotations of advocating white supremacist revolutionary violence. Some in the racist movement have now adopted "wignat" as a term of ironic or positive self-identification. Woodward's positive evaluation of "Mark SD" did not last long, however, since "Mark SD" delayed a regional PF convoy to the December 4 national rally, left loaded firearms at PF's campsite, and then delayed his group's departure from the event. The member who Woodward had earlier celebrated as "a true wignat" for his militancy and racism was left stranded in Virginia following the rally, and then removed from PF.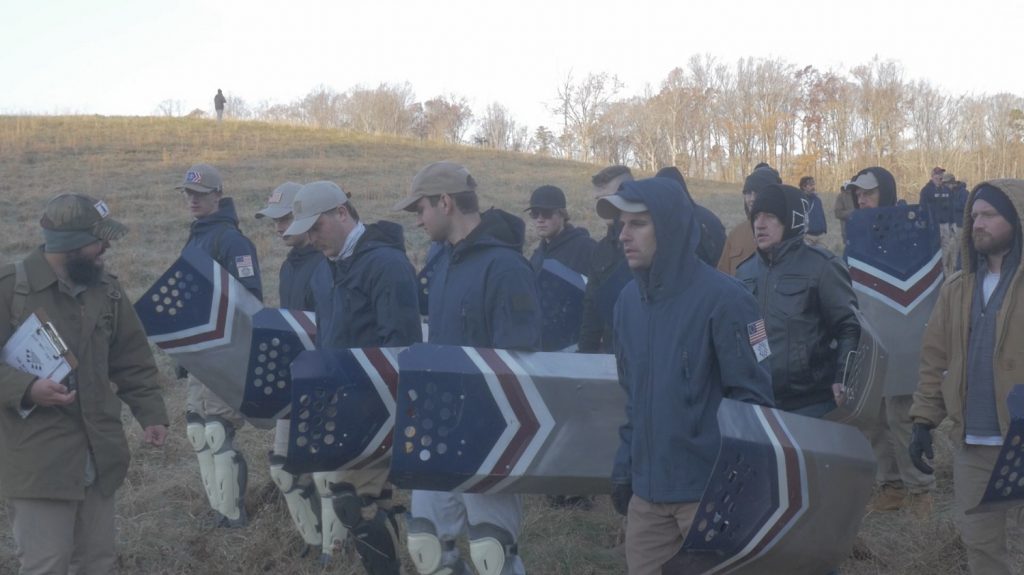 Woodward trained and organized the "vanguard" shield-carrying section for Patriot Front's December 4th, 2021 national rally. Woodward's section comprised of three smaller teams under his leadership, including many of his associates from "Network IV" of Patriot Front (Oklahoma and Arkansas members). Woodward helped drill PF members for the rally at an October regional gathering and assisted at a second training that was held in Dallas, Texas the following month. At the December 4th rally, the "vanguard" shield section marched directly behind PF's leader, Rousseau.
On a December 10th national call following the DC rally, Thomas Rousseau formalized and elevated Woodward's role in the interview process and named "Jesse AR" as Patriot Front's national Interview Coordinator. As the Interview Coordinator, Woodward is responsible for the standardization of interviews, adapting the questions to suit the needs of leadership, and for overseeing the interviewers and note-takers he works with.
Woodward's own military past helps him to integrate current and ex-military members and their skills into the organization. Similarly, an analysis by the Unicorn Riot media collective of Patriot Front's vetting of prospective members shows that "national socialist" was the most common political self-identification by interviewees. We have discussed Woodward's ties to the most militant and violent parts of the neo-Nazi scene as well as his enthusiasm for members who espouse crude neo-Nazi rhetoric. As PF's Interview Coordinator, Woodward is well-positioned to ensure neo-Nazis continue joining the organization provided they offer the correct stock response about violence in initial interviews.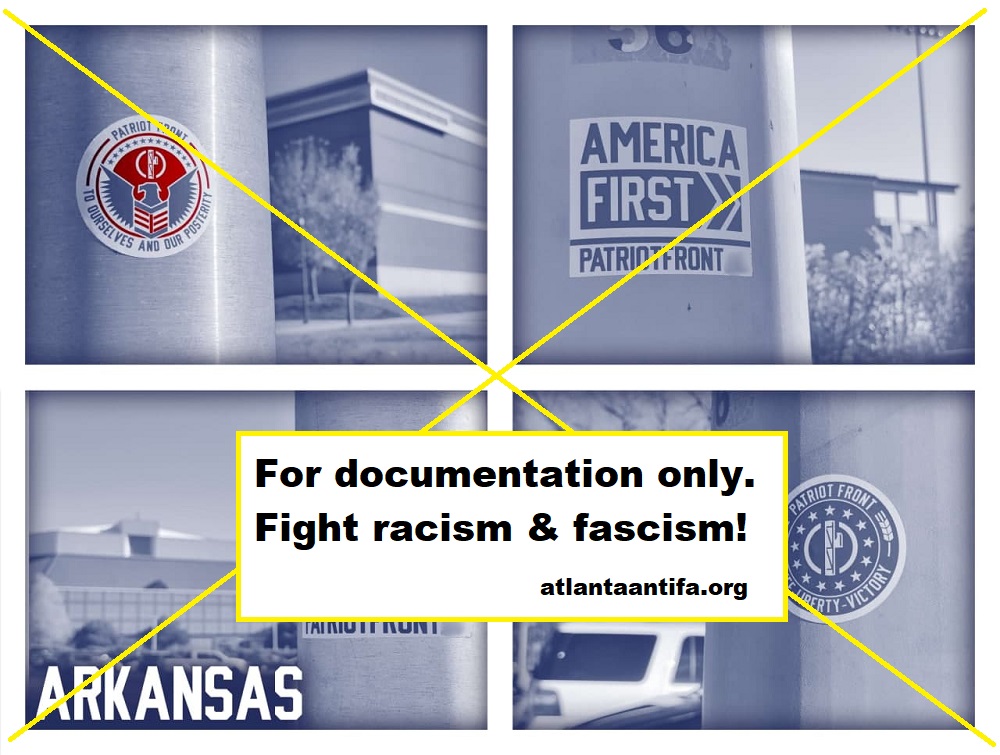 Like all Patriot Front members, Woodward also spreads fascist propaganda for the group near where he lives. In one message, Woodward admitted to placing PF stickers at the University of Arkansas campus in Fort Smith. He also discussed the defacement of murals in Little Rock, Arkansas, saying his local PF Network IV members will have to "figure something out for this" after PF leader Thomas Rousseau posted photos of the city's 7th Street Mural Project. This mural project features anti-racist messages and has been defaced several times. The day after Thomas Rousseau shared the pictures of the murals to PF's Network IV chat, Patriot Front publicly circulated images of those murals defaced with stencil graffiti for the organization. It is unclear which Patriot Front member was responsible for that stencil defacement of the 7th Street Mural Project – possibly Rousseau himself or another member who was passing through. Based on the timing, this was not the more ambitious defacement which Woodward was eager to commit with other Network IV members.
Conclusion
We have identified Patriot Front member "Jesse AR" as Dalton Russell Woodward, a racist whom we first exposed in 2019 while he was an active-duty National Guard member. Woodward is currently PF's Interview Coordinator, a national role that aims to remove infiltrators and shapes the culture of PF. Woodward also led PF's "vanguard" shield section at the white supremacist group's national demonstration in Washington, DC in December 2021.
Woodward is closely associated with accelerationist neo-Nazis. In 2019, examining Woodward's network led us to Matthew Ryan Burchfield, an accelerationist who we later discovered was part of The Base. When other members of The Base's cell in Georgia were arrested in early 2020 for a conspiracy to murder antifascists, Dalton Woodward communicated with its jailed Georgia leader.
Due to his background, sympathies, and role as Patriot Front's Interview Coordinator, Woodward is likely to facilitate the entry of militant neo-Nazis into PF. He is part of the PF's inner circle and helps guide the organization nationally as well as building it regionally.

Please share our documentation on Woodward widely, especially to Arkansas and eastern Oklahoma residents who may encounter this white supremacist. If you have more information on Woodward or others in Patriot Front, reach out to us. For a gallery of other PF members, organized by state and associated with their group aliases, see here.