Omar Ali, a property developer and Kemp appointee, is helping racist leader Sam Dickson to turn a profit on a building in Lakewood Heights, Atlanta. Ali is currently trying to renovate and sublease the 1701 Jonesboro Road building owned by Dickson's "Sun Rising LLC", in effect generating funds for Dickson that will enable further white power organizing.
Ali claims that he develops properties to revitalize the multiracial, working-class neighborhood of Lakewood Heights, and to provide solutions to disrepair and gang violence in the area. However, Ali's alliance with racist leader Dickson disproves Ali's claims to have residents' interests at heart. Dickson is notorious for preying on Black property owners in Atlanta, often acquiring his properties through predatory tactics known as "bullying title." Sam Dickson's white nationalist organizing helped set the stage for the Emanuel AME massacre in Charleston, South Carolina as well as the bloody "Unite the Right" rally in Charlottesville, Virginia. Dickson has a long history of promoting hatred and white supremacy in the US, and on the international level, he is aligned with the Russian state which is committing probable war crimes in Ukraine.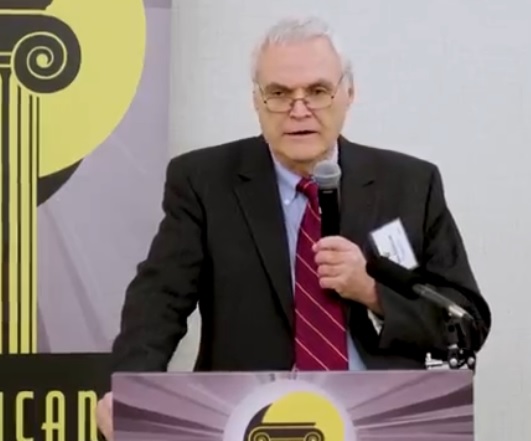 We urge all Lakewood Heights residents to avoid Omar Ali and Ali's other business interests in the area, particularly the "Ali at Lakewood" development. We will update this article if Ali backs away from his collaboration with Dickson's "Sun Rising" company.
The Property
Omar Ali is currently advertising for business owners to sublet 1701 Jonesboro Road SE. "Sun Rising LLC" acquired this building in 2017. At the time, white nationalist and Dickson network operative Evan Thomas Anderson was listed as the company's organizer (under the name "Ian Thomas"). In the most recent business filing before its administrative dissolution by the Georgia Secretary of State, Sam Dickson was named as Sun Rising's manager. Fulton County property records still give Sun Rising LLC as the owner of the Jonesboro Road building.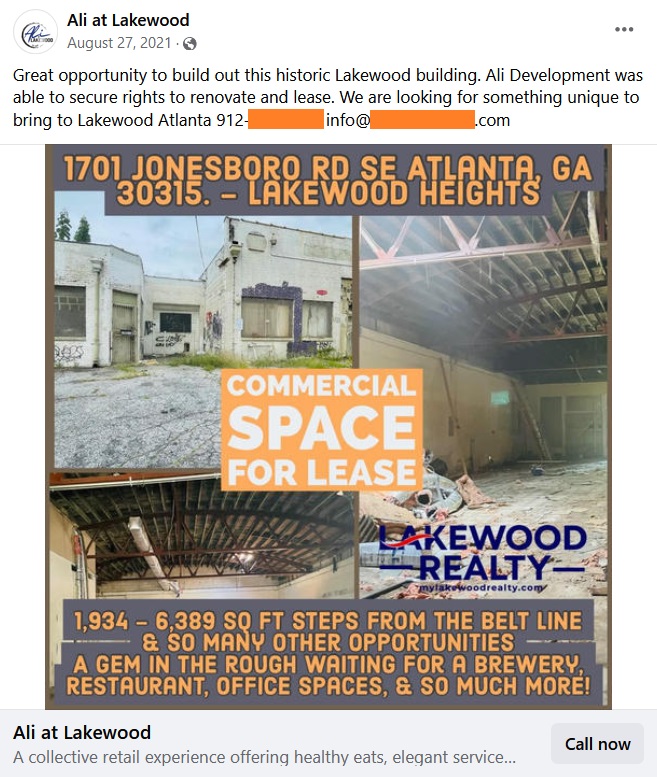 Last year, the "Ali at Lakewood" development announced that it had "secure[d] rights to renovate and lease" the Jonesboro Road property. When we approached Omar Ali about his business arrangement with Sun Rising, Ali would not reveal his point of contact with the company and insisted that he was improving the community. When we asked follow-up questions, Ali dropped all communication. He is aware of Sam Dickson's history and does not seem to consider it important.
We have confirmed that as of March 1st, Omar continues to seek sublessees for the white nationalist-owned building. Turning the building into a viable commercial space would enrich racist leader Sam Dickson.
Dickson's Organizing Legacy: White Supremacist Murder
Sam Dickson has been an active racist organizer since the 1970s. During his decades as a white power organizer, Dickson has tried to portray himself as a reasonable and non-violent white advocate. The true legacy of Dickson's organizing is white supremacist bloodshed.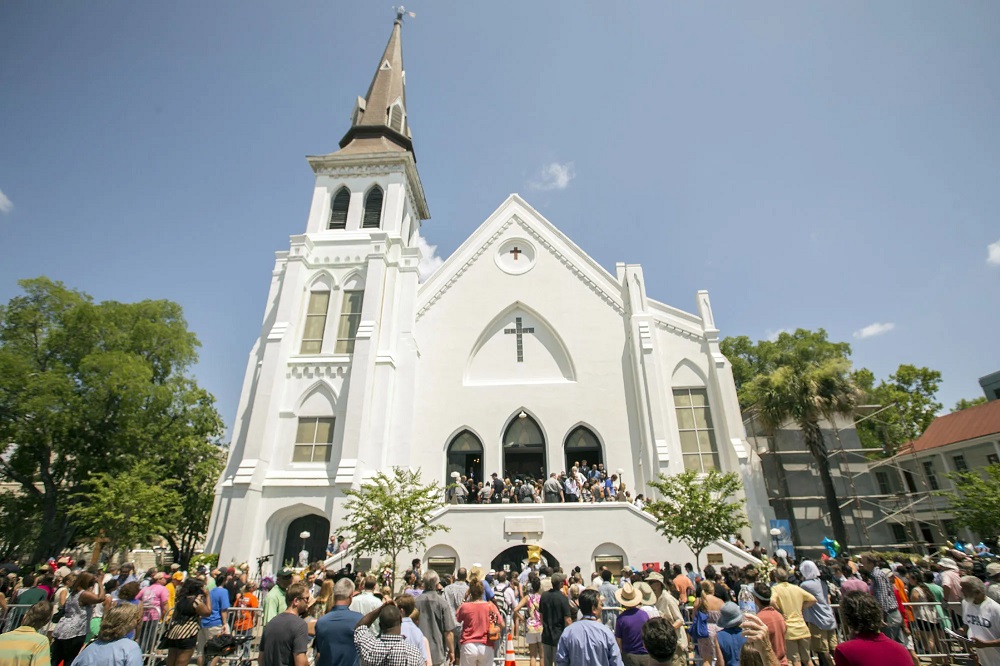 Dickson is a longtime member of the Council of Conservative Citizens (CofCC), a white supremacist group whose lineage traces back to the segregationist White Citizens Councils. Dickson is deeply intertwined with other CofCC members and leaders. For example, Dickson regularly appears on the "Political Cesspool" radio show of James Edwards, who has served on CofCC's board. Dickson traveled to Russia in 2015 with American Renaissance head Jared Taylor, who was CofCC's spokesperson after the Charleston massacre. Mass murderer Dylann Roof wrote that "I have never been the same since that day" when he encountered the CofCC website and embraced white supremacy. Roof murdered nine Black worshippers in an attack on the Emanuel AME Church in Charleston, South Carolina in 2015.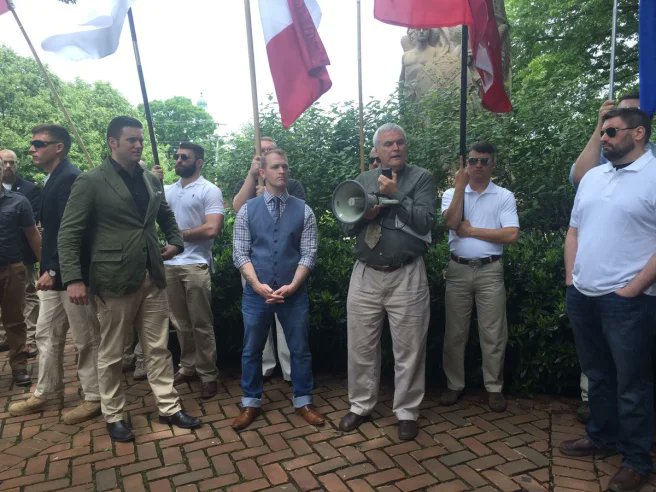 Dickson helped to birth the "Alt-Right" movement and was active within it until the movement crashed following 2017's bloody "Unite the Right." Dickson is a key member of the Charles Martel Society, which provided seed money for the National Policy Institute (NPI). Under NPI's second leader, Richard Spencer, NPI became the most important institution of the "Alt-Right." Dickson was a featured speaker alongside Spencer and others at May 2017's "Save Jackson and Lee" rally in Charlottesville, Virginia. This event was a direct precursor to "Unite the Right" (UTR). Evan Thomas Anderson was the main organizer for "Save Jackson and Lee" and worked on the Atlanta property market alongside Dickson. Anderson and Dickson both attended UTR in August 2017. While Dickson claims not to approve of the murderous vehicular attack at the end of UTR, this murder resulted from an intrinsically violent movement built over years by Dickson and other leaders. Dickson's employee Jared Huggins openly mocked Heather Heyer's murder.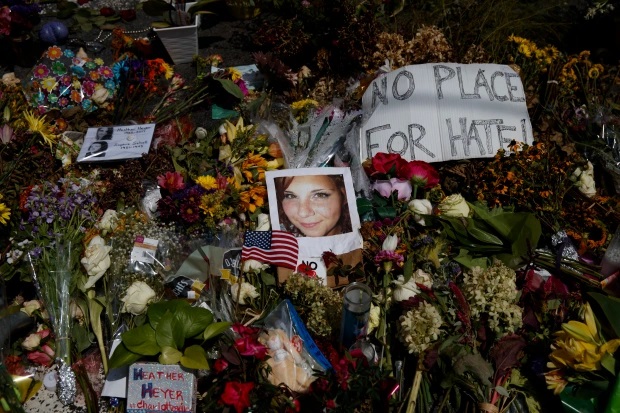 Atlanta to Russia
As we write, Russian forces are committing probable war crimes during a massive invasion of Ukraine. Dickson actively associates himself with the Russian regime. In 2015, Dickson and Jared Taylor both attended the International Russian Conservative Forum in St. Petersburg, Russia, a one-day international far-Right conference that could only have occurred with tacit Kremlin approval. In 2018, Dickson and friends made another trip to Russia, networking with far-Right "Russian nationalists" during their travels. In Moscow, they were shown around by Dmitry Sergeevich Oveshnikov (Дмитрий Сергеевич Овешников) who has worked as a consultant for the Federation Council's Committee on Foreign Affairs. (Oveshnikov currently appears to be the head of media and public relations for the Moscow City Court.) By encouraging US white nationalists to take a pro-Russia stance, Dickson helps the US white power movement to feel less isolated, cultivating a sense that they are part of broader international movements and alliances. At the same time, Dickson activates his circles to promote Russian state narratives and to whitewash the regime.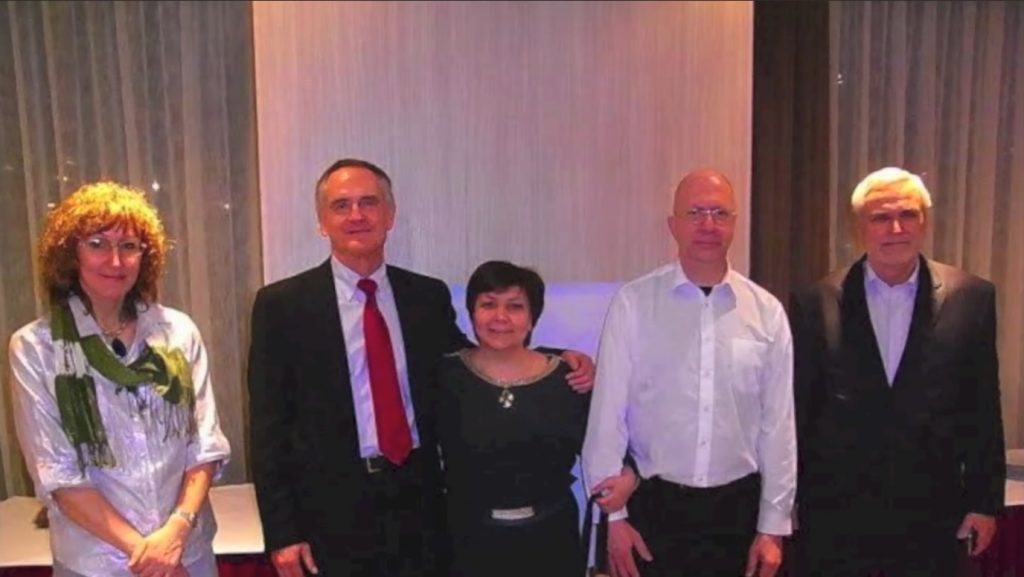 Conclusion
Through his business dealings with "Sun Rising LLC," Omar Ali incentivizes Sam Dickson's efforts on the Atlanta property market and raises funds which will flow to the white power movement. Sam Dickson has a long history of harassing Black residents and "bullying title" to their property. Any business arrangement with "Sun Rising LLC" or other Dickson companies supports Dickson's harassment and dispossession of Black residents. This is the opposite of the community improvement which Ali claims to advance.
We highlighted how through their organizing Dickson and his close associates created an environment for racist murder, including the Charleston church massacre and the bloody "Unite the Right." Dickson has also aligned himself with the Russian regime which is seemingly committing war crimes in Ukraine. The average Lakewood Heights resident rejects white supremacist terror and war crimes. If Omar Ali wishes to continue developing in the area, he should honor these values.
Until Omar Ali breaks with "Sun Rising LLC" and Sam Dickson's network, no one of good conscience should use the Ali at Lakewood property or cooperate with Omar Ali's efforts in the neighborhood. This includes businesses based at the Ali at Lakewood development and anyone who may consider hosting or attending events at this space. If you are a journalist, a tenant at Ali at Lakewood, or a Lakewood Heights resident, we encourage you to ask Omar Ali for details on his venture with "Sun Rising LLC." The public needs to know more about the Dickson network, and if Omar Ali has a change of heart and divulges these details, this would represent a blow to a major white supremacist network.
If you have further information on Sam Dickson, his political associates, and his business allies, please get in touch.