Summary
Alan S. Kim/"Negative XP"/"School Shooter" is the most influential "incelcore" artist and serves as the founder and flagship artist for the movement. Kim headlined the "Virginfest" music festival in Atlanta, GA on September 11, 2021, that saw participants chanting racial slurs and attracted alt-right ur-father Andy Nowicki. Kim is closely connected to white supremacist, Holocaust denier Nick Fuentes and streamed on Fuentes' "Cozy TV" platform. We previously covered Kim in a Twitter thread, but can now provide further documentation and identification.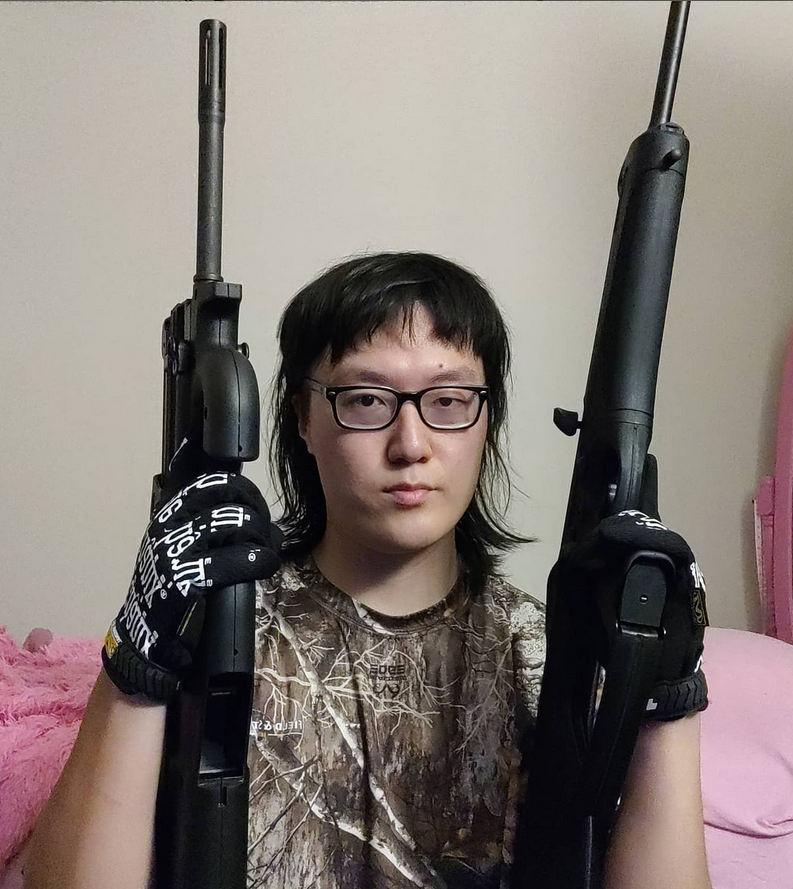 "Incelcore" emerged as a distinct subculture in late 2019 with the release of "MK Ultra Support Group", a compilation album put together by Negative XP/Kim and featuring other artists. Kim had formerly used the artist name "School Shooter", or in his spelling, "ϟCHØØL ϟHØØTΣR" (note the use of the stylized Nazi Schutzstaffel lightning bolt runes). The first Negative XP song on the compilation, "Scott Pilgrim vs. the World Ruined a Whole Generation of Women", is emblematic of the entire genre, with the lyrics "She's a whore, a hole, a dime-a-dozen Jezebel".
Notably, many of the incelcore artists are not literally incels in the sense of "involuntary celibate", but use the phrase as internet shorthand for their far-right beliefs and virulent misogyny. The scene is a mix of true believers and ironic edgelords, with the edgelords serving as cover for the true believers to indoctrinate more people to their worldview, which goes beyond simple misogyny into an eliminationist stance that celebrates the mass murder of women.
Besides his lyrics, Alan S. Kim engages in other forms of hateful incitement. Kim has a history of using Nazi symbols. On his Twitter, he encourages cyberbullying of trans people, LGBTQIA+ people, sex workers, all women, and anyone else he views as "degenerate". While Kim uses his music as a form of metapolitics to influence culture towards far-right politics, he is also directly connected to prominent figures and movements in the far right.
We are including action items at the bottom, with information on how to cancel an incelcore show when they occur in your area, and action items regarding Alan S. Kim.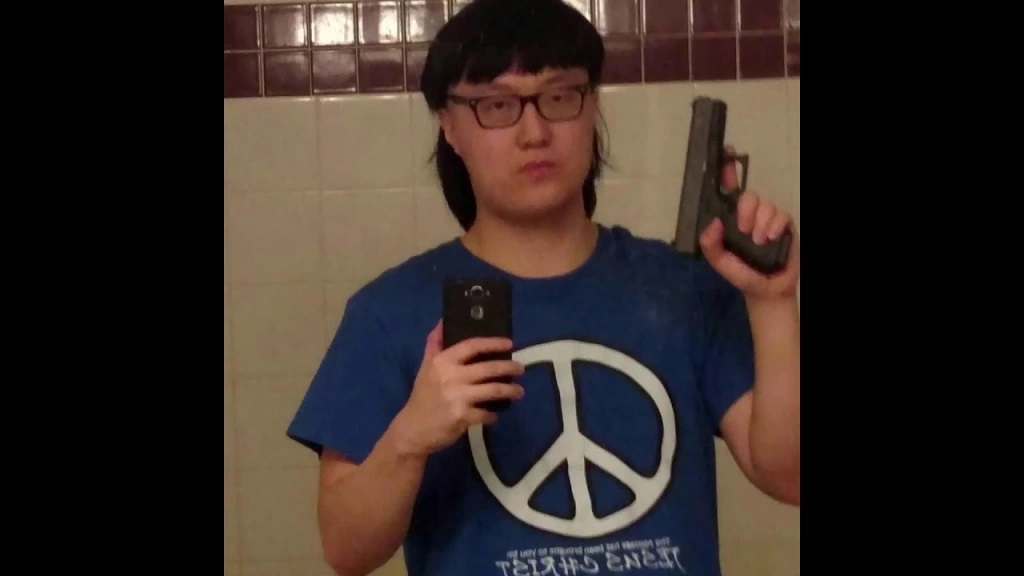 Incelcore
Incelcore, which came about as a discrete movement at the end of the 2010s, serves as a catalyst for far-right political beliefs in youth culture in a similar pattern as Rock Against Communism in the 70s and 80s. Sonically, the music consists mostly of lo-fi garage rock with pop punk and folk punk influences. The lyrics focus on loneliness, hatred of women, hatred against ethnic minorities, violent fantasies of mass shootings, depression, and suicide.
The "incel" movement, which the incelcore music scene pays tribute to and references, grew out of a set of online forums for so-called "involuntary celibates", individuals who were unable to find a sexual partner. As the "incel" movement grew, it became more explicitly misogynistic and cross-pollinated with the white power movement. Several mass murders have been perpetrated by self-identified incels, including the 2014 Isla Vista killings in which 6 were killed along with the perpetrator; the 2018 Toronto van attack, in which 11 were killed; the 2015 Umpqua Community College shooting, in which 9 were killed along with the perpetrator; and the 2018 Tallahasee shooting, in which two women were killed. Numerous other mass killings have been perpetrated by individuals believed to be related to the incel community. While not all "incels" are white, the movement is strongly linked to white supremacist ideology, and non-white incels often express white supremacist beliefs involving hatred of self along with hatred of others.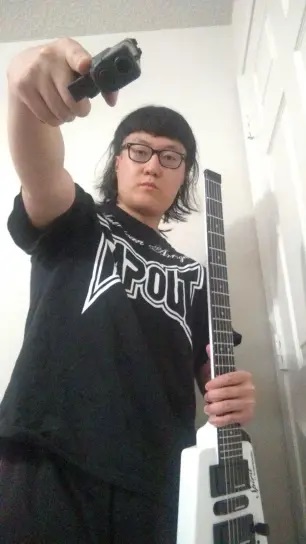 Alan S. Kim as School Shooter and later as Negative XP is the most well-known artist identified as incelcore. As he often brags on his Twitter, he built the scene. This brag holds true. His "MK Ultra Support Group" Bandcamp compilations brought attention to other artists and largely created the scene. Kim is by many measures the most successful of the incelcore musicians and the most well-known.
Incelcore artists are unified more by theme than by musical style. The styles range from folk to punk and indie pop, but the inspiration and themes are far right and misogynistic. An increased range of artists has also brought an influx of new fans, many of them girls and young women. While this may seem bizarre on first impression, a fascination towards death and self-harm has long been a part of the human experience. This fascination is often perceived as gendered when women engage in idolization of dangerous and potentially murderous figures such as serial killers (or artists who take on the persona of serial killers).
This movement of girls and young women into the incelcore "scene" also attracts those who wish to prey on them. The incelcore scene has a serious issue with groomers and pedophiles as well as its Nazis. Two pedophiles were recently exposed in March 2022 alone: a small-time artist called "Bad Takes Only" who played at Virginfest and the livestreamer of the Virginfest show known as "Trofy".
In bringing along these other artists, Alan S. Kim raised the profiles of artists who are pedophiles and neo-Nazis. He attempted to rebrand last year and change the name of his genre from "incelcore" to "epunk", but the name change has had only had inconsistent adaptation among the satellite artists.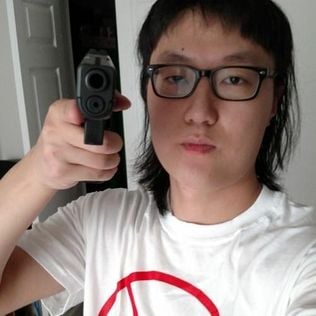 On his Twitter, Alan S. Kim spews hatred to a large audience and easily uses his following as a harassment tool. Numerous examples are provided below in a tweet gallery.
History
According to interviews, Alan S. Kim (born October 30th 1995) grew up in a small town in Illinois, the son of two parents who immigrated from South Korea. In the mid-2010s, he began university in Chicago, likely at DePaul, where he was arrested for marijuana possession in January of 2015. He went on to drop out. His family later relocated to Georgia.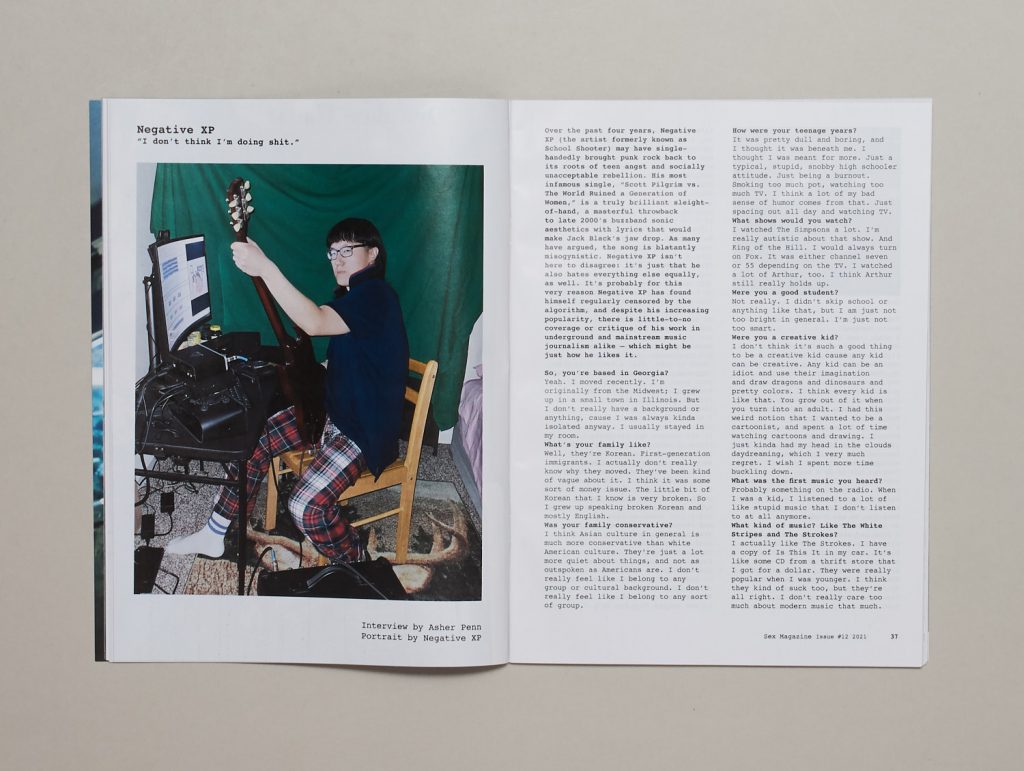 Alan S. Kim began making music as School Shooter in the mid 2010s. His lyrical content is mostly concerned with hating women, wanting affection from women, hating himself, killing himself, and killing others. One song is simply titled "I'm a Nazi".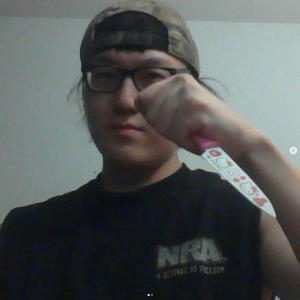 Alan S. Kim has a long history of using Nazi symbolism. On his old Bandcamp, he used Nazi symbols for several album covers. On his often-deleted Twitter accounts, he follows a similar pattern of posting extreme-right beliefs, complaining about being depressed, threatening violence against women, and yearning for a girlfriend.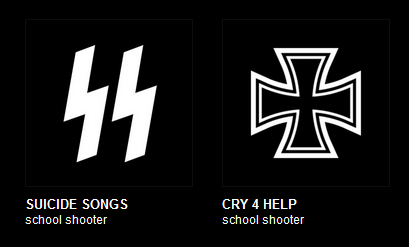 Below are the archives of several of Alan S. Kim's old Twitter accounts, which were often banned for hate speech.
Archive 1, Archive 2, Archive 3, Archive 4, Archive 5

Network
Alan S. Kim is connected with a wide variety of far-right extremists, Holocaust deniers, and neo-Nazis.
In late 2021, Alan S. Kim began to stream on white nationalist Nick Fuentes' streaming platform under the name "Shooter". Although Fuentes is now deplatformed on nearly all mainstream social media platforms, Kim and Fuentes were mutuals on several platforms. The fact that Kim has a channel on the Cozy TV platform indicates his favor with and proximity to Nick Fuentes and the America First white nationalist movement. Fans of Negative XP who follow him to that platform will be directly supporting Fuentes and will be led to other far right and Nazi-adjacent streamers on the platform.
Alan S. Kim is also connected to white supremacist, J6 Capitol stormer, livestreamer, federal informant, and failed RV tour participant Tim "Baked Alaska" Gionet. Kim covered the Baked Alaska song "We Love our Cops". The two are mutuals on Instagram.
Through Baked Alaska and also through Virginifest organizer Athena Raven Rapp, Kim is also connected to "Alice"/Holland Proudfoot and the IP2 streamer network in general. The IP2 network is a conglomeration of racist far-Right streamers who harass random people, especially women and minorities, in exchange for money on livestreaming sites. "Alice"/Holland Proudfoot, an IP2 streamer and a longterm friend of Rapp, was set to livestream Virginfest with her at-the-time boyfriend "Chicken Andy", another racist IP2 streamer, but both were arrested en route to the event. Proudfoot took part in the January 6, 2021 riot at the US Capitol with her boyfriend at the time, Tim "Baked Alaska" Gionet.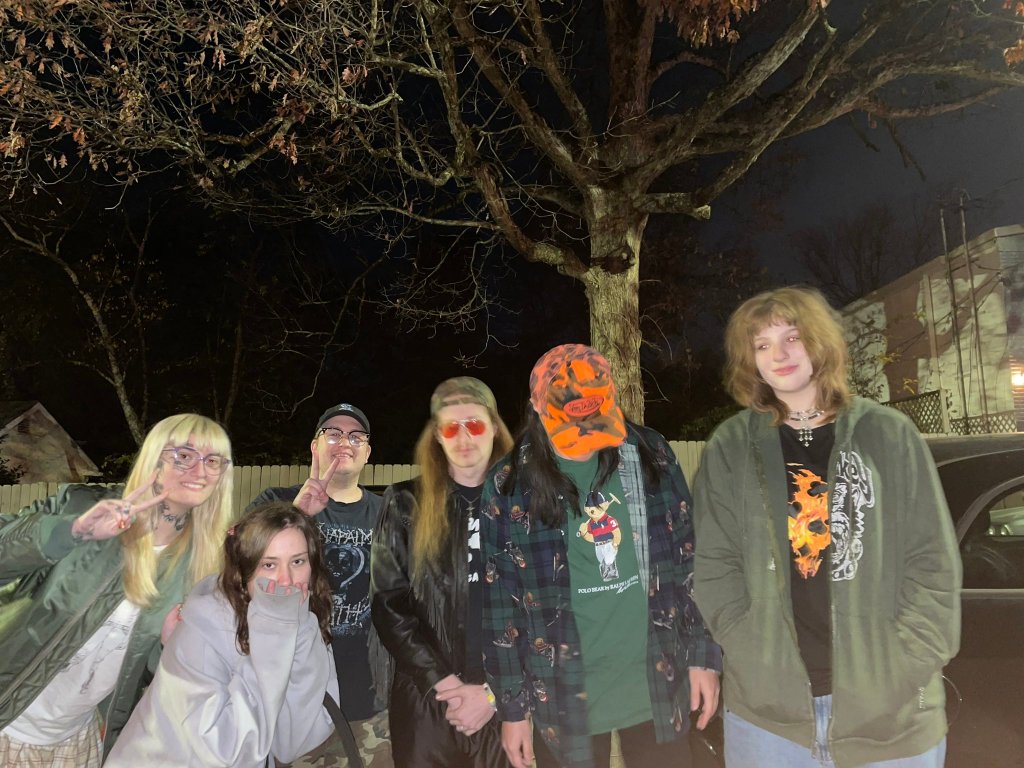 Alan S. Kim was scheduled to perform at the Peter Thiel-funded "NPC Fest" in New York City, but backed out at the last minute.
Kim is connected with white nationalist comic artist Stonetoss, who referred to Kim as a "friend". Stonetoss and Kim have interacted through Kim's many Twitter accounts.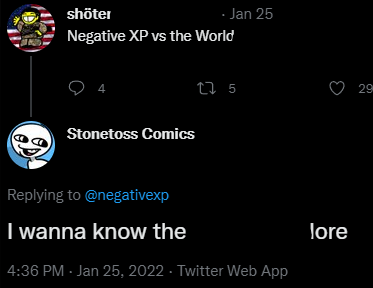 Rebuttal
When confronted about his words and actions in the past, Alan S. Kim has presented two rebuttals. First, that he isn't white so he cannot be racist, and second, that all he does is post edgy ironic jokes online. Other defenders of incelcore have claimed that any negative attention is unwarranted because it's "just kids making music".
First, we recommend reading this article on the role of people of color in far-right organizing. In recent times, there are many multiracial far-right groups that nonetheless push racist hatred. Hate groups have a pattern of offering a highly visible role to token individuals who are a member of the hated group but present themselves as "one of the good ones". However, Alan S. Kim is not exactly a token, since he is the leader of the scene. As such, he directly pushes anti-Black and anti-Asian racism through racist images and jokes.
Second, we recommending reading this article about how the extreme right weaponizes irony. Alan S. Kim has also made clear through his repeated pattern of statements and behavior that his hate is not ironic. Music and culture can foster a sense of belonging and are important to far-Right organizers who can turn this group identity to their advantage and harness it toward their goals. The presence of irony, parody and hyperbole in the incelcore scene does nothing to change its misogynist and far-right nature.
Lastly, the fact that so many young people are present in the incelcore scene is all the more reason to call attention to the groomers, pedophiles, and white nationalist recruiters who thrive in the scene. Alan S. Kim himself is now 26, and scene members are spread out in age range up to their thirties, so it is completely false to characterize them as all teenagers.
Actions
Alan S. Kim is an influential far-right media figure, is armed, has low regard for firearm safety, and publicly fantasizes about mass shootings. For this reason, we are sharing information on his location to warn the community.
Alan S. Kim, born October 30, 1995, is a resident of Duluth, Georgia (further info on the linked page). His truck, a gray Hyundai Santa Cruz, is often parked outside. Avoid him and warn community members to avoid Kim.
Alan S. Kim was identified first through use of his name in incelcore Discord servers. His mugshot was posted in the servers, and a reverse image search revealed the information around his arrest and personal information. A search of voting records confirmed his residence in Duluth, and the address was connected in public online listings with his email address. (A special thank you to the members of the incelcore community who identified Kim for us.)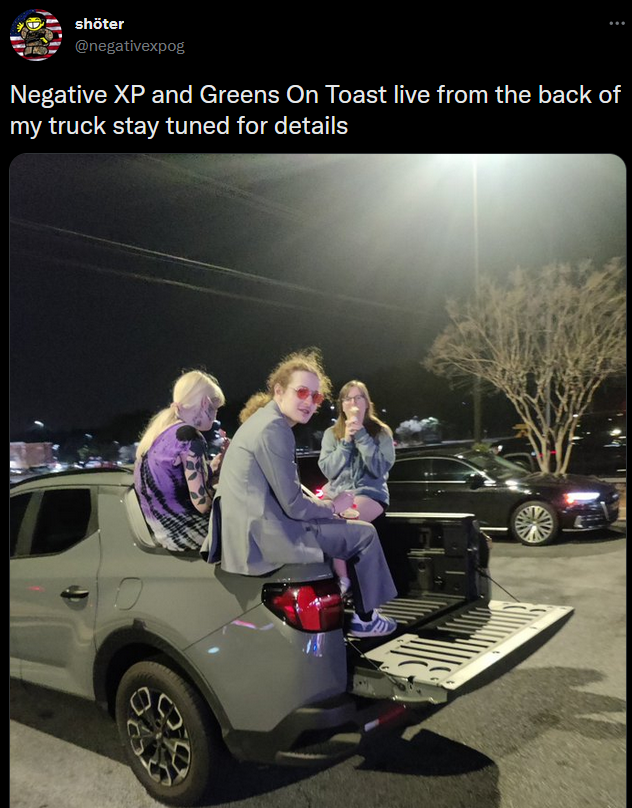 Alan S. Kim's family are likely members of one of the local Korean churches. If you know which church his family attends, please contact us.
Alan S. Kim will continue spewing hate to his audience, continue drawing new people to extreme-right ideology, and continue fostering the incelcore scene unless he is cut off from his audience and money stream. Please report the following accounts to assist.
Music:
Social Media:
Money:
It is also essential to be ready and able to stop incelcore shows when they are scheduled for your town. We are including a guide on how to get an incelcore cancelled should you find one scheduled to occur in your town.
1: Identify the show
Alongside Alan S. Kim/Negative XP, several other "incelcore" artists are:
If you have further information about any of the artists please contact us.
2: Identify the venue
Often, the venue will be displayed on the flyer. However, since most venues would cancel incelcore shows immediately if aware of the school shooting and white supremacist content, promoters often hide the venue name until the last minute. The venue may not be announced until the day of the concert. In this case, it may be necessary to purchase a ticket to receive the venue information.
3. Inform the venue owner
The venue owner will probably be unaware of the extreme-right views of the artists they are hosting. Calmly and politely explaining to the venue owner that they are scheduled to host artists spreading extreme misogyny, hate, and violent fantasies is often enough for the venue to cancel the show. In addition, it is a common practice for incelcore fans to post quasi-ironic threats about coming to the show with a gun to kill everyone there. Finding these threats posted on social media and showing them to the venue owner will typically ensure cancellation.
4. Alert the community
Share the information about the concert, artists, and incelcore with members of the community. Posting in online community spaces and placing flyers is effective. Incelcore concerts attract far-right extremists from around the country.
The next incelcore concert is planned for Reading, Pennsylvania at 415 S 19th St, Reading, PA 19606 on April 22nd, 2022 and April 23rd, 2022. Several of the artists have already pulled out after sexual assault and pedophilia accusations, but the show is still scheduled to proceed as of the date of publication of this article. Internal communications indicate that the venue owners (Brainfruit Holdings) are "sympathetic" to incelcore and so may already understand the nature of the event.
To Incelcore Scene Members
To those tangentially involved in the "incelcore" scene, know this: the hate is not ironic. The misogyny, the racism, the homophobia, the transphobia is not ironic. The scene encourages hate of all kinds, including self-hate, emotionally stunting participants and encouraging them to become their worst selves. You can distance yourself from the scene, or stick around long enough for your reputation to be forever tarnished by your association. If you leave the scene, you may be attacked by your old friends, but the short term consequences will be worth saving your reputation and following your conscience.