On Tuesday, September 3rd, we mailed 250 flyers to Dahlonega, north Georgia residents, warning them about "fourth-generation Klansman" and active neo-Nazi Chester James Doles, Jr.
Doles is the main organizer for the upcoming "Patriots"/"Trump" rally in Dahlonega on September 14. This rally is a thinly veiled white supremacist event which has been advertised in neo-Nazi circles. The Dahlonega rally currently features Jovanni Valle – a former "Alt-lite" personality who now embraces Hitler – as a guest speaker.
North Georgia residents and Southern anti-racists are organizing against the September 14 far-Right rally. We hope that by warning Doles' neighbors about his history as a violent Klansman and his continued neo-Nazi activity, we impair Doles' ability to organize.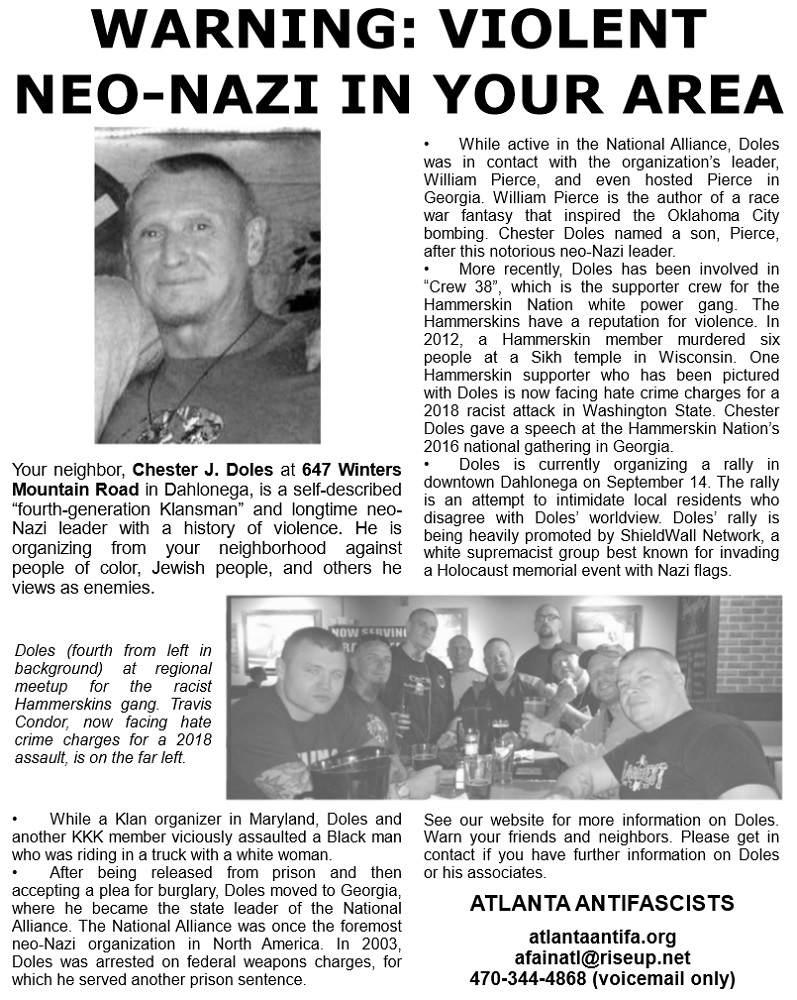 Follow our Twitter account for updates on the Dahlonega rally. If you have information on Doles or any of his associates, please get in touch.
Clarification: Travis Condor (mentioned on the flyer) was arrested for a December 2018 racist group assault in Washington state. While hate crime charges are being discussed, the case is under review. It does not appear that charges have been filed yet.