This is a companion piece to "Martin Christopher Rojas: Professional Racist".
We have identified seven pen names used by Martin Christopher Rojas while writing for various far-Right and racist websites since late 2012: "Gilbert Cavanaugh," "Chris Roberts," "Hubert Collins," "Nathan Doyle", "Albert Emory", "Benjamin Villaroel" and "Linda Preston".
Under these names, Rojas published over five hundred pieces, spread across a dozen white nationalist, anti-immigrant, and far-Right websites. Over 300 of these articles are on American Renaissance, which currently employs Rojas as "Chris Roberts".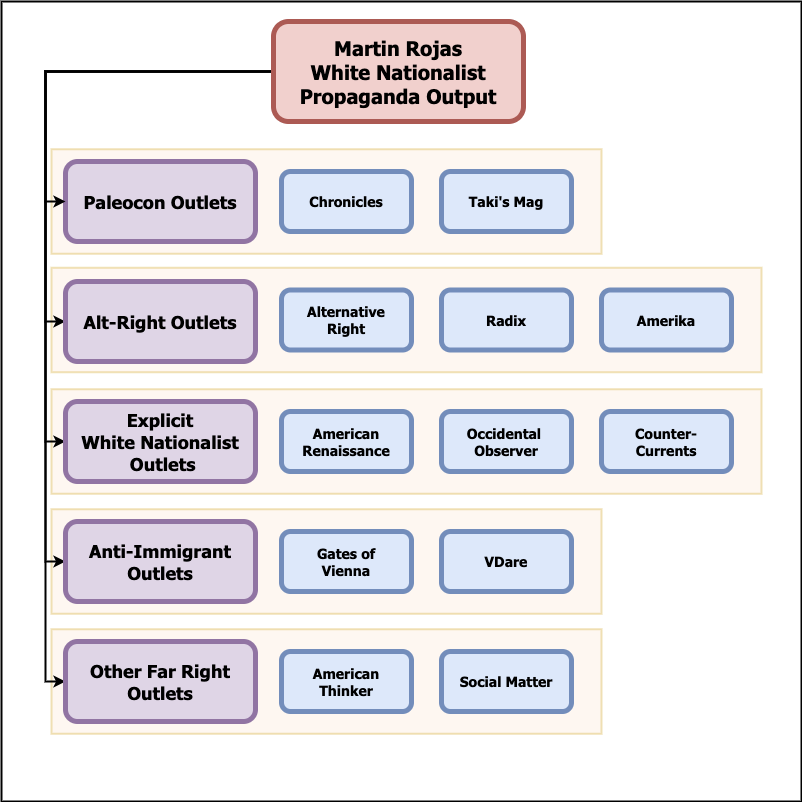 Each of Rojas' seven pen names can be independently linked to Rojas through biographical information, or they can be traced back to him through one pen name connecting to another. Each pen name is unmistakably part of a broader web of pseudonyms, all operated by the same person.
Rojas has even written about "How Not to Get Doxxed", or identified by anti-racist researchers, and advocated using different pen names to avoid detection. However, Rojas made arrogant mistakes which ensured that he would be identified.
Our main article gives an overview of Martin Rojas' activities. Here, we discuss Rojas' seven pen names in greater detail, and explain how we tied each of the names to him.
Continue reading

"Martin Rojas' Pen Names"