This is a companion piece to "Martin Christopher Rojas: Professional Racist".
We have identified seven pen names used by Martin Christopher Rojas while writing for various far-Right and racist websites since late 2012: "Gilbert Cavanaugh," "Chris Roberts," "Hubert Collins," "Nathan Doyle", "Albert Emory", "Benjamin Villaroel" and "Linda Preston".
Under these names, Rojas published over five hundred pieces, spread across a dozen white nationalist, anti-immigrant, and far-Right websites. Over 300 of these articles are on American Renaissance, which currently employs Rojas as "Chris Roberts".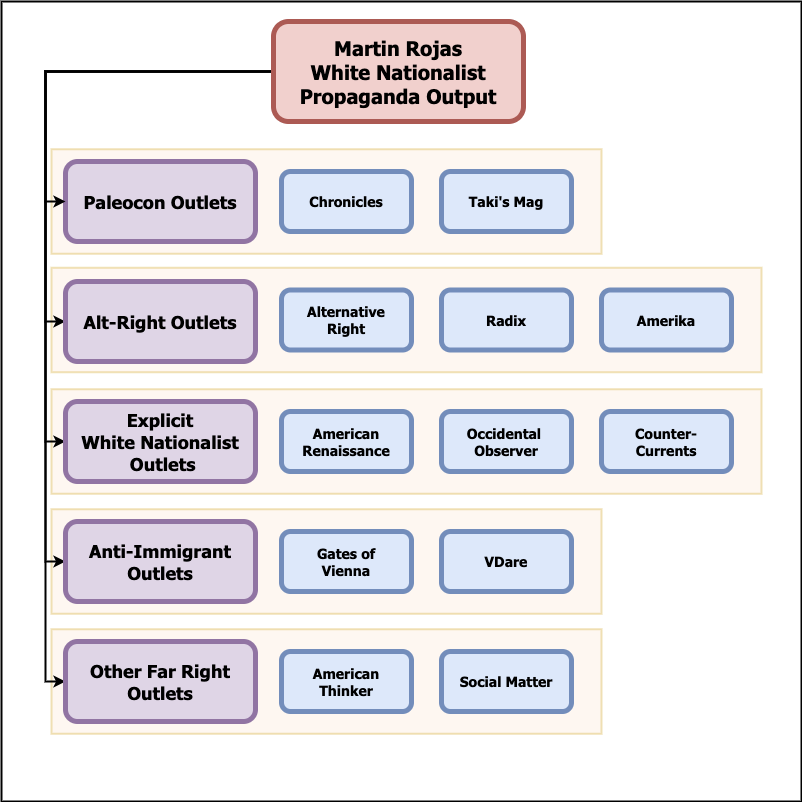 Each of Rojas' seven pen names can be independently linked to Rojas through biographical information, or they can be traced back to him through one pen name connecting to another. Each pen name is unmistakably part of a broader web of pseudonyms, all operated by the same person.
Rojas has even written about "How Not to Get Doxxed", or identified by anti-racist researchers, and advocated using different pen names to avoid detection. However, Rojas made arrogant mistakes which ensured that he would be identified.
Our main article gives an overview of Martin Rojas' activities. Here, we discuss Rojas' seven pen names in greater detail, and explain how we tied each of the names to him.
Gilbert Cavanaugh
"Gilbert Cavanaugh" was Martin Rojas' first pen name and is still occasionally used by him. "Cavanaugh" is Rojas' mother's maiden name.
Apart from the name itself, there are three main ways we know "Cavanaugh" to be Rojas:
"Gilbert Cavanaugh" wrote about Shimer College at the same time Martin Rojas attended that college.
Writings by "Cavanaugh" closely match Martin Rojas' location history.
An article published under another pen name, "Hubert Collins", gives the story of his beginnings as a writer. When "Collins" discusses the first pen name he used, this matches exactly with "Cavanaugh's" history. See the "Hubert Collins" section for details.
The first "Gilbert Cavanaugh" article we have found was published in December 2012 on Taki's Magazine, a paleoconservative website with a racist history. For example, Taki's published a notorious anti-Black rant by John Derbyshire in 2012 and continued to publish Derbyshire afterward. The first "Cavanaugh" article is not explicitly racist, but it cites both the anti-immigrant website VDare and one of Derbyshire's articles approvingly.
Early the next year, "Cavanaugh" published on AlternativeRight.com, a website founded in 2010 by Richard Spencer to coalesce the "Alt-Right". By the time of "Cavanaugh"/Rojas' article, other editors ran the site's daily operations. "Cavanaugh" published more articles on AlternativeRight.com during 2013, and later contributed to an Alternative Right successor blog once Richard Spencer redirected the .com domain name to his new Radix Journal. Despite friction between Radix and the successor Alternative Right blog, "Cavanaugh" published to Radix as well as Alternative Right in 2014. Several articles by another Rojas pseudonym, "Hubert Collins", also appear on Radix.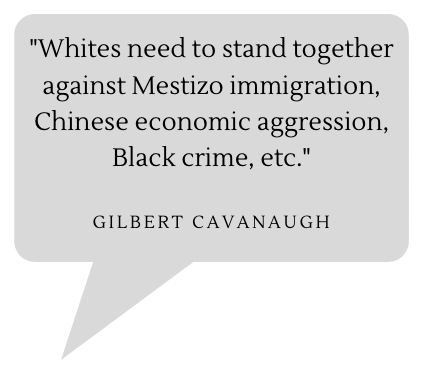 Rojas first appeared as "Gilbert Cavanaugh" on VDare in May 2013, several months after he started contributing to AlternativeRight.com. By then, "Cavanaugh" had also appeared on another Alt-Right website, Amerika, complaining about his liberal college.
An August 2013 article by "Cavanaugh" for VDare bemoaned the "Cultural Marxism" of the student body at his Great Books college. The "Gilbert Cavanaugh" name was later removed from this article on VDare, with the piece republished as an anonymous letter: the author feared that this piece included too much personal information. A follow-up letter published by VDare years later named Shimer College in Chicago as the Great Books college in question. Martin Rojas studied at Shimer but did not graduate. When Rojas registered for a 2013 Foundation for Economic Freedom summer seminar, the seminar materials listed "Shimer" by his name.

During 2013, "Gilbert Cavanaugh" published five articles to the Occidental Observer, the first appearing in June. The Occidental Observer is an antisemitic "white identity" website edited by Kevin MacDonald, a professor who believes that Jewish people have evolved to undermine the societies they live within. Rojas also publishes to Occidental Observer under several other pen names.
As well as Taki's, Alternative Right, Radix, Occidental Observer, Amerika and VDare, Rojas wrote as "Gilbert Cavanaugh" for the white nationalist website American Renaissance. The first article under that name appears in AmRen's archives August 2013. Some "Gilbert Cavanaugh" articles on AmRen overlap with Martin Rojas' employment there as "Chris Roberts".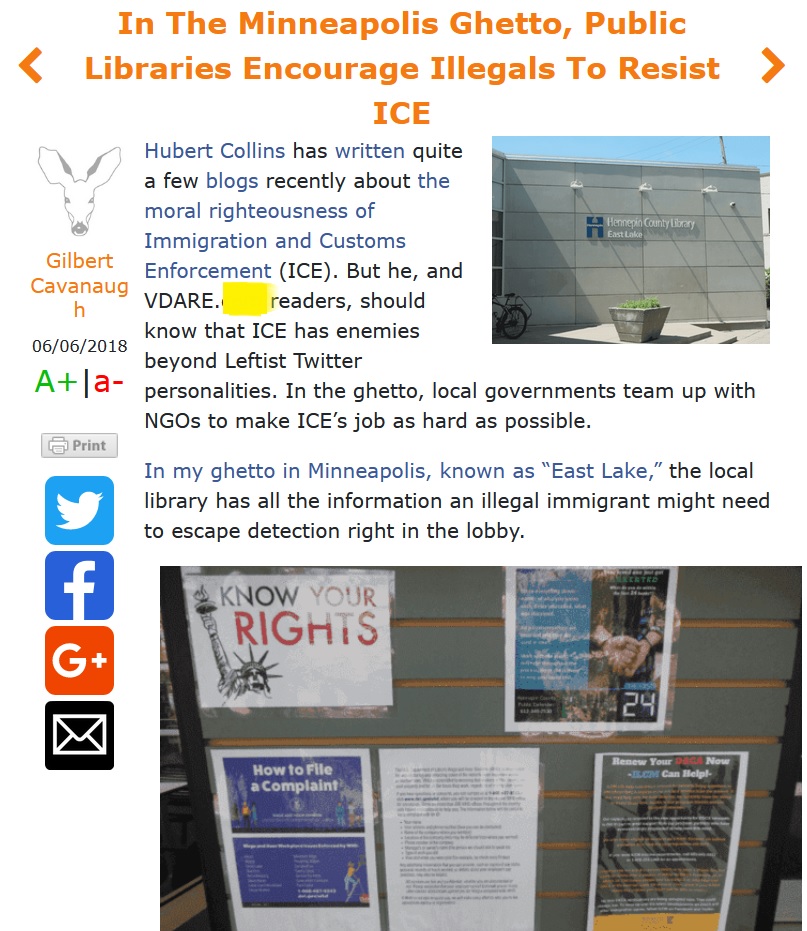 Writings by "Gilbert Cavanaugh" match with Rojas' location history. For example, a 2018 AmRen article about "city murals" features images from Washington DC, Minneapolis, and Georgia. (Some of the photographs are taken from "Chris Roberts" articles about DC.) The article calls Minneapolis "my usual surroundings" but also features photographs from the small southern Georgia community of Lakeland. According to an online address record, Rojas briefly stayed in Ray City, Georgia, just eight miles away from Lakeland. An AmRen article in late 2019 and another in 2020 indicated that "Cavanaugh" was spending time in Atlanta, which again corresponds to Martin Rojas' location history. When "Cavanaugh" began submitting articles to VDare again in 2018, these submissions discussed Minnesota, where Rojas grew up and where he spent some of that year. A mid-2018 article calls the East Lake area "my ghetto in Minneapolis". Rojas' address history includes an apartment in East Lake, Minneapolis.
Chris Roberts
As "Chris Roberts", Martin Rojas worked for the white-nationalist website, American Renaissance, from July 2016 to October 2017, and again from November 2019 to present. At the time of writing, "Roberts" has contributed 250 pieces under this name to the site. Martin Rojas also contributed a smaller number of articles to VDare under the "Chris Roberts" pseudonym.
Several of Rojas' other pen names published writing to white power sites before "Roberts" appeared. However, we are presenting "Roberts" earlier in our summary of pen names because of what the name clarifies:
"Chris Roberts" exactly matches Martin Rojas' employment and location history, showing them to be the same person; and
"Chris Roberts" tells the same story, set at the same time down to the month, as another pen name, "Hubert Collins". This ties the two pen names together. After "Roberts", we discuss "Collins".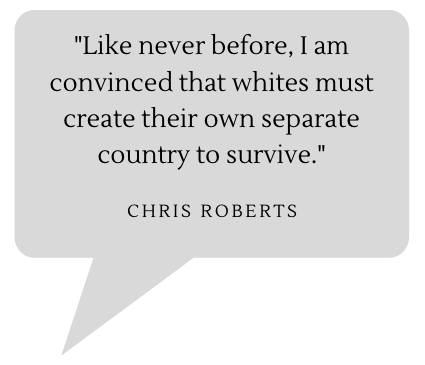 Much of Rojas' writing as "Chris Roberts" is typical AmRen fare: for example, article after article portraying Black people as naturally violent and criminal. However, "Chris Roberts" has set himself apart by sympathetically covering the "anti-woke Left" in the United States: class-reductionist leftists who fume about feminists and anti-racist movements. In one essay that received particular attention, "Chris Roberts" asked whether "The Anti-Anti-White Left" could end up as strategic allies for his racist movement or eventually become "white advocates". This piece demonstrated a much greater familiarity with Left-wing movements and discourse than most white nationalists.
With so many articles containing references to his life, "Roberts" inevitably left clues to his real identity. When "Chris Roberts" was announced as a new "Director of Special Projects" for AmRen in July 2016, the website stated:
Mr. Roberts came to care deeply about the fate of whites after experiencing diversity in Chicago and Washington, DC, and is glad to have left a tepid job with Conservatism Inc.
Rojas unhappily attended Shimer College in Chicago, and later lived near Washington, DC. The so-called "Conservatism Inc." job was with the Leadership Institute, where Rojas worked for over a year.
"Chris Roberts" left his job at AmRen at the start of October 2017, less than two months after the calamitous "Unite the Right" rally in Charlottesville, Virginia. "Roberts" occasionally submitted articles to AmRen after the resignation, which he explained in December 2017 as "stepping back from the movement to see if I can make a healthier income in the private sector."
When "Roberts" returned as an AmRen employee in November 2019, he offered a different explanation for his earlier departure: "the short answer would be 'depression.'" Roberts summarized his activities while away from AmRen:
I traveled a great deal, both nationally and internationally, taught English abroad for a bit, and worked in real estate here in the US for nearly a year. Probably of most interest to American Renaissance readers was that I lived with the Brimelows for a short while, during which I put together the James Kirkpatrick [alias of Kevin DeAnna] anthology Conservatism Inc., recently released by [far-Right publisher] Arktos — a project of which I am quite proud.
For much of 2019, Martin Rojas lived in Chile teaching for Dynamic English, and even appeared on the company's "Coffee with Gringos" podcast. On that podcast, Rojas admitted, "I've done a lot of ghost writing in the United States related to history and politics".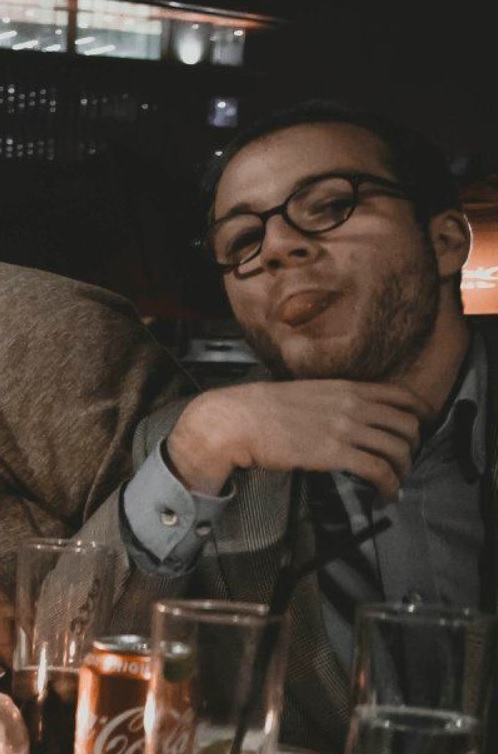 In Atlanta, a network of white nationalists centered around attorney and longtime racist leader, Sam Dickson, are active in real estate, a topic we have covered in detail. Martin Rojas was listed as an agent for "Hamilton Avenue Holdings, LLC" – a Sam Dickson company – in a February 2020 business filing in Georgia. Another white nationalist, Jared Huggins, appears as the authorizer on the document.
The stay "with the Brimelows" is a reference to the family of Peter Brimelow who publishes VDare. An online record shows that Martin Rojas stayed at Peter Brimelow's home in Litchfield, Connecticut.
In the "Chris Roberts" interview marking his return to AmRen, he told a story about why he chose to return to the project. "Roberts" explained:
So many of the talented, artsy white folks I spent my teens and early twenties with are just sitting around getting high, working dead-end jobs, and drowning […] Getting them out of their rut will take a racial and spiritual renaissance […] Going home after having been away for so long […] made me wonder why I'd left American Renaissance in the first place.
Rojas went home to Minneapolis in October 2017 after his first stretch at AmRen. The month of his return, Rojas told the same story about his floundering peers on a different website and under a different pen name. "Hubert Collins" contributed "Going Home Again" to Counter-Currents, another influential white-power publisher.
Hubert Collins
"Hubert Collins" is Rojas' second most prolific pen name. Whereas "Chris Roberts" has 250 pieces on AmRen alone, "Hubert Collins" has written over 150 original pieces but spread these across ten different websites.
The first article we have found as "Hubert Collins" is an April 2014 piece at Richard Spencer's Radix Journal site, where "Collins" contributed several more posts. VDare, AmRen, Amerika, the Occidental Observer, Counter-Currents, and the now-defunct Social Matter have also published multiple "Collins" pieces. "Collins" made guest appearances at Taki's Magazine with "What Kind of Pornography Should Be Banned?"; the far-Right and Islamophobic Gates of Vienna, with an article praising ICE; and The American Thinker rightwing blog, with another piece cheering for ICE.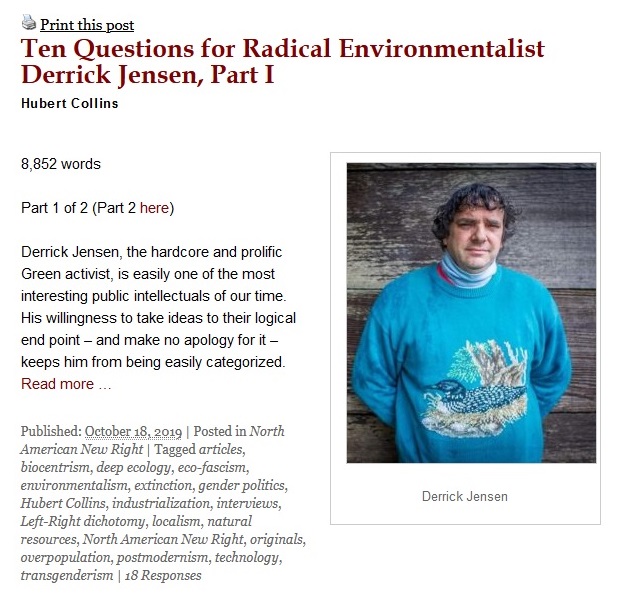 We noted how the "Hubert Collins" article "Going Home Again" from October 2017 on Counter-Currents exactly matches comments by "Chris Roberts" on AmRen about his experiences returning home. The "Hubert Collins" persona also ties directly to the "Gilbert Cavanaugh" pen name: a "Collins" article in Occidental Observer about his start as a far-Right commentator matches the early writing history of "Gilbert Cavanaugh". "Hubert Collins" also matches information about Martin Rojas' life such as his educational and travel history, as well as his campaign work for Donald Trump in 2016.
"Hubert Collins" told the story of how he started using different pen names in an October 2014 article for Occidental Observer. Earlier, we mentioned that Rojas began writing as "Gilbert Cavanaugh" during his unhappy time at Shimer. The Occidental Observer piece as "Hubert Collins" claimed that the young author panicked when he believed that his identity was about to be exposed. He begged an editor to change the name on a couple of incriminating pieces. We have found one of those articles, in which the "Gilbert Cavanaugh" name was removed from an article on VDare about his school. According to the "Hubert Collins" Occidental Observer piece, the writer then decided to spread his writing across multiple pen names to better obscure his identity. Although "Collins" dated the motivating scare to the summer, Rojas' "Albert Emory" and "Hubert Collins" pen names began in Spring 2014, one season earlier.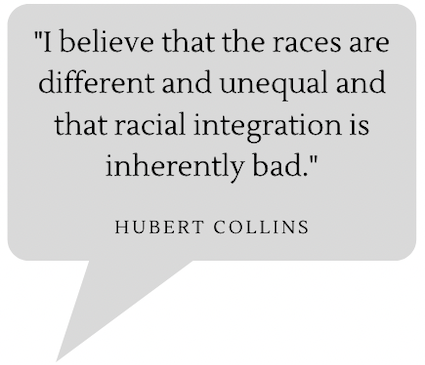 "Hubert Collins" is only half-disguised. A 2016 Occidental Observer article states that "Collins" has "spent plenty of time on more than one leftist college campus". Martin Rojas not only attended Shimer College in Chicago, but according to a 2019 podcast appearance under his real name, "studied history at the University of Minnesota".
In an article for the neoreactionary site Social Matter (now offline), "Collins" promoted the 2014 gathering of the H.L. Mencken Club, held at a hotel near Baltimore-Washington International Airport in Maryland. The Institute for Research and Education on Human Rights describes this event as a "significant annual gathering of academic racists, white nationalists, and paleo-conservatives." In his Social Matter article, "Collins" stated "I have gone [to the gathering] before" but in 2014 he could not attend since he was "about 4,750 miles away". While the actual distance is closer to 4,800 miles, "Collins"/Rojas was likely writing from Elqui Province in Chile, where his father owns property. At the end of 2014, Martin Rojas was fined for breaking Chilean immigration rules, likely by overstaying his permitted time in the country. (Rojas told a podcast in 2019 that he recently got Chilean citizenship.)
Rojas' "Gilbert Cavanaugh" pen name mentioned in an AmRen article that he attended the HL Mencken Club's 2013 gathering. As an inside joke, "Hubert Collins" claimed on the 2014 Social Matter announcement that he "had the pleasure of getting to talk with Gilbert Cavanaugh [i.e. himself]" at a previous H.L. Mencken Club gathering.
Keeping with Rojas' practice of writing about the same events for different audiences with different pen names, "Hubert Collins" not only promoted the 2014 H.L. Mencken Club gathering to the neoreactionaries of Social Matter, but with another pen name, "Benjamin Villaroel", publicized the event to the white nationalists at AmRen. We discuss "Villaroel" later.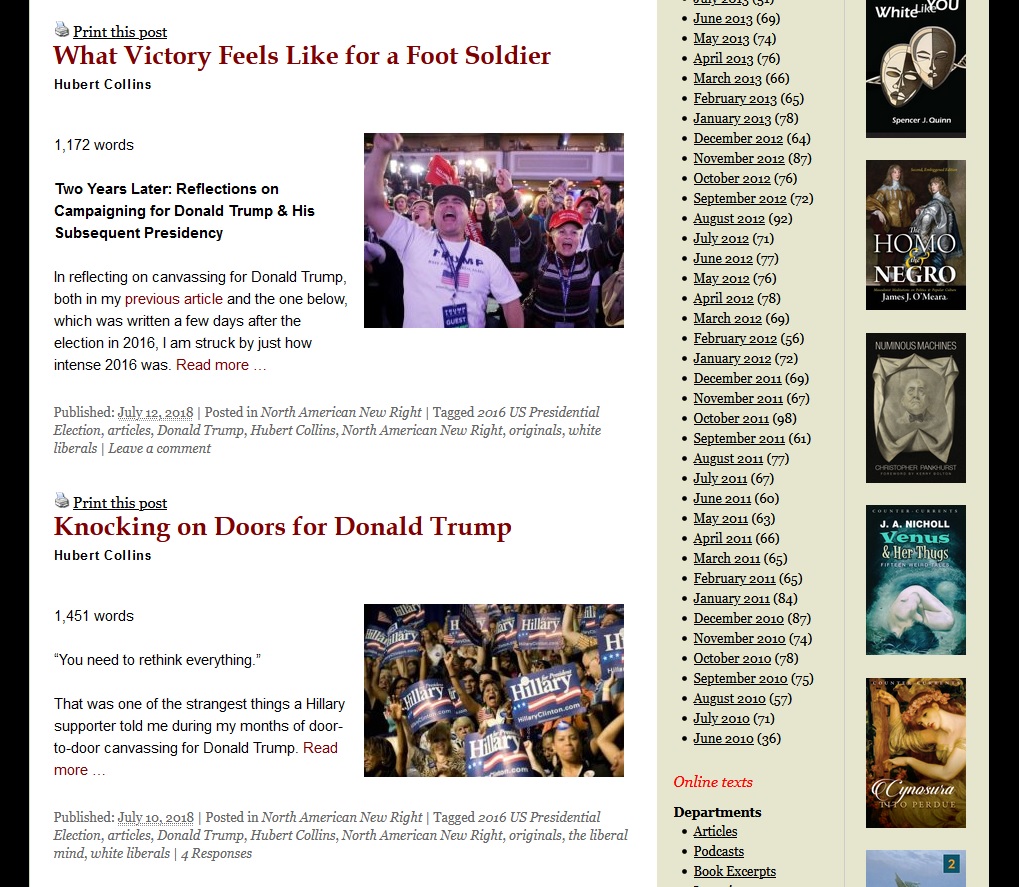 As well as his educational history and travels, "Hubert Collins" matches Rojas' documented political activity. In 2016, Martin Rojas canvassed for Trump. An article under Rojas' real name for the paleoconservative American Conservative states in the author biography: "Martin Rojas was a turf coordinator in Virginia during the 2016 election." Under his "Hubert Collins" pseudonym, Rojas published two articles looking back on his experiences canvassing for Trump during that campaign. In one, "Collins" noted that "the swing state I went door-knocking in did not go to Mr. Trump." Virginia was, until recently, considered a swing state and did not go to Trump in 2016.
The "Hubert Collins" name is useful on American Renaissance, where "Chris Roberts" worked and currently works as an employee. For example, by crediting "Hubert Collins" instead of "Chris Roberts" for a 2018 interview with just-hired AmRen staffer "Gregory Hood" (Kevin DeAnna), it looks like a website supporter is doing the interview, rather than someone else with an AmRen work history. In one AmRen piece on recommended books, "Gilbert Cavanaugh", "Hubert Collins" and "Chris Roberts" all provided separate recommendations. "Hubert Collins" and "Chris Roberts" have even coauthored articles – another inside joke.
Nathan Doyle
The pen name "Nathan Doyle" is linked to another Rojas alias, "Albert Emory" which we discuss later. When "Nathan Doyle" began publishing, he supplied an email address starting "nameless.young.writer" for correspondence about his VDare articles. A web result reveals that this email address was used to create a Gravatar account under a different name: "AlbertEmory".
"Nathan Doyle" first appeared on VDare in September 2014, when "Doyle" submitted an article about "Dropping Out […] of America's Cultural Marxist-Controlled Colleges". "Doyle" stated that he had attended two colleges, which matches Rojas' educational history. The article mentions in passing "having been published by American Renaissance". Search results show that "Nathan Doyle" has only been published once on AmRen – that occurred several years later, when AmRen reprinted a "Doyle" article from Counter-Currents. If "Doyle" was already published by AmRen in 2014, it was under a different pen name. By the time of the article, AmRen had already published "Gilbert Cavanaugh".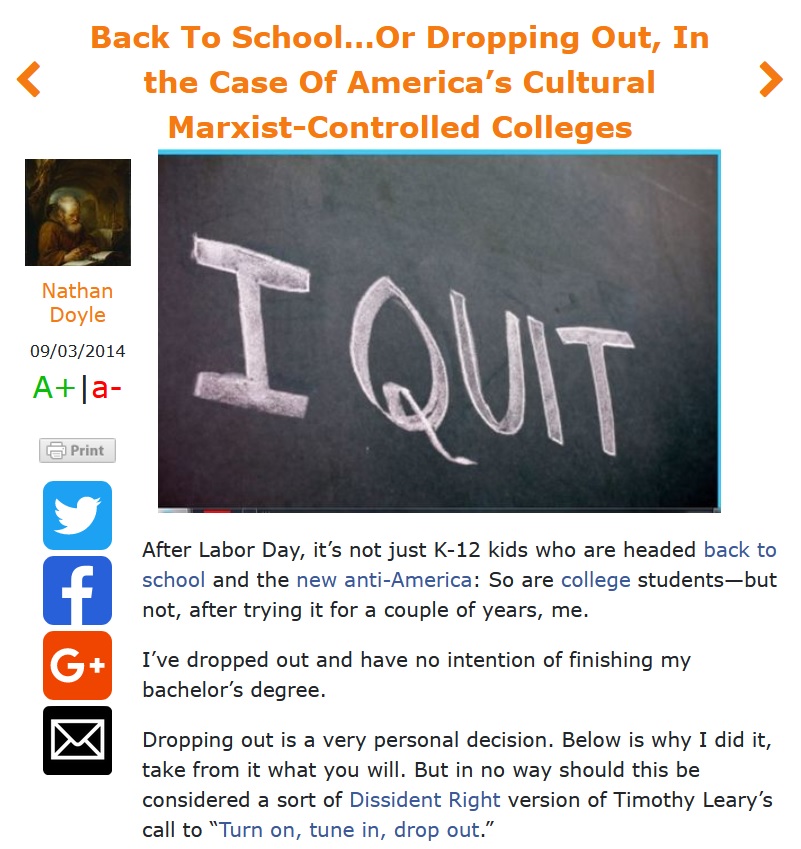 "Doyle", when explaining his reasons for not returning to college, stated that his academic interests were "history, political science, philosophy, and sociology". He discussed a hypothetical scenario in which a "history student" with his far-Right and racist politics made his way to a PhD. Martin Rojas told a podcast in 2019 that he had "studied history at the University of Minnesota". The 2014 VDare article by "Doyle" made an ironic reference to Timothy Leary's advice: "Turn on, tune in, drop out." Rojas/"Hubert Collins" also referred to the slogan in a 2016 Occidental Observer piece.
The similarities to Rojas' other personas do not end there. The VDare author's bio for "Doyle" begins: "Nathan Doyle is a Middle American Radical". The AmRen bio for "Gilbert Cavanaugh" reads: "Gilbert Cavanaugh is a proud Middle American Radical." The term "Middle American Radical" comes from sociologist Donald Warren but was popularized by paleoconservative turned explicit white nationalist leader Sam Francis, who died in 2005. As "Chris Roberts", Rojas has written reverentially about Francis.
"Nathan Doyle" published not only on VDare but to another Rojas favorite, Counter-Currents. As with several of Rojas' pseudonyms, "Nathan Doyle" shows that he is familiar with left-wing discourse. "Doyle" supplied a list of left-wing articles to Counter-Currents which he believed his white nationalist audience should read. The leftist magazine Jacobin, which "Chris Roberts" highlighted in his article about "The Anti-Anti-White Left", is particularly well represented in the Counter-Currents list.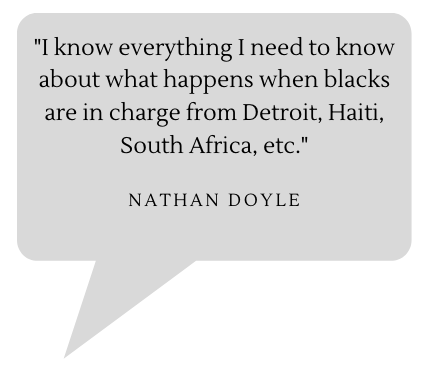 During the 2018 gubernatorial campaign in Georgia, "Nathan Doyle" canvassed for Kemp and wrote racist articles for VDare about his efforts against Stacey Abrams. The story of a VDare author allegedly campaigning for Kemp eventually made its way to the New York Times. Rojas was in Atlanta at the time.
In 2018, Martin Rojas traveled a great deal. We already noted that he spent some time in Minneapolis, lived in Connecticut helping with a book project, and was briefly in south Georgia. When "Chris Roberts" told AmRen in his November 2019 return interview that he had "worked in real estate here in the US for nearly a year" this was likely during 2018. (Rojas was in Chile for much of 2019, starting January.) Later business filings from 2020 connected Martin Rojas to white power leader Sam Dickson and his dealings on the Atlanta property market. Rojas is linked to several addresses in Atlanta, and in August 2018, he registered to vote in Fulton County (his name is misspelled "Martiin Rojas" on the registration). The "Nathan Doyle" efforts for Kemp parallel those by Rojas/"Hubert Collins" for Trump two years earlier.
Since an online registration shows that "Nathan Doyle" is "Albert Emory", and a unique identifier we discuss in the next section also ties "Albert Emory" to "Chris Roberts"/Rojas, we know that Rojas was the white nationalist who wrote about canvassing for Kemp in 2018.
Albert Emory
Between March and June 2014, "Albert Emory" provided a dozen blog posts to the paleoconservative Chronicles site. Rojas' hero, Sam Francis, contributed a regular column to Chronicles magazine until his death in 2005—blogging there would be, in some small sense, following in Francis' footsteps. "Albert Emory" matches Rojas' location history, writing style, politics, and concerns. Through a unique profile image, "Albert Emory" also directly ties back to Rojas' "Chris Roberts" identity.
Two blog posts by "Emory" at Chronicles targeted pornography, a topic that Rojas' "Hubert Collins" pseudonym later wrote about for Counter-Currents and Taki's. One early blog tried to reconcile the "split between Catholics and racialists" on the "Dissident" Right, all the while making clear white nationalist talking points. Another blog post promoted the racist Stuff Black People Don't Like website by "Paul Kersey" (Michael J Thompson), calling the site "indispensable".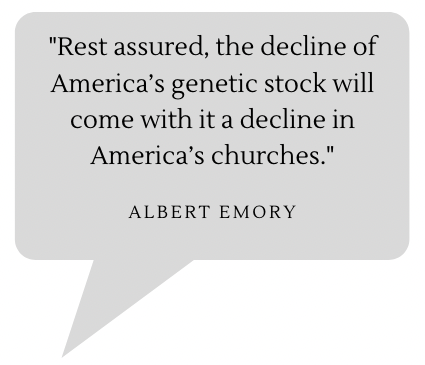 The first post by "Albert Emory" for Chronicles stated that "I was living in Chicago" when news "broke that Jesse Jackson Jr. was going to prison." Jackson, Jr. was sentenced in August 2013. As already documented, Rojas attended but did not graduate Shimer College in Chicago and wrote disparagingly about the college for VDare in August 2013. Writings by "Gilbert Cavanaugh" suggest that Rojas moved back to Minneapolis for the last few months of 2013, though he attended the 2013 H.L. Mencken Club gathering in Maryland from November 1-3. The following year, a March 2014 Chronicles post from "Emory" stated that he had "left the Heartland for Washington DC" recently enough that he was still getting accustomed to the inside-the-Beltway political scene.
In the same 2014 post about getting to know the DC scene, "Emory" stated that he was invited to an anti-AIPAC protest there by another member of the "Dissident Right" (another way of saying "Alt-Right"). The article indicated that he was surrounded by "Libertarianism Inc." – a dismissive term for thinktank/nonprofit right-wing libertarianism.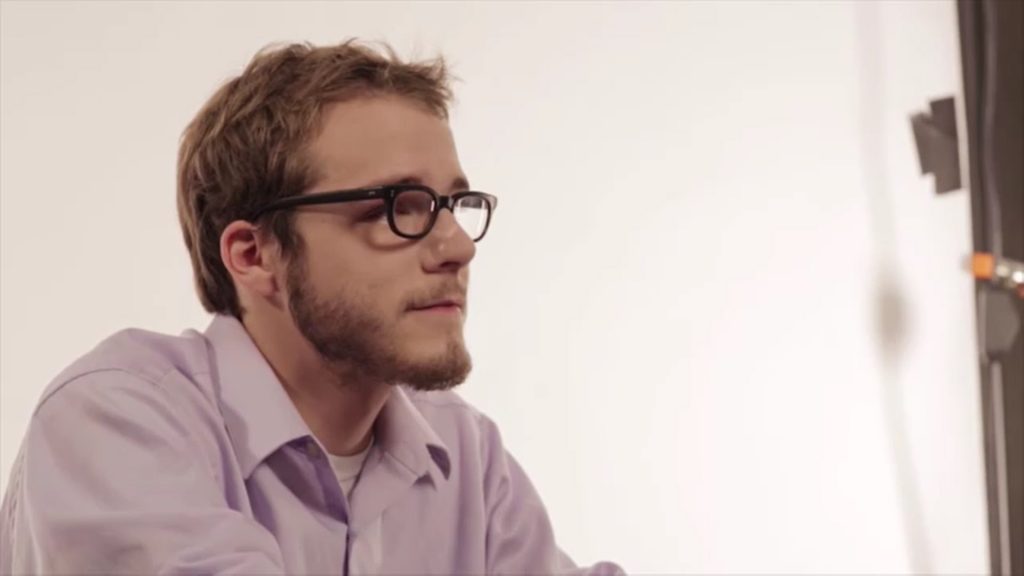 The last blog post for Chronicles by "Emory" described himself as being part of "the overlapping circles of Conservatism Inc and Libertarianism Inc – or the 'Kochtopus,' if you will." Martin Rojas went on to work for the Leadership Institute in Washington, DC the following year. The "Emory" post suggests that before Rojas joined that conservative institute, he had been moving in a part of the DC nonprofit/thinktank world closer to right-wing libertarianism. We do not know Rojas' work in DC during the first part of 2014, but he likely attended a seminar by the libertarian Institute for Humane Studies (IHS) that summer, since Rojas appeared in a March 2015 IHS video speaking of his experience.
Through an email address and Gravatar registration, the "Nathan Doyle" pseudonym pointed to "Albert Emory." "Emory" in turn points back to "Chris Roberts", Martin Rojas' main pen name while working for AmRen. The profile image used by "Emory" while blogging for Chronicles is the same image used by "Roberts" on AmRen, just trimmed slightly differently. Reverse image searches for these two profile pictures show that neither version is used by anyone else.
Benjamin Villaroel
The first "Benjamin Villaroel" article we have found is from July 2014 on VDare, where the author wrote about his identity as a "white Hispanic". In this article, "Villaroel" wrote: "I was born to a Chilean father and a German-Irish mother just after the Cold War ended". These details largely match Rojas, who was born in 1992, one year after the Cold War ended. "Villaroel" is a variant of "Villarroel": the maternal surname of Martin Rojas' grandmother on the Chilean side of his family.
"Villaroel" writes about Hispanic immigration, "white Hispanic" identity, and Latin American issues with a focus on Chile. One exception is the "Villaroel" article for AmRen in September 2014 promoting the upcoming gathering of the H.L. Mencken Club in Maryland. We have already noted that Rojas/"Hubert Collins" promoted the 2014 gathering for Social Matter, mentioning that he was over four thousand miles away from the venue and could not attend, which suggests that Rojas was in Chile at the time of writing. "Villaroel" and "Collins" promoting the same 2014 gathering is another example of Rojas using different pen names to discuss the same topics, but to different audiences.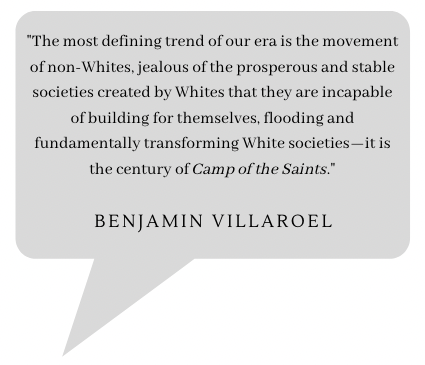 In addition to articles on VDare and AmRen, "Villaroel" contributed to white nationalist websites Counter-Currents and Occidental Observer in 2019 while Rojas was again in Chile. The Winter 2019-2020 issue of The Occidental Quarterly, a print journal from the white nationalist Charles Martel Society, also included "Villaroel" on "Chile's Immigration Crossroads" which had originally appeared on Occidental Observer in two parts.
While living in Chile during 2019, Rojas built links with that country's "Identitarian" movement. In August 2019, AmRen published an interview by "Villaroel" with two leaders of that country's National Identitarian Force/Fuerza Nacional-Identitaria (FNI). In a 2020 AmRen article, published after Rojas was back in the US and working for AmRen again, "Villaroel" wrote that "I started using Instagram when I was living in Chile" and recommended several "positive" Instagram pages for his readers. In the article, "Villaroel" upheld FNI as "Chile's foremost identitarian group". Martin Rojas followed the Instagram page for FNI with an account as "MartinCristobalRojas". Rojas also followed most other pages mentioned in the 2020 article. (The "MartinCristobalRojas" account was set to private and was deleted in the second half of February 2021.)
Ironically, "Villaroel"/Rojas may not be "white" enough for some US white nationalists. In one piece, "Villaroel" wrote "My brother [presumably Rojas' sister in reality] recently had his [DNA] tested" and published the DNA results of his family member on AmRen, since the percentages would be more-or-less the same for him. While "Villaroel" grew up believing that his mother was German-Irish, the amount of German ancestry was minute according to test results. The DNA tests also showed 19% Middle Eastern ancestry and 7% Indigenous American ancestry. While "Villaroel" insisted that "Psychologically, politically, and emotionally, I am entirely white," when he asked readers "Would you call me white?", he got a mixed response in the comments.
Linda Preston
"Linda Preston" has published three articles, all on AmRen, including one about avoiding being identified by anti-racists.
The first "Preston" article, published in May 2016, derisively covered a panel discussion on "Growing Far-Right Sentiments in Europe and the U.S." held at the Goethe-Institut in DC. Since the author was writing about the event for a white nationalist site and did not want to be identified, the writer registered for the event with a newly created email address and started a new pen name ("Preston") to discuss it. Martin Rojas was based in metro DC at the time.
The second "Preston" article discussed the paleoconservative American Conservative, claiming that the publication had moved from being "implicitly pro-white" to now having "lost its way". This article claimed however that "In foreign policy, there is still much to admire." The next year, Martin Rojas published at The American Conservative in his own name, with a call for Trump to withdraw troops from Afghanistan.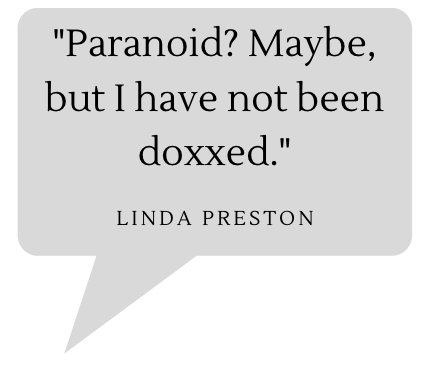 The final "Linda Preston" article appeared in December 2019 and was titled "How to Avoid Getting Doxxed". In this piece, Rojas/"Linda Preston", advises using multiple pen names to compartmentalize personal information:
If you are fluent in Finnish, taught English in Mexico, and knocked on doors for Scott Brown's 2012 senatorial campaign, you don't want one name associated with all those things. […] Use one name to address Finnish topics, another name to talk about your time in Latin America, and another to share insider scoops about the campaign.
This is a thinly disguised Martin Rojas: Rojas is fluent in Spanish, taught English in Chile, and knocked on doors in Virginia for Trump. According to "Nathan Doyle", he also canvassed for Kemp's gubernatorial campaign in Georgia.
To make things even more obvious, "Linda Preston" cites two other pen names in the AmRen piece: "Gilbert Cavanaugh" and "Chris Roberts", giving them as examples of a bad and a good pen name, respectively. Like "Hubert Collins" mentioning his conversation with "Gilbert Cavanaugh" at the H.L. Mencken Club, the author is making a joke for those in the know.
Conclusion
For over eight years, Martin Rojas has steadily contributed to far-Right, Alt-Right, and white nationalist websites under a variety of pen names. By our count, Rojas has published original work on a dozen far-Right websites, with over five hundred pieces spread across his seven pen names. His political home is the white nationalist American Renaissance, where he has been employed from July 2016 to October 2017, and again from November 2019 to present.
For several years of his racist agitation, Rojas lived inside the Beltway and participated in the Libertarian and Conservative nonprofit/thinktank worlds, including a stretch working at the Leadership Institute. For an overview of Rojas' activities, see our main article: "Martin Christopher Rojas: Professional Racist".   
Rojas views himself as part of the Identitarian movement. He is an effective propagandist for his cause and is recognized within his racist niche. Rojas used his time in Chile to network with that country's Identitarian movement and publicize it to English-speaking white nationalists. While Rojas will doubtless claim that he is concerned with ideas rather than stoking violence, the Identitarian movement to which he belongs has been tied to massacres in Christchurch, New Zealand and El Paso, Texas. While cultivating intellectual airs, Rojas works to build a movement whose goal is ethnic cleansing – a political project that requires wholesale violence. Exposing Rojas may not stop his propaganda, but we hope that denying Rojas anonymity limits his options and allows others to resist his movement more effectively.
If you have more information on Rojas or his white nationalist associates, please get in touch.