Caleb Petersen, at the time a Mechanical Engineering graduate student at Auburn University in Alabama, was the president of the unofficial "White Student Union" on campus from 2017-2018. The white nationalist/Alt-Right "Union" spread antisemitic propaganda on Auburn's campus in the lead-up to racist leader Richard Spencer's speaking event there. The group continued until 2018, when Petersen was exposed as its leader.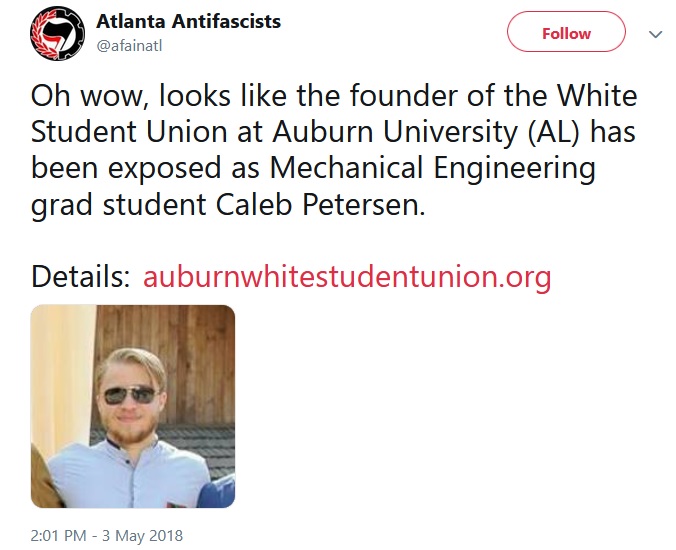 On December 1, 2021, Twitter used its new "private media" policy to lock the account of our organization, until we deleted a 2018 Tweet about Petersen. Petersen seemingly does not want people talking about his leadership of an antisemitic, white power group. Too bad. Twitter working to protect white nationalists from exposure and public scrutiny is reprehensible.
Petersen was featured in a 2017 documentary on Richard Spencer and the Alt-Right, produced by Channel 4 in the UK. Although he did not provide a name and his face was blurred, the "White Student Union" leader talking about "the death of our [white] race" is clearly Petersen, who will be recognizable by voice to anyone who has met him.
Petersen may be currently pretending to be respectable and not a white supremacist. He has made no amends for his racist and antisemitic agitation, but seems interested in burying the truth about it.
We are not going to forget. Please reach out if you have further information on Caleb Petersen or any of his political associates.