Update: in a statement on December 21, American Patriots USA leader Chester Doles claimed that he expelled Dickenson from the organization.
Robert Timothy Dickenson is the chaplain of north Georgia's American Patriots USA (APUSA), an organization founded by white supremacists in 2019. Led by Chester Doles, APUSA has tried to build broader alliances on the far-Right. Dickenson attended APUSA's founding meeting on December 14, 2019 and has remained a key participant at least up to its last major event, a "Back the Blue" fundraiser this September in Dahlonega.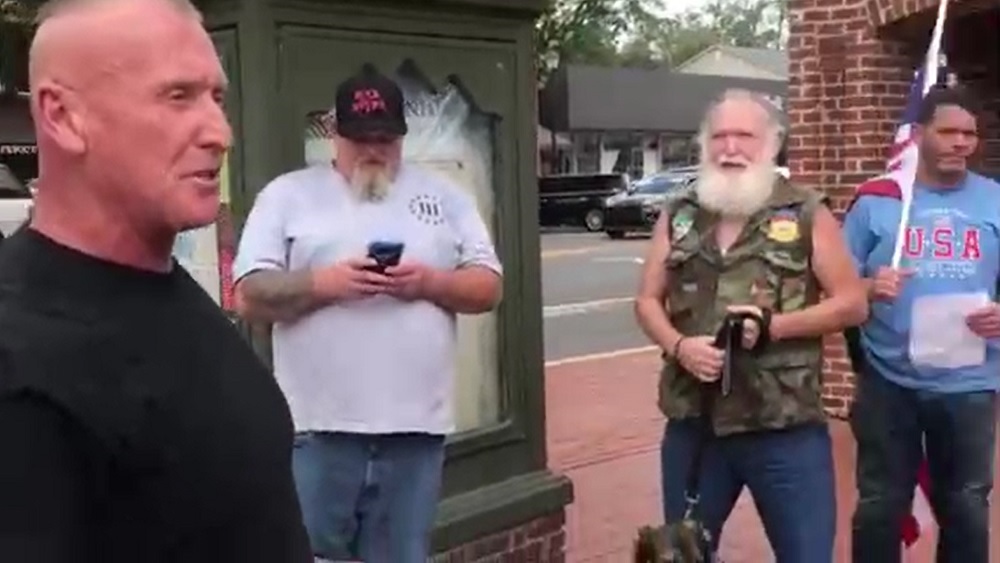 In an earlier article, we highlighted that Dickenson was a member of the Original Knight Riders, Knights of the Ku Klux Klan circa 2015. We noted that last year Dickenson accompanied an American Patriots USA float in Dahlonega's Gold Rush Days parade while wearing a sweatshirt for a different Klan group, the International Keystone Knights of the KKK.
Here, we provide further documentation on APUSA's chaplain. We have documented that APUSA's overall leader, Chester Doles, participated in 2017's violent "Unite the Right" rally in Charlottesville, Virginia with a contingent of Hammerskin Nation gang members. Robert Tim Dickenson also took part in the bloody Virginia rally, marching alongside and later posing for photos with the League of the South, a white supremacist and Southern secessionist organization. Earlier in 2017, Dickenson was photographed at a rally by the Nationalist Front – a now-defunct coalition of white power groups – in Pikeville, Kentucky. Dickenson attended the April 2017 Kentucky event as a member of the Original Knight Riders, showing that his membership in that Klan group continued beyond 2015.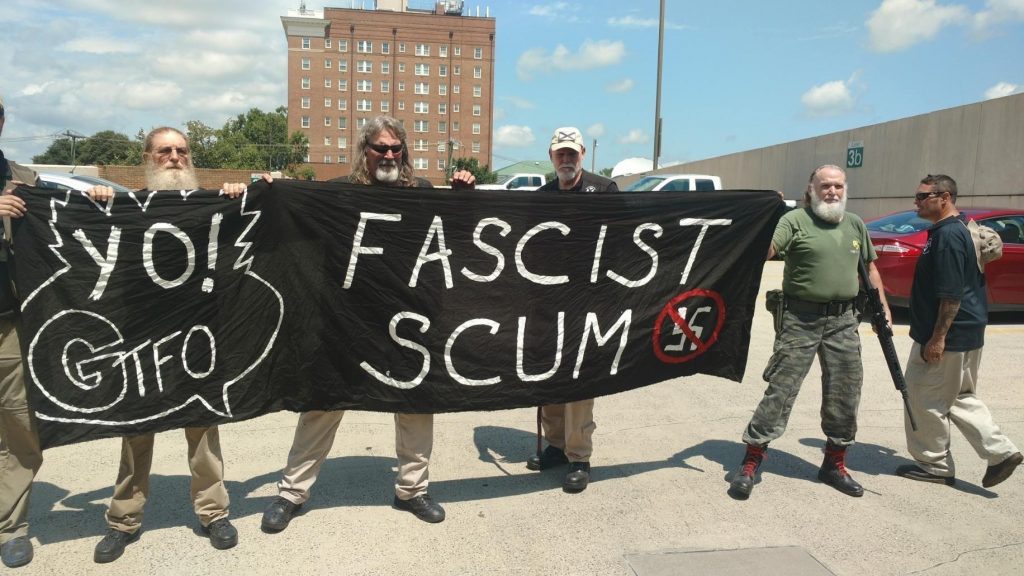 Our original article also discussed a racist church which we provisionally linked to Dickenson. A 2018 business filing in South Carolina confirms this earlier analysis.
Pikeville, Kentucky: April 29, 2017
In April 2017, the "Nationalist Front" coalition of racist groups held a rally in Pikeville, Kentucky. Formed a year earlier as the "Aryan Nationalist Alliance", the coalition was renamed shortly before the 2016 election. The April 2017 Pikeville rally was intended to relaunch and to reconfigure the coalition around four major organizations: the National Socialist Movement, the now-defunct Traditionalist Worker Party, the League of the South, and finally Vanguard America, which went on to spawn Patriot Front. Smaller white supremacist groups also took part in the Pikeville white power rally, which attracted over 100.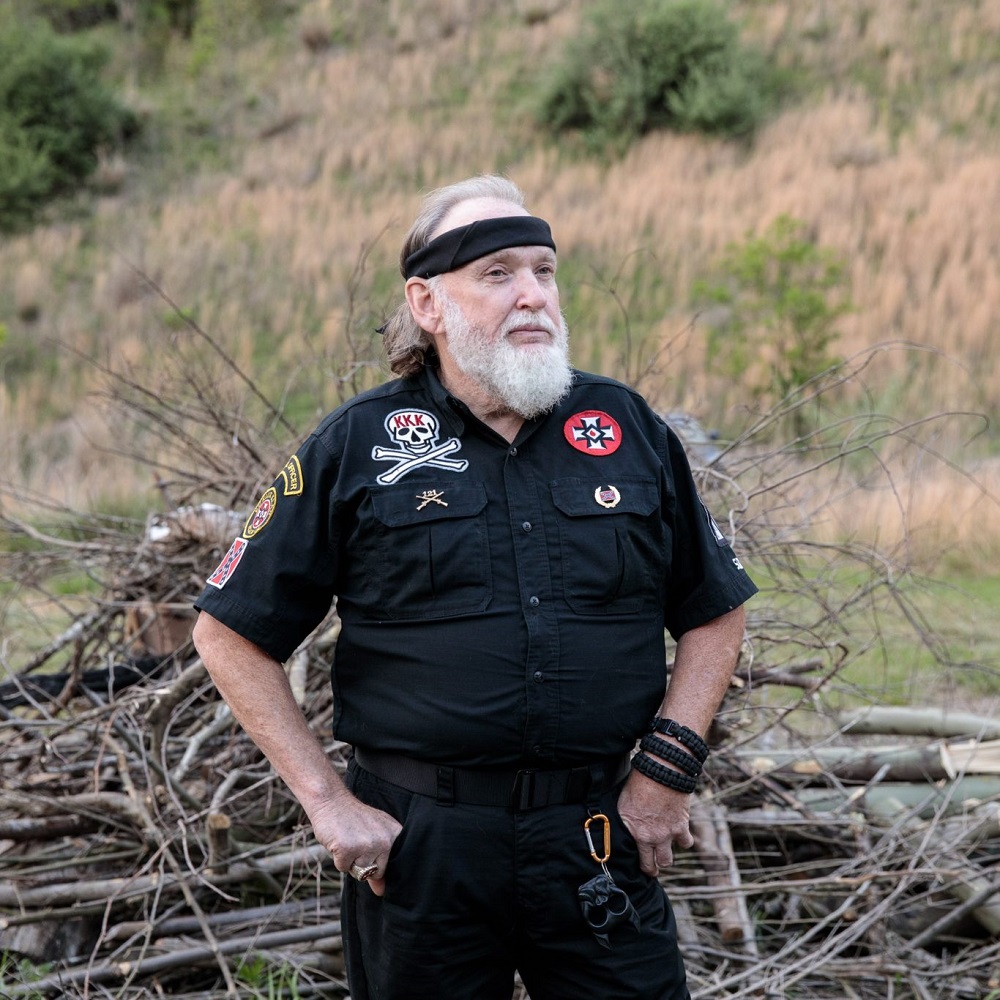 The day before the Pikeville rally, the Nationalist Front held a gathering on private land. Tim Dickenson attended, giving his name as "Sky Soldier" to media and stating that he was with the Original Knight Riders, Knights of the Ku Klux Klan. A photograph from this gathering shows Dickenson wearing a black shirt with a skull and crossbones patch marked "KKK". This insignia usually designates a "nighthawk", or Klan security. Dickenson was visible in the white supremacist crowd at Pikeville the following day.
Charlottesville, Virginia: August 12, 2017
Dickenson was also photographed attending "Unite the Right" in Charlottesville, Virginia, marching into the rally with the Nationalist Front. Dickson entered alongside League of the South (LoS) members and held a Confederate battle flag, but he did not wear League uniform. While he carried a medic bag, one photo from later that day shows Dickenson wearing brass knuckles. After the day's violence – in which LoS played a leading role – Dickenson posed holding a rifle with a group of LoS leaders and militants, displaying an anti-fascist banner that was snatched during street-fighting.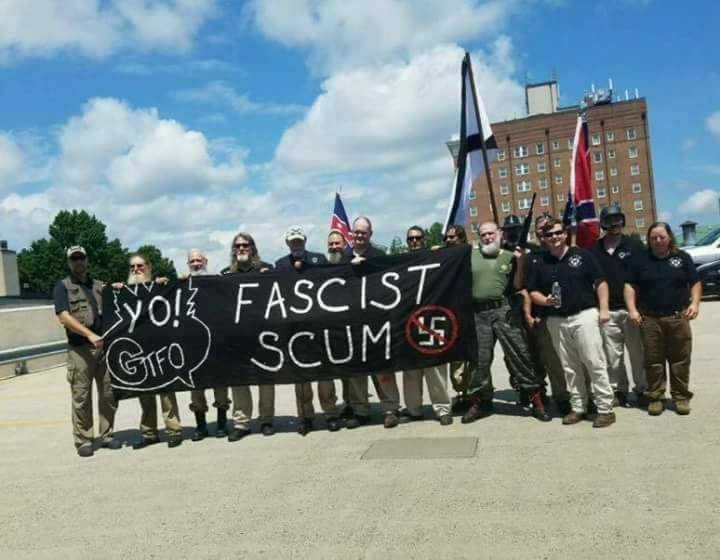 Although Dickenson's presence in the LoS group photos does not prove that he was a formal member of the organization, at minimum the white supremacist group must have considered him a trusted ally. Among the individuals Dickenson posed with was Michael Tubbs, previously convicted for stealing weapons and explosives in a plot to spark a race war. Also featured in the photo were LoS head Michael Hill and its chief propagandist at the time, Brad Griffin of Occidental Dissent.
"Church of the Sons of Yahweh"
We previously noted that Chester Doles made an online comment about a "Sons of Yahweh" church in Hiawassee, Georgia, which we tentatively linked to Dickenson. Based on the church name and Dickenson's history, we suggested the church followed Christian Identity theology. Christian Identity is a racist form of Christianity that believes whites are God's true chosen people, that Jewish people are evil imposters, and that people of color are inferior. We linked "Sons of Yahweh" to the fractured remnants of the notorious Aryan Nations. One Aryan Nations leader, Morris Gulett, had co-founded the "Church of the Sons of YHVH". Gulett later operated a "Church of the Sons of Yahweh" (note different spelling).
We have now discovered that in January 2018, Dickenson registered "Church of the Sons of Yahweh" as a nonprofit business in South Carolina where he then lived. Since Dickenson has been highly involved in KKK and white power circles where Christian Identity is a familiar topic, his church name must have been a deliberate reference to Aryan Nations and likely the Gulett faction. In other words: American Patriots USA's official "Chaplain" and Chester Doles' righthand man is a white supremacist preacher.
Conclusion
In this update, we further documented Robert Tim Dickenson's involvement with the Original Knight Riders, a now-defunct KKK group. Dickenson seemingly had a security or enforcer role within that Klan group. As discussed in our previous article, last year Dickenson publicly displayed support for another Klan group, the International Keystone Knights.
This update also showed that Dickenson attended at least two major rallies in 2017 with the racist "Nationalist Front". After the second one – "Unite the Right" in Charlottesville, Virginia – Dickenson posed with League of the South members who led much of that day's violence. Finally, this update highlighted a business filing linking Dickenson to the "Church of the Sons of Yahweh", corroborating our earlier discussion about Dickenson and the racist Christian Identity movement.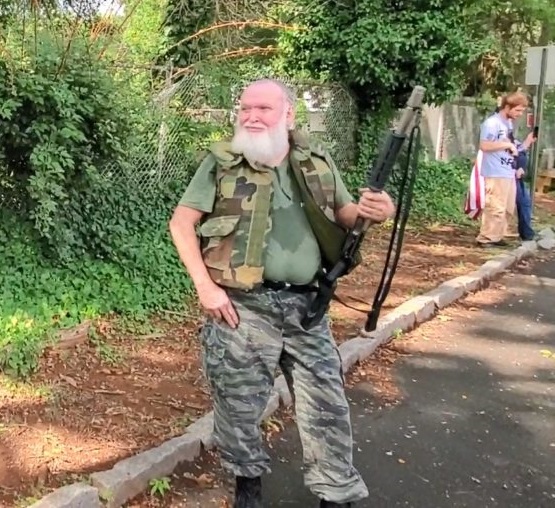 Dickenson's involvement at the core of American Patriots USA undermines that organization's claims of being non-racist, even if APUSA currently networks with far-Right people of color. APUSA's leader Chester Doles briefly claimed to step down as APUSA President in September, disappointed that his claims of having abandoned racism were not taken seriously after decades as a white supremacist leader. A month and a half later, Doles again issued a statement as APUSA's President. Dickenson's involvement alongside Doles at the core of APUSA highlights that the organization both welcomes and was formed around committed white supremacists.
Tim Dickenson has a felony criminal history involving domestic violence, and so it is illegal for him to possess firearms. This did not stop him posing with a rifle after 2017's "Unite the Right" or showing up with a shotgun at Stone Mountain, Georgia this year. We do not know whether the state is actively turning a blind eye to Dickenson's activities or whether it is merely ignorant of them. Either way, the lesson is clear: antifascists must not rely on the government to protect communities or to do our work for us.
If you have more information on Dickenson or his associates, please get in touch.