The Unicorn Riot media collective recently released a giant trove of documentation from Patriot Front, a white supremacist and fascist organization operating throughout the US. For more background on Patriot Front, see Torch Network's earlier overview and check the "Patriot Front" tag on our website.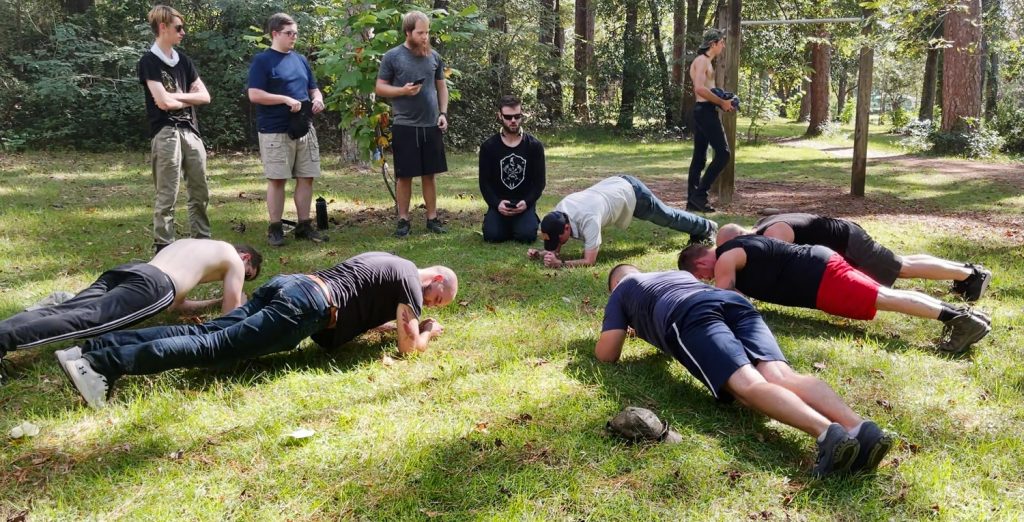 Among the recently leaked Patriot Front footage, the Unicorn Riot materials includes video from a regional PF training camp held at Williams Landing Park in Tallahassee, Florida, on October 15-17, 2021. Twelve members from four states – Alabama, Florida, Georgia, and Tennessee – attended the training. The white supremacist group briefly moved to Lafayette Park in Tallahassee for physical fitness evaluations, shown in some images below.
The training camp aimed to drill and prepare for Patriot Front's national demonstration on December 4, held in Washington, DC. During that demonstration, Alabama Patriot Front member Ian Michael Elliott ("Norman AL") served as the personal bodyguard for Patriot Front's leader, Thomas Rousseau. Elliott facilitated the grappling sessions during the October training camp in Tallahassee.
We have extracted stills from Unicorn Riot's leaked Patriot Front footage to compile this image gallery. Please share it widely, so we can identify our regional Patriot Front members. We have organized this image gallery by state, with galleries for individual Alabama, Florida, and Georgia members, as well as the sole attending Tennessee member. A collection of group images follows the stills of individual Patriot Front members.
For a broader rogues' gallery of yet-to-be-identified Patriot Front members from across the country, see Rose City Antifa's gallery here.
Please contact us if you can help identify any of the unnamed Patriot Front members in this collection.
Continue reading

"Help Identify these White Supremacists: Patriot Front Training Camp, October 2021 (AL, FL, GA & TN Members)"